Jari-Matti Latvala's start to the season has been one he wants to forget. And that was before he decided to go skiing last week. The Finn is 38 points behind championship leader Sebastien Loeb and he's bounced his Ford Fiesta RS WRC off something hard on three of the four rallies run so far. And then he went skiing...
In an increasingly troubled season for the 27-year-old, it's easy to overlook his Rally Sweden victory and the fact this is his first year with the full support of Ford backing his World Rally Championship bid.
Sitting at home with a broken collarbone following his latest shunt - on two skis rather than four wheels - Latvala reflects on the accident and the potential implications on the rest of this year.
Forced to sit out next week's Rally Argentina, the Finn will be replaced by Spaniard Dani Sordo in South America. But the six-time world rally winner is determined to be back in time for the Acropolis Rally of Greece, starting in just over a month.
Q. What exactly happened last week?
Jari-Matti Latvala: I was cross-country skiing, I have been doing a lot of this with my training this year. I have skied maybe 250 kilometres [155 miles] already this year and on the day of the accident last week, I was coming to the end of an 18-kilometre [11 miles] run. There was a small downhill section at the end of the run, so I picked up a little speed. There was some fresh snow on top of the surface which I went over, but underneath this there were some pine needles from the trees. These pine needles stopped the ski and I went straight. It was the same as being on a bike and going over the handlebars. I landed with all my weight to the left shoulder.
Latvala fared well on the snows of Sweden... © LAT
Q. Did you know something was wrong immediately?
Latvala: Yes. From the moment I hit the ground I knew the collarbone was broken. I tried to climb up, but the pain was enormous. It was huge. I was hoping it might be something small, but I knew from the pain that it was not like this.
Q. You broke your wrist competing a few years ago, was this worse than that?
Latvala: Yes. When I broke the wrist, it was not so painful. This was terrible. I knew something bad was happening. When I tried to climb up I felt dizzy and felt like I couldn't do anything. The collarbone broke in two pieces in the middle and one of the pieces of broken bone was touching the nerve which goes into the neck and when it touched the nerve it gave a lot of pain.
Q. How did you get to the hospital?
Latvala: I was close to the winter cottage, where my parents were staying. I called my mum and she came to the road which was 300 metres from the track I was on. I managed to walk to the road very slowly and from there it was only three kilometres to the little hospital. In 20 minutes after I fell, I was in hospital. They did an x-ray there and gave me some really strong painkillers. The doctor told me I needed an operation if I wanted it to heal quickly. I organised things and went to Helsinki the next day.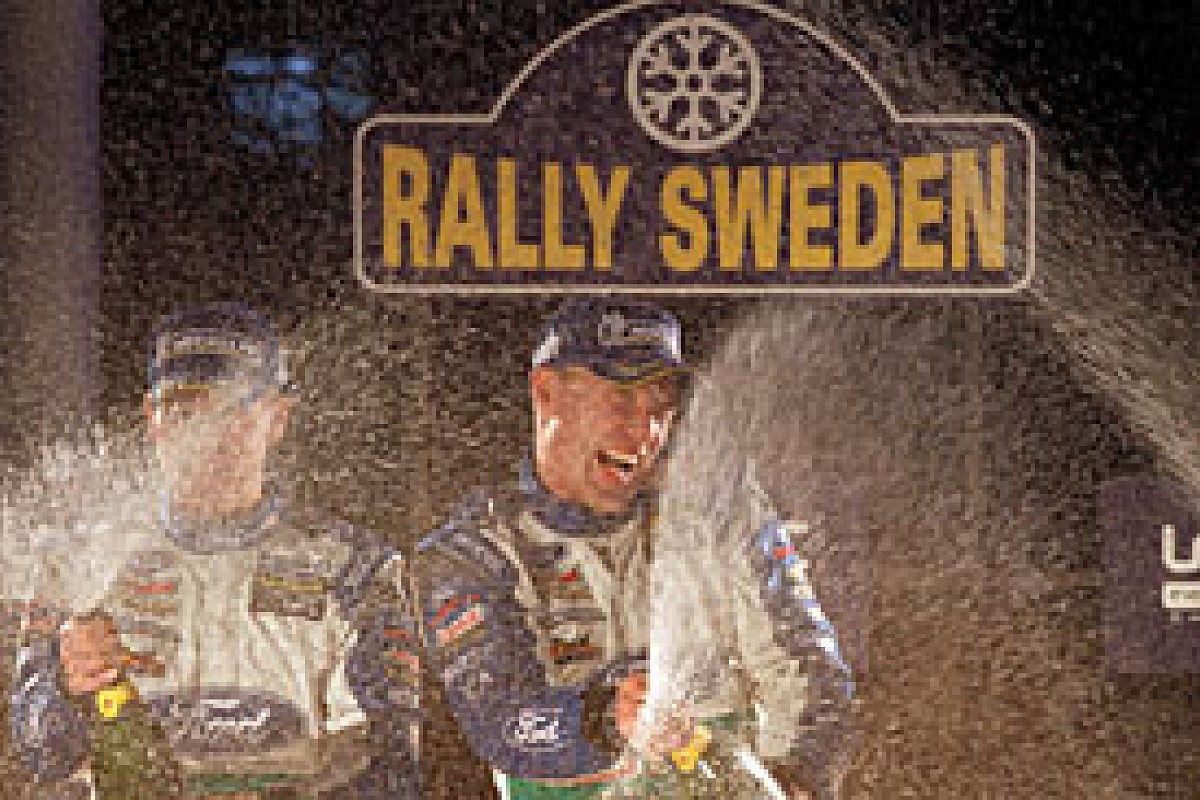 ...but his victory is also his only finish in 2012 © LAT
Q. And they operated there?
Latvala: Yes. I met a really good surgeon in Helsinki and I got the operation just 18 hours after the accident. In that way, I was really lucky in the way things got done so soon and having the doctors available for me.
Q. Is the collarbone pinned now?
Latvala: They have put a 10cm steel plate on top of the bone with six screws to keep it on the same level. It was quite a big operation. I asked the surgeon how long it took - I didn't know because I was sleeping - and he said it took quite a long time, some hours.
Q. And what now?
Latvala: I have my arm in a sling, which I have to wear for two weeks. I've been wearing it for one week now, with one to go. Today [Friday] I will meet the physiotherapist and then I will meet them every week. For one more week, I can't do anything with the left arm. After that we can take it step-by-step, start moving it and getting it ready for the Acropolis [recce for the Acropolis Rally starts on May 22].
Q. How confident are you that you can get straight back up to speed for the Acropolis Rally?
Latvala: My mind is good right now. I am feeling really motivated and the motivation is growing day-by-day and it will be more than ever when I get to Greece. I have the rest now and I have no stress with things going on right now. Before the event I have a two-day test and, yes, it is always a bit more tough to come back after quite a long break, but I have to say I feel confident in the performance of the car and team. I think I can come back with the speed I did in Portugal and Sweden. The only question mark is whether the arm is going to give some pain; I hope it won't but you never know.
Q. Do you have to win in Greece to keep your championship hopes alive?
Latvala: My main target at the moment is to go rally-by-rally. I know it's very, very tough to win the drivers' championship. There is a little chance for it and when you know you have a little chance it gives you some confidence. I'm not going to think about it, I'm not taking any stress about it. We go rally-by-rally and see where we are at the end of the year.