It hasn't been a bad year. I've spun a World Rally Car in fourth gear, driven a Porsche 911 Turbo around Britain and trotted the globe watching the master collect title number eight.
All big memories. But not the biggest.
The biggest memory begins with a B: Group B.
B is for brilliant, bonkers and beastly. But most of all, breathtaking.
There was no other way to describe the moment Ian Gwynne opened up Stig Blomqvist's Ford RS200 from the 1986 RAC.
The good thing was, Gwynne hadn't really opened it up before himself. So, neither of us knew what was going to happen. He kept the revs well south of the redline, but with every revolution, our smiles broadened. Surely this push couldn't keep on coming.
Oh yes it could.
But come to a corner and it was a different matter.
Pirelli reckons power is nothing without control. I'd argue the first part of that point: in a straight line, the 450 horses behind us are addictive, but controlling them when it comes to the curves is a different matter.
It was all about commitment.
And that was what made Group B so special. The other B. Bravery.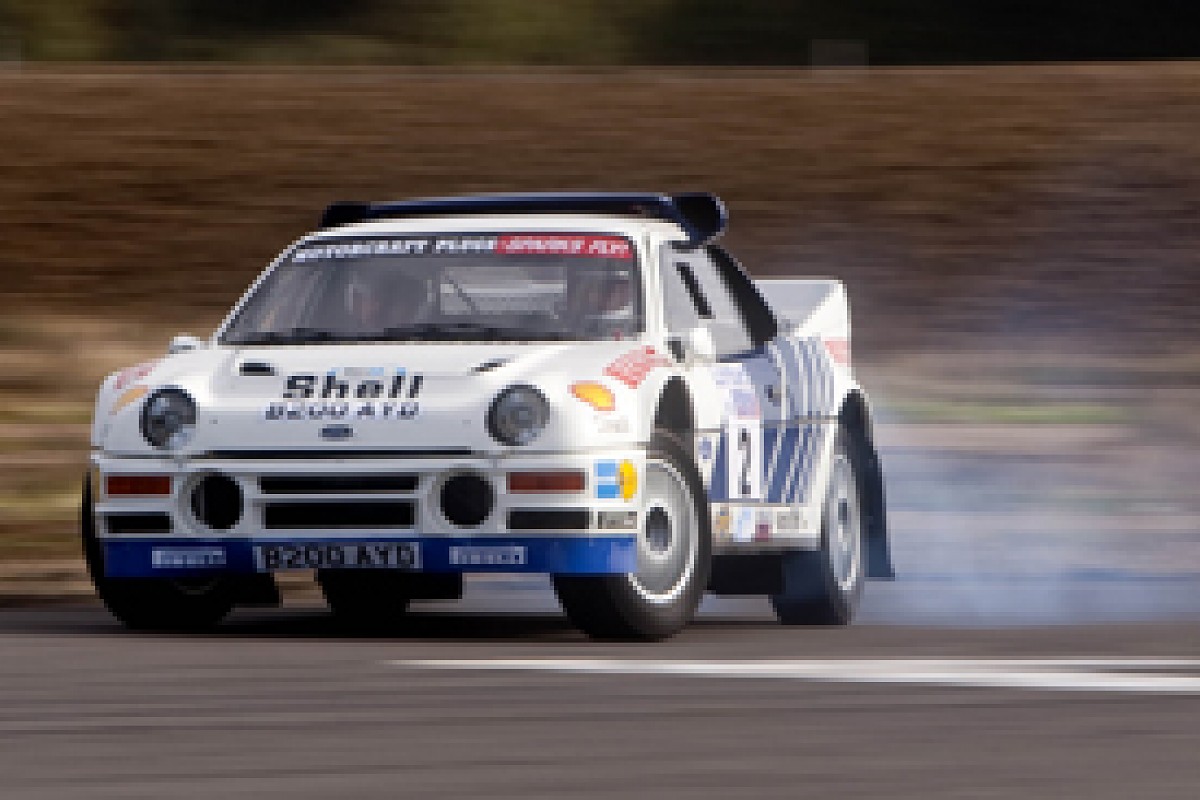 Gwynne got the RS200 pretty sideways as Evans held on for dear life...
My all-too-brief time in this generation-defining machine highlighted just how brave Stiggy and the boys really were. In fact, they were nuts.
The only way to get the car to work was to keep the turbo spinning, and the only way to keep the turbo spinning was to drive very, very fast. Before the boost comes nothing, nothing but understeer.
But as the boost builds, it's like the fuse to a firework. And, with a woosh, it's all there. And the world goes mad again.
But it wasn't just about the power, it was about this fashion of car. These cars were our 1960s and '70s Formula 1 cars. These cars created Gods for us to worship.
And yet inside - where we never got to go - they were Ford Sierras and Mini Metros. The stalks, the screens and the switchgear provided a hideous paradox to the power that came from an engine sitting where, in the family-friendly donor car, I would have been looking at the pictures in Dad's Motoring News.
Twenty-five years gone, in a flash. But, for a couple of days this year, I was back, Ashes to Ashes style, leaving on a Lombard sticker and wrestling with a bonnet pin on a 6R4.
And I loved it.
I loved those cars when I watched them as a child and I love them even more now. There's a tendency to look back fondly on history - it never rained in my summer holidays and Christmas morning was always greeted with deep snow and blue skies - and so we should.
1986: what a great place to be.