C'est parti pour trois jours de liesse. Last Friday morning, the message was clear and simple: the people of Alsace were ready and waiting for the return of the master. And the master, Sebastien Loeb, was ready conquer.
Twenty-four hours later, the same newspaper which had headlined Friday's cover: "Let's go for three days of celebration," went for a slightly more sombre two-worded approach: "Scenario catastrophe."
Further evidence of this indeed being the worst-case scenario came in the incredible coverage L'Equipe afforded Loeb's stage-three departure of Rallye de France. The immensely popular nationwide sports broadsheet handed over its cover with the headline: "A real lack of Loeb." The nail had been firmly whacked on its head.
Without Loeb, last week's Rally de France was something of an anti-climax. Part of the problem was that this event was never going to be able to live up to its billing. A year earlier, the Alsace region had virtually come to a standstill as family, friends and fans numbering more than a quarter of a million seemed to descend on Strasbourg to celebrate a seventh title for the fella from down the road.
How could this year possibly match that? The title remains some way away and France is still struggling to take in the civil war which has dogged the second half of Citroen's season.
Nobody truly expected a repeat of 2010. But nobody expected Loeb to be out before 10 o'clock on the first morning.
Predictably, plenty of Loeb fans turned their backs on the rally. Devastated at their hero's early bath, they simply weren't willing to stand and watch as the man who dared question Loeb's superiority strode to his fifth win of the year. The sheer temerity of Sebastien Ogier, it was too much for them to bear. So they didn't.
Ogier won in France, but it wasn't a popular victory © LAT
You only have to look at the pictures from the finish and compare them with last year: against the Loeb worship of 2010, Ogier looked like a man alone spraying the champagne on Sunday.
It is quite incredible how a round of the World Rally Championship has been built around one man and, essentially, for the benefit of two: Loeb and Citroen. Granted, those two are the world championship in France and I absolutely loved every minute of being around last year's manic and emotionally charged Rallye de France. But this time around, within hours of Loeb's departure, I couldn't help but wonder if this was all worth it.
Don't get me wrong, the roads are good and the organisation works, but what does this event truly bring - beyond Loeb's backyard - that Rally Deutschland doesn't. Germany and Trier are but a hundred miles and two months away.
Once Loeb has retired, will this event survive? Non.
In fairness, it can't. The Loeb faithful aren't about to switch their allegiance to Ogier - the man from Gap (a world away to native Alsatians) who tells French tele that Loeb cries if he doesn't get his own way. And it's the Loeb faithful who are packing the roads on both sides.
So, back to Corsica then?
Hmm, not so fast: remember the latest edict to come out of North One Sport? Island rallies are dead, long live the mainland. But, that policy has been weakened by a return to Sardinia for Italy's October round of the WRC next season and by a general desire from President Todt to take us back to all things good from yesterday. And Corsica is definitely yesterday. And definitely good.
Granted, Ajaccio might not be quite as accessible as Strasbourg, but for a tip-top rally, check out the third round of this year's Intercontinental Rally Challenge in May.
Granted, it might not have had the hard-edged competitiveness of Ogier's 6.3-second win over Dani Sordo (Thierry Neuville enjoyed the comfort of a yawning 15.5 seconds over Jan Kopecky...), but, for the purist, it was the stuff of legend.
I'm not advocating a wholesale switch back to days gone by, but I think we need to be a little bit more realistic in our choice of events.
We're moving into an incredibly competitive time for a slot on the WRC calendar and questions will have to be asked about Rallye de France, its closeness to Rally Deustchland and, the fact that France already has a WRC round running a competitive route entirely within its national boundaries at the start of the year: the Monte Carlo.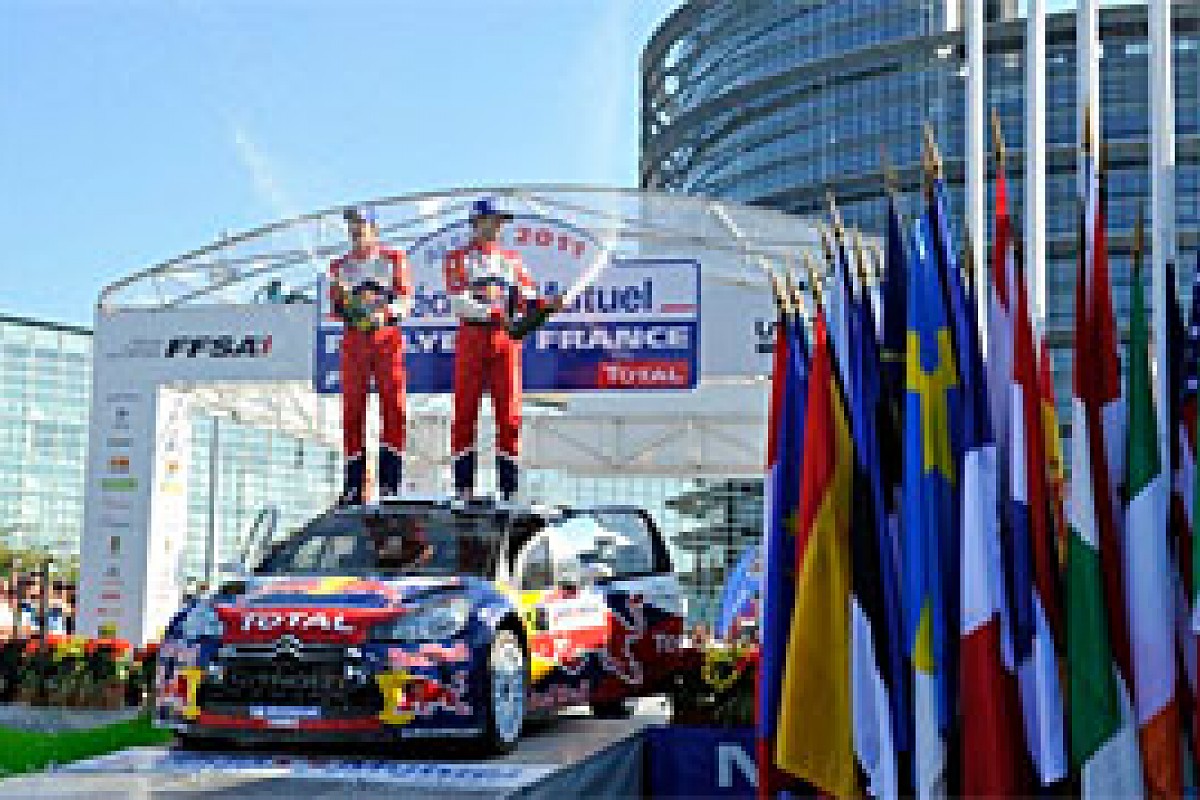 Loeb's early exit was a blow for the rally © LAT
Question is, do we take an emerging BRICK economy country event over France? The answer has to be yes.
This is a world championship and in order to truly grow our sport, we have to take it to the millions of people out there who have yet to be touched by our wonderful world. France won't stand the loss of Loeb and Corsica's going to struggle to get back into the WRC because its surrounded entirely by sand and sea, so beyond 2012, this calendar slot has to be opened up.
And, for those of you who might be thinking this is some anti-French propaganda in the run-up to Saturday's Rugby World Cup match, you're entirely wrong.
I have been eminently critical of Britain's own round of the world championship in the past - genuinely questioning our right to another boring tour of South Wales. But that's changed now. This time around we've got a terrific route going from the top to the bottom of the principality; a rally which deserves its place in the championship.
The one thing Rallye de France did deliver was absolute proof of Prodrive's continued prowess in building rally cars and a truly magnificent run-in to the end of this year's world championship. Having been in the clear and cruising with a 27-point cushion following Finland, Loeb has watched those points being eroded and now he and Mikko Hirvonen start afresh with two rallies to go. And, with one asphalt and one gravel rally to come, it couldn't be more finely balanced.
If ever there has been a moment for Hirvonen to come and show what he's capable of, it's now. Yes, we did say the same going into the 2009 Rally GB, and yes, Loeb did demolish him, but this could be the Finn's year.
Equally, after the season of road-sweeping (by dint of being first on the road) Loeb's had to endure, you'd have to say an eighth title would be entirely fitting.