There were rabbits everywhere, all of them stood transfixed. Rigid with fear, they stared into the headlights. That was the Citroen team in Germany last week, moments after Sebastien Ogier's dynamite interview - the one where he smashed the myth of the 'mate' in team-mate.
To briefly contextualise, Sebastien Loeb was leading Rallye Deutschland at the end of day one with Ogier right behind. The pair were told - by visiting Citroen dignitary Jean-Marc Gales - stations would be held. Loeb would win, Ogier second. Predictably, Ogier didn't take this news well. He refused to talk at the end of stages and generally harrumphed his way through the day, only smiling when Loeb suffered a puncture on day two's final test. Loeb lost a minute and the lead. Ogier smiled and managed a word for the media.
Unfortunately for Citroen, that word was 'justice'.
In a week when the world's sixth largest carmaker announced its golden child was staying where he was, smiles and more champagne should have been a given. Instead, there was navel-gazing, embarrassed silence and silent fury from Automobiles Citroen in Germany last week. How on earth had such a good story gone so bad?
Standing among the punters for the end of day press conference is a great way to judge public opinion of a driver. In Trier last week, Ogier was lucky to escape in one piece. This is Loeb-town. Granted, he might be from the wrong side of the border (just), but forgetting the flag, this is his backyard. Loeb had endeared himself to rally fans from across central Europe with eight straight wins, thousands of autographs and almost as many pictures standing alongside the often mulleted-masses.
That's just Loeb in Germany. Loeb in Citroen is on another scale. He's endeared himself to his employer by taking a middling French brand and putting it on the map as a world-beater in the most applicable and understandable flavour of motorsport for the family car market. He's won 66 rounds of the championship and seven world titles. He's finished second as many times as Carlos Sainz won rallies. In 147 world rallies Loeb has contested, all but two have been in a Citroen - and all but 45 have ended with him standing on the podium.
Cut Loeb and he bleeds Citroen. And he's good.
So, does that make Ogier bad?
Yes. And no.
If you'd arrived from planet wherever and gone to talk to the drivers at the end of the first loop of stages around Trier last Friday, you would have recognised one of the two Citroen drivers as a multiple world champion. But it wouldn't have been Loeb. Despite his immense success and towering record, Loeb remains shorn of the arrogance which often accompanies global domination. Ogier, on the other hand is a stranger to humility.
Should Loeb's record guarantee him favouritism from the team? No, it shouldn't. In the world of pure sport, everybody fights until the end of the game. But this is pure sport, powered by manufacturer interest. And Citroen's interest is in the manufacturers' and drivers' championships. With a 31-point lead going into last week, it made complete sense for Citroen to do what it did.
And if Ogier doesn't like that, he should have been ahead of Loeb at the end of Friday; don't get mardy, get ahead.
Sebastien Ogier was told to hold station in second place... © LAT
The problem is, Loeb has had an easy life in terms of team-mate for years now. When Carlos Sainz and Colin McRae were sharing Citroen's top table with the young Frenchman, both were in the twilight of their careers and were unable and or unwilling to find the speed to challenge Loeb in a way they would have done 10 years earlier. With them gone, Loeb slaughtered Francois Duval. Then came Dani Sordo. The Spaniard was in the same machinery as Loeb for five years and knew his place throughout those five years.
His place was second.
Only on a handful of occasions did Sordo genuinely have to slow down for Loeb. When he did, Loeb immediately paid tribute to his team-mate. Sordo didn't often moan about the situation. He took his pay cheque, his seat in first class and went about his business.
Sordo appears to be missing the mean streak, the ruthlessness needed to be a world champion. Ogier has it in spades. It might not be a great character trait, but it's why Ogier won't follow in Sordo's footsteps and why he will be world champion.
Like I said, I'm all for the fight. But as well as the commercial sense, I feel Citroen still owes Loeb. Admittedly, following the number of transactions leaving Citroen's bank in Paris and bound for Loeb's current account in Geneva, there are probably a few soul-less bean-counters in Versaille who would try and argue that the two are about even. They're not. In the beginning, the debt was on Loeb's side - and as much to former Citroen team principal Guy Frequelin, who gave him his break, as the manufacturer itself. But as three titles became four and 49 wins became 50, the onus of the debt shifted. When Loeb declined offers to go elsewhere, he did it out of loyalty to the brand and out of gratitude for what it had done for him. The fact that Citroen still made the best car was probably also a factor here...
Citroen doesn't owe Loeb much, but it does owe its unflinching support at a time like last Friday.
Citroen's current team principal Olivier Quesnel now finds himself in a slightly awkward position. Loeb, undoubtedly Frequelin's boy from the old regime, has struggled to find the same feeling within the team as when 'Grizzly' had been at the top of the tree. Evidence of this came in Greece earlier in the summer, when Loeb accused Citroen of conspiring to help Ogier against him. Can you imagine him ever levelling that at Frequelin? Precisely.
Privately, there have been members of the old guard happy to cast Quesnel and Ogier as co-conspirators in Loeb's downfall. Then, not so privately, there was Frequlin and his opinion. Remember that one? The one where he said Quesnel's head wasn't just big, it was about to explode.
Something had to be done - and Loeb's contract negotiations became a staging post for the myriad internal battles that have plagued Citroen's season.
Enter Gales. And some genuine sense of justice.
Gales isn't just a big noise in Citroen, he's a member of the management board of PSA Peugeot Citroen. In terms of Peugeot and Citroen, he's the big cheese who decides who gets to decide all the identity of all the other cheeses.
Whether his comments were loaded or not is for you to decide, but when a man of his standing comes in and talks about "looking after Loeb personally" it would appear to speak volumes about his faith in his man on the ground.
Asked about his man on the ground, he described Quesnel's record as "good".
Since Quesnel took charge of the team at the end of 2007, Citroen has not lost a drivers' or manufacturers' world championship title. And Gales describes this 100 per cent record as "good".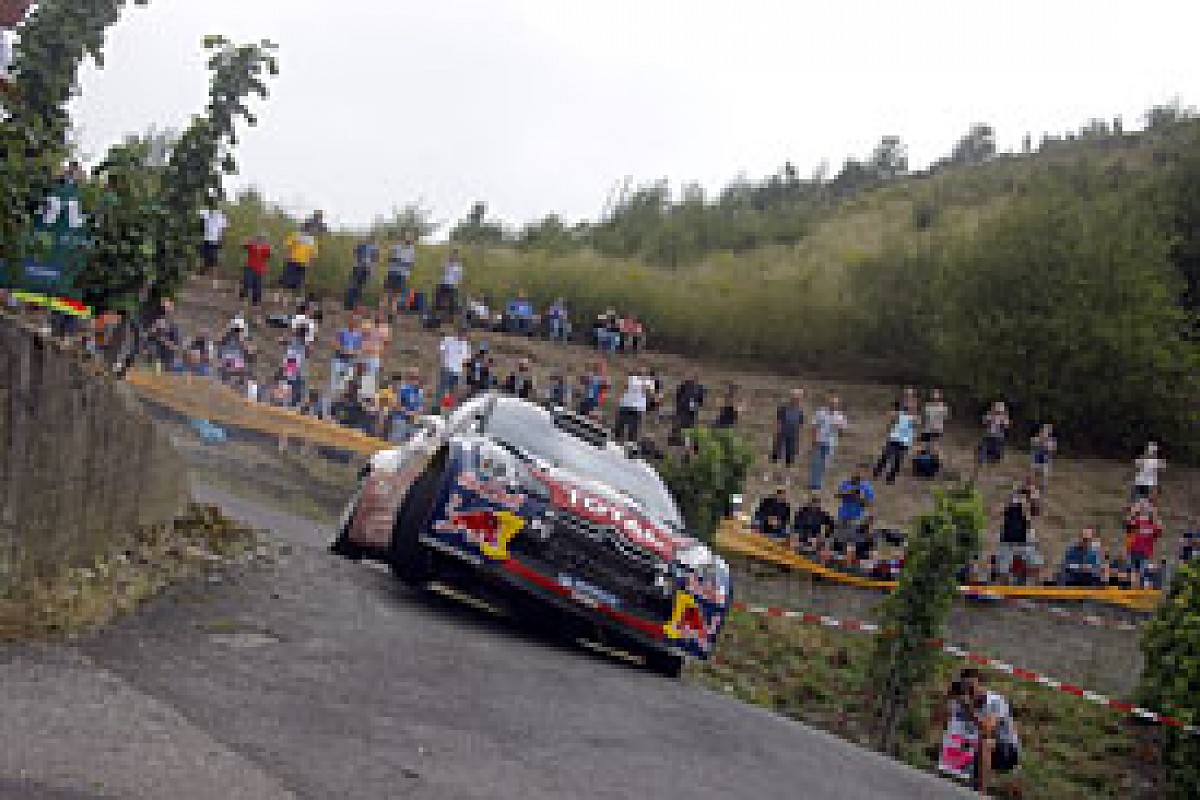 Sebastien Loeb suffered a puncture and finished second in Germany © LAT
In his next breath, Gales talks about a symbiotic relationship with Loeb.
The allies who have rallied around the big little man could be bad news for Quesnel and Ogier. With team orders back on the menu and, we're told, in clear contravention of Ogier's contract, the younger of the two Sebastiens is already making noises about jumping ship. Having won a few battles, on the evidence of the views from those at the upper end of the PSA pay-scale, he looks to have lost the war. The political war, that is. Whether or not he'd lose it on the stages is another matter.
Right now, Loeb's as fast as he ever was. And you'd have to say, that's fast enough to see off Ogier for the time being. Ogier is a fantastically gifted driver who will, one day, make a champion.
As Loeb has shown - and keeps on showing - it takes more than just braking later than anybody else to make a great champion.