It takes a lot to admit you're scared. Even more when you're a seven-time world champion with 66 World Rally Championship wins under your belt. But Sebastien Loeb had no problem in admitting Finland scared him.
Loeb is an exceptionally honest and straight-talking kind of bloke. There's no side or edge to him. He tells it like it is. And, an hour or so after he'd finished celebrating his second Rally Finland win, he talked openly to AUTOSPORT about how tough the past three days had been.
But, before we go into that, it's worth explaining how he won over the hearts of the thousands of Finnish hardcore at the podium celebrations. From the noise, you'd have sworn a local was standing on the top step.
"I told the crowd that this year, maybe because of the performance, that I felt I had a lot of supporters," he says. "It felt different from 2008, when I beat Mikko [Hirvonen]. Then I felt some people were a bit angry against me, but this year I didn't feel anything like that. This year I had good support from the public. Everybody was waving and saying things were good. It felt nice on the podium. It was good sport."
Finally, the Frenchman appears to have won over the Finns - and they're about the hardest audience for him to play in front of. Finland is a proud nation with an exceptional history in the sport; the Flying Finns are rallying's All Blacks - they don't take defeat well, especially not at home, and their supporters are the most partisan of them all.
But, last weekend, they finally got Loeb. Yes, he spoiled their party, but it was like they appreciated, acknowledged and accepted that Loeb really is the king of their sport.
And he's some king.
Loeb celebrates a superb win in Finland © sutton-images.com
But will he abdicate at the end of the season? We'll come back to that. For now, let's focus on his fears. "Driving in Finland is incredible, the feeling is just incredible," says Loeb. "But, on the other hand, it is dangerous. It's so fast and between the trees, you are flat-out between the trees in sixth gear and you are not allowed any mistakes. For sure, I enjoy the driving, but I feel a bit in danger."
That all makes perfect sense. Those who were there when he scored his first Finland win in 2008 will well remember the relief etched across his face. He knew that, to be a true king, he had to beat the Finns at home. To do that, he had to take massive risks, which he did. He said then that he had no intention of gambling in such a fashion again.
So what was the difference this time around? The car. The Citroen DS3 WRC worked better than the C4 WRC over the jumps.
"I was not trusting completely the car last year," he says, "but this year I was really comfortable in the car. This meant I could forget about the risk and just focus on the driving. I had so much confidence that it would work, I just didn't feel the same danger."
And, let's face it, Ford made it an awful lot more straightforward for Citroen last week.
Mikko Hirvonen was the most upbeat, determined and confident man in the world as he crossed the start ramp. Just minutes into the event, when the right-rear of his Fiesta collided with a tree, his world fell in. He wasn't going to win at home - the event that means more to him than any other in the season.
When Hirvonen failed last year, Jari-Matti Latvala stepped up to the plate and delivered a magnificent high-pressure victory. Not this time. Latvala never really loosened up enough to win; there was always something wrong, the car was never perfect, the attack never there. He did hook everything up for Saturday afternoon, but even then you were never truly convinced he had the much-needed knock-out punch. In reality, had Sebastien Ogier not had his puncture, it's likely Latvala would have been third, not second.
As well as all the World Rally Cars, there was a bandwagon in Jyvaskyla last week - it was the one questioning Hirvonen's ability to stand on top of the world.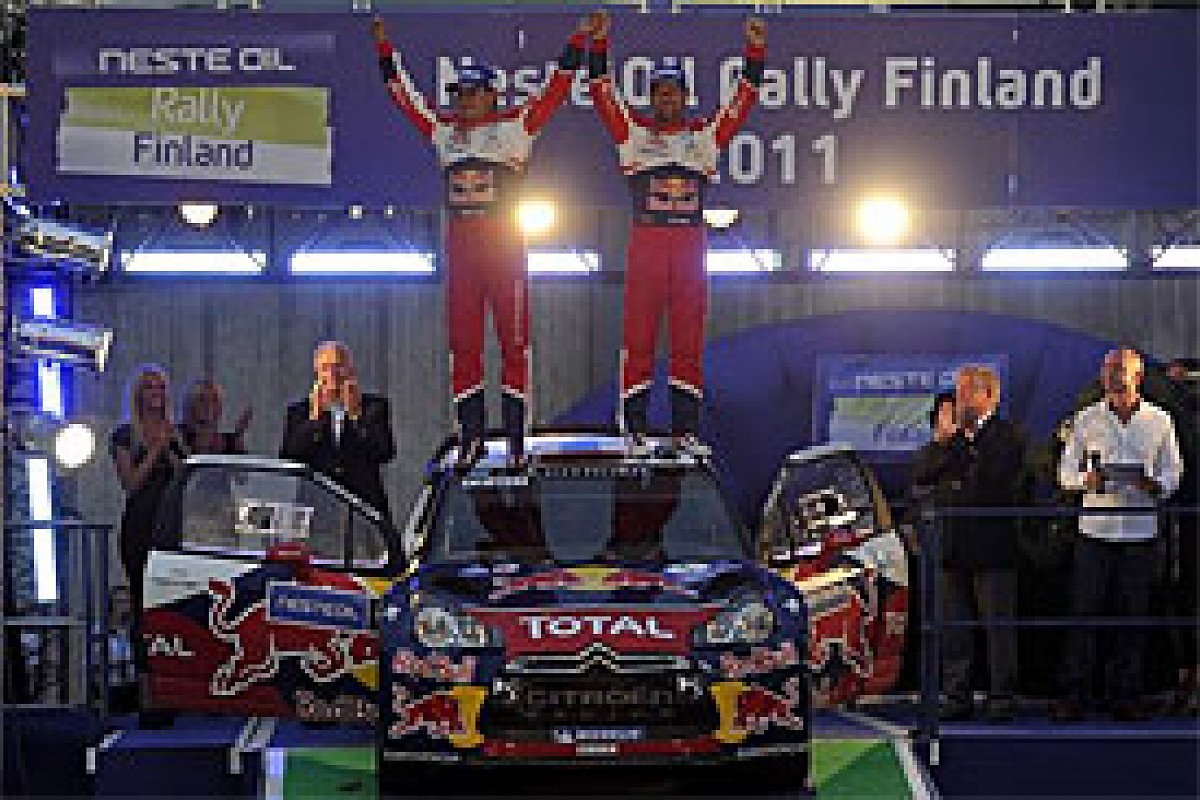 Hirvonen flew in Finland, but only after he crashed on the opening day © sutton-images.com
I'll admit, on Thursday night, I doubted him. Whether he'd made a mistake (his manager, Timo Jouhki, told me: "I am 100 per cent sure he did not. This is not the kind of corner Mikko would go off on." Conversely, the team showed me the car's all-seeing, all-telling data - and even to my untrained eye, it pointed to driver error) or not, he was out of the running. Even at home, there was a consideration that we would now see the worst of Hirvonen as he slowly pondered his way back up from 36th to some points, posting the odd fastest time here and there. If it had played out that way, the case would have been closed.
It didn't. Hirvonen was on fire. Accused of lacking the fight and killer instinct, if ever there was a time for Hirvonen to demonstrate his determination, it was now. He didn't disappoint.
Of the 19 stages run on Friday and Saturday, Hirvonen was fastest 13 times and only out of the top three twice. And, here's the important bit, he did this in the absolute heat of a white-hot fight. Yes, you could say that the pressure had gone and yes, maybe, he was in a better place on the road, but he still took close to a second a mile out of everybody through the Hassi stage. Margins of that sort are not the norm on a rally used to turning on a hair's breadth.
Hirvonen didn't win the rally, but his efforts afterwards further endeared him to his beloved nation. Now, Mikko, your job is to carry that sisu (no precise translation, the closest is inner steel) forward. Go to Germany, lay down a marker in Trier and stop Loeb's reign of reigns in the city of the black gate.
The concept of anybody stopping Loeb right now is a slightly odd one. Ogier is close, but he's been closer. Loeb seems to have found a second wind and he's driving better than ever. In his own words, he showed he was the fastest in Finland, like he had done in Greece, when he felt the team conspired against him to help Ogier win.
So, will he stay? Only he knows the answer to that question. He says he will make a decision very soon, but his competitiveness is surely making that decision tougher to make. He's at the top of his game: surely the hardest point to call time - or the most logical and dignified. Time will tell.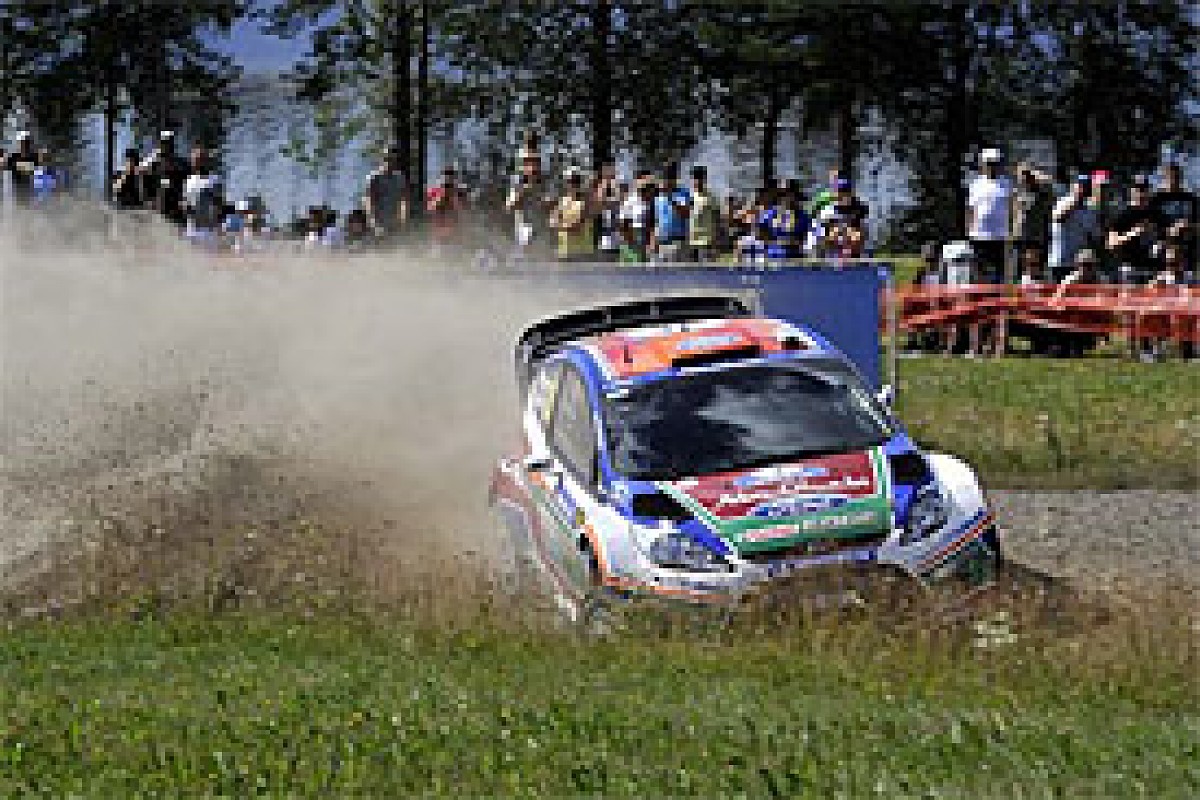 Loeb has to make a decision on his future © sutton-images.com
What was absolutely proven again was Finland's ability to turn on another perfect round of the World Rally Championship. Like a Nokia telephone, Rally Finland just works and works well.
The only downside to Finland was one man's complete lack of fever for speed on the straights. Lahti-bound on Friday morning, I was flagged down by a man in hi-vis.
"Too much speed!" he shouted as I pulled up alongside him. This, he thought, was not a good thing.
News of my contribution to the coffers of the local constabulary travelled even quicker than I had been going.
When I arrived at the beautiful lakeside remote service, I was greeted by Markko Martin. "I hear you were quickest this morning..." he grinned.
In fairness, it was worth the fine to have a former Finland winner say that to me.