Only once since 2005 has a Ford and a Finn not won Rally Finland. No wonder Jyvaskyla went quiet when Frenchman Sebastien Loeb stepped onto the bonnet of his Citroen C4 WRC in 2008, having beaten Mikko Hirvonen by nine seconds.
That wouldn't happen again. That was what Loeb said.
Such was the effort and the madness of what he'd had to do to get the better of Hirvonen, Loeb assured pretty much anybody who would listen that he was in no hurry to go through that again. That's Rally Finland for you. If you want it, you've got to earn it.

Rarely do you see drivers so wide-eyed as when they come out of one of the event's faster stages. But it's all about perception and interpretation. Loeb doesn't like flying between the trees at 130mph but Hirvonen loves it, yet he thinks Rallye Deutschland and the not-going-anywhere-rock-solid hinkelsteins that line the Baumholder roads to keep tanks (and World Rally Cars) on the straight and narrow are horribly dangerous.
It's fair to say Finland is not for the feint of heart. It's breathtakingly fast and, for the locals, it's the centre point around which their year turns. Everything is about the late summer in Jyvaskyla, standing by the roadside and cheering on their heroes.
And, for the past two years, those heroes have been sublime. In 2009, Hirvonen won. Last year, his team-mate Jari-Matti Latvala won, when Hirvonen exited the lead in the most dramatic fashion possible, spearing his Ford into an Urria bank at barely diminished speed. The roll that followed was one of the most frightening accidents in the modern era of the sport (you can find it on YouTube here).
And this week, Hirvonen will go back to that right hander over the crest that tripped him up 12 months ago. And he's laughing about it.
"I'm going to hang on tighter to the wheel," he smiles. "I'll tell my co-driver Jarmo [Lehtinen] to hold on as well!"
Hirvonen's in an exceptionally good mood. As well he might be. He's just spent the day in his favourite place in the world. He's just spent his day testing his Ford Fiesta RS WRC at home in Finland. To be precise, he's just spent the past 10 minutes in a lake.
The stretch of road that caught Hirvonen out in 2010 © sutton-images.com
"I'm ready," he says. That statement is more about his mental state ahead of the biggest event of his year, rather than his ability and willingness to answer autosport.com's questions. Happy in a Focus World Rally Car round these parts, Hirvonen's even happier in this year's Fiesta.
"I was always confident with the Focus," he says. "But now it's double that."
The significant change to the suspension at the back end of Ford's latest rally weapon has transformed it. Hirvonen can now carry even more speed with more stability through the corners.
"Everybody else," he says, "had better watch out..."
Hirvonen's confidence rings through the team. The 18-strong back-up team has been in Finland for four days of testing. The first two were for Latvala, the last two were for Hirvonen. All four couldn't have been better.
But, numbers-wise, what does a four-day Finland test mean?
Let's have a go.
The Fiesta RS WRC test car...
... completed 1297 kilometres (805 miles) in 'stage' mode in 11 hours of driving.
... spent 21 of those kilometres (or 13 miles) flying through the air.
... completed 8352 gear changes over the four days.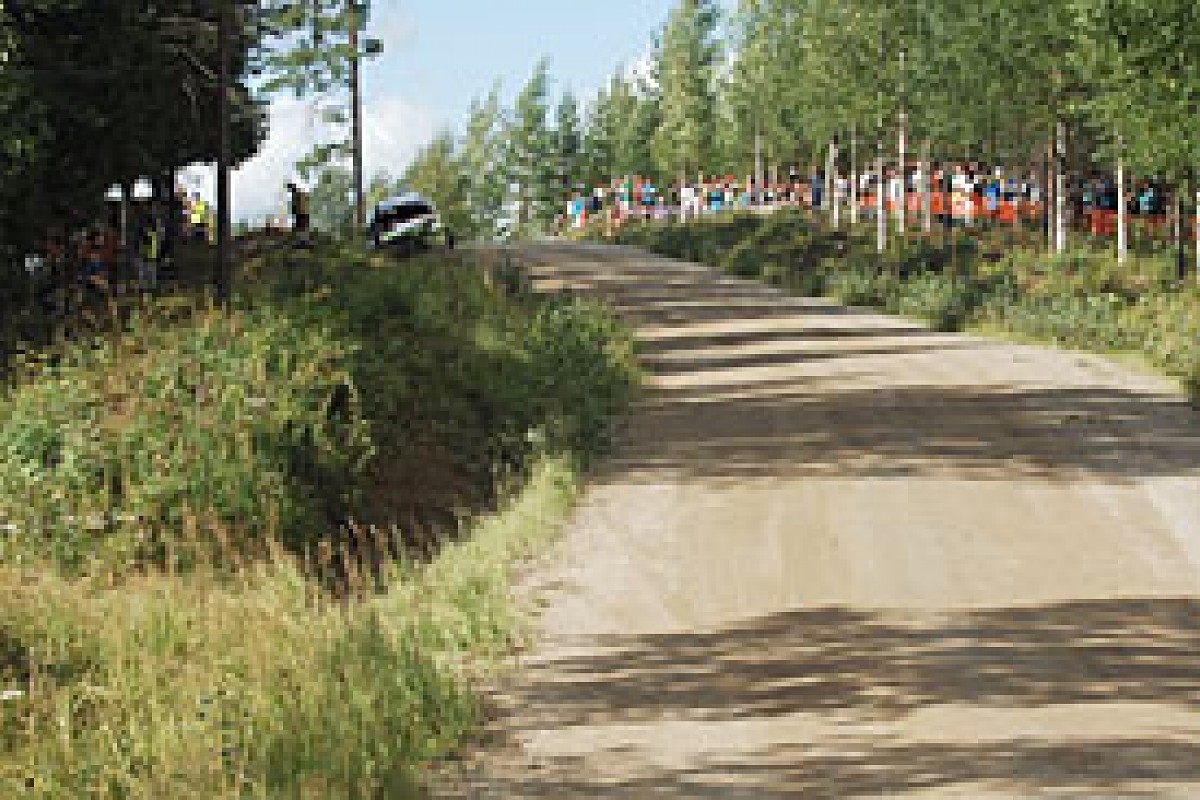 Mikko Hirvonen in action with the Fiesta earlier this year © LAT
The team worked 1116 man hours on four different roads, closed by a team of 20 road closers - all of which was overseen by two paramedics. The highest temperature recorded was 32C in the air and 35C on the ground.
And, on the final day of the test, in one repeated 4.97-mile stretch of road called Ouninpohja, Hirvonen's co-driver called 7548 pace notes to keep his man straight down the middle.
And tomorrow (Thursday), a nation holds its breath as the madness starts all over again.
Rally Finland. Bang on.