Nini Russo remembers the day. He'll never forget it. May 2, 1986 had started well for Lancia's team manager. Three of his Delta S4s were running in the top five on the Tour de Corse, with Henri Toivonen extending his lead over Peugeot's Bruno Saby at the front.
After an overnight halt in Bastia, Saby was fastest on the second stage of the day, Friday's opener having been cancelled. Toivonen responded to Saby's challenge with four quickest times, putting the Delta out of reach at the front.
For Russo, that Tour de Corse was shaping up to be a regular rally. He'd seen the 29-year-old Finn win two of the previous four events he'd started. This was looking increasingly like Toivonen's year.
Stage 18 started from Corte, a small town in the centre of Corsica and the heart of the island's mountains. As usual, Russo was on hand to oversee the trio of Lancias going into the stage. Despite talk of Toivonen suffering from a head cold, Russo remembers nothing special.
"They went into the stage as normal, everything was calm with Henri," he says.
Compared with today's World Rally Championship rounds, the 1980s were much more a test of endurance. The opening day had included more than 250 competitive miles in just 12 hours - that's the equivalent to the full competitive length of a modern WRC round, in one day.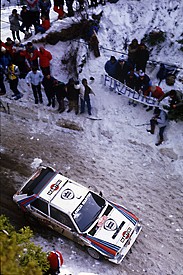 Toivonen excelled in the Group B Lancia Delta S4 © LAT
Like his contemporaries, Toivonen was increasingly uncomfortable at driving such staggeringly powerful cars on the limit for such long periods. In his last recorded interview, shortly before driving to the start of stage 18, Toivonen reflected on those sentiments.
Following the deaths of three spectators on the previous European round of the championship in Portugal, the sport's then governing body FISA had recognised the issue of ever-increasing speeds. In time for the 1986 Tour de Corse, the rules had been changed, with competitive sections run at an average speed of more than 68mph being banned. On an event known as the Rally of 10,000 Corners, this rule would have no effect in Corsica.
Russo continues: "Henri was happy with the car. I think he was the driver who really interpreted the Delta S4. He had the feeling with this car. It's hard to put this into words, but I believe he loved this car. Henri was quiet before that stage, but that was Henri, this was his character, he was never really agitated. He wasn't like Markku [Alen], for example. With Markku, it was always: "Hey, what is noise coming from back of the car? What about the tyres? The brakes?" He was a different character. Henri was fast in that rally."
He certainly was. And Britain's Malcolm Wilson was almost on hand to see it for himself. Wilson's own works Metro 6R4 had retired on the penultimate stage of day one with an engine fire, leaving the Cumbrian and his co-driver Nigel Harris on the sidelines.
"We were going to go and spectate the next day," recalls Wilson. "We drove up into one of the stages, but I decided not to go, I was pretty down about retiring. Elaine [Wilson's wife] and Nigel went up to watch, though. When they came down, I remember the shocked expression on Nigel's face. Elaine, too, hadn't seen anything like the speed of Henri. I mean, on one stage alone, he had taken 50 seconds out of everybody! It was astonishing."
Wilson and Toivonen had become friends when they had both driven Ford Escorts for the Total Team in the British Rally Championship in 1979.
"He was a good guy," says Wilson. "He was very open as a team-mate. There's no question he would have been a world champion. He must still go down as the fastest Finn ever on Tarmac."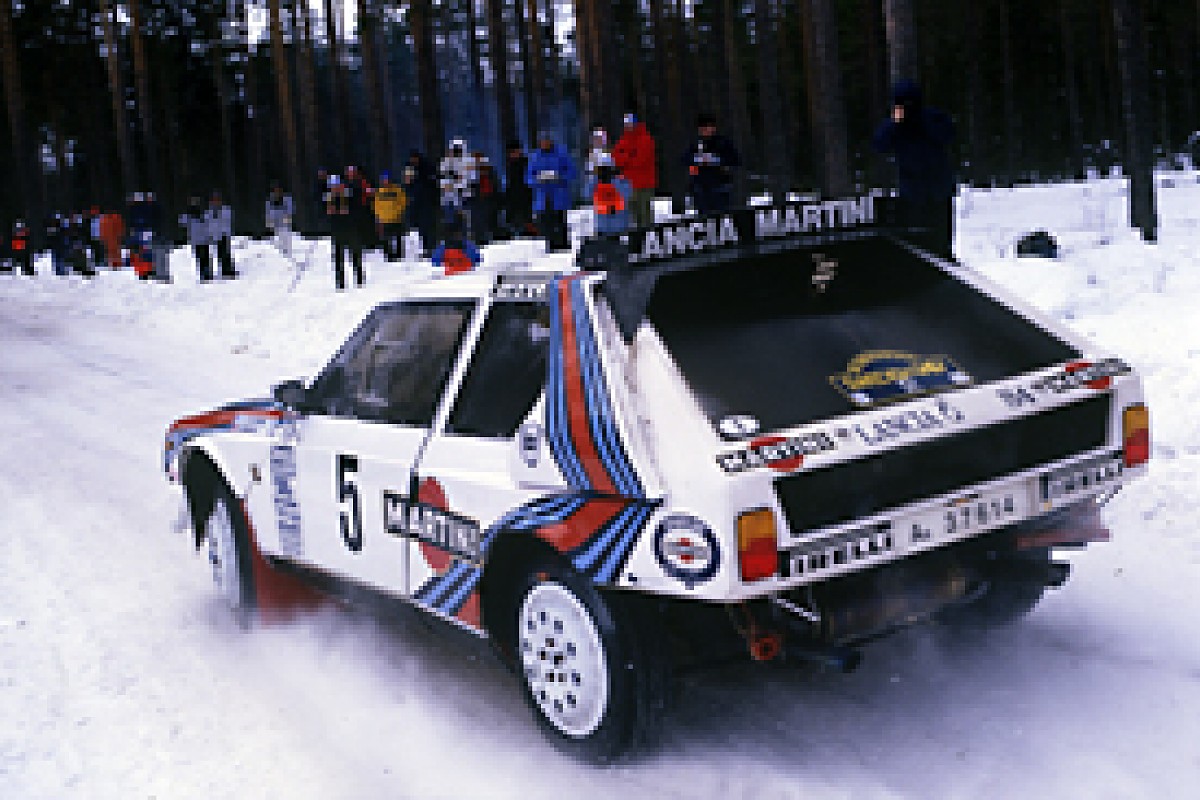 Strangely for a Finn, Toivonen was at home on snow, gravel and asphalt © LAT
Nobody was faster on the Corsican asphalt 25 years ago today. Right up, that is, until a tightish left-hander, six miles north of Calvi on the N187. The Delta S4 failed to negotiate the corner, went off the road and landed on its roof at the bottom of the valley. Running in asphalt trim, the Lancia was shorn of the heavy-duty protection under the fuel tank. The car burst into flames and Toivonen and his American co-driver Sergio Cresto perished.
Take your pick from the assorted conspiracy theories about Toivonen's medication for his cold, the lack of skid marks or his demeanour that day. It's all conjecture. The fact is, in clear, dry conditions, the car left the road and the two people who could have offered any explanation were dead moments later.
Russo heard about the accident over the radio. It was quickly apparent that nothing could have been done, the mix of high-octane race fuel and Kevlar parts intensified the fire immediately.
"When I heard on the radio, for a moment, I went out of my mind," says Russo.
Until the end of the previous season, the teams had been permitted to fly helicopters over the top of their competing cars, allowing them to tend to the every need of car or crew in a matter of minutes. For 1986, FISA had outlawed this.
"I wanted to kill [Jean-Marie, FISA president] Balestre," says Russo. "He had said we couldn't take the helicopter to fly over the cars, if we'd had the helicopter, who knows? We might have been able to do something."
There's a pause in the conversation as Russo remembers the moment again.
"I wanted to kill him," he repeats quietly. "These drivers were like my sons, my family."
The rest of that day was cancelled, with the crews heading to Calvi for the overnight halt, where Lancia withdrew the remaining official S4s of Alen and Miki Biasion plus Alex Fiorio's Jolly Club car.
On that same Friday, 25 years ago, Henri's younger brother Harri was lining up to start a major international rally. Harri was driving a Metro 6R4 on the Welsh Rally.
"We were late going to scrutineering," says Harri. "We were in a hurry, when suddenly there was silence and everybody seemed to turn their back on me. I thought: "Oh, no. What have I done now?" I used to joke with the mechanics and I thought they were joking with me. One of them said: "Harri, you have to go to the office now."
"I went to the rally office and in there all of the people turned their backs on me. They turned their faces away, I couldn't understand it. Nobody would talk to me. Then Phil Short [co-driver to David Llewellin, fellow 6R4 driver] came and said to me: "Harri, I have some very bad news from Corsica." He told me what had happened. After that I talked a little with Hannu [Mikkola], who was competing there.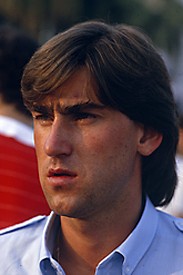 Henri Toivonen © LAT
"Henri was my best friend as well as my brother. He was a big man who would do anything to help me. All of the time, he was looking out for his little brother and what he could do to help me. He was the first person to telephone John Davenport and talk about me getting in the Metro 6R4. When drivers are at the top, they don't usually do anything to help other drivers, but Henri did for me - and for Juha [Kankkunen]. As a driver, he was on a different level, he would have been world champion and many times."
One man who had spent more than most in a car with Toivonen was his co-driver of three years Fred Gallagher. The pair got together in 1981, just months after Toivonen had become the youngest driver to win a world championship round. Aged 24, he had guided his Sunbeam to a comfortable victory on the RAC Rally, following in the footsteps of his father Pauli, who had also won at the highest level.
Gallagher remembers a vastly talented driver who was still very much learning his craft.
"These days, drivers are coming to the sport younger and younger," he says. "But in the 1980s, Henri was very young to be in the position he was. We were both young, both learning. He could be the most charismatic of people, but, equally, he could be the most frustrating. I often look back and think how much I would like to have gone into the car with Henri as an experienced co-driver, maybe in the late Eighties or early Nineties or something. That year, 1981, was my first full year in the WRC."
The partnership worked well enough to help land Talbot the manufacturers' title in 1981.
"Henri and I didn't realise the importance of that back then," he says. "We were really interested in winning rallies ourselves. Now, though, you can appreciate what we helped Talbot to achieve."
Toivonen and Gallagher helped Talbot lift the 1981 WRC manufacturers' crown © LAT
At the end of 1983, Toivonen was very much in demand. He had offers from Porsche, Peugeot and Lancia - all of them good. In the end, he drove in the World Championship for Lancia and David Richards' Porsche team in the European Rally Championship. Richards wanted to bring Ian Grindrod in as a co-driver and, faced with sharing the seat alongside Toivonen, Gallagher walked away.
"I think we would have handled the whole thing differently in later years," he says. "But there's no doubt Henri was a real talent. I'm often asked how good he was and it's hard to say. When you get to a certain level, these drivers are all so good at what they do."
Had Gallagher stuck to the contract he'd signed aboard Cesare Fiorio's boat at the end of 1983, it could have been him and not Cresto calling that fateful note.
"Could have been," he says, thoughtfully. Not one to engage in a debate over destiny, he adds: "But who's to say I wouldn't have called a wrong note a couple of corners earlier and we would have gone off the road in a more gentle way. I'm proud of the time I had with Henri."
Gallagher was his longest-serving co-driver.
There were times when Toivonen looked like he wouldn't need a co-driver at all. He drove a handful of British Formula 3 races for Eddie Jordan's team and the Irishman remains convinced he would have made it to the very top and won Formula 1 races.
Anybody doubting his speed around a track should remember Toivonen's pre-Portugal test in 1986. While fettling the Delta S4 for the rally ahead, Toivonen lapped Estoril fast enough to place his Lancia sixth on the grid for that year's Portuguese Grand Prix. That was Group B and Toivonen for you.
Twenty-five years ago, our sport was robbed of a great, great talent.
Russo sums up his emotions a quarter of a century on.
"I have the good feeling and the bad feeling," he says. "The bad feeling is because of what happened, but the good feeling comes from knowing Henri and remembering Henri."
Those fortunate enough to have seen him drive will never forget Henri.