There were people everywhere. And then there was Paddy Hopkirk. Looking dapper as usual, the ever-smiling Belfast boy who won the Monte Carlo Rally against all odds in 1964 couldn't help but grin.
"It's happened," he said, quietly. "It's really happened."
It had indeed. We'd just emerged from the launch of Mini's John Cooper Works World Rally Car. And it had happened in the right neck of the woods, Oxfordshire. Anybody vaguely familiar with the Mini's history will be well acquainted with the importance of the Cowley factory, where the future arrived earlier this week.
On a couple of points of order: the Mini Countryman, on which the new rally car is based, is actually produced in Austria and the Coopers which Hopkirk and co. raced in the 1960s were prepared down the road at the British Motor Company's Competitions Department in Abingdon.
Undoubtedly, there was a strange collocation about Cowley; Mini is a cool, funky, forward-thinking brand and, as such, the black walls, flashing lights and with-the-kids ambiance worked well (as did the red, possibly orange - hard to tell in that light - Converse trainers David Richards was wearing).
But then, at the key moment, when we were expecting the cutting-edge World Rally Car to come through the screens, there was a toot-toot and the buzzy screech of 1,275 agitated ccs as Hopkirk and his 1960s' team-mate Rauno Aaltonen arrived on stage in a replica of a car which they once made great.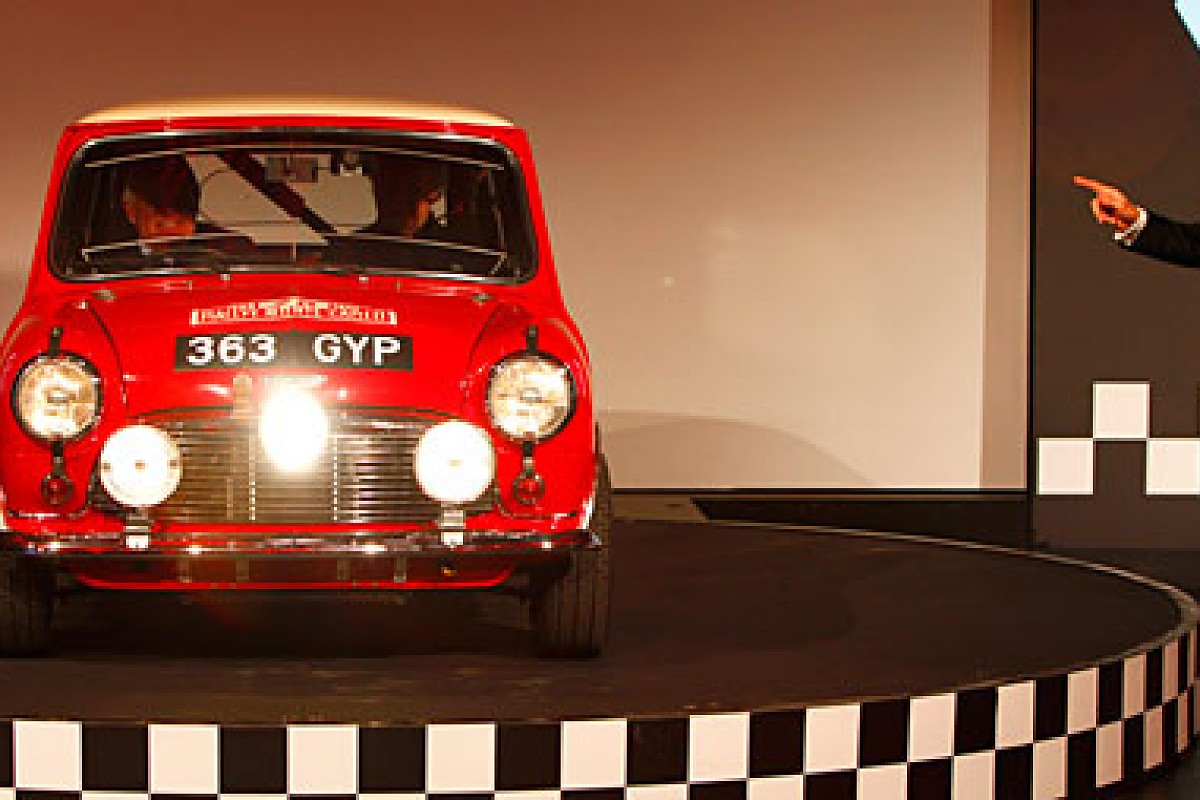 Striking the balance between feeding off the history of a brand as great as Mini and moving forward as a cutting-edge company is not easy. That juxtaposition was made all the more apparent when the two cars were sat alongside each other. One was undoubtedly all Mini, the other was a big car sat next to a small one. Remember that film, Twins, which set Danny Devito alongside Arnold Schwarzenegger as brothers? That was the Minis on Monday.
As with any motorsport launch, the flashing lights, loud music, proclamations of readiness allied to performance proposals tethered tenuously with humility were all in place with Mini - and delivered by a variety of heavy-hitters from BMW, Mini and Prodrive.
But soon enough, the time will come to stand up and be counted. And, shorn of all the nonchalance and edginess of the launch, there will - unlike the launch itself - be no dark corners to seek solace. Should it be required.
Will it be required? Probably. In all honesty, it would be remarkable if this Banbury-built, Bavarian-inspired machine came out of the box and won. Or even hit the podium in Sardinia next month.
More likely, Dani Sordo and Kris Meeke will be midfield, halfway up - or down - the top 10. Getting the car to the finish has to be the priority. Doesn't it?
Not according to Prodrive's technical director David Lapworth, who is a firm advocate of a car showing its speed from the outset.
"It's easier," Lapworth reasons, "to make a fast car reliable than a reliable car fast."
Having overseen some of Prodrive finest and foulest machinery, he'd know.
The Mini will make its official debut next month © LAT
There's the talk of the World Rally Car aero being worth half a second per kilometre over the slightly less street-looking Super 2000 version used by Armindo Araujo and Daniel Oliveira in Portugal last month. As a double Production Car World Rally Champion, Araujo knows how to drive a car and his times were between a second and two seconds per mile off the fastest time.
Now, factor in the confidence gained from a bolted back end, courtesy of the big rear wing and some slightly brisker pedaling from Sordo and Meeke and fastest times might be possible on the Italian island. Having been asked for the millionth time, Meeke's response is well-rehearsed.
"I don't think we're going to be a second a kilometre behind," he says, "but I don't think we'll be a second per kilometre ahead either!"
It's fair to say there is much less potential for getting this car wrong than under the previous technical regulations. Nowadays the WRC is all about a level playing field in terms of transmission and, to a slightly lesser extent, the engine. The dampers, however, are still pretty much open to interpretation.
Wheels off, the cans and coils visible on each corner of today's World Rally Cars are governed by the FIA, but what goes on inside the tube is entirely up to the teams and their suspension partners. And the Mini's suspension has been a point of interest for a while now.
Anybody watching the WRC's first three rounds will have noticed the tendency for soft cars. This is a phenomenon which has been around for a while now. The Focus in particular always seemed to lurch through corners, especially in gravel trim while running on asphalt. And those boat-like traits can be found in the genes of Ford's successor, the Fiesta. The DS3's the same, appearing to wallow its way from corner to corner.
The Mini's different. There's no soft touch with the Mini. After 18 months working with Ohlins, Prodrive appears to have erred on the side of precision over traction from its dampers. This is a genuine step outside the norm right now. Will it work?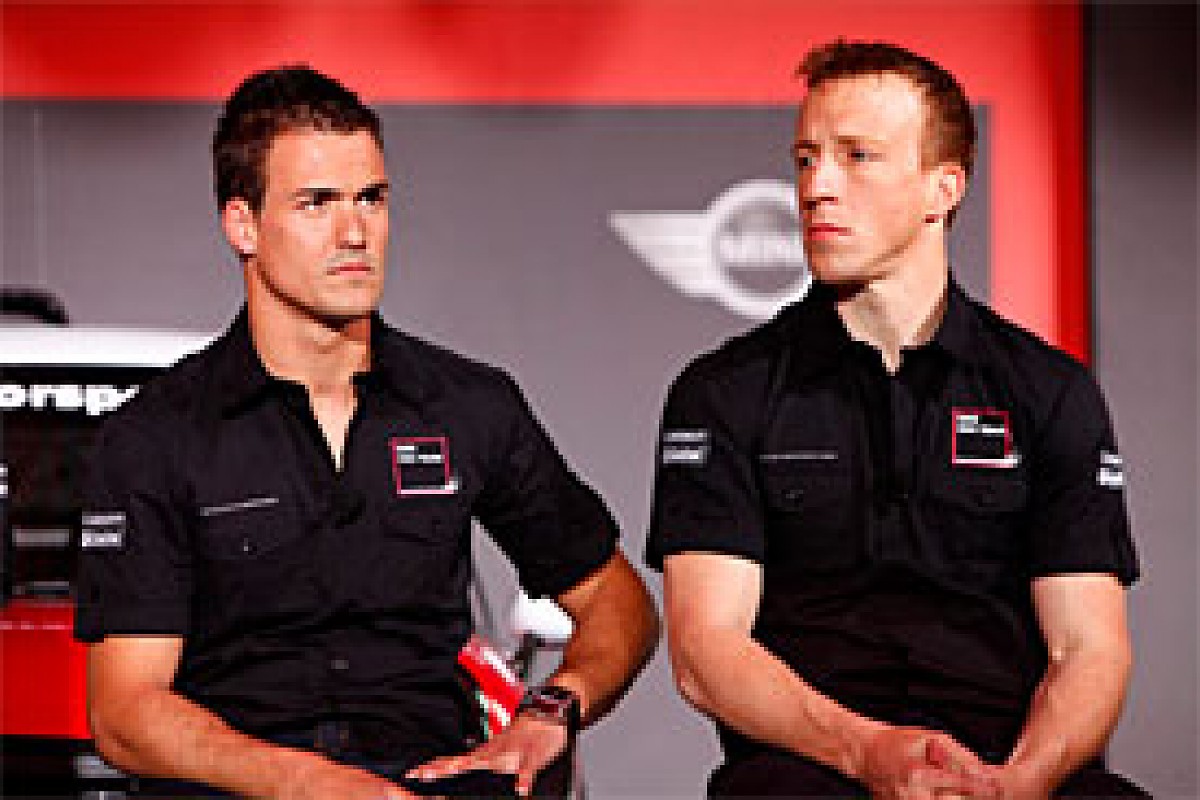 Sordo and Meeke will lead Mini's attack © LAT
"We'll see," smiles Lapworth, with that knowing glint in his eye.
And there, the pontificating must stop.
The fact is, the World Rally Championship has another manufacturer. A new lease of life has been breathed into the sport. And credit must go to Prodrive for the doing to generic legwork on a new generation WRC and then convincing Mini of the need to return to its roots.
If there had ever been any doubts in the minds of BMW's high fliers, Monday in Cowley would have helped no end. Like I said, there were people everywhere. In a sport where a scrum of 20 people around a driver is considered a journalist's worst nightmare, seeing 10 times that number blinking back the bright lights to drink in another timely anecdote from DR or his new-found friends came as a major shot in the arm.
Mini undoubtedly arrived - and returned - on Monday.