Sebastien Loeb doesn't talk about being lucky very often. He did last Friday morning. But actually, he wasn't really that lucky. There was plenty of judgement (and a significant amount of skill and bravery) as well as the luck.
Fortune favoured him with fog on Friday morning in Spain. Undoubtedly, had the Catalunya Rally been run a month earlier, he would have struggled to do the time he did through the Terra Alta stage. If the sun had come up hard, fast and hot, the road surface would have been as rocky, gravely and loose as ever. Instead, the sun took its time to break through the fog and that fog left just about enough moisture on the road to bind some of the gravel together. So, instead of scrabbling around on top of the loose, the Pirelli Scorpions at each corner of Loeb's Citroen C4 WRC were offered some purchase. They took it. And Loeb won the rally.
Loeb was on fire in Spain © Sutton
It was right there in that stage that he did the job of the weekend. He absolutely knocked the stuffing out of everybody along a road where he was expected to be slaughtered. And his slayer was supposed to be his team-mate Dani Sordo. Sordo was fifth. And not at the races.
This was classic Loeb; the seven-time champion doing what he does best. And, in fairness, he'd given us fair warning that he was in it to win it. To precis the Frenchman before the start, he told the world, if Sordo wanted his first win, he would have to earn it. Loeb's point was that a gifted first victory would mean nothing to Sordo, but if he earned it, it would mean everything. The sentiment there is absolutely right and entirely laudable.
But there's a chance, just a chance, that Sordo might not find a seat next year and if he doesn't he might never be in with the chance of winning at the highest level again. Then, when his grandchildren are sitting on his knee in 2045, reminiscing about his time in the team with the great one, he might not with such zest extol the virtues of earning his win...
But, in Salou last week, Sordo had his chance.
He might have fluffed his lines on the dirt - with some help from the wayward rear of what he felt was a slightly malfunctioning C4 - but he certainly came good on the weekend. He was, as usual, super-quick when the asphalt arrived.
The one thing which I think got underplayed in Spain was Loeb's contribution behind the wheel of his C4. There's plenty of talk about a damp and dewy Terra Alta helping the seven-time champion, but, actually, he just helped himself. Again, Loeb turned it on when he needed to. And, when he felt able to.
Loeb's Catalan drive was one of a man completely free to express himself again. At home, in France, he won from the front where it was undoubtedly the best place to be. He encountered barely any of the mud which scuppered those giving chase to his Citroen. Before that, he was a super-cautious fifth in Japan. Before that, it was Germany - he always wins in Germany. Before that it was Finland, where he played the percentages on the final day and came out third. He was happy enough, by that point, all eyes were on Haguenau and celebrating at home with his family.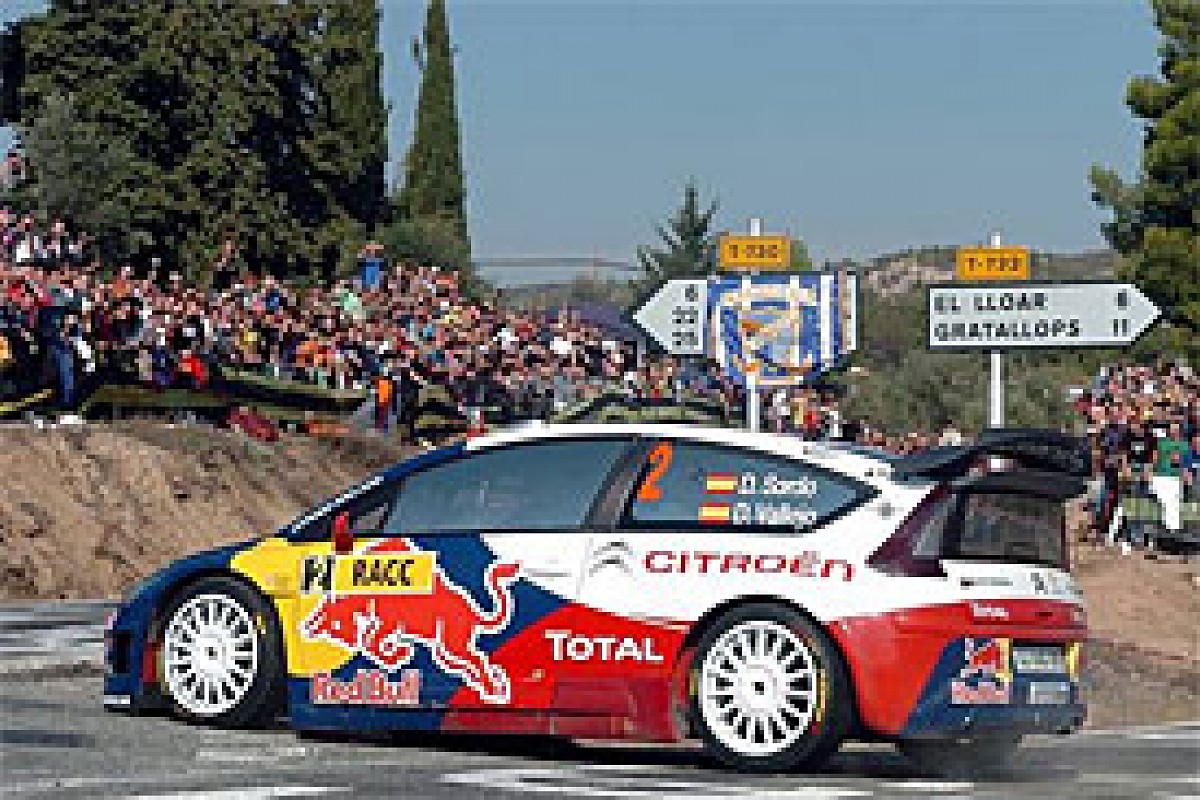 Sordo had a poor start on the opening day © Sutoon
Nobody got close to Loeb in Spain, because he didn't want them to. He didn't give them the chance to. He settled back into the groove, focused his attentions firmly on winning the rally and nothing else. Then blew everybody away.
The really interesting event is the next one, the final instalment of the two-litre World Rally Car; Rally Great Britain. Once again, Loeb's going to be keen to win this one; he's keen to win every one. But, Sebastien Ogier is a man who hasn't lost to Loeb on gravel since the Rally of Turkey in April. Ogier will be desperate to put one over on Loeb in Wales, desperate to send him into the winter with a tiny element of doubt about next year when the pair line up as equals.
Make no mistake, it's impossible to underestimate the importance of Rally GB.
The same goes for Ford. It's been a tough old year for the Finns in their Focuses. But GB offers a final fling and a big chance to close the chapter with a smile on their faces.
During the Catalunya Rally, I was fortunate enough to go out spectating with Frederic Banzet, Citroen's grandest of fromages. He was a thoroughly nice bloke, enormously accommodating of my absence of French tongue and interested in all things rally - to such an extent that he filmed the stages we were watching on his telephone. It was a great afternoon. But one thing dawned on me during the afternoon. Watching the Fords pass before us, just a nanosecond slower than his own cars had, Banzet asked me what I thought was going on at Ford.
I answered diplomatically, but left the afternoon with a clearer-than-ever view of the differences between Citroen and Ford.
Citroen is a pukka works team. It's Citroen through and through. Sure, there's a customer - Junior - team, but it's all about what Olivier Quesnel calls his red army.
Ford is not really a works team. Ford is, essentially, a very big customer of M-Sport. And, while I don't know the precise figures, it's not hard to imagine Citroen's entire investment in the WRC is somewhat larger than Ford's.
Quesnel is Citroen's team principal, the red army's general. He leads them into battle 13 times a year with one aim: to win.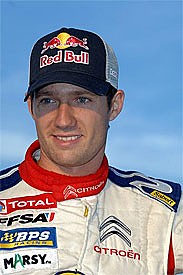 Ogier will want to win Rally GB © Sutton
His opposite number in blue, Malcolm Wilson displays the same leadership; nobody wants to win more than him. But, while he's got winning on his mind, he's also got the balance sheet from the customer teams he's running, the development of the R2 or S2000 Fiesta or the 24-or-so cars he's got to build for the WRC Academy at the back of his mind. There's considerably more to Wilson and Ford's WRC programme than meets the eye. It wasn't long ago that, without Wilson's personal commitment to the sport, it's not over-stating the evidence to say Ford would not longer be at rallying's highest level.
It's easy to stand on the sidelines and critique Ford for not developing a six-speed gearbox, which might have helped them out of a woeful Bulgarian result, or the fact that they didn't just dip into to the corporate coffers and make Ogier an offer he can't refuse. The reality is, however, that the money's just not there to do that.
The good news for Wilson and Ford is next year. The new cars are coming and they're going to level the playing field. Of course, there's still room for manoeuvre within the regulations, but not quite the same as with the current rules.
And while we're talking about good news for next year, let's briefly touch on the WRC Academy and the Pirelli Star Driver programmes, both of which warrant a column of their own. The Academy is a stroke of genius for which all involve must be applauded. And next year's PSDs are looking better than ever. Once again, a huge slap on the back for Morrie Chandler and all those at the FIA who embraced the idea of a global shoot-out.
Once again this season, we have seen drivers from some of the regions lagging some distance behind the others. There's no shame in this, it's just a reflection on where the sport's at in various parts of the world. But the job of the PSD programme is to take the best in the world to the next level and, finally, that's what its doing.
For now, though, let's get to Cardiff...