The Wednesday night before last week's Rallye de France was a pretty miserable one at our table, in the culinary-challenged German/Lebanese restaurant next door to the grubby hotel we'd found in the suburbs of Strasbourg. The mood was not good. We were not, definitely not, in Corsica.
Earlier that same day, in an attempt to improve matters, I'd shown my hire car the 22 miles between La Petite Fosse and Belval - also known as the Pays d'Ormont stage on Saturday.
It was good. In fairness, it was great, dipping in and out of the forest through open hairpins, tight junctions, scooting past typically Alsatian farmhouses and diving off a good road onto some gnarly gravely bits before sliding back onto the French equivalent of a white (probably known as a blanc, but equally having relayed the concept to some of the natives, it clearly doesn't translate...).
Like I said, it was good. And, if I'd never seen the road from Pont de Calzola to Agosta on Corsica, I'd probably say it was great.
My recce hadn't really worked. We still weren't in Corsica. And, to make matters worse, not only was it raining, but there was also no sign of the thousands of people we'd been promised. On Wednesday night, Rallye de France was a definite lose-lose.
Things didn't improve much at shakedown. It was still raining, but at least a few of Sebastien Loeb's mates had turned up. Unfortunately, it now became quite clear that, from an organisational perspective, this event was proving a huge challenge. The teams had been lobbying the event organisers for some time to try shed some light on quite how they were going to slow the square peg of their event into the round hole that was the Mulhouse remote service on Friday. And then there was the first run at the Haguenau stage on Sunday.
The plan was to send the cars into the stage staggered at one-minute intervals. The teams reckoned the first car in would be just coming through onto its second lap when the next car was starting. There was genuine concern that a rallying equivalent of Schumacher and Hill could be staged 16 years on from Adelaide.
In the run up to an event, it's quite normal for the organisers to issue bulletins about last-minute changes to the route or to the event's timing schedule. Events usually post a handful of these in the duration of the rally. Thursday, Friday, Saturday and Sunday went by in blizzard of bulletins; with bulletins about the bulletins being issued.
And as for the event's official itinerary, it became something of a running joke that the timetable was little more than a rough guide to when stages might be happening - such was the organisers' apparent penchant for running late.
Finally, the classic rabbit-in-headlights moment came on Sunday morning. Having run through the Bitche Camp stage once, the crews headed into a two-hour regroup before returning to the start of the final day's longest stage. When tens of thousands of people descended on the military camp to watch SS18 and 19, the organisers were hugely (and understandably) concerned the second lap of the test might run late and impact on the live television slot for Loeb's backyard moment in seventh heaven, so they cancelled it. What about the fans? Forget them, it's all about the telly.
Of more concern was the organisers' decision to stick a refuel into the route just 800 metres after the end of SS2. Here's the sketch: the cars come out of the Firstplan stage with the turbo running at a zillion degrees, the brakes not far short of that and about a minute later they're pulling up next to a dozen industrial-sized drums of petrol with some poor fella chancing his arm and pumping it into their tank. Convention and common sense - but not regulation, oddly enough - states that refuels should be a good few miles down the road, allowing everything to cool down on the cars.
The refuel team were understandably irate and not placated by being instructed to: "Tell the cars to wait five minutes or so before coming in..."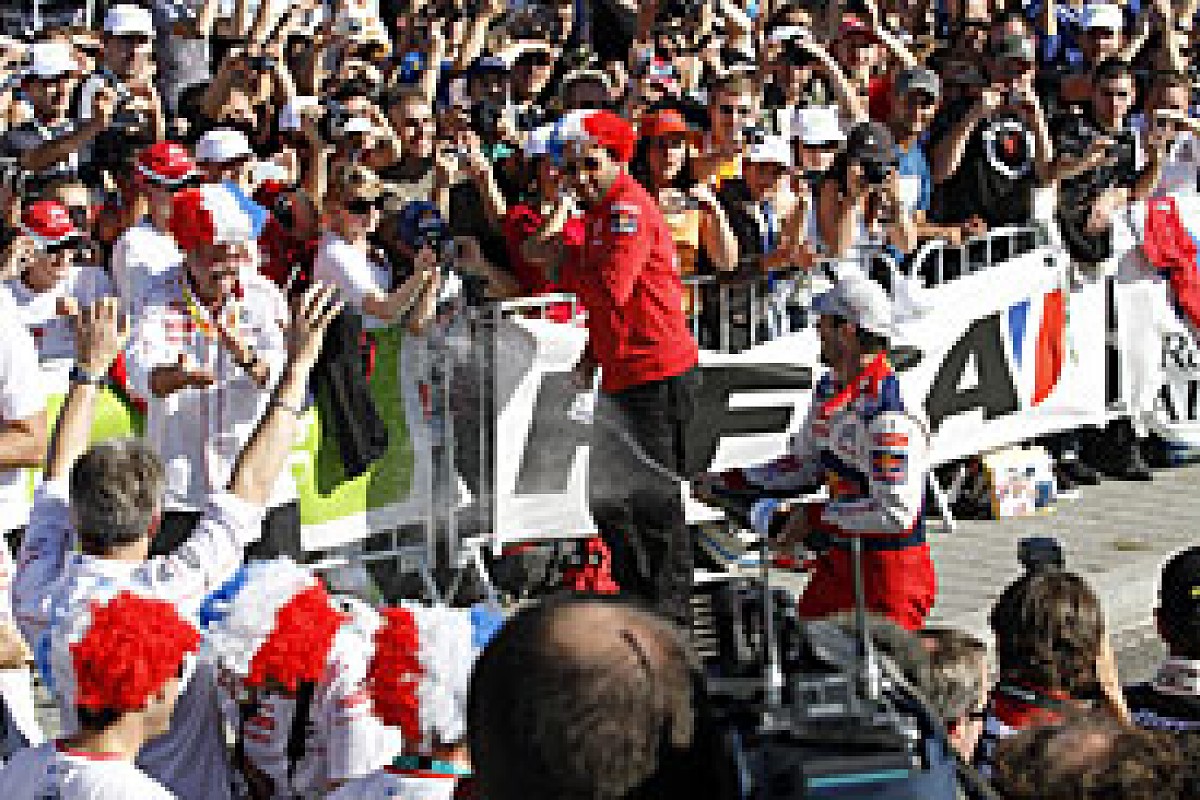 Sebastien Loeb was elevated to 'rockstar' status in France © LAT
In these timed-to-the-tenth days of rallying, that seemed something of an odd instruction.
The nightmare nearly came true as well, when a competitor further down the field arrived with his brakes on fire. Now, I'm not health and safety expert, but that doesn't sound the best to me.
Bearing all of that in mind, last week's Rallye de France was a quite brilliant event. Having made something of a hash of the pre-event work, the organisers demonstrated a great ability to think on their feet and usually got themselves out of trouble.
And then the people came. And, boy, did the people come. It was like we'd gone back to the 1980s again. Or back to Argentina. In Argentina, the fans tend to stick to the stages, but in France, service was absolutely mobbed. It was incredible. Arriving at the service park before seven every morning (usually in the pre-dawn drizzle) there were hundreds waiting for Loeb to come and pick his car up from parc ferme. And by the time the sun had come up, that number had swollen to 15,000. And on Sunday, there were even more.
That might not sound like a lot, but bear in mind, there were upwards of 50,000 in Bitche Camp on Sunday and probably a similar number if not more in Haguenau.
Sebastien Loeb is undoubtedly the best rally driver ever to walk the earth. Forget all that nonsense about eras and Walter Rohrl this or Ari Vatanen that, it's Loeb. But, above that, Loeb's an exceptionally decent fellow. For somebody with 60 world rally wins and seven world titles, he has no edge and no agenda. He's just like you and me: he likes driving fast. Except he's a bit better at it than us.
It was humbling beyond words to see him struggling to deal with the kind of manic hero worship which he'd never come across before. I don't think any rally driver has ever had to deal with that kind of thing. As soon as he stepped outside the Citroen service area, the screaming started. He needed a police cordon around him to go anywhere and watching the crowd engulf him and move with him was quite terrifying at times. I'd imagine it was similar to Jesus at the height of his popularity - although Loeb's disciples were all wearing red.
When Loeb stopped his car at the end of the last stage (he had no option, his rouge-shirted family and friends blocked the way ahead), the atmosphere was electric. It was insane. The first champagne corker popped and suddenly, they were all popping. The car, the crew, everybody and everything was drenched. Family, friends, the people who really matter were all there, sharing the moment. It almost seems intrusive to report on such emotion, suffice to say, it was unforgettable.
Not for nothing has Citroen team principal Olivier Quesnel stopped calling Loeb 'The boss' and started calling him 'The rockstar'.
Loeb genuinely achieved rockstar status in France last week. And it was damned good to see. Prior to last week, it seemed France - or more to the point Corsica - had demonstrated little more than ambivalence towards the man who rules our world. Well, that all changed in Alsace.
Rallye de France needs a rap over the knuckles for last week. But at the same time, it also deserves our heart-felt thanks for providing the perfect platform for Loeb's elevation to a motorsporting megastar.