Olivier Quesnel adjusted his baseball cap and looked skyward, blinking at the unusually bright and prolonged sun which was shining across the Mosel region - sweetening this year's vintage of Riesling just a little bit more. Life was sweet for Quesnel, too.
Welcome to Germany. Welcome to Loeb country.
Cap straight, Quesnel looked skyward once more.
"He's on a different planet," he ventured.
"The boss," he said, by way of an explanation. "He's on a different planet. And he's there by himself."
'The boss' by the way, is Sebastien Loeb. That's what the real boss calls him.
The drivers had just come through the first run at Arena Panzerplatte. For the uninitiated, Arena Panzerplatte is 96 junctions in 29 miles and the road surface varies from terrible to even worse. It's one to be survived.
And that's what Loeb did. He just survived it faster than anybody else first time through. And that was what won him the rally. For the eighth time.
It was at that stage that Quesnel decided to step in. "I said: 'Okay, it's enough.'"
He'd let Dani Sordo have a go at Loeb for the last day and a half, but the gap was growing in the Frenchman's favour. Sordo didn't look best pleased and offered that the choice wasn't his, but: "I'm not the boss."
No. He's not. Quesnel is and Quesnel called it right for the team. If Sordo's got a beef with anybody it's himself as, once again, he went slower through the corners, braked earlier for the bends and generally didn't have the speed to beat the bloke in the car with the same paint job as his. Fact. Move on.
And you only had to go out to the stages to watch where Loeb's speed came from. Where I was watching in Hermeskeil, just before eight on Saturday morning, Sebastien Ogier was the first to catch the eye. He was pretty wild, all locked brakes, opposite lock and urgency. Sordo was next, the C4 still snatched a brake in my view, but there was less attitude in the car. Then Loeb. The car didn't budge. It was brake, brake, brake, just at the point of locking, down the final gear, off the brakes turn in and back on the gas with the wheels straight.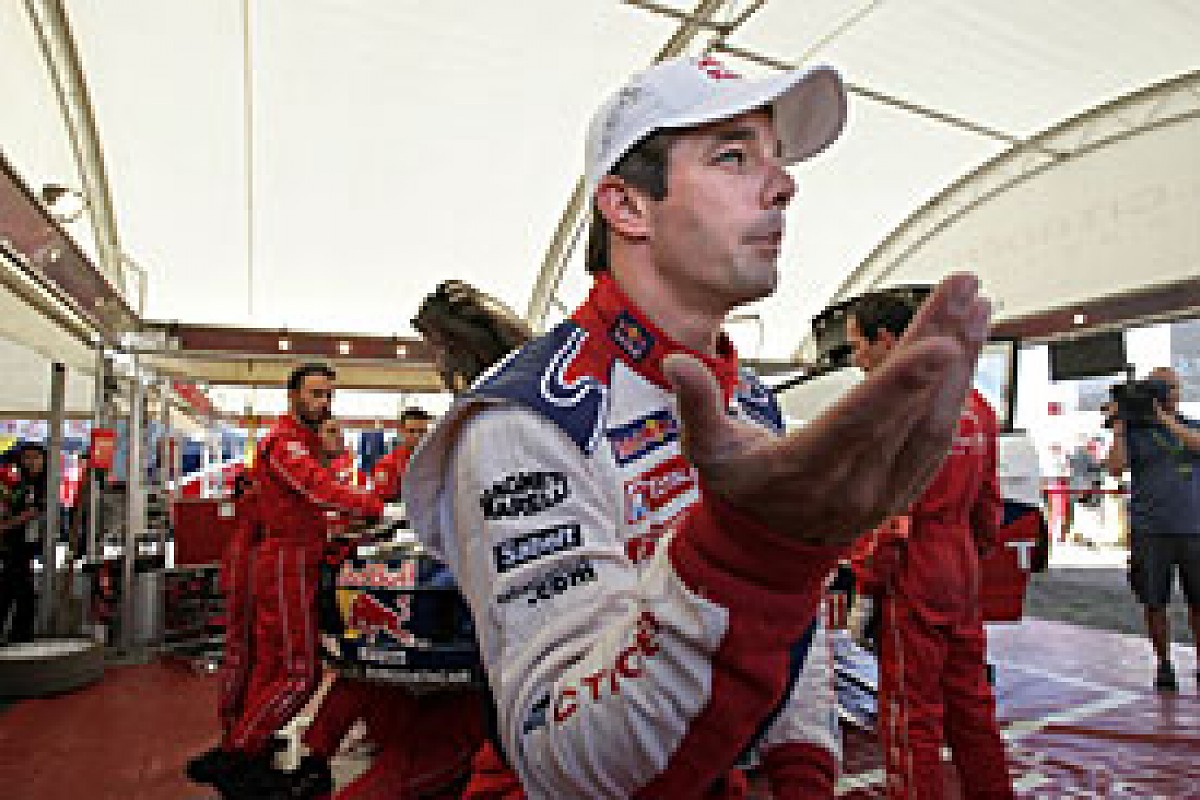 Sebastien Loeb, Citroen, Rally Germany 2010 © LAT
Uncomplictaed, uncompromising and unbeaten. Loeb's approach to the Rally Germany is just the same as any other event: get down the road with as little drama as possible and by taking as few risks as possible. He's living proof that the fastest way from apex to exit has absolutely nothing to do with the most spectacular way of getting through a corner.
That snapshot of Saturday morning Sebastien also provided proof of his contribution to an astonishing rate of reliability. Loeb cars just don't break down. It's easy to sit back and carp on about how lucky he is, but, frankly speaking, that's just rubbish. Loeb's not lucky at all, he just looks after his car.
When was the last chance you saw Loeb chucking his car at a ditch to chop a corner in half, or bouncing it off something on the exit. Actually it was New Zealand earlier this year... Okay, apart from that, Loeb clearly wasn't himself on that event: he came over bridge-bashingly Scandinavian for the weekend. Beyond that, Loeb's cars rarely leave the chosen path; he's Mr Middle of the Road. And that's why his cars don't break down - because they haven't been bashed, rubbed or smacked against anything.
The suspension does exactly what's required of it and no more and the transmission moves through and event in an unruffled, trouble-free fashion.
The above is why Sebastien Loeb is the master of our world.
Or is he?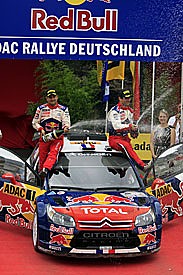 Sebastien Loeb celebrates his eighth German WRC victory © LAT
Could Petter Solberg beat Loeb in the same kit? Hmm, that's a tricky one. Let's ask somebody impartial.
"Yes!" replies Petter Solberg.
Solberg's self-belief is as infectious as it is needed to be to do what he does. And let's face it, he's pretty damned good at what he does. And the driving remains just the half of it. He returned from Germany in time to go straight off to another roadshow for his sponsor Tools, then he was doing a road safety gig in Bergen and then it was off to another Tools show before he boards a plane for Japan for the next event.
Between times, he's still got to source some more cash to keep his team running and conduct a bunch of interviews for the Norwegian media - and he's got to find time to watch his eight-year-old son Oliver in Solberg Jr's latest kart success.
I suspect not many other drivers had a schedule like that one in between Trier and Sapporo.
When Solberg set his team up last year people scoffed at the 'This is my life' slogan on the front and rear of the Xsara. Well scoff no more. It's still his life and we have to be hugely thankful for that. Imagine these last two years without Solberg. Granted he's won no rallies, but, franky, there would have been no show without the 2003 champion. And just wait until he does win a rally. I fear the world may stop in some sort of end of stage emotion overload. I can't wait.
It still bugs me a little bit that Citroen doesn't seem to fully appreciate what Solberg does for the brand. He's turned Citroen from a deeply dull southern European brand of little - if any - interest to the Scandinavian snow-dwellers into something seriously cool. Norwegians are buying Citroens, and lots of them. And it's thanks to Solberg.
I know, I know, we can't expect Quesnel to buy a driver just because he helps shift a few motors. It would help if he could drive. Well, get this, only Loeb has set more fastest times than Solberg this year. So, yes, this fella can still drive. If only Quesnel could see past Sebastien Ogier for a moment and Ford could see the opportunity staring them straight in the face. Solberg has earned the right to be in a factory car.
And if he's in one next year, he might also find his way into the parking space beneath the Porta Negra in the middle of Trier: the one marked 'S.Loeb - first.'