In Finland, there's a proverb which states: "If sauna, liquor or tar doesn't help, the disease must be fatal."
I'd like to alter that one slightly, so it reads: "If sauna, liquor or tar doesn't help, the disease might be fatal. But, as a last resort, why not try standing at the side of the Myhinpaa stage at the end of July. Still no joy? I think you might be dead already."
I'm not entirely sure my evolution of that proverb will catch on. But it should.
Once again, Rally Finland delivered. And delivered on every level. The quality of competition was second-to-none, the organisation even better. And a local lad won, Finland's youngest ever. But, what about three days into two? Did it work?
The jury's out. The mastermind of Rally Finland, Jarmo Mahonen, explained the commercial realities behind the first quiet Sunday as such: "On Sunday we drive to empty walls." Put simply, the cost of running Sunday outstrips the revenue from half a day's sport. In those terms, that makes no sense.
In Finland, probably more than ever, the rally makes financial sense. It's business in sport rather than sport in business. Unashamedly, everything has a bottom line. Eight years ago, the FIA's observer's report criticised Rally Finland for being 'too commercial.' How absurd. Luckily, AKK, the firm behind the event, took no notice of the report and forged ahead with what is undoubtedly the template for any aspiring round of the championship.
For me, the two-day format worked well. But, if anything, I'd like to make it even tougher. Why not run into Friday night longer, make the rest between days shorter. Markku Alen agrees with me. Sorry, what am I thinking of? Sorry Markku, I agree with you.
In his own words, Mr Maximum Attack says: "Hey, boys, two days is good idea, hey. Like old days, short rally: full attack, all of time. Some say days too long, not me. Less stages means you fight on every one. All rallies could work like this."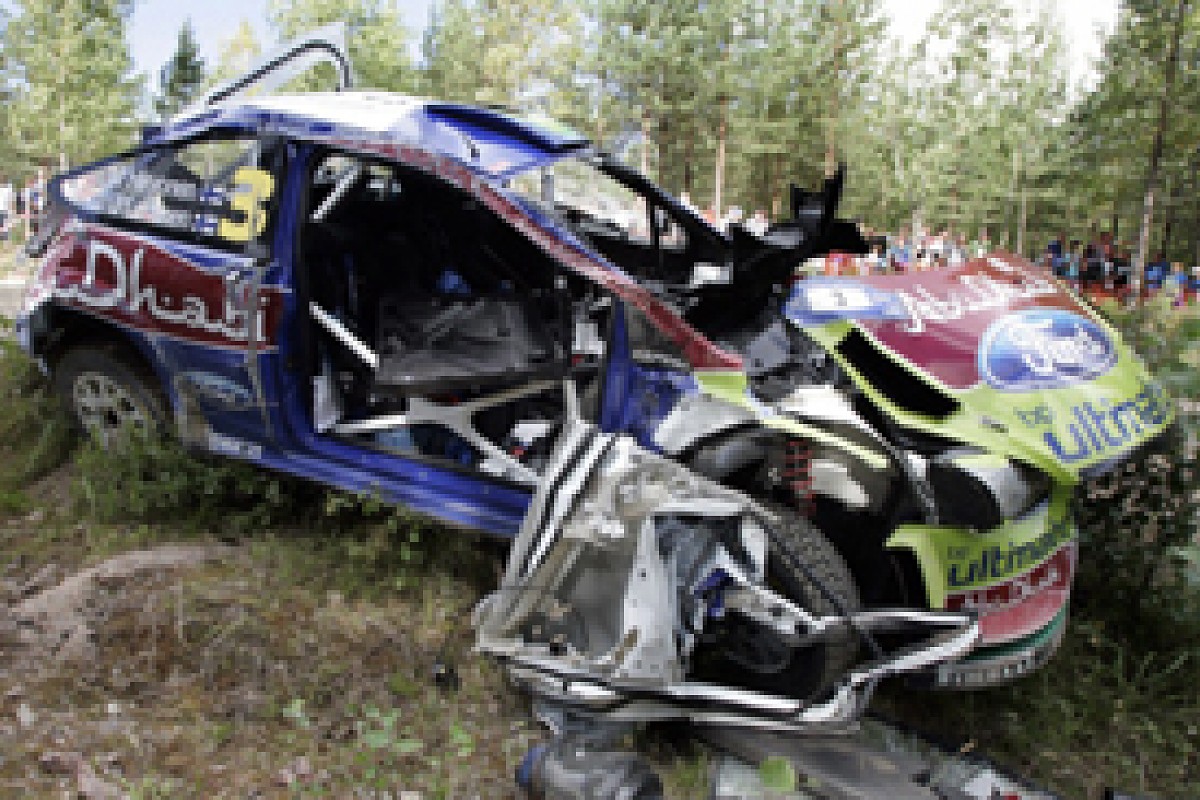 Mikko Hirvonen's crashed Focus © LAT
For those younger readers who think I might have taken leave of my grammatical senses, take a peak at any Alen interview from the 1980s on YouTube. It'll all make sense. Alen is so flat out, he doesn't bother with anything other than the words strictly necessary to construct sentences. Sorry, to construct a sentence.
Drivers like Alen are what Finland is all about. There's an edge to them, something ever so slightly unhinged. And that's Jyvaskyla on a Friday night. It's an insane town full of well-meaning madmen. And if Mikko Hirvonen thought he'd had gone off big time on Friday, it was nothing compared with some of the shunts from those on the losing end of the beer versus gravity argument in the town centre 10 hours after Ford's number one had inverted his Focus five times.
You couldn't help but feel for Hirvonen. He was on it like nobody else from the start of Friday. Let's face it, the previous event in Bulgaria had drained the whole Ford team. Nobody had expected such a solid beating at the hands of Citroen. But Hirvonen led the fightback in his hometown. Finns are proud people and Mikko knew full well that anything like a repeat of the Borovets result would leave him unable to walk his streets.
Ford's pre-event had revealed a couple of engine and suspension modifications. But the real difference for Hirvonen was that he was among his people. He made this rally his own by winning it last year and he simply wasn't ready for anybody to walk into his town and take his title. Unfortunately, on a stretch of road he knew like the back of his hand, he binned it.
Talking about the crash, one of my racing colleagues called me utterly incredulous: "Did you see the lock he had on when he was in the air?" he shouted down the phone. "It's the way they do it here," I replied, trying to educate him in the ways of the 1000 Lakes. "You take off sideways and land even more sideways. The lock keeps you on the road. Usually..."
He didn't get it.
Latvala, on the other hand, did. Rally New Zealand earlier this season showed that Latvala can push on without falling off. Crucially, he did it for a day and a half in Finland, under the most extreme pressure imaginable. He was the sole remaining Finn at the front with a queue of Citroen-driving Frenchman called Sebastien waiting to knock him off the top step of the podium.
But, to the absolute delight of the expectant nation, Latvala showed masterful control over proceedings and didn't put a wheel wrong on his way to what we all thought was his biggest win yet.
It was with first paragraphs virtually written in news stories across the world that the, surely rhetorical, question was asked, is this the biggest win?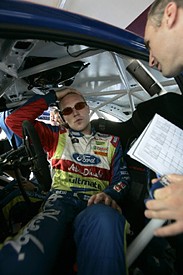 Jari-Matti Latvala © LAT
Typically, Latvala put some thought into the question. He took off the glasses, rubbed the bridge of his nose, took a swig of coffee and pondered. Come on! I've got a story to write!
Also typically, Latvala offered an educated and well-reasoned reply to the detriment of our stories. No, in fact his success at home was only the second biggest win of his career. Not quite so news-worthy.
As much as Hirvonen's shunt, Latvala's win and Ford's solid impression of a phoenix were all talking points, we can't ignore the continued changing of the guard at Citroen.
Sebastien Ogier was driving in the factory team for the first time in Jyvaskyla - and you'd never have guessed it. He reached for - and achieved with seemingly little effort - the Loeb-beating pace which nobody else has ever been able to source. Again. This is the third loose-surface rally in succession that Sebastien Loeb has been beaten by his junior team-mate.
Loeb will argue, rightly, that the loss of his front spoiler cost him on the first morning. Driving a C4 through the world's fastest woods at those speeds without the aid of a splitter out front would not have been nice. The lack of touch on turn-in at 100mph with trees literally inches away would have spooked any driver, but it would really have gotten to Loeb who is usually the master of everything Citroen.
Okay, so Loeb dropped time on Saturday morning. But since his first trip to Jyvaskyla in a Citroen Saxo in 2000, he hasn't missed one - and the last nine have been with a cutting-edge World Rally car underneath him. Prior to this year, Ogier had been twice: once in a C2 (not the full-blooded version either) and once in a C4. And there he was, leading the way for Citroen.
Who this says the most about, I'm not sure. Is Loeb's speed dipping? Probably. It's unlikely anybody can stay at the kind of speed he's been at for seven or eight years forever. And Ogier is undoubtedly in the ascendancy and getting faster by the rally. I'd be surprised if he's not hounding Dani Sordo (his supposed senior on asphalt in the team) in Germany later this month.
Or, playing devil's advocate, does this say the most about Ford? What was a virtually rookie Frenchman doing hustling Latvala in his own backyard? Ford found something in its pre-event, but whether that will be enough for it to bag more wins for the rest of the year (where the Finland factor's missing) remains to be seen.
That last point brings me neatly on to my final point. There was a school of thought in Finland that Ford should bin its number one and number two driver status. I was leaning towards that idea before Saturday, but now I'm firmly in favour of it. Forget Jari-Matti helping Mikko, just get on with it.
Yes, I realise the manufacturers' award is still up for grabs - but Ford's going to need fairly long arms to reach it. So, let's throw caution to the wind and let the boys go. Give them the instruction to drive the cars as fast as they will go; lifting's not an option for three days.
Returning to a running theme, in the words of the master: "Hey, hey boys, maximum attack!"