AUTOSPORT probably should introduced a new section on the world's finest motorsport website. We should call it, 'News we saw coming a hundred miles away.' Not the snappiest of titles, admittedly. But it would give us somewhere to shove the Sebastien Ogier steps up to the works Citroen Total World Rally Team copy.
It could sit in there and keep the 'Sebastien Loeb confident for - fill in the blank - rally here' stories company.
It really was that predictable. The only surprise came in that it took Citroen Racing director Olivier Quesnel so long to make the move.
It's tough on Dani Sordo, Loeb's current team-mate. The 27-year-old Spaniard is an exceptionally nice bloke and a very, very fast rally driver. His problem is that he's found himself in the middle of the perfect storm: he's team-mate to the world's most dominant rally driver ever, who happens to be French driving for a French manufacturer. And, just when the skies were beginning to brighten and it looked like there might be an end to that particular storm - it intensifies when another Frenchman, also called Sebastien, arrives on the scene to fire the other Sebastien up to go even faster.
Sordo didn't stand a chance.
That's one way of looking at it. There's also the point that Sordo has had more than a big enough opportunity to make it stick at the highest level. He's been a Citroen factory driver since the start of 2007, with the funding for his full year in a Xsara before that also coming largely from Versailles. That's 65 World Rally Championship starts in a potentially rally-winning car. And how many has he won? Zero. That he has collected 25 podiums, 14 of which have been on the middle step and 11 on the bottom step, means very little.
But, it's the start to this year which has done it for Sordo. Or, are we looking at this the wrong way? Is it the start of the year which has done it for Ogier? At the end of the day, there's no doubt Sordo can drive. There's also no doubt he's been told to slow down and let Loeb win on occasion. Quite possibly in another team, he would have won. Maybe it's not a failing on his part, but a strength on the side of Ogier, 26, which has forced Quesnel's hand.
Let's look at the season so far...
Rally Sweden
Started very well for Sordo, fastest at the shakedown, he was full of confidence and on top form through the frozen Varmland tracks. And then his co-driver Marc Marti forgot to take the air intake cover off the air intake at the start of a stage on the second day. The engine began to overheat and Sordo had to pull over to remove the offending piece of plastic. Fortunately, he ended the event fourth, one place ahead of Ogier who had enjoyed an entirely un-dramatic first visit to the Swedish roads.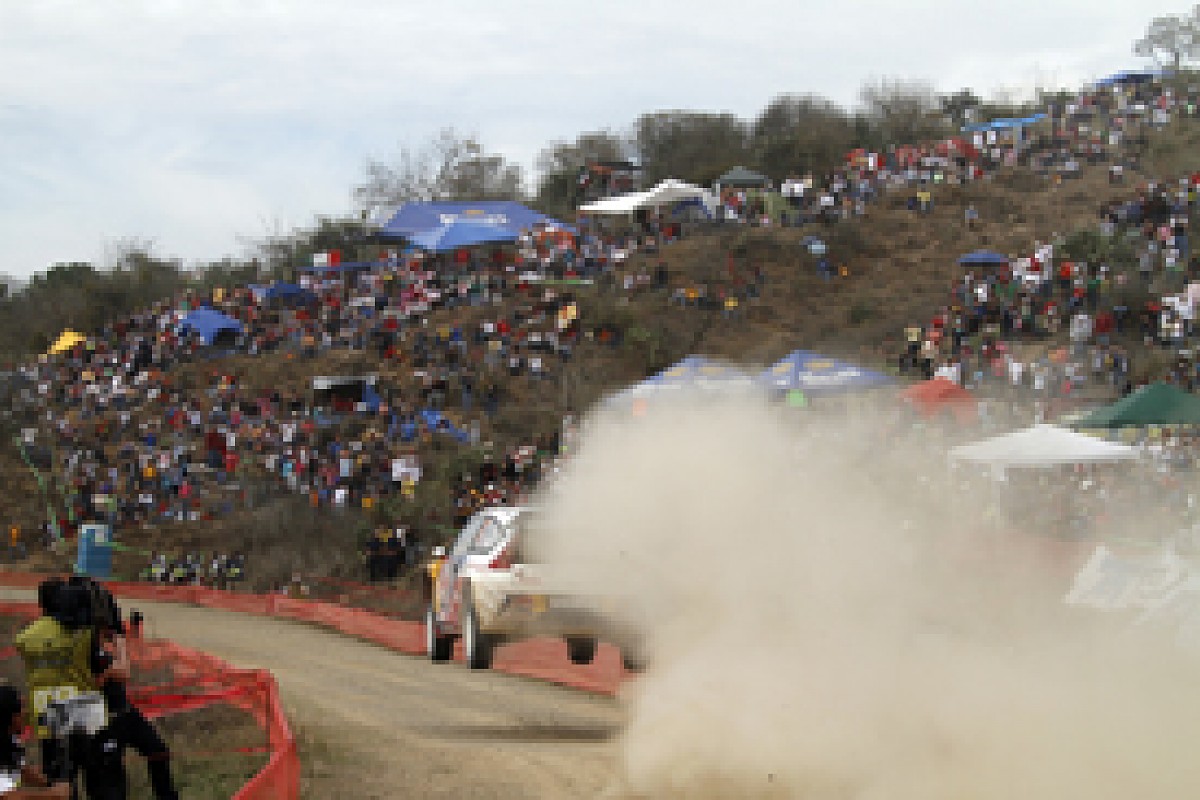 Sebastien Ogier flies in Mexico © Sutton
Rally Mexico
There was very little to split the two Citroens on the opening day. But Ogier was always ahead, just nibbling here and there, pulling time out of Sordo. Starting the second day, Sordo was a couple of places better off on the road and, keen to press home that advantage, he pushed hard. And then smacked a rock in Ibarrilla and retired on the spot. He returned under superally and finished 14th.
Ogier, on the other hand, turned in a stunning drive. He fought tooth and nail with Petter Solberg through the final day and eventually lost out on their battle for second (Loeb was already away and up on the road to win) by 1.1 seconds. Importantly, despite the massive pressure of the battle, Ogier didn't put a mark on his motor.
Rally Jordan
Unwilling to stick his neck out after Mexico, Sordo's pace was measured next to the Dead Sea. He ended the event an untroubled fourth - while Ogier found himself in the spotlight. He'd been running second ahead of the final day, but was then required to check in early to run ahead of Loeb on the road instead of fighting for his first win. The younger of the two Sebastiens was a disgruntled sixth, while Sordo was perfectly placed to empathise...
Rally of Turkey
Just like in Mexico, the two were super-close through day one, with Ogier just ahead. On day two, Ogier moved clear as Sordo found instability at the rear of his C4 and slipped back. At a notoriously slippery corner in the Deniz stage on Sunday afternoon, Sordo went off and stayed off the road. Again, it could be argued that this was his bad luck - everybody else has a major moment but kept it on the road... Or was Sordo going that bit quicker, were his reactions that bit slower, who knows? The double whammy for Sordo was that he was well ahead of Ogier at that stage. Ogier had suffered a puncture and stopped to change the tyre. The downside for Sordo was that Ogier had suffered the deflation while leading the rally...
Rally New Zealand
Sordo made the most of his road position to lead through day one, but ended the event fifth. Not much more to say. Ogier, however, making his first visit to the North Island roads came within three corners of winning on his Rally New Zealand debut. And, nobody was about to castigate him for making a mistake on an event when Loeb had made three of them - usually his entire season's quota in one rally.
Ogier was sublime in Kiwi country. The event will be remembered for Loeb's fightback on Saturday, when he made up more than a minute to play himself back into the lead fight - but it should be remembered equally for Ogier's efforts first time out on a massively technical event to learn.
Rally of Portugal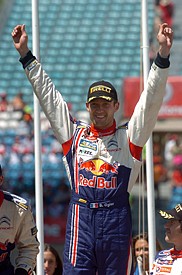 Sebastien Ogier celebrates his first WRC win © LAT
Sordo had talked of feeling more comfortable in Portugal and finding the pace to fight back. It didn't happen. He was third, which was no bad result for him on a gravel rally. Unfortunately, that was two places behind Ogier - who drove brilliantly to beat Loeb fair and square.
On that evidence, like I said, it's a surprise it took Quesnel so long to switch the pair for the three remaining gravel rallies. It makes perfect sense for a man trying to maximise the number of points his Citroen team gathers from here until Cardiff in November.
Unfortunately for Ogier, it also decreases the likelihood of his repeating his Portugal win - particularly after Quesnel made plain his desire to see Loeb lift the drivers' title for a record seventh consecutive season.
The consolation for Sordo is that he'll back in the factory team to finish second on the four asphalt rounds...