Raglan is, without a doubt, one of my favourite places in the World Rally Championship. It's achingly beautiful, sitting as a sleepy beach town on the side of the Tasman. It's a place time appears to have forgotten. Nobody forgot it last Sunday morning. How could anybody forget yet another insane Rally New Zealand twist in the tale.
For such an innocuous-looking place, Raglan has certainly played its part in modern WRC history. In 2007, when Marcus Gronholm and Sebastien Loeb were trading tenths of seconds in their efforts to win this rally, the airfield (and it is a field) at Raglan was buzzing. The drivers came, split by nothing and with everything riding on the final loop.
Neither had anything of any use to say. So focused were they on their monumental battle, they barely made sense. A year later and a post-service coffee in Raglan was interrupted by the news that Jari-Matti Latvala and Mikko Hirvonen had hit trouble on Whaanga Coast. Ford's one-two was gone.
And now this.
The times for Sunday's opener had arrived and made complete sense. Loeb had overturned Sebastien Ogier's lead. The younger Sebastien had been caught out by a combination of the following: damp and changeable conditions, running first on the road and trying to keep a 57-time World Rally winner behind him on roads he'd never driven competitively on before. Was it any wonder Ogier cracked and spun his Citroen Junior Team C4?
It was safe to assume that, after his astonishing display of driving through Saturday, if Loeb ran wide in Whaanga Coast - or felt the urge to turn sharp left, it wouldn't be a problem; walking on water would be no problem for the six-time champion. But he was going nowhere except the finish and champagne central. For the first time on Rally New Zealand, he was leading. He'd run first on the road on Friday, smacked his door on a bridge, dropped the thick end of two minutes, then pulled all of that time back while making those around him look like a support act to his genius.
No, having lost this rally, then won it in the finest and most celebrated style, Loeb was a sure-fire bet for win number 58. There would be nothing interrupting the traditional seaside flat white once the cars had gone this time.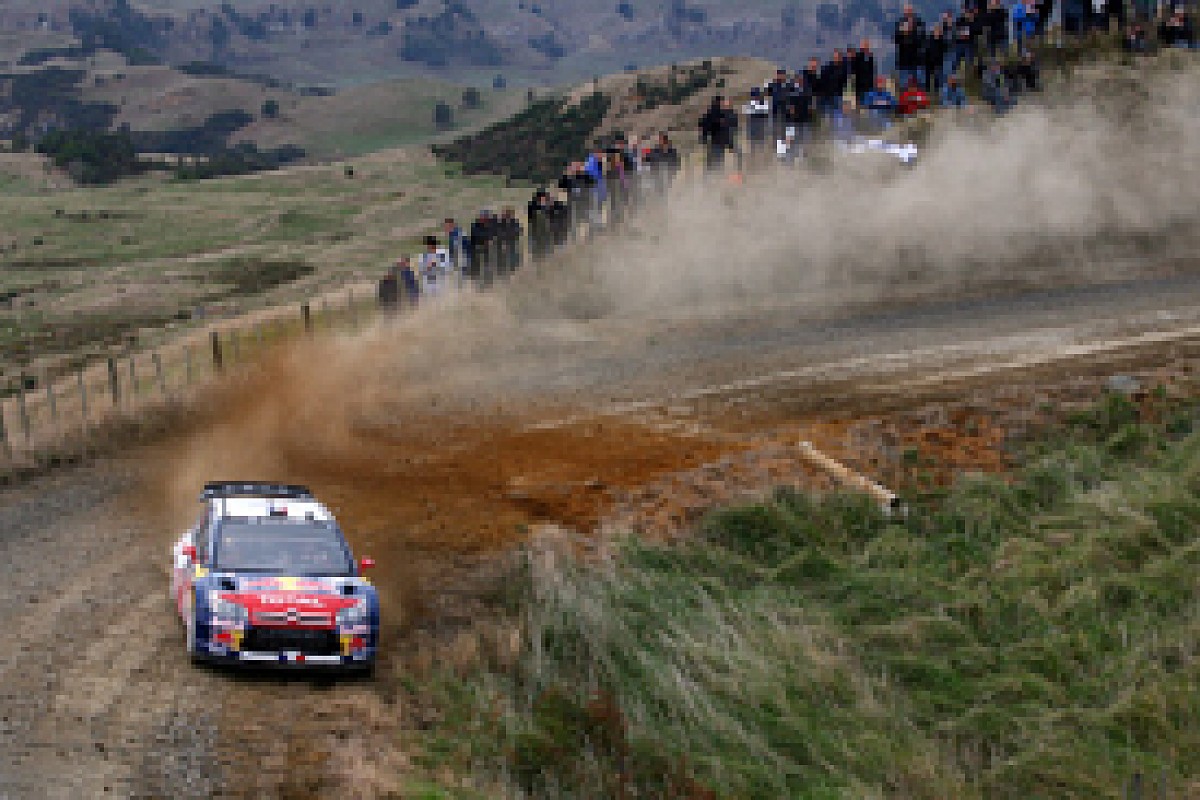 Sebastien Loeb © LAT
It was probably around the time that I was thinking about coffee when Loeb entered the long-right hander that would be his undoing. The nose of his C4, which had sought out apexes as though laser-guided a day earlier, refused to play ball this time. Instead of tucking in, gripping and going, it ran wide, wide and wider. Loeb clung on, but this one was beyond even his ability. He was in the trees.
I was standing with George Black, Ford's tyre engineer, when the radio scanner went live with times. Ogier's first, what we'd expected for first on the road, then Loeb's time. It didn't compute. Maybe the minute was wrong. There was a scrambled explanation, broken by the most infuriating interference: "... off the road... damage to the front..."
This being Raglan and a remote service, there were no perfect communications or computers displaying splits, stage times and overall positions. If you wanted them, you had to do the maths yourself. We did. In almost complete silence it became clear this rally had, for the umpteenth time, come alive again.
We didn't have to wait long before the #1 C4 arrived, the right-front of the bonnet was shoved up, but it didn't look too bad. Two days earlier, Loeb had been lying on his back in a car park in Whangarei desperately trying to cable-tie his driver's door shut and now he was trying to pull the off-side front headlamp housing out to see what damage lay beneath.
These kind of makeshift mechanics are the product of a remote service where the team is only allowed to work with what's carried in the rally car. Remotes are not everybody's cup of tea; for me it means hours on the road chasing the cars and much later working hours trying to catch up on the day's work back in the press office. But, for unforgettable moments like this, it's all worth it. It's like the old days, everybody mucking in and tucker coming out the back of a Transit van.
So, Loeb's legendary drive back through the field wouldn't offer him the result he truly deserved. But that seismic news story in itself opened the way for an even better story.
The replacement yarn would delve deeper into a mind so seemingly illusory it could only belong to Mr J Archer. The plot was simple: rally rookie wins one of the world's most technical events.
A debut win for Ogier? Surely that couldn't happen in such exalted company. Well, it seemed only Ford's Latvala could spoil a second-scripted Citroen party.
Jari-Matti Latvala © LAT
Latvala had been Ford's choice driver through the week. While his team-mate Hirvonen struggled to find the set-up on Friday and then slapped his Ford against a bank the next morning, dropping him out of the running, Latvala marched on. He never really looked like winning this rally, but a solid podium was beckoning. And throughout, Latvala looked utterly cool, calm and collected.
When he arrived in Raglan and started talking about the ramifications of the last half hour, you could see him getting more and more tense. The more he talked of not letting the pressure get to him, the more you could see the pressure getting to him. I have to say, the concept of seeing the Latvala of old wasn't far from my mind when I finally sat down for breakfast.
And for that I owe him an apology. Sure, he nudged banks and nibbled corners here and there on the second run down the Coast, but crucially, he kept his car facing in the right direction for each and every one of what must have seemed like a trillion corners.
Conversely, with three to go, Ogier dropped his C4 and was facing the way he'd come.
Citroen's celebrations became Ford's fanfare.
Ogier had come within three corners of making history in the most spectacular fashion. But, as the Frenchmen struggled to get to grips with the emotions of what had just happened, the Finns climbed on top of their Ford as winners after another barely believable twist in the tale of Rally New Zealand.
I'd arrived in Auckland in the knowledge that this could very well be my last trip to a WRC round down there. The rally's not on the schedule next season and - ahead of the event - there was plenty of speculation that it might not return.
But now, it has to come back. It simply has to.
New Zealand not only has some of the best roads in the world, but it also has a dynamic organisation (the press office and press officer, for example, were up there among the best in the series), solid funding, an utterly brilliant city to call home (something we can safely say after moving back to Auckland from the backwater of Hamilton) and a nation with a fine sporting and competitive pedigree.
The downside is the cost of getting there, in terms of both bodies and hardware. And the day spent at 35,000 feet. But it's worth it. It really is.
I detected a change in Rally New Zealand since the threat to its survival in the WRC. The event has come out fighting. Chris Carr, chairman of the organisers, confessed to unusual arrogance when he told me how good his rally was and how much it deserved a WRC spot. That's not really the Kiwi way, but, thankfully, they're not going to take anything other than a full-time return to the calendar in 2012 lying down.
Count me in. I'll be back. I'm just devastated Carr and his mates saw it as a bad thing that Rally New Zealand and the Rugby World Cup clashed next season. They're not mutually exclusive. As far as I'm concerned, a WRC-RWC combo would be nirvana. Nothing short.