I'm relieved, utterly relieved, to be relieving myself against a wall. It's just after nine o'clock at night, the day doesn't matter. It's pitch black and - from the amount of shouting going on between our Turkish drivers - we seem to be lost.
We've spent the last couple of hours winding our way up, up and up a mountain pass. I think we're at the top, but in the dark, who knows. This is Romania. It's been Romania all day. And it's raining. It's been raining all day. This is my journey back from the Rally of Turkey.
The only map we have is an overview of Europe, which is not particularly detailed in this neck of the woods. I have a vague recollection that the Carpathian mountains are in this part of the world. I also remember those mountains are - or at least were - known for their large habitat of brown bears.
Back on the bus, Pirelli's public relations man Richard Rodgers, points to a tired old sign hanging off the side of the wall, almost covered by overgrown grass. The sign reads, 'Politia'. Oops. Luckily, we were so comprehensively in the arse end of nowhere, only the bears could have reported me.
This epic trip started on Monday afternoon. With flights cancelled back to London and with no definite information on when the volcanic ash cloud from Eyjafjallajokull would disperse enough for us to take to the skies, we took to the road. Two coach loads starting a 2,000-mile journey across Europe. Actually, this was a trans-continental road trip, given that we were coming from the wrong side of the Bosphorus.
The Asia-Europe feature of Rally of Turkey, along with the statistic that Istanbul is the world's fifth most populated city, came back to haunt me on Monday afternoon. How blithely I'd trotted them out in pre-event previews and the like. But now, sat in a hideous queue to cross the river which divides two continents - not to mention crossing a city which 13 million people call home - was not the best way to start the journey.
Out of Istanbul and we were ready to crack on. Home was calling and we needed to get some miles under the wheels of the nice, reasonably comfortable (save for the lack of facilities) coach. That message clearly hadn't been passed down to the driver, who clearly thought 50 or 60mph was flat chat. Not in our world.
World Rally Radio's Colin Clark settles in for the long journey home © autosport.com
A couple of coaches had already left the service park, which meant we had forerunners to tell us how things were looking up ahead. The news was bad. The border from Turkey to Bulgaria was not pretty.
More than four hours after we arrived crossing in Bulgaria, we made it through. Having watched the Long Ways Down and Around, I thought I was pretty switched on to what was coming at the border into Europe. I wasn't. It was the most bizarre thing in the world. First you get the dodgy hotels a couple of miles from the border, clearly visible from space courtesy of the neon lights illuminating their wares. And, if the insane gift shop or angry 'restauranteur' haven't got what you want, the intimidating-looking, moustachioed eastern Europeans in their black leather jackets and even blacker Mercedes can offer a more comprehensive range...
It's well into the early hours of Tuesday morning before we're into Bulgaria and, despite the onset of tiredness, there's an overwhelming sense that this trip is not going to be as straightforward as we might have hoped. I'd glanced at a map in Istanbul before we left. I'd even toyed with the idea of buying it, before laughing off such negativity.
I did, however, know the crow-flying route meant a dash through Bulgaria, up and across Serbia, nicking the corner of Bosnia, across Croatia and Slovenia and into Austria. The roads might not have been the best in these once communist countries, but to me it made the most sense. Imagine my surprise then when we were told we were actually heading for Romania and Bucharest. In their haste to scramble coach drivers, the Turkish coach firm didn't have time to wait for a Serbian visa, so we were going north rather than north-west. No problem. At least we were moving.
Before long, we'd stopped. Maps were being consulted and the offer of a sat-nav was gratefully received. This was going to be a long trip. I don't know why I'd expected the drivers to know their way intimately from one end of Europe to the other, I just did. Getting out for breakfast in northern Bulgaria I noticed the driver had scrawled a note saying 'Calais' next to him. It was then that the full horror of our drivers' lack of appreciation of what they'd taken on hit me. Here we were, with a whole continent between us and the English Channel and the drivers are expecting to see road signs.
This was a low point. But it wouldn't be the lowest.
Travelling through Romania counter-balanced any self-pity at our own plight. Despite the 21 years which have passed since Nicolae Ceausescu's horrific regime, large parts of this nation remain in the most appalling conditions. As we trekked up country horses and carts were still widely in use to work the land and the kind of ramshackled 'barns' we simply wouldn't even consider putting animals in housed family after family.
Suddenly our predicament didn't seem so bad.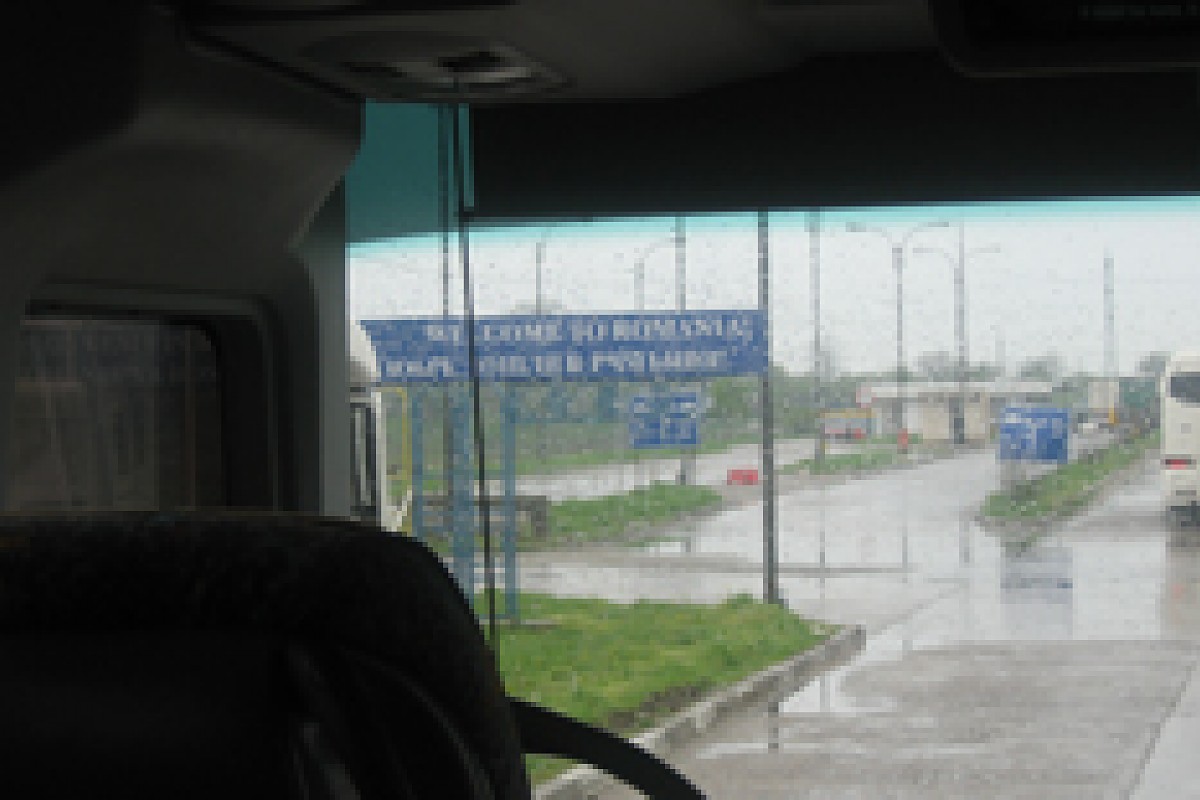 The travellers reach Romania © autosport.com
Then, our predicament takes a downturn. We don't have enough drivers. Without another driver, it turns out we have to stop for a rest. So, we're taking a detour to pick up more drivers. As the second night approaches, we're still in Romania. And now we're going up the mountain I talked of at the top of the story.
This is the next low point. We're not really clear on where we're going. Communication with the drivers we're supposed to be picking up is not the best and we're travelling at walking pace. Quite literally walking pace. The road we're on is so pot-holed, anything above 5mph would result in a puncture. Anything above 10mph would result in us falling off the road into oblivion. Where we would undoubtedly be eaten by bears.
This just wasn't what I'd expected. Not at all. When we undertook this trip, I knew it was going to be long and uncomfortable, but I had this image of us hopping on the motorway and basically caning the coach all the way back to Britain. Until now, we'd been on A-roads at best, mostly B-roads, but now we were well onto dirt tracks.
The drivers told us we were 120 miles from Budapest. That's not so bad. Hours and hours later, we're nowhere near. Turns out we're almost 400 miles from Budapest. Finally, we're out of Romania and into Hungary.
The occasional stretch of motorway allows us to make slightly more significant progress towards Bratislava. Another border down and we're now looking for Vienna. Suddenly, this feels slightly closer to home. Austria is, at least, somewhere I've been before.
It's early morning Wednesday and John Millington (Ford's team manager) is optimistic we'll be in Calais for the evening. I'm enormously buoyed by this news. Until I remember that Vienna to Calais, flat-out in a fast car is at least 10 hours.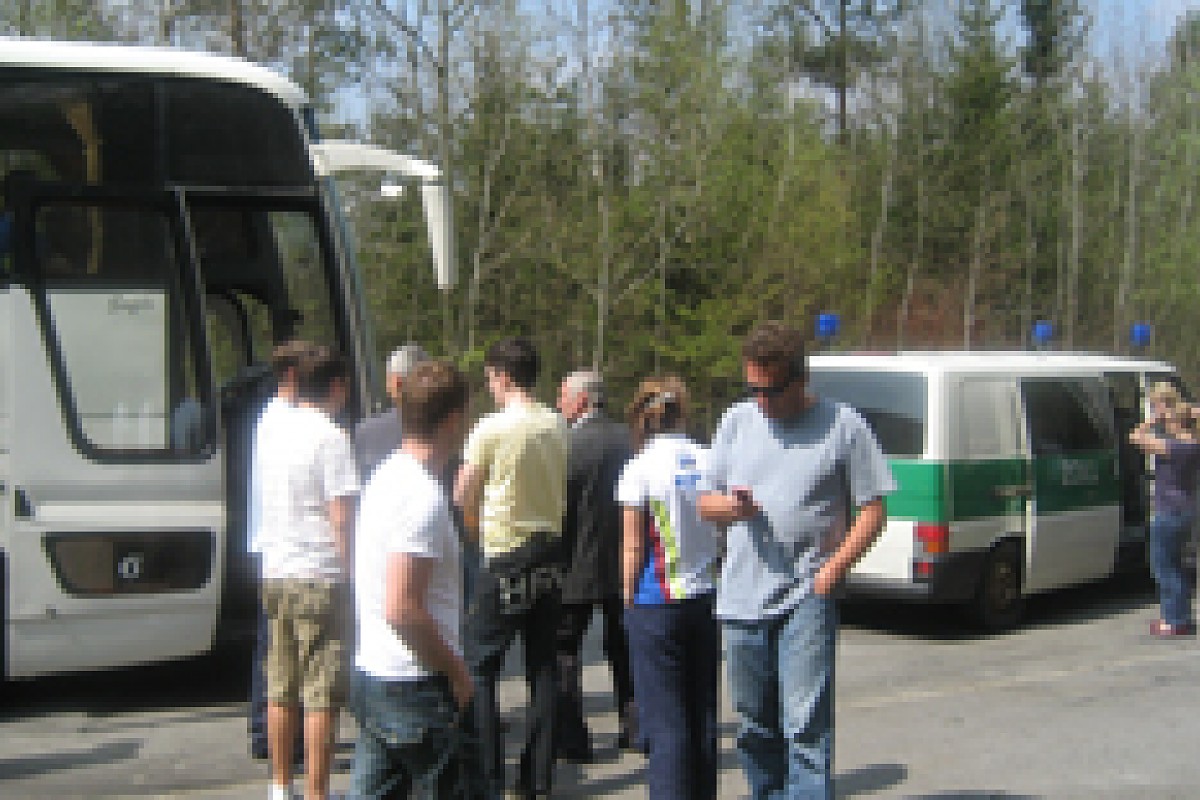 The WRC coach is stopped by the Zoll © autosport.com
Austria becomes Germany. Just 20 minutes in and we've been stopped by the Zoll (the toll police). Our man has forgotten to pay the roadtax to drive here. Another 40 or so minutes are lost.
Munich is our first target. Then Nuremburg, Frankfurt and Cologne. This, much to my chagrin, is not the work of a moment; it's a good day's driving. There had been no road signs in Romania - or none that I'd understood. Today is depressing. The figures seem resolutely determined to stay the wrong side of 100, 200 or even 300 kilometres to our next destination.
A second consecutive McDonalds supper raises morale and eases the burden on the endless packets of Pringles and cans of diet coke.
And then, a surprise. We're in Holland. Welcome to the Netherlands. How's that? What are we doing here? Turns out this is the quickest way to our first drop off in Brussels. Our first drop off, that sounds good.
That drop off comes at 0200 Thursday morning. Milly's estimation of an evening arrival is out by a long way. His defence is that he was only passing on what the sat-nav was telling him. The sat-nav clearly hadn't reckoned on Turkish drivers still refusing to threaten any speed limits.
An hour and a half later and our wheels roll into Calais. We miss the train by a matter of minutes, so now face another couple of hours sitting and waiting for the next one. By now, nobody really cares.
At 0519 British time, we're in England's garden and on the road home.
So, my return trip took 62 hours longer than the outbound run from London to Istanbul. But, I've learned a lot. I've watched eight films, read two books, crossed nine borders, been to 10 countries, two McDonalds and eaten more than 500 Pringles, three bags of cola bottles and about 20 Turkish wagon wheels. We've completed 2,000 miles, made seven u-turns, 18 toilet breaks and finally, finally, finally I'm home.
And, right now, the biggest - and hopefully only - casualty of the trip is my iPod touch, which went in the washing machine in the pocket of my jacket thanks to my sleep-deprived state.
I have to thank lots of people for helping me complete this journey, not least our drivers who did a great job (apart from their lack of commitment and some questionable calls on the maps), John Millington who kept the drivers on the right track and my fellow passengers (particularly WRC Rally Radio's Colin Clark and his dad), who kept us entertained for large parts of the trek.
And, finally, to WRC snapper Les Kolczak who, courtesy of his glow-in-the-dark Adidas trainers and annoying habit of labouring the utterly obvious, became the coach's very own figure of ridicule.
Thanks to all. I hope we never have to do it again.
By the way, Sebastien Loeb won the Rally of Turkey, but then flew home in a private jet - making his story considerably less interesting than mine.