Last month's Rally Sweden was the World Rally Championship's one and only winter event. This weekend's event, in Mexico, is where we'll get a real idea of where this year's title fight is heading.
The first gravel event of the season is always eagerly anticipated; 200 points are on offer on this kind of terrain through 2010, so the driver who monsters the loose surface most successfully is the more likely to lift the crown at the season's end. And, let's face it, it's going to be one of two: Sebastien Loeb or Mikko Hirvonen.
I'd like to throw Petter Solberg, Jari-Matti Latvala and Dani Sordo in as well, but it's unlikely that, in terms of pure pace, any of those three will be able to stick with the front two. Loeb and Hirvonen are firmly in the zone right now.
And do we really believe Ford's Hirvonen can be the man to stop Loeb for the first time since Solberg did it seven years ago? Yes. Absolutely.
Hirvonen was magnificent in Sweden, inch-perfect and faster than ever down the frozen roads north of Karlstad. Once he'd found the right set-up for the centre differential on Friday morning and collected that first fastest time before service, he never looked like losing.
Good as Hirvonen's drive was, there was that predisposition to search Loeb and the Citroen for the reason why the Frenchman's perfect start had gone awry. Loeb laid bare his love-hate relationship with Sweden ahead of the start. When there's good ice and consistent grip, he's the man, but when the ruts and the rocks are coming, he's not so keen.
When it comes to winter rallies, Loeb's a fair-weather skier: he only goes out when the sun's shining and the snow is sure.
Loeb quietly made his point about the conditions, before some obsequious praise of what the man ahead had managed.
Without trying to, Loeb had taken the sting out of Hirvonen's first win and, inadvertently told the watching world to re-tune in time for this week's Rally Mexico, when, presumably, normal service will be resolved.
Well, we'll see. But, let's take a look at Hirvonen's round one win from another angle.
No driver likes inconsistent conditions, but they just have to get on with it. Hirvonen knew the win was there for the taking, so he swallowed his brave pills and got on with it. Granted, his Ford looked to be able to deal with the constant skipping and hopping in and out of ruts better than the C4, but Sweden was about desire and the Finn wanted it more.
Loeb's natural ability has raised him above a generation of drivers and allowed him into a comfort zone where he hasn't needed to fully extend himself to win rallies and titles. Well, whether it's due to his own innate capabilities starting to dim or the still-burgeoning talent from Hirvonen, those days look over.
Undoubtedly, there will be events where Loeb won't be stretched - Germany and probably France, for example - but on the whole, when there are stones rather than tar on top, he's going to be put to the sword this season. If Loeb wants to equal Michael Schumacher's record of seven world motorsport titles, he's going to have to step well outside of his comfort zone and put it all on the line. And the potential result of that high-risk strategy is one of two things: boom or bust.
And this week's Leon-based event will be the first one of those rallies where these two men will be on the same page. Both like this event, both know this event and both are well in tune with the demands of dirt driving.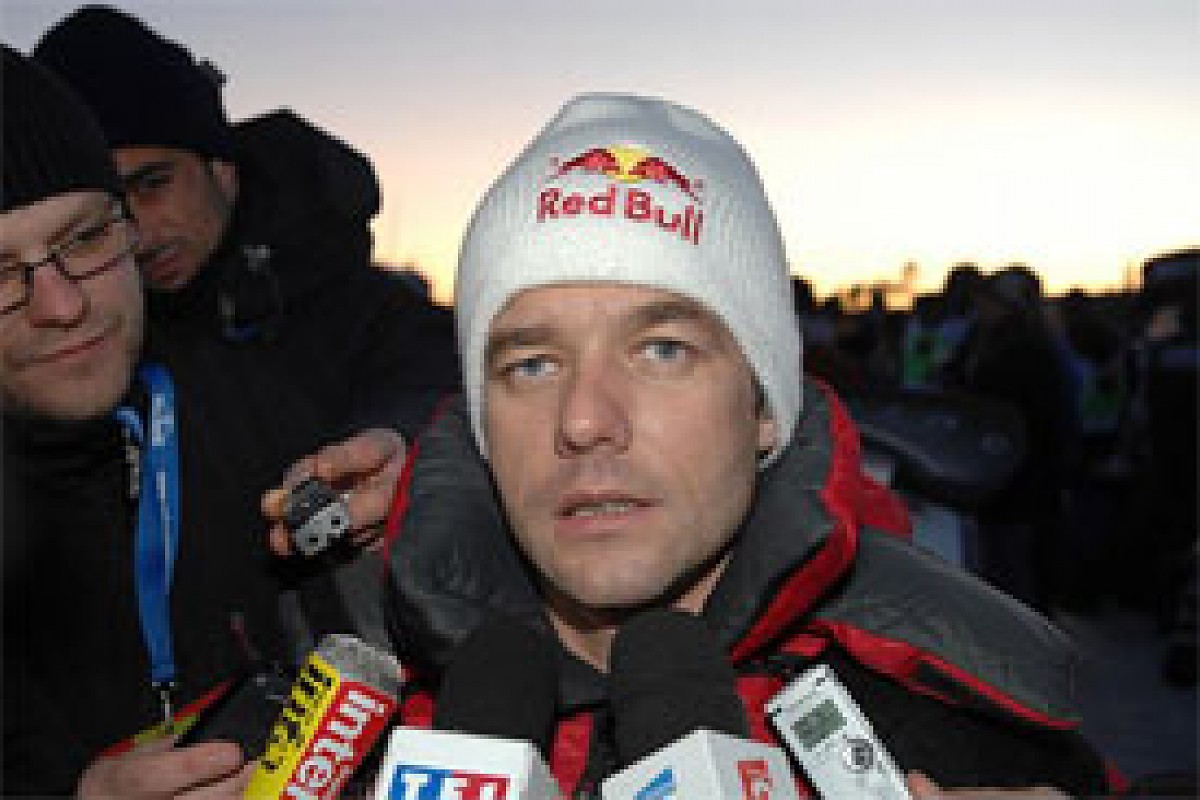 Sebastien Loeb © Sutton
Hirvonen will be disadvantaged at being first on the road on Friday. And this is more than just the usual road sweeping issue we're well accustomed to on hot gravel rallies. In Mexico, the first car travelling at competitive speeds has been known to raise the interest of some local youths who see the cars as target practice for their insane stone-throwing antics. The other issue for the road-opener can be the horses, dogs, goats or whatever other Guanjuato wildlife wanders across the path of the first barking and banging World Rally Car to disturb their slumber.
In all honesty, neither Hirvonen or Loeb is likely to lead on Friday night. It's most likely to be Solberg or Sordo, running further down the order with a cleaner line and improved traction.
But, come the weekend, the top two will be back to the front and from Saturday morning until Sunday afternoon, it's likely to be a straight fight.
And, what's more, it'll be an informative fight. We'll see the real strength of Hirvonen's mettle and the true depth of desire Loeb has for what could be his biggest battle yet.
Rally Mexico gets underway with a ceremonial start in Guanajuato tonight (Thursday).
The competition starts tomorrow morning on the high-altitude, power-sapping, gravel roads surrounding the event's headquarters in Leon. There are 22 tests in total before the Sunday lunchtime finish, Mexico time. Thrown in among the regular stages, for the first time in this WRC round, will be the Coca-Cola Leon stage, a mile-long dash through the streets of the host city. An asphalt test using tyres still recovering from a punishing loop on the dirt is certain to further endear the WRC to the locals.