The World Rally Championship is not exactly a hotbed of sledging, not any more. There's the odd Anglo-French needle, but nothing sinister. At the opposite end of the spectrum, I thought Citroen's good sportsmanship at the end of last week's Rally Sweden worthy of note. We're not talking about the kind of Freddie Flintoff-Brett Lee bonhomie, but Sebastien Loeb and his team principal Olivier Quesnel displayed admirable honesty in their end of event appraisals.
Both Loeb and Quesnel have become entirely accustomed to winning rallies. They're riding on the back of a six-year purple patch where losing was a concept entirely foreign to the pair of them. In Karlstad last week, they were soundly beaten. And they made absolutely no attempt to hide from that fact. There were no Gallic grumps or Mediterranean mards, just a cold, hard admission of defeat.
Citroen of Sebastien Loeb and Ford of Mikko Hirvonen © LAT
Loeb tried everything he could to haul Mikko Hirvonen's Ford back in on Sunday morning - which led to a mighty moment with a snowbank on the day's second stage - but he simply couldn't do it. Loeb and Citroen both knew that this rally was lost when they ran a stage too far on their tyres on Saturday afternoon, but it's honestly debatable whether the Frenchman could have had Hirvonen even if he'd made the right call. Again, they admitted as much.
It's probably because we're so used to Quesnel and Loeb talking of their latest victory that their gracious words really struck a chord.
I have to admit, I'd had my doubts about Hirvonen's ability to, using the Finn's own words "kick his ass" on Friday morning. The Focus wasn't doing its thing and Mikko had his frustrated face on. Talk of an inconsistent car in the morning has often led to more of the same in the afternoon and a good kicking from the number one C4 on Saturday morning. Not this time.
Mikko flicked the Focus into a different diff map, got on it, started beating Seb and didn't stop until Sunday afternoon. Fifty-four World Rally wins or not, Loeb's butt was booted in Sweden.
But, let's not get carried away. Before we start talking about Loeb peaking; the start of a new chapter; the onset of the next generation and the like, let's wait until Rally Mexico in a fortnight's time.
Hirvonen's a Finn and Finns like snow. Loeb likes it, but only on his terms. When the going gets choppy and the road rutted, Loeb's not loving it. The C4 simply doesn't have the same ability to deliver stability as the Ford does. While Loeb has to fight to keep his car straight as it hops up and down out of the ruts, Hirvonen's Focus is settled, predictable, blindingly quick and inspiring its driver with plenty of confidence.
The true test for Hirvonen will be on the more consistent gravel in central America. If he can do the same to Loeb in Leon then he's really going to be on to something this season. And, personally, I believe he can do it. Make no mistake, Loeb is still the faster and more complete of the two, but Hirvonen is narrowing that gap by the day and completing the work he started last season.
Admittedly, it would be great to have a field full of potential winners, but, right now we don't have that - what we do have is the two finest drivers in the world touring the globe to go head-to-head on the planet's best, most extraordinary roads.
What else impressed me in Sweden? Dani Sordo. The Spaniard is under massive pressure this year: if he doesn't get it together, he'll be gone. Having listened to Quesnel wax lyrical about Sebastien Ogier for three days in Sweden, it sounds as though the boss is itching to replace Sordo with the more recent of the two Junior World Rally champions. And why wouldn't he? For a French manufacturer, the two-Seb superteam would take some beating for headlines in L'Equipe and the other members of French Fleet Street.
But, Citroen has to take some responsibility for the comfort-zone driving we've seen from Sordo in the last couple of years. They've never made any effort to encourage Sordo to be anything other than a number two to Loeb - a job he did exceptionally well last year. But now that's not enough, Sordo needs to win and win quickly.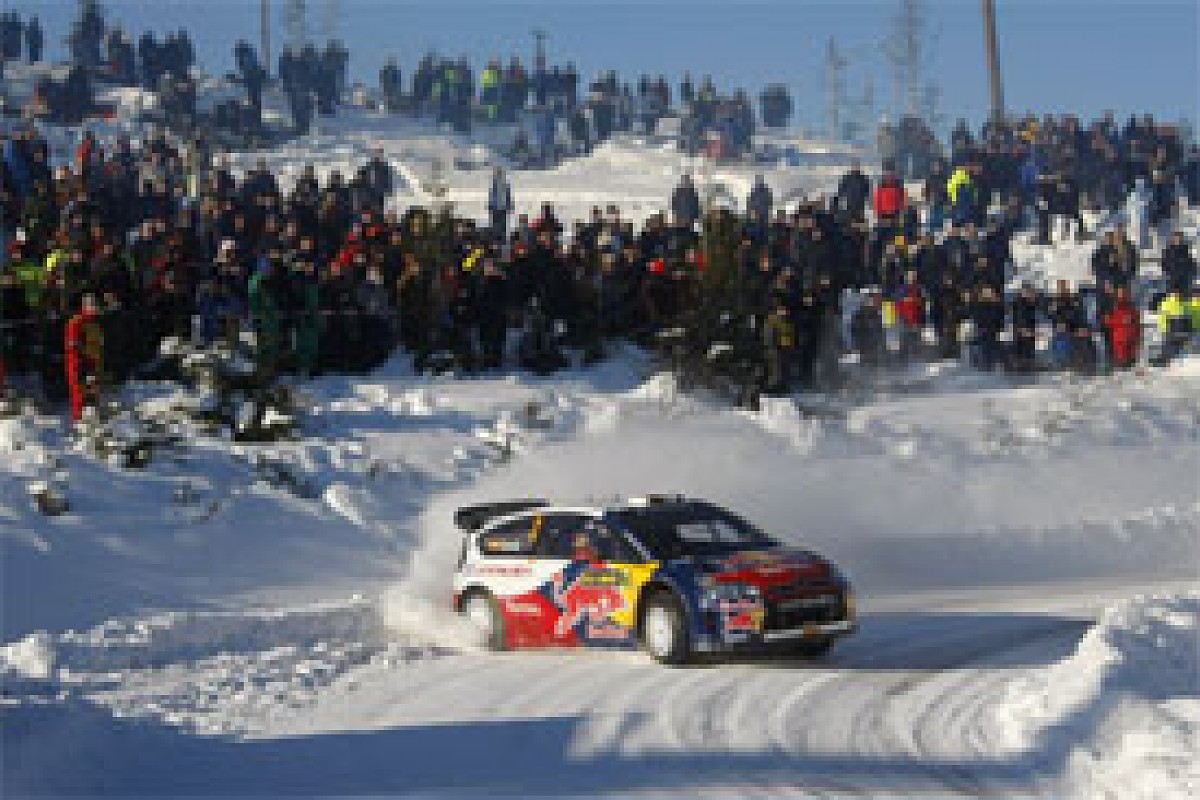 Dani Sordo © LAT
It was highly unlikely he was going to break his duck in Sweden, but to see him just 10 seconds off Hirvonen on Friday night was an immense result for him. Granted the wider and faster day one roads suited him more, and, yes, he had done the Arctic Rally a week or so earlier, but it was still a great effort. He was beating Jari-Matti Latvala, for goodness' sake. But, what happened on Saturday was unforgiveable.
Sordo's co-driver Marc Marti forgot to take the air intake shields off the car, forcing them to stop to remove them before the engine temperature went through the roof. That's just not good enough. Marti has been a professional co-driver for too long to let that happen. Granted, mistakes can and will happen, but when Sordo's job is on the line, you'd kind of hope the increased commitment the driver was showing on round one would have been matched from the other side of the car.
Having mentioned how magnanimous Quesnel was at the top of this piece, it's also worth noting the furious tirade he is said to have directed at the second Citroen on Saturday afternoon.
Sordo will have to regroup and come out fighting in Mexico. Another man doing that will be Petter Solberg. The 2003 world champion's frankly disastrous Sweden could have an enormously positive effect on his chances among the cacti. Running order in Mexico will be key and coming from ninth on the road, Solberg should be leading the event on Friday night. If he has a clean run and he's not out front at that point, he can kiss goodbye to any chance of winning rallies let alone anything else this year.
The question is for Solberg, if and when he gets his C4 out front, can he keep it there? It would be fantastic to see him winning again, but he'll need a radically different approach to the gung-ho strategy he took in the snow.
That said, it's easy to sit here and type about Solberg changing this, that and the other, it's worth quantifying and congratulating the Norwegian on his efforts in arriving at the start of the season. No driver in the history of the WRC has ever put in the kind of effort in terms of sourcing the cash and the cars to put himself the position Solberg's in right now. But, let's hope with the fiscal business done, he can now focus on the kind of battle he's more accustomed to.
If he can do that, that two-horse race I was talking about earlier might just take on another dimension.