Mikko Hirvonen smiled. His smile widened to a grin. And then he delivered the line he'd been waiting for.
"I want to kick his ass," said the Finn.
It was as though Hirvonen had been rehearsing the line in the bathroom mirror since that stormy Sunday night in Cardiff last December. Remember the one? When Hirvonen switched from being a World Rally Championship contender to a runner-up in the title race. By his own admission, he wanted to get back out there to front up to Sebastien Loeb the next morning.
Well, that morning has finally arrived. And, more than ever, Hirvonen looks ready. And more than willing.
The big question, however, is whether he can really do it. Can the 29-year-old, take on and conquer the 54-time world rally-winning Loeb. Can he? Really? In six years and as many titles, Loeb has seen them all come, try it on and fail. Why should this year be any different?
Time after time last year we saw Hirvonen make a great start to a rally only to fall foul of Loeb's devastating ability to find an extra tenth or two on Saturday morning to take the Ford man apart. We saw this most recently on Rally GB where, on a brace of day two stages, the Frenchman put his C4 WRC on the limit - occasionally over it - and took enough time out of his rival to leave Hirvonen questioning his own car.
That was Loeb at his brilliant best. This won't have gone away over the winter. Talking to Loeb, he's as fired up as ever. Clearly, as is always the case with the fastest thing to come out of Alsace, his world titles are all forgotten when it comes to stage one of rally one. Loeb's approach is as identical as it is clinical. Not to mention supersonically quick.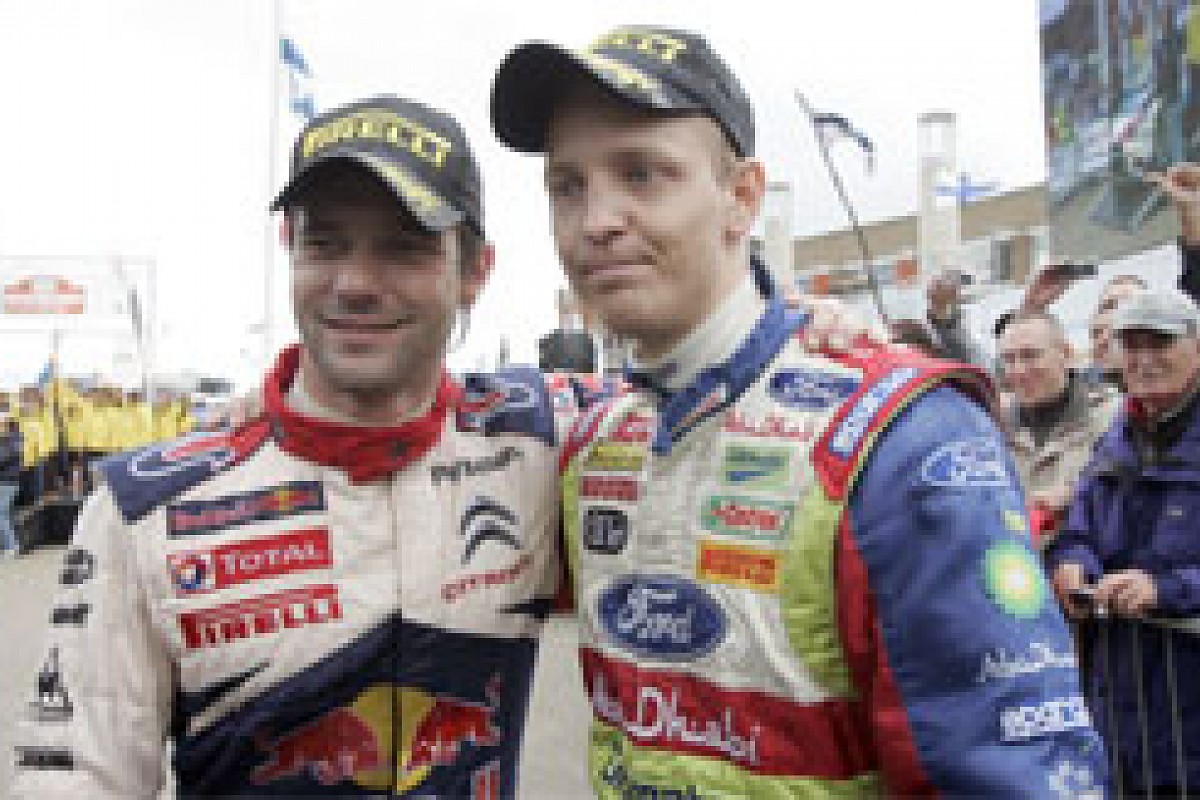 Mikko Hirvonen and Sebastien Loeb © LAT
In terms of consistency, Hirvonen's more than a match for Loeb. Only an engine failure in Argentina last year stopped him scoring well on every round. Always being at the finish is all well and good, but as nobody knows better Mikko, he's got to be on the podium looking down on the other two steps much more often this year.
Psychologically, last year was great for Hirvonen. He beat Loeb fair and square in Finland, further ingratiating himself to countrymen who already thought him capable of walking across 1000 lakes in summer as well as winter, but now he's got to do it regularly. And he's got to start in Sweden this week.
Snow is what Finns are about. Victory in Karlstad would be a massive boost for Hirvonen at the start of what could be his biggest year to date. But he needs to do it with Loeb going all the way, or going off trying. He's done it before... remember Norway three years ago? Hirvonen buried Loeb and Marcus Gronholm.
As well as talking about taking a boot to Loeb's arse, Hirvonen has talked about being braver in his decisions about which way to take the car in terms of set-up. That time is now. He's a champion in the making and he must have the strength and belief in his convictions. He knows the inner workings of the current Ford Focus RS WRC better than anybody. And what's more, he's got the whole team behind him this season.
Last year was one of massive frustration for Ford. In Sardinia, team principal Malcolm Wilson elected not to reverse the finishing positions of Hirvonen and Jari-Matti Latvala, allowing the younger of the Finns to score his second career win. Wilson rightly believed this would aid Latvala's recovery from a shocking accident and dip in form. He saw the long-term gain and committed Hirvonen to some short-term pain. What the latter would have given for those two points when an end of season tot-up left him one shy of the title.
The same will not be happening this time around. Wilson has left his men in no doubt that this is going to be Hirvonen's year. Latvala's job is to beat Citroen's Dani Sordo 13 times in the next 10 months. Winning rallies is not really on his agenda.
But, for all the policy shifting and big brave talk, this is still the sport's biggest name we're talking about. It's Sebastien Loeb. Loeb's speed remains undimmed despite abounding talk of him having reached his plateau. And, as much as Ford is wrapping itself around Hirvonen this season, there's no team more geared to one man's needs than Citroen.
The title race will be closer this season. It's hard to see Loeb walking away with the first five rallies this time around, but it remains to be seen whether Hirvonen can become the first man since Petter Solberg, in 2003, to topple the mighty Frenchman.
Petter Solberg on Rally Sardinia © LAT
Talking about Solberg, is he now in the title fight? Certainly, he deserves to be. He's put absolutely everything into this year. He's gone out, found the money, in the tightest of tight economic times, and splashed out on a brace of C4s. Solberg's still got it. He's still got the raw edge of pace needed to make it at the highest level. The biggest question for me, and call me cynical if you will, is the extent to which Citroen will let Solberg win the title.
Undoubtedly, Citroen team principal Olivier Quesnel will talk of fair play and commercial enterprise, but, when push comes to shove, is he really going to let a private driver beat his factory car? It's doubtful. But let's just really hope Solberg gets in there and gets under the skin of the top two. A three-way title fight would be a sight to behold in this last year of the current generation of World Rally car.
Does that sound unduly negative to be wishing for a three-way title fight? Sorry if it does, but it's called realism. And it's not to say we're not going to be in for some stunning sport this season, we will be.
Dani Sordo is going to win a rally this year. If he doesn't, he'll find himself down the job centre faster than he can say: "Citroen's new number two, Sebastien Ogier."
Sordo is an enormously likeable character and a very fast rally driver, but this has to be his last chance. In an era so bereft of paid drives, Sordo has enjoyed a cavernous comfort zone. And now Ogier is really knocking on the door. And what a story for a French manufacturer that would be: two natives named Sebastien. It's got to be tempting for Monsieur Quesnel.
And if not Ogier, how about Kimi Raikkonen? I know, 12 months ago, such considerations would have been unthinkable as the 2007 Formula 1 world champion set about pre-season testing in a recalcitrant Ferrari. But the world of slicks, wings, 160mph turn-in and big run-offs has been traded for a Citroen capable of half the speed and barriers for trees.
And he's loving it.
Those in the know say they've never seen Raikkonen looking so excited. And why not? He's living a boyhood dream. The Rosbergs and Hakkinens of the world might not agree, but Finns are born for the stage. And the WRC's lucky enough to be piggy-backing on motorsport's most fascinating switch.
Talking of the WRC, times are a changing around the service park. And it's about time, too. The calendar for this year includes 16 changes (that's quite a lot in a 13-round schedule...). Seven events have departed the calendar and nine new ones are inbound, including brand new ones in Bulgaria and mainland France. We're told this year's calendar is transitional, it had better be; we're looking for consistency and continuity to attract investors into the sport.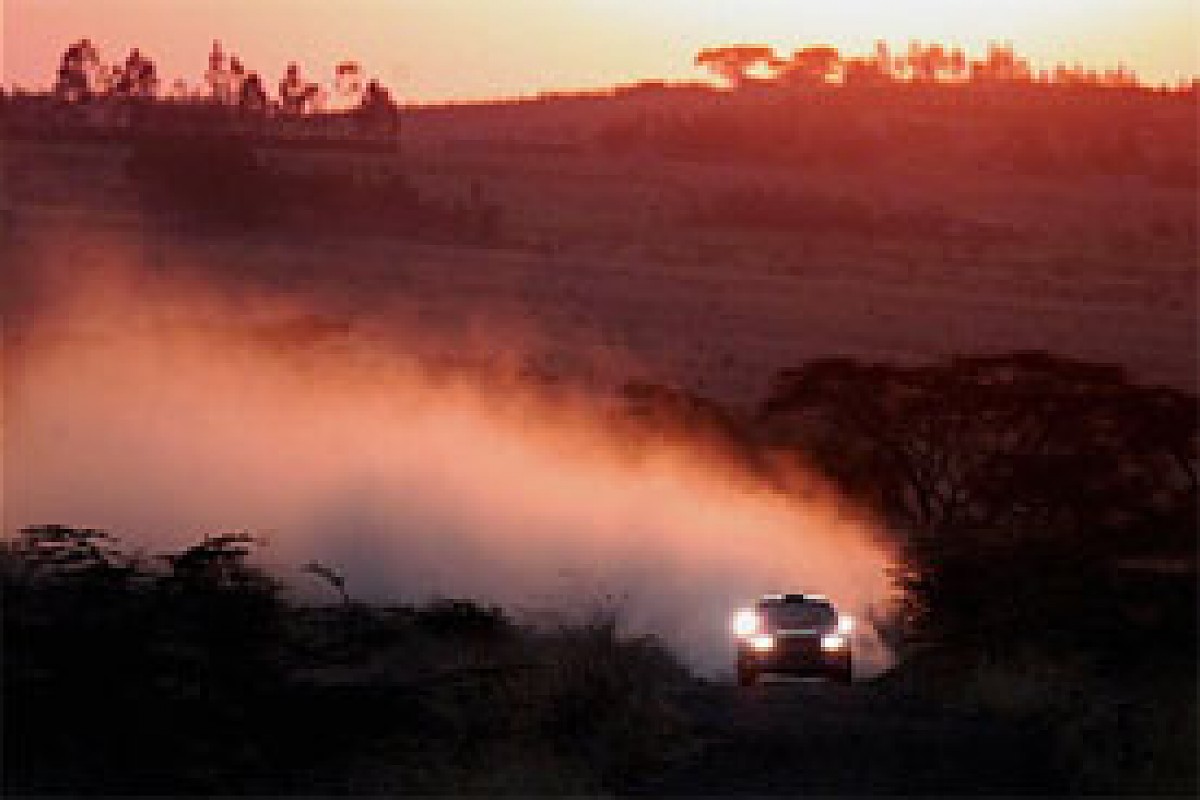 Richard Burns on the Safari Rally © LAT
The rallies themselves are being offered more freedom than ever to go where they will and do what they want. The rallies - and the sport - are being given back to the people. And if that doesn't bring the people back, then nothing will.
Actually, something will - the right rallies. I know this is a pre-2010 preview, so I won't bang on too much about the future, but what is the World Rally Championship without Monte Carlo and the Safari? A nonsense, pure and simple. If that means doing a deal to share with the Intercontinental Rally Challenge for the former and providing finance and carte blanche for Kenyan organisers to run their rally at will, then so be it.
Hey-ho. Back to this year. And back to this week. Rally Sweden is going to be a fabulous start to a great year. As well as all of the above, we've got the return of the master, five-time Swedish winner Marcus Gronholm. And as all readers of AUTOSPORT will appreciate, the 'Bosse' version of events is something we've been missing for too long.