Sebastien Loeb looked like a rabbit caught in the headlights. There were people everywhere - and they were all asking the same question. "Every round this year... go on Seb, say, it: you can do it. You can win every round this year, can't you?"
He just wanted to get out of there. But there lay another problem. The building was surrounded by thousands of fans who knew he was in the press office of Rally Argentina. And every one of them wanted him to write his name on their piece of paper, t-shirt, cap or semi-naked breast.
Loeb just wanted to find his seat in first class, hit 35,000 feet and start heading east. His work in Carlos Paz was done; he'd made it five from five and he didn't look like a man who was about to stop winning. He did, however, look like a man who might consider calling a halt to his exceptional start to 2009 in reward for the quiet life.
Sebastien Loeb gets comfortable in the Red Bull RB4 © LAT
Just when he thought he'd answered every derivative of question on the perfect season, winning 12 from 12 and scoring 120 points; just when he though he might be in for a bit of piece, somebody spotted him hanging out around the Red Bull factory in Milton Keynes and somebody spotted him talking to somebody in a Toro Rosso shirt. And that was that. Sebastien Bourdais was out and Loeb was in. Last seven Formula 1 races of the season. Done deal. Loeb's life, mid-season, was far from his own.
Through it all, the amicable Frenchman kept his counsel, politely answered the next wave of F1-based questions while his world rally aspirations tumbled down around his ears. For an astonishing few months in the middle of the year, Loeb's hopes of a sixth consecutive world crowned looked as unlikely as they had looked near certain earlier in the season in Argentina, when he was 20 points clear of the chasing pack at the top of the table.
Loeb remains adamant - and who are we to argue? - that he made only one mistake: his enormous shunt on the Acropolis Rally. The rest of his blunders were caused by an errant Pirelli coming off the rim in Sardinia (and his co-driver Daniel Elena being too eager to shed his belts ahead of the impending tyre change, which left them with a penalty and a further place down the leaderboard - fourth instead of third); a front corner assembly on his C4 WRC which Loeb hinted might have been made from nothing stronger than papier-mache after the Citroen was tripped up by a tree root in Poland ("I thought I was driving a World Rally Car, not a Renault Clio," he said at the time) and then there was the whole Australian debacle, where Loeb's win became second after the anti-roll bars on his C4 were found not to conform with the regulations.
And no. He had not been distracted by F1 fluttering its eyelids at him. Just as well really, given the frankly absurd decision not to give him a superlicence and the chance to realise a dream he's done more than most to earn.
Previously, in the WRC, Loeb has always maintained the party line like his life depended on it. This wasn't him being particularly corporate or unimaginative, it's just that there really hadn't been anything terribly spicey to talk about. But this year, Loeb wasted absolutely no time in making his feelings perfectly clear; he was mightily aggrieved that Australia, in his words, "... cost the team nothing, but could have cost me my title."
That was a mark of just how rattled Loeb was this season. And there was one man to thank for rattling the Frenchman's cage longer and louder than it ever had been before: Mikko Hirvonen.
The Ford driver really came of age this season. He was sublime in the consistency stakes and ever-improving in terms of speed. At the start of the year, there were stories that his superior position in the team could come under threat from fellow Finn Jari-Matti Latvala this year. Poppycock.
Hirvonen blew him out of the water in a year where Latvala seemed only able to shoot himself in both feet at every turn. There were those who wondered whether Hirvonen had the outright, big-balls, brain-out speed of J-ML, well Finland certainly showed that. Latvala was left wide-eyed at the end of stages as he pitched his own best efforts against the jaw-dropping times the pair ahead were managing.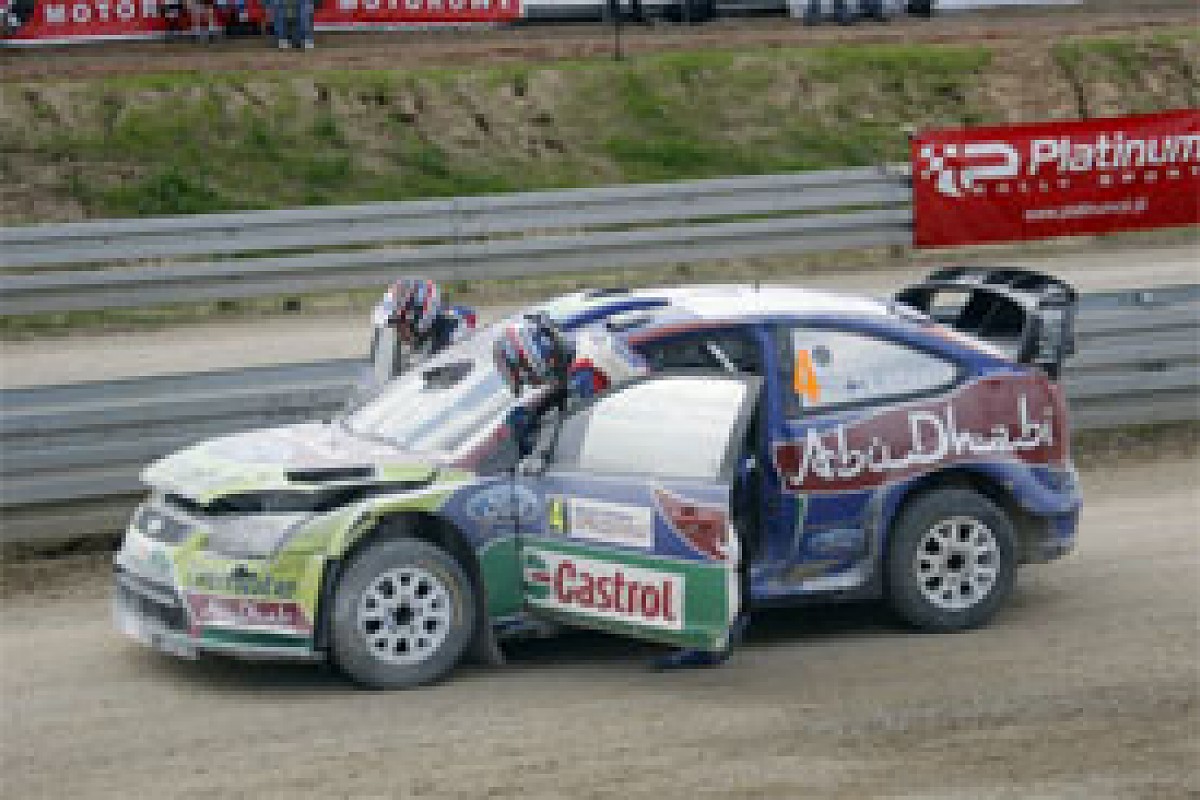 Jari-Matti Latvala pushes his Ford on Rally Poland © LAT
Latvala is far from the finished article, but he's emerged from a season where he could have been discarded as a finished Finn. He remains one of the most likeable and talented drivers ever to grace the WRC, but boy has he made it hard for himself this year.
Few will forget the rollercoaster of that massive, massive accident where he rolled 17 times down a mountain in Portugal, only to then dominate in Sardinia with a start-finish win, before taking Ford down in Poland where he clobbered his car on a meaningless corner on a meaningless final superspecial stage, costing himself and the whole team a second place and eight points. Latvala has tried patience this season, he won't be afforded that luxury again next year.
In this review, as was often the case down the stretch of the season, Latvala's escapades have over-shadowed the stoic and solid effort of Hirvonen. The older - yet considerably younger looking - of Ford's two Finns was only off the podium once this season, when his Focus boiled itself in Argentina. He might have missed the title, but Hirvonen did manage his second best: a win at home.
He joined the ranks of his heroes: Vatanen, Mikkola and Alen with a 10-pointer on the 1000 Lakes. And it was a Rally Finland to be proud of. He and Loeb were at it hammer and tongs every inch of the way, but the Citroen man blinked first and Hirvonen gratefully accepted the Finnish equivalent of mass hysteria - polite cheering - from what appeared to be every single inhabitant of his hometown, which also happens to be rally town, Jyvaskyla.
In the end though, Hirvonen couldn't contain Loeb's pace in Spain and Wales. Loeb found his mojo on rounds 11 and 12 and, when it mattered, most was able to find another gear.
But Hirvonen's coming - and he's coming with a couple more ratios of his own. The next couple of years are going to be absolute crackers as these two are joined by the likes of Latvala, Citroen's Dani Sordo and Sebastien Ogier and, if there's any justice, Kris Meeke and Andreas Mikkelsen - both of whom have no business being anywhere other than at the top of the sport.
And then there's Petter Solberg. What can you say about him? He showed determination in the commercial and sporting world beyond anything anybody could have expected this season. Dumped along with most of Prodrive when Subaru walked out on us 12 months ago, Solberg refused to lie down. He refused to throw in the towel and wait for the world to come to his door. Instead, he picked up his briefcase, and went and knocked a few doors down. He found sponsors and a five-year-old Citroen Xsara WRC.
By round three, he was in cloud cuckoo land via an amazing and emotional podium on the Cyprus Rally. Solberg was smiling again this season - and that was good to see. Love him or loathe him, Solberg is good news for this sport. He's the zest, the shout, the scream and, more often than not, the headline. And the good news is he'll be back with a much more up to date motor for next year. He's already vowing to make a "big mess" of the established order.
That established order was more established than ever in Argentina. The WRC was right at the bottom in South America. This had nothing to do with another awesome Rally Argentina - with some of the best live television coverage the sport (and watching world) has ever seen - not to mention the million-odd punters who stood out at the side of the road to the Andes. No, Argentina was ace - it was the sport which had bummed out.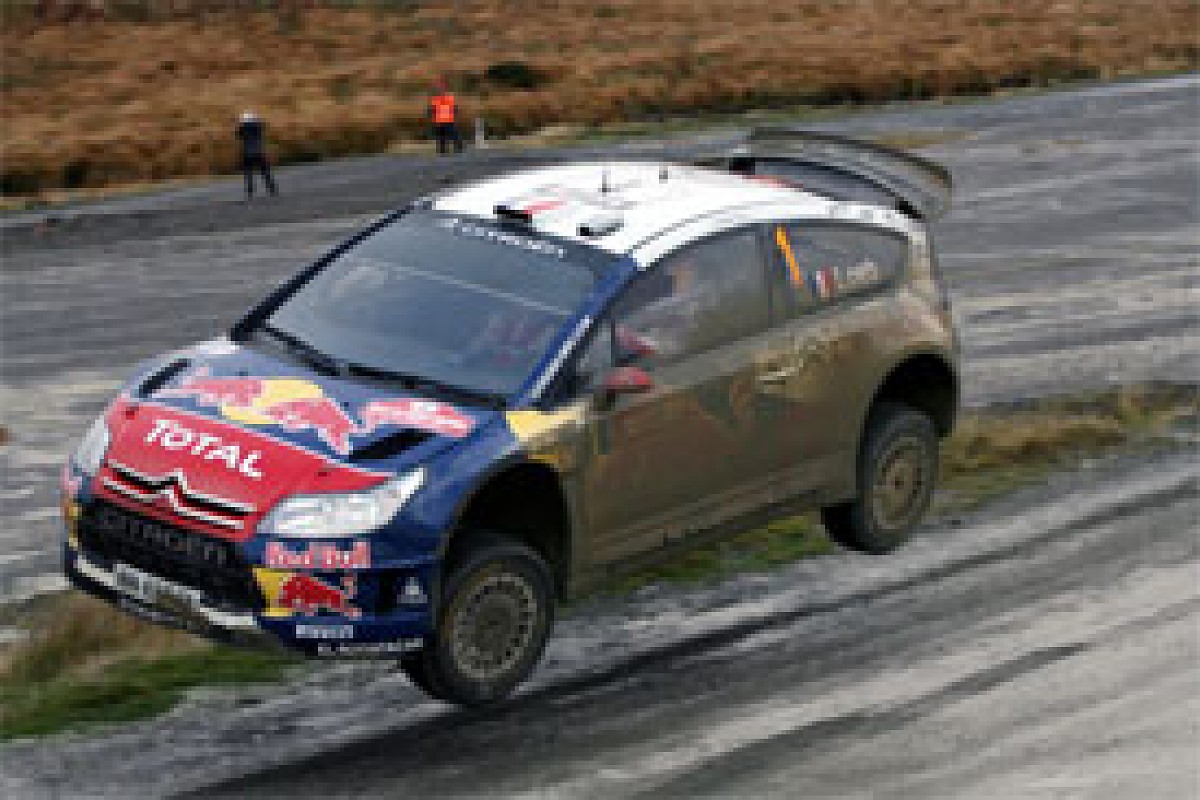 Sebastien Loeb and Daniel Elena on Rally GB © LAT
Loeb was walking away with another title; great for him, terrible for the sport. But then we turned a corner. Little by little, the news improved. ISC was named as global promoter starting from January 1, 2010. Given that they're already the commercial rights holders, ISC has already begun pushing buttons. They might not be pushing the right buttons for everybody, but at least they're doing something. Whether it's right that they take a hand in the decisions of domestic ASN concerning which rallies comprise that country's WRC round is debatable, but let's not forget that at mid-year we were at the bottom of the bottom. Now the WRC is on it's way back.
Like many traditionalists, I'd prefer to be in Corsica than Alsace for a Rally of France next year, but if Alsace is going to bring the crowds in then so be it.
Taking the sport to the masses might not be to everybody's taste if it means compromising on the classics, but in the modern world there's not much of a future for the WRC in its former form. Don't get me wrong, I'm as keen as the next man to spend 72 hours hacking around the countryside with nothing more than an OS map and pot noodle to keep me going, but, much as it pains me to say it, those days are gone. And, without significant investment in developing the internet and new media technology side of the sport, we're a little bit buggered.
ISC is onto this. They might be a bit shiny for some people, but having dealt with them for a few years now, believe me, there's plenty of mud beneath that Soho slickness.
We've got more manufacturers coming, too. Just as F1's losing them, it looks like we're gaining them. Ford and Citroen have made further two-year commitments to the sport and Volkswagen, Mini, Mazda, Toyota, Subaru and Skoda among others are rumoured to be on their way to planet WRC. One or two of those will come good - particularly now the FIA has finally come up with some technical regulations (although at the time of writing they haven't actually delivered the regs - just the principle of the regs...) which will carry the sport from 2011 onwards and upwards.
It's been an exceptional year in the WRC. Okay, the first bit was duller than a wet Wednesday in Weymouth, but it got better. And then better, and then better again. Cardiff on Thursday October 22 was what this sport and my job are all about. The tension was simply incredible. The anticipation unbelievable. A day and six stages in mid-Wales later and it was still all go. But then Seb pulled his Saturday stunt and bagged number six.
In a year when Loeb's dominance of the world of mud was finally questioned, he silenced the service park with a champion's drive through Crychan and Halfway.
And won himself another 12 months as the ruler of our world.