Round 1 Rally Ireland, January 29-February 1
Winner: Sebastien Loeb
It didn't just rain in Sligo on the morning of the start of this year's World Rally Championship, it absolutely bucketed down. The rain came down so hard that some of the crews took the winter tyre option as opposed to the nominated asphalt rubber on offer.
Loeb didn't do that for the first loop - and dropped 42 seconds on the opening stage. But, guess what? With the right covers bolted on his C4 WRC, the Frenchman fired it back to the front to win the event by a minute and a half from his team-mate Dani Sordo. Mikko Hirvonen was the closest Ford in third place.
Round 2 Rally Norway, February 12-15
Winner: Sebastien Loeb
The fairytale result only lasted one stage: Petter Solberg's all-new team in a very old Citroen Xsara was fastest on the Oslo superspecial. The Thursday night hero ended the event sixth.
At the front there was a massive fight for the win between Loeb and Hirvonen, but in the end Loeb did just enough to win. Hirvonen was left ruing the fact that he hadn't been quite as radical in his alterations to the car's Saturday set-up as he might have been. Having been comprehensively beaten by Hirvonen here last time (in 2007) Loeb was delighted with his win in the Scandinavian snow.
Round 3 Cyprus Rally, March 12-15
Winner: Sebastien Loeb
Great excitement at the return of the mixed-surface event. Day one in the Troodos Mountains was on slippery asphalt - on event slippier gravel rubber from Pirelli. It made for a fascinating, but predictable, first day. Loeb was fastest through the first five stages to open up a comfortable advantage - with Citroen ingeniously electing to run the cars on buffed rather than brand new tyres for Friday's sealed surface tests.
By the time the cars hit the dirt on Saturday morning, Loeb was able to control the Ford fightback. Hirvonen was second with Petter Solberg a jubilant third on only his second event in the Xsara WRC.

Round 4 Rally of Portugal, April 2-5
Winner: Sebastien Loeb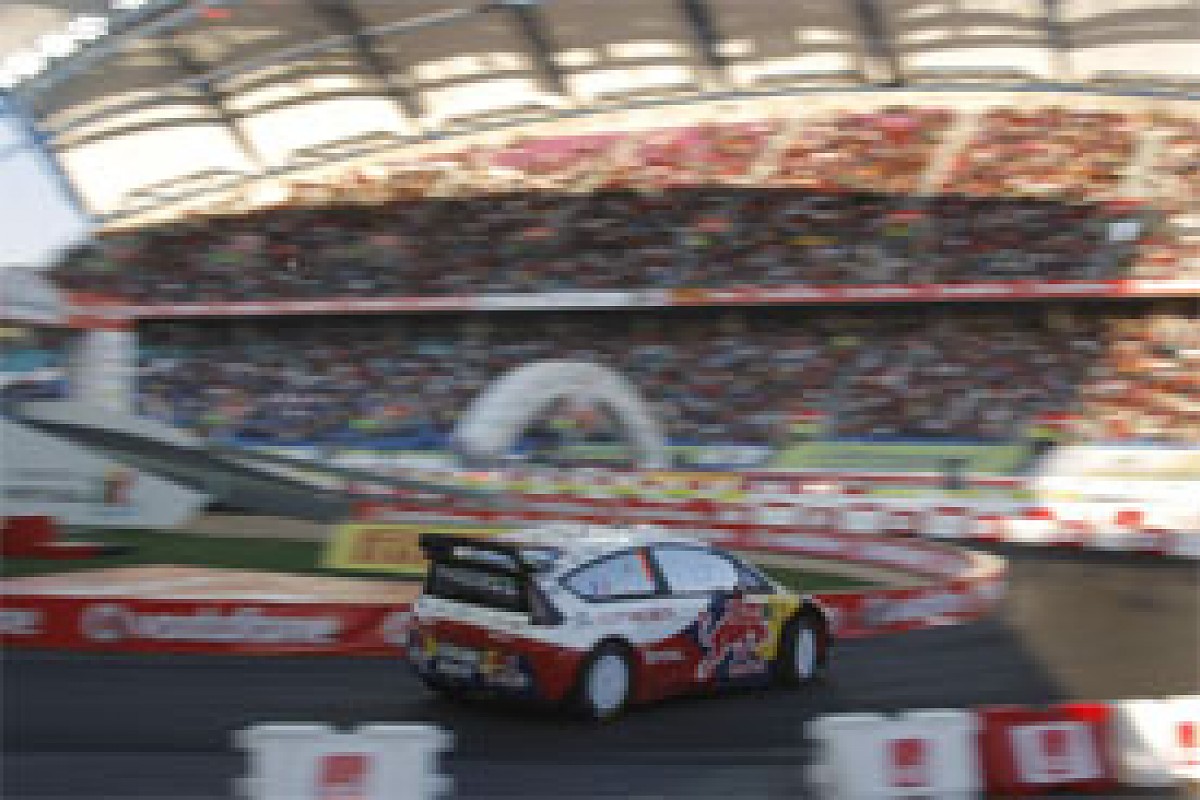 Sebastien Loeb and Daniel Elena on Rally Portugal © LAT
By the end of day one, things were looking up for Hirvonen. Granted, he'd been in a marginally favourable position on the road on the stages inland from the Algarve Stadium, but he was still leading. All he had to do now was contain to expected charge from Loeb through Saturday morning. And that's where the Finn's plan faltered.
Loeb was on sublime form to blitz the top spot, moving ahead on the second day two stage and staying there until Sunday afternoon. There was massive frustration for Hirvonen, but at least he was second - and at the end of the event. His team-mate Jari-Matti Latvala made a third mistake in four rallies, rolling his Ford down a mountain in a terrifying shunt.
Marcus Gronholm made a one-off return with a Prodrive-run Impreza WRC. 'Bosse' was second briefly, before rolling out.
Round 5 Rally Argentina, April 23-26
Winner: Sebastien Loeb
Loeb's amazing run of wins continued in South America. And Hirvonen's frustrations deepened. Once again, the pair locked horns in another fascinating tussle - Hirvonen became the rally's fourth different leader in as many stages on SS4. And this time, Loeb's team-mate Dani Sordo was right in the mix as well.
But, come the first run through El Condor, and it was a forgone conclusion: Citroen 1-2. Hirvonen's Ford was overheating and he was told to switch it off. The Finn tried valiantly to pour more water into the steaming Focus, but was on a hiding to nothing.
Now 20 points to the good, Loeb looked at his most flustered as he was forced to sneak out of a side entrance to rally headquarters as thousands of fans blocked the front door after the post-event press conference.

Round 6 Rally d'Italia, May 21-24
Winner: Jari-Matti Latvala
On paper, this rally was dominated by Jari-Matti Latvala in the same style which Loeb had ruled in Cyprus a couple of months earlier. The Finn won the first stage and was still out front when the event ended three days later. Undoubtedly, Latvala was helped by his position on the road, running further back and allowing Loeb and Hirvonen to sweep the loose stones clear on Friday. But he then controlled the event through the weekend to collect a much-needed victory.
Hirvonen botched his attempts at fixing the running order at the end of day one, while Loeb and Sordo worked it perfectly. Loeb was out of the running when one of the Pirellis on his Citroen was knocked off the rim in one of Saturday's deeper ruts. He and Daniel Elena broke all records by changing the flat in one minute - but the co-driver's decision to undo his belts before the car had stopped cost them a two-minute penalty and another place on the leaderboard.
Less than 10 seconds adrift of Latvala going into the final day, Hirvonen was confident he could win - but then he was hit by clouds of dust. Ford elected not to shuffle its drivers, leaving Latvala out front.
Round 7 Acropolis Rally, June 11-14
Winner: Mikko Hirvonen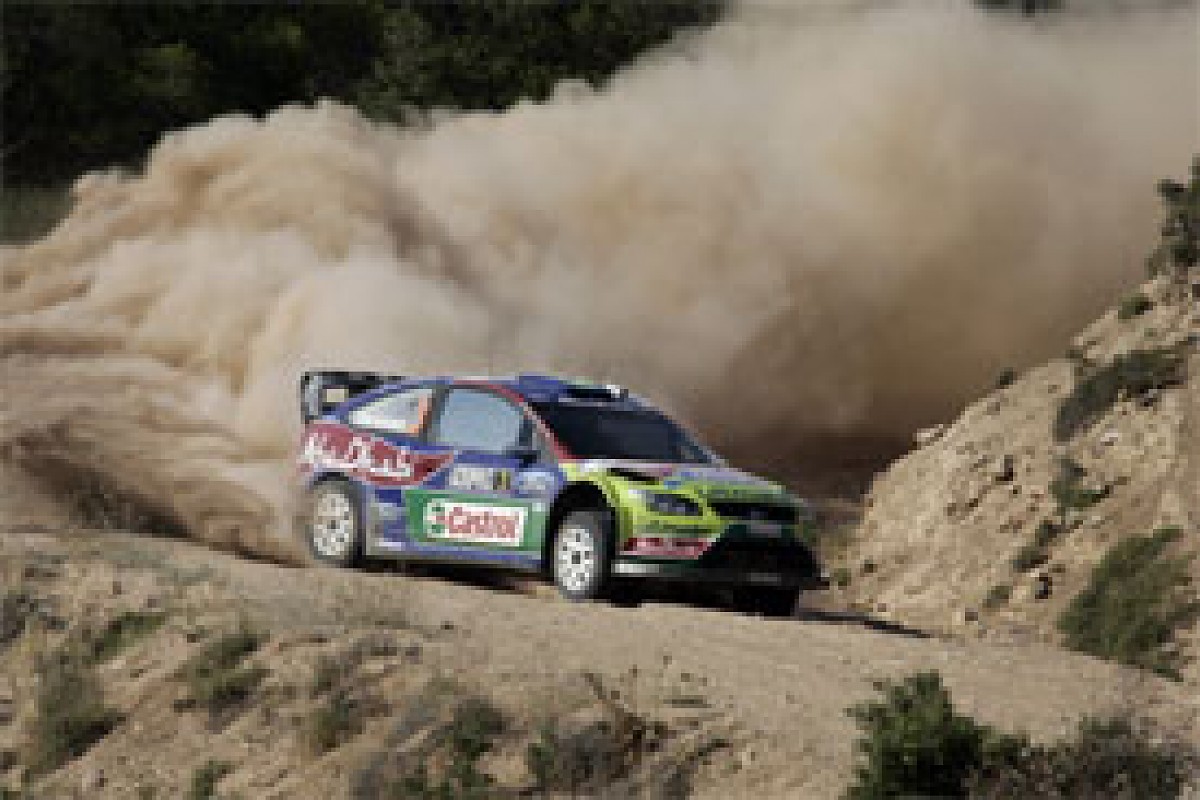 Mikko Hirvonen and Jarmo Lehtinen on the Acropolis Rally © LAT
The organisers of the event shunned the Athens base in favour of Loutraki, out west of the capital. This brought the return of some classic, rough and tough Acropolis stages. And WRC leader Loeb found the toughest of them on Saturday morning. Lying third overnight, 21.1 seconds adrift of leader Hirvonen, he had been expected to stage one of his trademark day two fightbacks. But this time it went badly wrong after he'd mis-noted a quick left-hander. The C4 shot off the road and rolled at high speed. There would be no superallying this one.
Hirvonen won comfortably, with Citroen Junior driver Sebastien Ogier second. The locals cheered longest and loudest at the finish beside the Corinth Canal for local ace Lambros Athanassoulas, who won Production on his debut in a Skoda Fabia.

Round 8 Rally Poland, June 25-28
Winner: Mikko Hirvonen
Not far into Rally Poland's fourth stage, Paprotki, there was a tree root exposed on a fast right-hander. First on the scene, and determined to regain the lead he'd just lost to Hirvonen, Loeb was pushing; a man on a mission. He clipped the tree root with the front-right wheel of his C4 WRC and thought nothing of it. A nanosecond later, he thought plenty about it when the wheel lurched back into the wheelarch, making further progress at a meaningful rate of knots all-but impossible.
Hirvonen didn't look back, confidently collecting his first win of the season. His team-mate Latvala, hero on the last round, turned to zero (again) on this one. The Finns were 1-2 when they arrived in Mikolajki for the final superspecial. Ford's management was lined up, champagne in hand. And, just yards away from where they were standing, Latvala cut a corner and mashed the Ford's steering. He was going nowhere. The rest of the field - Loeb included - moved up a place.
Round 9 Rally Finland, July 31-August 2
Winner: Mikko Hirvonen
Losing to Loeb at home last season had hurt Hirvonen badly. He was determined not to let it happen again. That was the general message from the Ford camp and those fighting words were all well and good stood in the service park in Jyvaskyla, but out on the stages it was going to take bravery, guile and guts for the Finn to stop the Frenchman.
And that's just what Hirvonen showed. When Loeb went fast, he went faster. In the end, there was nothing Loeb could do. He'd tried, he'd pushed, he'd leaned on the limits of his C4 and he'd had his moments. He wasn't going to risk his season to put one over on the local lad for the second time in succession. And so, this was the perfect result for the Jyvasklya resident. He beat Loeb fair and square and kept his nose in front in the title race. It was an awe-inspiring race and one well worthy of an event of this stature.

Round 10 Rally Australia, September 3-6
Winner: Mikko Hirvonen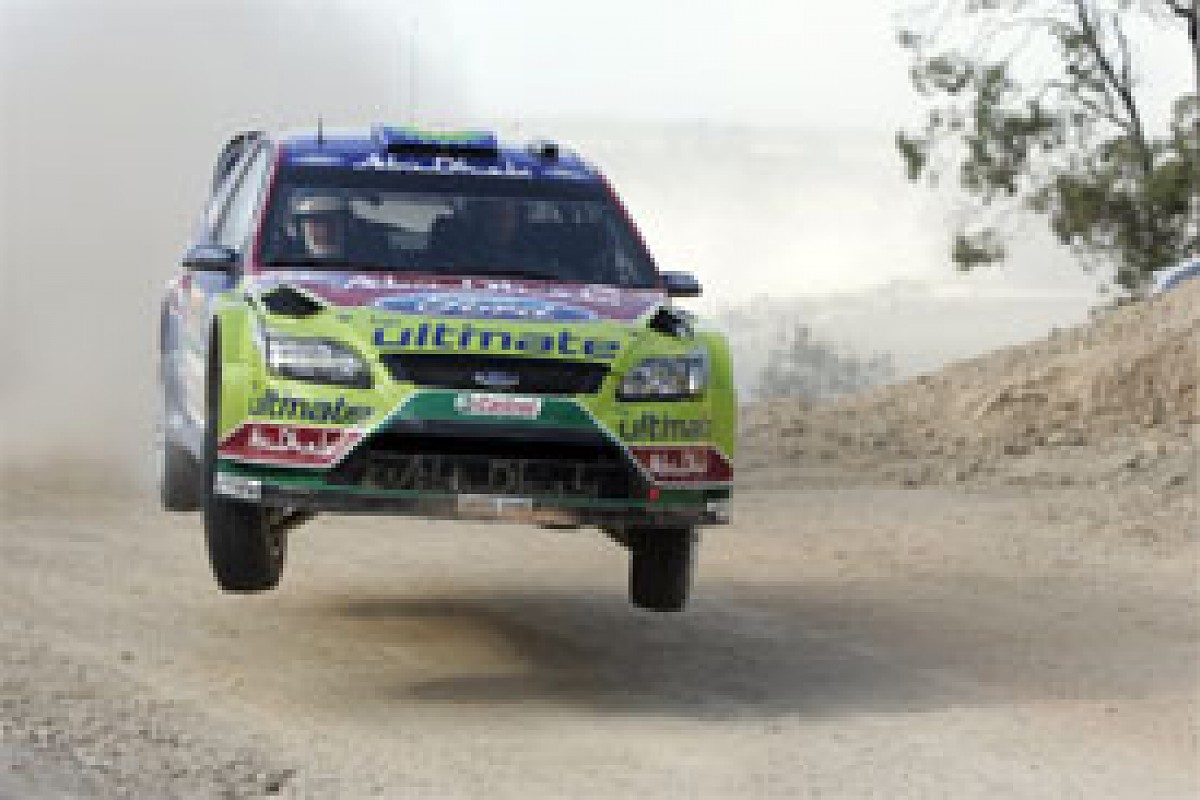 Mikko Hirvonen and Jarmo Lehtinen on Rally Australia © LAT
For three days, the drama of this rally and the championship played out to the backdrop of political unrest at the rally actually taking place in this area. It made for an exciting sideshow, but the main event was about the revival - or what seemed to be - the revival of Citroen and Loeb.
The Frenchmen appeared to have won for the first time since Argentina in April. But then they hadn't. Hours after the finish and with the party in full swing, Citroen's champagne went flat and the pasta Loeb was tucking into lost its taste. He'd been hit with a penalty for an anti-roll bar which didn't conform with the car's homologation papers. First became second and Hirvonen was back in charge of the championship.
Stewards' room wins are never the best, particularly after Loeb and Hirvonen had done their bit and charged down the New South Wales roads well ahead of everybody else. Just when the greenies had quietened down, the sport came up with its own controversy.
Round 11 Catalunya Rally, October 1-4
Winner: Sebastien Loeb
Ford tested and tested until the cows came home for this event. Hirvonen sat in with driver coaches and talked the talk about how he was ready to upset a form book which was heavily weighted in favour of Citroen - the Loeb-Sordo pair had been 1-2 on this event for the past three years, Loeb himself hadn't lost since 2004. But Hirvonen was ready.
In the end, there was no change. The result was the same as it had been in 2008, 2007 and 2006. And, once again, Sordo led the event only to fall on his sword for Loeb. The Spaniard's early pace in the Tarragona hills was encouraging, but only the most naïve of his Catalan fans could have thought their boy was about to break his duck. Even Citroen team principal Olivier Quesnel offered a quizzical look at the seeming stupidity of the proposition that Sordo could win this rally. "Dani?" questioned Quesnel. "No, no, Sebastien has to win here." He did. And he did.
Whether or not Loeb was giving it all the beans, knowing his road would be clear, we'll never know, but Sordo stepped to one side and allowed Loeb to close the championship gap on Hirvonen, who ended the event a frustrated, but pragmatic third.

Round 12 Rally GB October 22-25
Winner: Sebastien Loeb
And so it came down to Wales and a competition in its purest form - whoever finished ahead out of championship leader (by one point on arrival in Cardiff) Hirvonen and Loeb would take the title.
At the end of day one, there was nothing to choose between them. The morning had belonged to Loeb, the afternoon to his rival. But, as has been the case so many times in Loeb's 53 - soon to be 54 - WRC wins, he cracked this one on Saturday morning.
The Citroen driver set the Crychan and Halfway stages alight with a stunning run through both to edge his way towards a half-minute lead. Hirvonen's misery was complete when his bonnet blew up and obscured his vision on the final morning. Loeb duly collected his sixth title, but wasted no time in heaping praise on his 29-year-old rival. Sordo was third in Wales, but few fans' interest extended beyond the top two.