It would, perhaps, be unfair to wheel out the final line of TS Eliot's The Hollow Men - the one about this being the way the world ends, before going on about bangs and whimpers. But there was a modicum of that in Cardiff last week.
Friday, day one of Rally GB, was fantastic. Talking to the drivers on the car park of the Sun Inn in St Harmon on Friday afternoon (they were there for their refuel, I was there for mine...), the excitement was incredible. It was happening. This fight of fights which we'd seen come to life in the second half of the season was truly living up to its billing.
Sebastien Loeb and Mikko Hirvonen © LAT
The morning had been taken by Citroen's Sebastien Loeb, but Ford man Mikko Hirvonen had absolutely hit back through the afternoon, taking time and the momentum to bed with him. It was more of the same on Saturday's opener, but then Loeb did his thing on Crychan and Halfway and that, effectively, was that. The contest for this year's championship was over pretty much at the mid-point of the final round.
The rest of the rally was run with a mixture of French precision and Ford hope. One towered above the other to deliver a sixth title to Loeb. Loeb's a deserving champion, of that there can be no doubt. Anybody who can hit the season running and deliver five wins from five starts deserves to be in with a shot at the annual award, but there was a deal of sympathy for Hirvonen. The Finn had fought, scrapped and battled his way back into contention through the second half of the year, but this was a bout too far for Mikko. He ran out of speed when he needed it most.
The one thing which stands out here, however, is the mutual respect these two have built up for each other. There's a tendency for Hirvonen to still stand in the shadows of the likes of Marcus Gronholm, Carlos Sainz, Tommi Makinen and Petter Solberg - the drivers who challenged Loeb in his earlier career. But that has to stop now. In Loeb's own words, Hirvonen is the biggest threat he has ever faced.
If ever proof were needed of Hirvonen's threat, you only had to look at Loeb in that pub car park on that Friday afternoon. He was frustrated and even a little bewildered. The second loop of stages usually belonged to him. Yet he was being defied - and not for the first time this season.
Loeb paid tribute to Hirvonen's season, but in a deeply warm and meaningful way. Loeb said: "When we came here, we knew that one of us would be disappointed on Sunday afternoon - but neither of us deserved that. I somehow feel sorry for Mikko, I know what this feeling is like [to be second] and it's not nice."
That's no lip-service. Those are the words of a man who knows his seventh title is not going to come so easy.
As for Hirvonen, typically, he was honest to the end in his appraisal of his rally and his season. He said: "We both had the same chances when we came to this rally and he was faster. End of story."
Let me tell you, there aren't many other drivers out there with the integrity to tell it straight the way Hirvonen does. Not for this man the vast book of excuses which have been trotted out by those before and, undoubtedly, after him. It was a mark of Hirvonen's respect for the team that, after erroneously talking of a problem with the car through Saturday, he apologised and shook hands with every team member. He's that kind of bloke. The world champion kind.
While the fight might not have gone down to the wire in the way we might have hoped, there was plenty of good news coming out of Wales.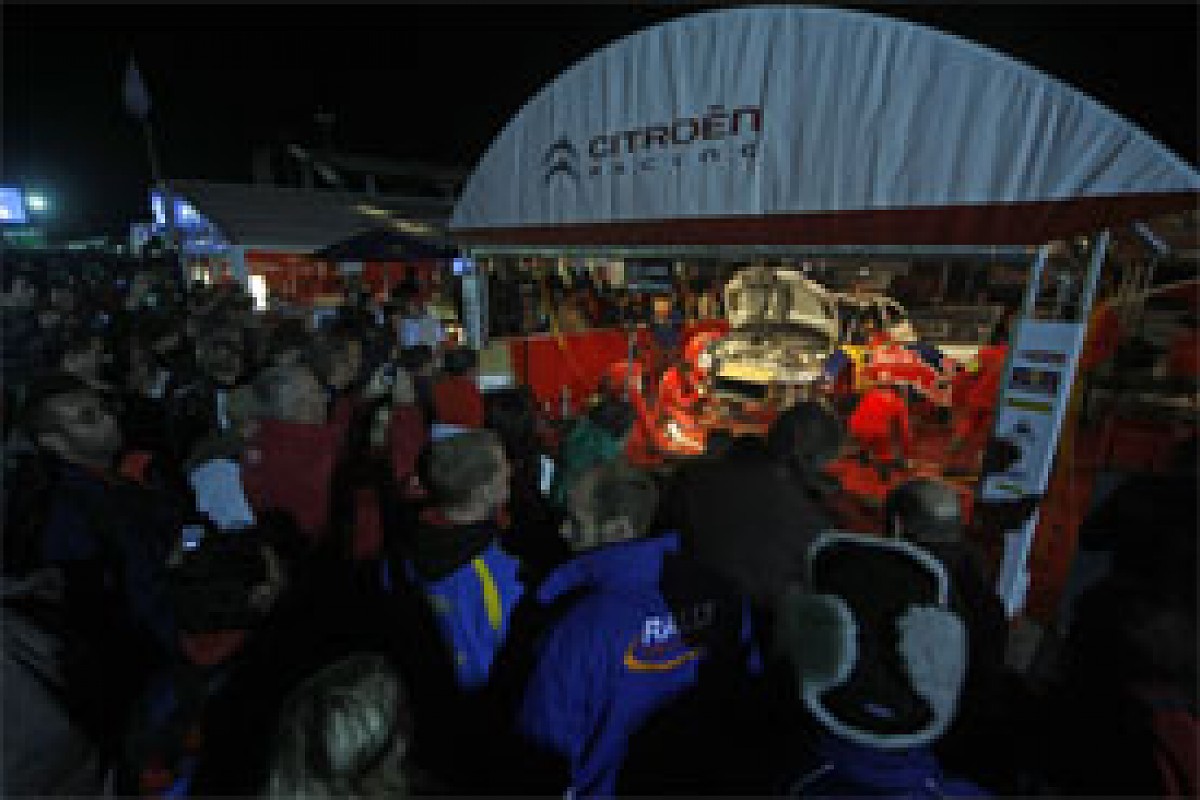 Citroen service area © LAT
Primary among the good news was the use of Cardiff Bay. This vibrant part of town is a world away from the parties and paramedics of St Mary Street in the centre of the city. And the event fitted well into its new home. Admittedly, the service park was far from ideal - a bit of a disaster by accounts.
But, brace yourselves, this doesn't happen often, I have sympathy for the GB organisers. They offered the area outside the Millennium Centre to Ford and Citroen, but were turned down on account of it being too small to fit the requisite hospitality areas in alongside. Now, I'm not deriding the need for hospitality (how could I when I'm on intimate terms with Citroen's coffee machine and I can smell Mick, the Ford chief's, delights for miles?) but we needed a more common sense outcome here. Putting Ford and Citroen alongside a slag heap next to the docks where nobody could really find them was not the answer. But the organisers were left with no alternative.
Actually, we were: Felindre and Swansea. And they really, really, really are not the answers.
For next year, the service park will be sorted - and we will still be in Wales. Not so long ago, I'd have been delighted if Rally GB had never darkened Cardiff's door again. Now, I'm not so sure. Yes, I still want the event to go to the north of England, but there seemed to be a eureka moment in Wales last week, where everything started to fall into place.
We were in the capital city (one of the WRC promoter's boxes ticked); we were in a decent part of town (distant slag heaps aside) - so decent in fact that a bottle of Cloudy Bay was only a stone's throw from the in-control. And we had easy access to the M4 and to the stages. Cardiff seemed to make sense.
What really made sense - albeit 12 months later than it should have done - was mid-Wales. The snow and ice ruined this innovation last year. This time around more than made up for it. It was fantastic. Seeing the cars turning into Hafren for the first time in too long was great news. Almost as good as seeing the number of spectators filling the car parks in Sweet Lamb. It was shoulder-to-shoulder Imprezas, Saxos and Corsas - all with a brace of spotlights on the front and a Cherry Bomb sticking out the back. It was 1995 all over again.
Also reminiscent of days gone by were the numbers of people standing out in the road waving to the cars on the liaison sections. Now that really was just like the old days.
Talking to the event's chief executive Andrew Coe I felt an optimism I haven't felt for a very long time. Finally, he's become a money-man with our rally in his heart as well as his wallet.
He talked of expanding the mid-Wales route via an overnight in or around Aberystwyth before running further north. Whisper it quietly, but this could mean such delights as Dyfi and Dyfnant returning. And with new WRC regulations offering events a much wider window for the length of rallies, he's already talking of a longer, endurance-style event.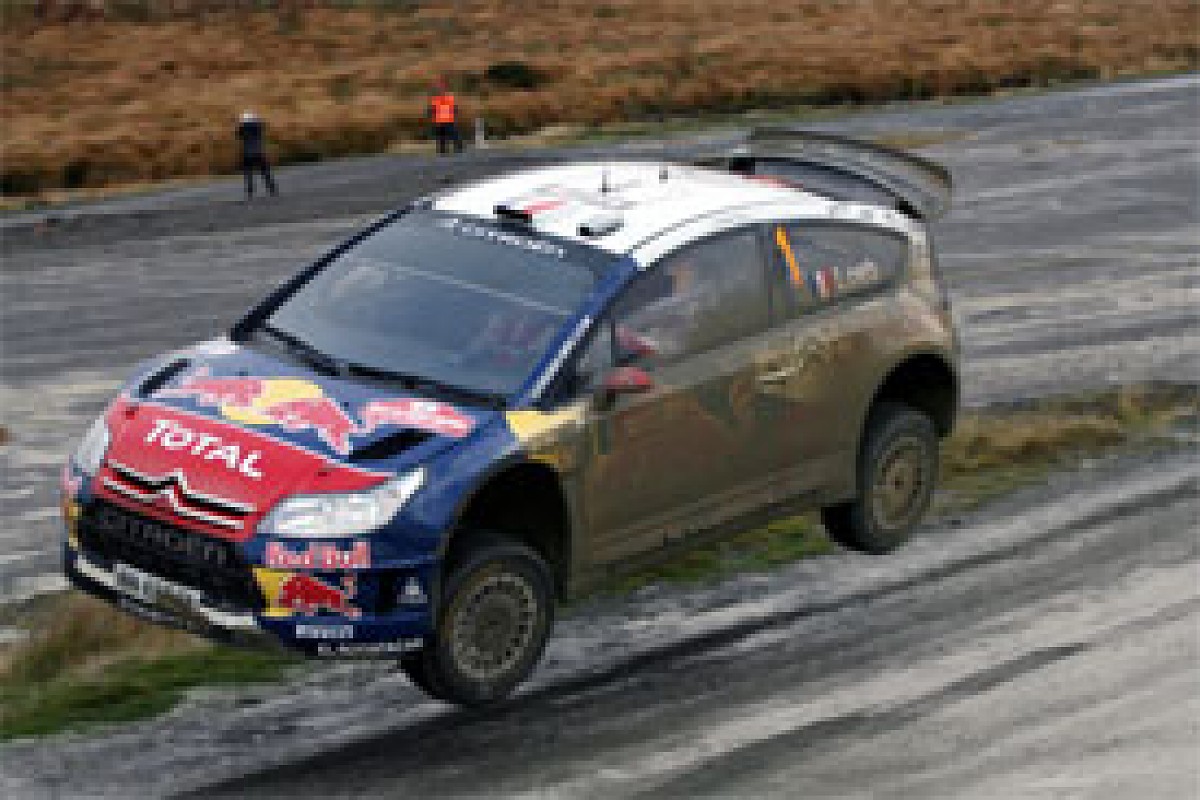 Sebastien Loeb and Daniel Elena in flight © LAT
Tough, uncompromising rallying is this event's USP. We don't need gimmicks like superspecials or the like. This is the Rally GB, the drivers should be taking a week to recover from it. In the absence of the Safari Rally, Rally GB should pick up the mantle as the toughest challenge the WRC has to offer. And it sounds like Coe's ready to do just that.
Let's take it one step further; let's have night stages back. Following an approval from the FIA for the return to the darkness, here's my suggestion. A day one loop up to mid-Wales, with an early-afternoon finish and overnight somewhere with enough beds. Then, at 0200 the next morning, up and at Dyfi to kick-off the second leg. That day can finish back in Cardiff at lunchtime, offering promotional activities on a Saturday afternoon. Sunday can stay as it is this year.
What a classic that would be. Come on, you've got to admit it: what better way is there to see the sunrise, than to be on your second stage of the day and to have Hirvonen and Loeb scattering the stones at your feet. Awesome. Count me in.