Kingscliff. That's where we were heading. Okay, Rally Australia might have been days away, but we'd expected a little more than this. Than what? Er, nothing. We'd driven straight through Kingscliff and there was no hint of the world's finest rally drivers coming within a million miles of the place. Not, I thought, a great start.
As usual, chairman of the Rally Australia organisers Garry Connelly was on hand to fill me in. Kingscliff is not where the rally is based. Kingscliff is just where the service park is. It's based in Salt. Salt? Salt. That's right. Salt is a resort village just outside Kingscliff. And Salt did have a few flags waving. But Salt to Kingscliff is what Absolutely Nowhere is to Nowhere. It looked like a retirement village.
Support for Rally Australia © LAT
But actually, the event wasn't based in Salt really. Salt was just where the headquarters were. The focus of the event was Murwillumbah - a town about 10 miles away. Now this was a town. I know that because I found a KFC.
Murwillumbah was the focus because that's where the superspecial stage would run six times through the town after the rally show on the eve of the event. Murwillumbah was where it was at. Apart from on Sunday, the final day of the event, when Murwillumbah - the focus of the event - was being dismantled. So where was the focus of the event for the longest day of the rally? Hmm.
Place names was something Rally Australia was not short of. Beyond the whole Kingscliff, Salt and Murwillumbah issue, we also had Kyogle, Kyogle Shire, Northern Rivers, Tweed Shire. Oh, for the days when it was based in Perth. Just Perth? Just Perth.
It had all started out so well. We'd landed in Sydney to a flurry of city-side activities, with the metropolis taking the event to heart. Then, just when we were settling down and loving the new east coast way, we went 600miles north where nobody knew the rally was on.
You could understand Sebastien Loeb being able to walk unmolested through Sydney airport when Elle MacPherson and Nicole Kidman are regular visitors. But Coolangatta (see, another name) or Gold Coast (another ...) airport would not be a place used to welcoming stars of the world stage. But there he was, just cruising straight through this, er, regional airport and turning right towards, Kingscliff, Salt, Murwi... whatever.
Turning right was probably the biggest mistake this event made. We should have turned left and driven to one of two places: Surfers Paradise or Brisbane. We shouldn't have turned right and gone nowhere.
It's very easy for me to sit here and pontificate on where the rally should or shouldn't be based. It's not me who has put in the hours, days, weeks, months and years of work to return WRC to Australia. All I'm doing is commentating on that return. And, as far as I can see, we were in the wrong place. Right now, the WRC needs to get in people's faces, it needs to shout and scream and make people wake up to the World Rally Championship. It doesn't need to land up in a beachside backwater.
Granted, Rally Australia's deal was with New South Wales, ruling out Brisbane - the capital of Queensland, and Surfers - also the wrong side of the state border. In that case, if Sydney couldn't be made to work, then it should have been a polite 'thanks, but no thanks'. I find it hard to believe that in a place the size of Australia, we couldn't find a city willing to take us.
Kingscliff was just astonishing. The first night we went out to eat we met its taxi driver - Nigel. That's right, there was one cab on for the night. And, as we sat and consumed fabulous calamari, we started to count the pedestrians walking past on this sleepy Wednesday night. Nine. Nine people walked past the window of our restaurant. In real terms, it was 11, but two of them were walking back to their cars from the bottle shop.
Nigel had moved up to Kingscliff 19 years earlier. He'd wanted to get away from the hustle and bustle. He'd certainly done that. But, crucially, could we book him for our return journey. That was a difficult one. If we were too close to midnight, that would be a real problem - he had a regular booking to pick up the baker and if he missed him, Kingscliff would be without bread the next day.
I kid you not.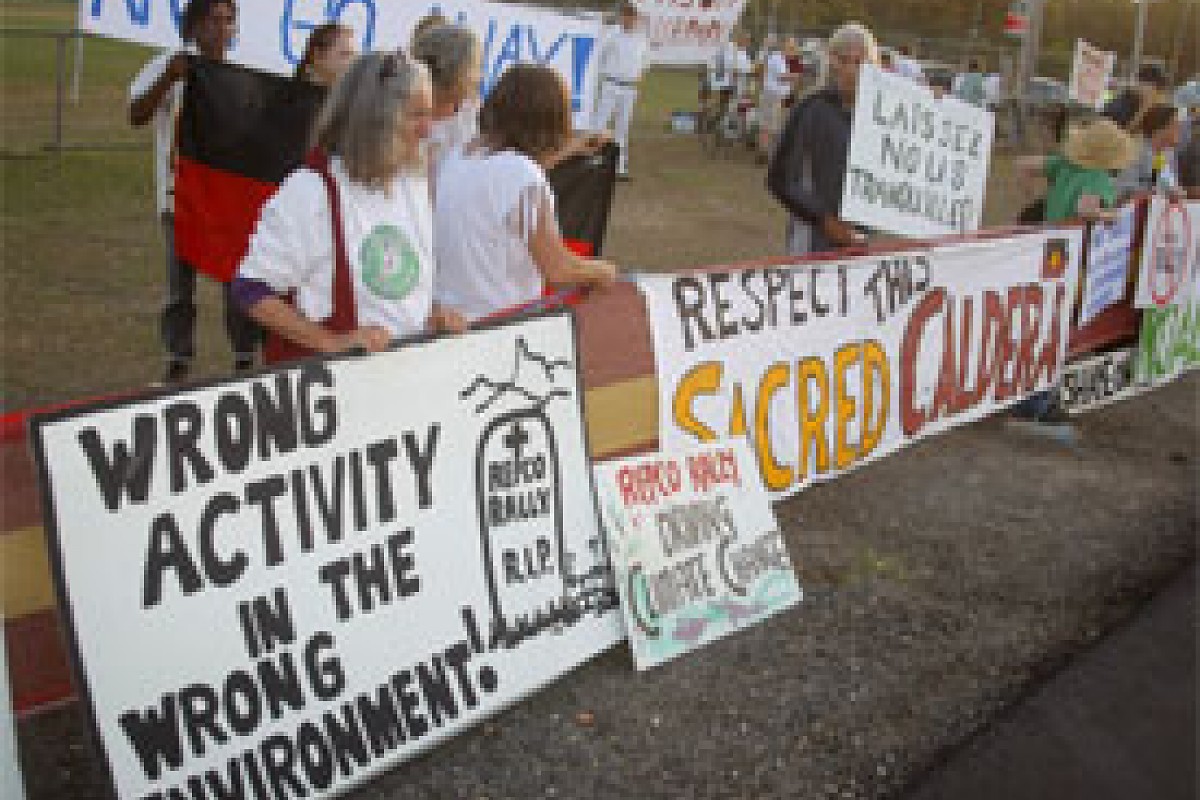 Criticism of Rally Australia © LAT
And the best part about this plan to take the WRC to the outback of beyond was the welcome we received from the treehuggers. The green protestors shouted at the rally, threw rocks at the cars and blocked the road. What a welcome indeed.
I have no time for these people. Particularly when Connelly and his people had put in so much work to demonstrate that the event would have zero impact on the countryside. Those protestors shouting the odds were just the kind of ignorant, boorish bogans (a fine piece of Australian slang which means redneck in America or pikey in Britain) who have nothing better to do with their time than worry about the great evil that is forced induction. Before getting in their cars to drive to the dole office to pick up this week's cheque.
As soon as I found a local not dressed up as a koala, I asked them whether this place had always been as, er, liberally minded. Indeed it has. This part of NSW is well known as an environmental hotspot. And here was the WRC pulling beautiful drifts and top-gear slides through the national parks. Have we possibly stumbled across another reason not to be here?
Those are the down sides to the down under return. The upside was a typically brilliant event from Rally Australia. Technically, the event was superb. Okay, there were long days and a lot of stages, but so what? Rallying, if you remember, is a sport about endurance. If you don't like getting up at 0430, driving all day and then getting back to bed at 2300 that night, go circuit racing. And when two stages were cancelled due to Swampy and his mates, clerk of the course Michelle Gatton dealt with the situation with ability and experience beyond her years. You'd never have known this was her first year in charge.
I never met Michelle, but I did see the back of her head when I visited rally control. This was pure Connelly. One room to run the rally. It made mission control at NASA look like old hat. It was amazing. Gatton sat in the middle with her aides and experts - ranging from an air traffic controller for the rally's planes and helicopters to the local ambulance service. Ahead of these dozen or so focused people were four enormous television screens which tracked the rally's every inch. The subdued lighting and people shouting: "S S three five, we're live in 15 seconds..." all added to the drama.
Rally Australia remains one of the best events in the world. It was just in the wrong place.
Before I sign off, I can't help but mention the whole Citroen debacle. You couldn't help but feel for Sebastien Loeb. He'd driven his rally - granted, not the way he'd wanted to thanks to the tactical approach to Saturday night. But he'd won. And then he hadn't.
Stewards' room results are always the worse kind, but I just don't get the nonsensical imbalance which these people conjure. Citroen's anti-roll bar link was too big; Ford's windows on Rally Portugal two years ago were 0.5mm too thin. Citroen gets one minute, Ford five. How does that work? I'm not calling for bigger or smaller penalties, both were guilty. All I'm calling for is common sense and a continuity of approach.
There, did it. Got through my whole post-Oz column without mentioning the Ashes. Almost.
To continue reading this feature, subscribe to Autosport Plus today.
Expert opinion. Technical insight. Unbeatable analysis. Subscribe today for unlimited access to the world's best motorsport journalism.
Get unlimited access now
No more monthly limits. Get complete access to all our news and Autosport Plus features.
Subscribe to Autosport Plus
Completely ad-free environment.
Access Autosport Plus - the best motorsport analysis, insight and opinion.
No monthly news limit.
Explore Forix, the world's most comprehensive motorsport stats database.