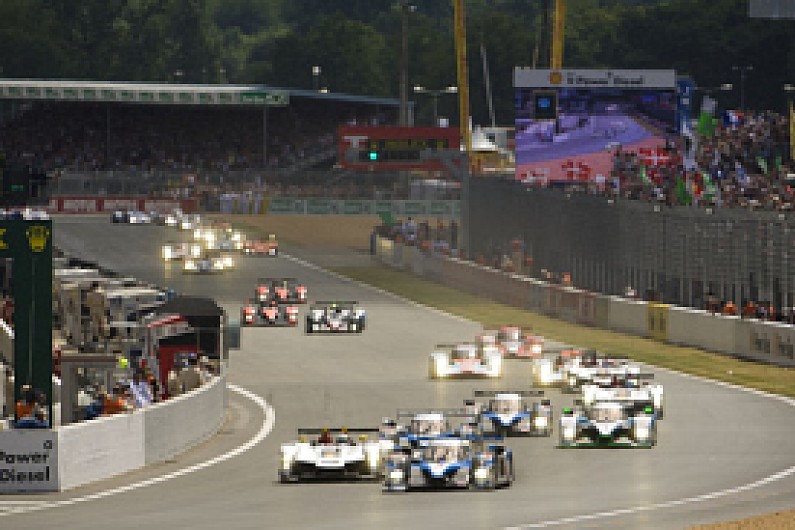 The entry list for this year's Le Mans 24 Hours has been revealed, with LMP1 cars filling 21 of the 55 places.
Last year's winner Peugeot returns with three cars as expected, as does Audi, which has confirmed its line-ups for each car. Tom Kristensen, Allan McNish and Dindo Capello will remain together, with Mike Rockenfeller, Timo Bernhard and Romain Dumas in a second car and Marcel Fassler, Andre Lotterer and Benoit Treluyer in the third.
Each team has only had to register one driver per car at this stage, so the only confirmed Peugeot drivers are Alexander Wurz, Nicolas Minassian and Sebastien Bourdais.
The factory Aston Martin team will return with two cars, with Darren Turner and Harold Primat listed to drive. The Dome team will also return to Le Mans after its absence last year. Sebastien Philippe is the only driver listed so far.
The rest of the LMP1 class is as expected, with ORECA running one of its own cars as well as a customer Peugeot 908. Signaure-Plus will enter a customer Aston Martin, Kolles will again field two Audi R10s, Pescarolo will run one car, with Sora Racing bringing a second. Lola will be represented by Drayson Racing, Rebellion Racing with two cars and American team Autocon. Nigel Mansell's entry has also been confirmed, alongside his sons Leo and Greg, in a Ginetta-Zytek.
Highcroft Racing will enter its Acura in the LMP2 class, with last year's winner David Brabham registered to drive. Strakka Racing will bring a second Acura, while Pescarolo will be represented by Oak Racing with two cars. Lolas will come from RML and Racing Box, and Ginetta-Zyteks from Quifel-ASM and Bruichladdich. Gerard Welter/Salini completes the class entry with its WR-Zytek.
Eight cars are entered for the GT1 class, but only three from the new-for-2010 GT1 World Championship and there are no Maseratis, despite the MC12 being declared eligible for Le Mans.
There will be three Corvettes, two from Alphand and one from Peka Racing, two Ford GTs from Match Competition and Marc VDS, plus the Larbre Competition Saleen, Young Driver AMR Aston Martin and JLOC Lamborghini.
BMW and Jaguar will join the GT2 class this year, with two works cars from the German manufacturer - with Andy Priaulx and Jorg Muller signed up to drive - and an RSR-run Jaguar XKR. The factory Corvette team will enter GT2 for the first time, with two cars. There are six Ferraris; two from Risi Competizione and one each from Modena, Farnbacher, AF Corse and BMS Scuderia. One Porsche each for Prospeed, IMSA and Flying Lizards, plus the Dutch Spyker.
Scrutineering will take place on Sunday and Monday June 6-7, with first practice on Wednesday June 9 from 1600-1800.
2010 Le Mans 24 Hours entries
#   Team               Car                      Drivers
LMP1

 #1 Peugeot            Peugeot 908 HDi          Wurz, TBA, TBA
 #2 Peugeot            Peugeot 908 HDi          Minassian, TBA, TBA
 #3 Peugeot            Peugeot 908 HDi          Bourdais, TBA, TBA
 #4 ORECA              Peugeot 908 HDi          Panis, Lapierre, TBA
 #5 Beechdean-Mansell  Ginetta-Zytek Z09R       Mansell, Mansell, Mansell
 #6 ORECA              ORECA 01-AIM             Ayari, TBA, TBA
 #7 Audi               Audi R15 TDi             Kristensen, McNish, Capello
 #8 Audi               Audi R15 TDi             Lotterer, Fassler, Treluyer
 #9 Audi               Audi R15 TDi             Rockenfeller, Bernhard, Dumas
#10 Dome               Dome S102-Judd           Philippe, TBA, TBA
#11 Drayson            Lola B09/60-Judd         Drayson, Cocker, TBA
#12 Rebellion          Lola B10/60-Rebellion    Belicchi, Boullion, TBA
#13 Rebellion          Lola B10/60-Rebellion    Prost, Jani, TBA
#14 Kolles             Audi R10 TDi             Albers, TBA, TBA
#15 Kolles             Audi R10 TDi             Bakkerud, TBA, TBA
#17 Pescarolo          Pescarolo 01-Judd        Tung, TBA, TBA
#18 Sora               Pescarolo 01-Judd        Tinseau, TBA, TBA
#19 Autocon            Lola B06/10-AER          Lewis, TBA, TBA
#007 Aston Martin      Lola-Aston Martin        Primat, TBA, TBA
#008 Signature-Plus    Lola-Aston Martin        Ragues, Mailleux, TBA
#009 Aston Martin      Lola-Aston Martin        Turner, TBA, TBA

LMP2

#24 Oak                Pescarolo 01-Judd        Nicolet, TBA, TBA
#25 RML                Lola B08/80-HPD          Newton, Erdos, TBA
#26 Highcroft          Acura ARX-01c-HPD        Brabham, Franchitti, TBA
#29 Racing Box         Lola B08/80-Judd         Pirri, TBA, TBA
#35 Oak                Pescarolo 01-Judd        Hein, TBA, TBA
#37 Welter/Salini      WR-Zytek                 Salini, TBA, TBA
#40 Quifel-ASM         Ginetta-Zytek 09S        Amaral, Pla, TBA
#41 Bruichladdich      Ginetta-Zytek 07S        Ojjeh, Greaves, TBA
#42 Strakka            Acura ARX-01c            Watts, Leventis, TBA

GT1

#50 Larbre             Saleen S7R               Berville, Bornhauser, TBA
#52 Young Driver AMR   Aston Martin DBR9        Nygaard, Enge, TBA
#53 Peka               Chevrolet Corvette C6.R  Kumpen, TBA, TBA
#61 Matech             Ford GT                  Gachnang, Allemann, TBA
#69 JLOC               Lamborghini Murcielago   Yogo, TBA, TBA
#70 Marc VDS           Ford GT                  de Doncker, TBA, TBA
#72 Alphand            Chevrolet Corvette C6.R  Alphand, TBA, TBA
#73 Alphand            Chevrolet Corvette C6.R  Gregoire, TBA, TBA

GT2

#63 Corvette           Chevrolet Corvette C6.R  Magnussen, O'Connell, Garcia
#64 Corvette           Chevrolet Corvette C6.R  Gavin, Beretta, TBA
#75 Prospeed           Porsche 997 GT3 RSR      van Splunteren, TBA, TBA
#76 IMSA               Porsche 997 GT3 RSR      Narac, TBA, TBA
#78 BMW                BMW E92 M3               Muller, TBA, TBA
#79 BMW                BMW E92 M3               Priaulx, TBA, TBA
#80 Flying Lizard      Porsche 997 GT3 RSR      Neiman, TBA, TBA
#81 Jaguar RSR         Jaguar XKR GT2           Pruett, Goossens, Gentilozzi
#82 Risi               Ferrari F430 GT2         Jonsson, Krohn, TBA
#83 Risi               Ferrari F430 GT2         Melo, TBA, TBA
#84 Modena             Ferrari F430 GT2         Rusinov, TBA, TBA
#85 Spyker             Spyker C8 Laviolette     Coronel, TBA, TBA
#89 Farnbacher         Ferrari F430 GT2         Farnbacher, Simonsen, TBA
#92 JMW                Aston Martin Vantage     Bell, TBA, TBA
#96 AF Corse           Ferrari F430 GT2         Perez-Companc, Russo, TBA
#97 BMS                Ferrari F430 GT2         Malucelli, TBA, TBA

Autosport has produced a standalone special magazine to celebrate our 70th birthday. All current print subscribers will receive a copy for free. To order your copy of the 196-page Autosport 70th Anniversary issue, please go to: autosport.com/autosport70th