JOTA LMP2 driver Antonio Felix da Costa has revealed his seatbelts came unfastened during the Le Mans 24 Hours, which he feels may have cost the team victory.
Formula E champion da Costa, Anthony Davidson and Roberto Gonzalez finished second in class in JOTA's Goodyear-shod #38 Oreca 07, just over 30 seconds down on the winning United Autosports crew of Filipe Albuquerque, Phil Hanson and Paul di Resta.
During the night, the JOTA car appeared to be closing in on the class lead before losing around a minute due to an unscheduled stop during the 14th hour for da Costa, understood at the time to be related to a problem with the seat belts.
However, it has now emerged that the Portuguese driver completed more than a half a lap of the Circuit de la Sarthe without his seat belts done up at all, albeit at reduced speed.
Speaking exclusively to Autosport, da Costa recalled how he accidentally undid his belts going through Tertre Rouge while trying to adjust them in a slow zone.
"I did the pitstop, and it was a short pitstop because we reacted to a slow zone and therefore we had a [partly] full tank," he explained.
"We rushed a little bit and my seatbelts were all done, but one of them was slightly under my hands.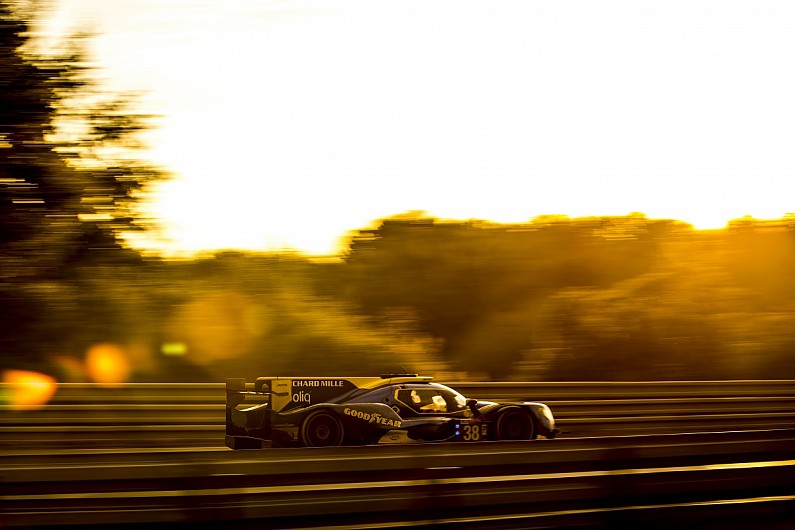 "Then I left the pits, and after three corners there was a slow zone, and in that slow zone I was just putting [the belt] right and I managed to, and when I went to the lap belt just to give it one last tightening, I did the left [side] and when my hands were going across to my right one, I touched my buckle and unclipped everything. All my seat belts were gone.
"You cannot imagine, [it felt like] the world fell in. I was like, 'f***, no way'.
"We'd come back from a minute-and-a-half down on the leader, and at this point we were only 20 seconds behind, so it was an amazing recovery. It took us six hours to get the gap this close.
"It was my fault, it was my mistake, a lot of hard work down the drain.
"I had to stop, I was on the radio saying, 'I'm so sorry, but I have to box'.
"I did a bit more than half a lap with no seatbelts. I was driving slowly.
"One Toyota came past and I gave him a lot of space - imagine if I had contact with another car. In that situation, I'm dead.
"I came back slowly, did up the seatbelts and got on with it.
"We went from 15s behind to a minute-and-a-half. That made it hard to sleep, to be honest."
"I think as a package we were the most consistent, no mistakes, we were never greedy. In the end, we weren't the quickest, but I think we should have won."