Every driver remembers their first Le Mans 24 Hours. The first time they thunder down the Mulsanne Straight in the wheel tracks of the great names that have gone before them and the first time they jink through the Porsche Curves with their eyes bursting out of their sockets.
Aston Martin Racing driver, Darren Turner, will start the race for the 15th time on June 17. As a two-time winner of the world's greatest race he is very well placed to offer some top tips to Le Mans rookies - all 46 of them in this year's event, from talented amateurs to ex-F1 star Rubens Barrichello and IndyCar ace Tony Kanaan.
Here is Turner's guide to the entire Le Mans week:
SUNDAY: Scrutineering
To most drivers, scrutineering is what the team does. The cars disappear off up the pit lane for a while and come back with a 'passed' sticker on them. But it's different at Le Mans as the whole thing happens away from the circuit in the town square.
The cars are loaded onto transporters and taken into Le Mans town on the Sunday before the race. They go into a very orderly process of checks before they reappear at the other end in a special clearing where the official team photos are taken.
For the drivers it's time to head into the square to sign on for the race, get your wristband and have all of your kit checked. After your mugshot is taken for the official programme you are ushered into a media scrum before you join the rest of the team to pose in front of the cars.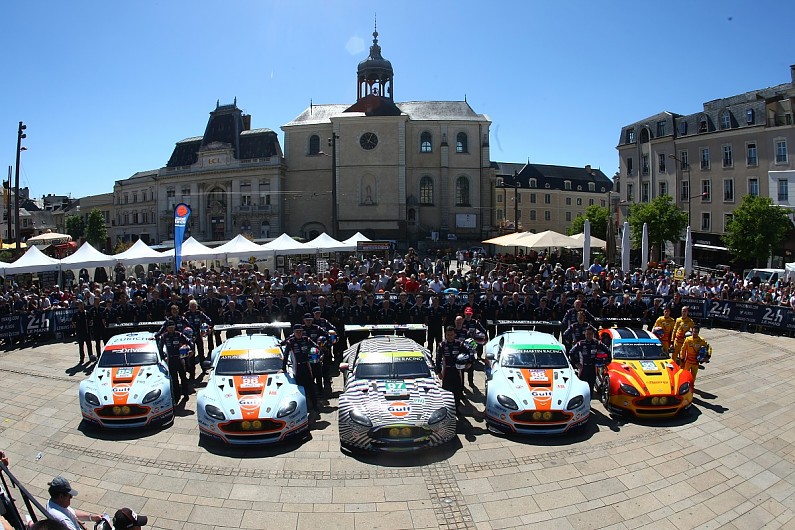 It's a long process, which can take a couple of hours from start to finish but it's a great chance to catch up with people and that team photo really signals the start of your week at Le Mans.
What's great about scrutineering is that it gives the locals a chance to see the cars. The race fans generally arrive a bit later in the week so this is a good chance to say hello to the people whose town we are disrupting for a week!
MONDAY: The seven Ps
Prior preparation and planning prevents piss-poor performance and that's one thing you don't want at Le Mans. Monday and Tuesday are quiet days but it's very important to get yourself organised now as, once Wednesday comes along, the rest of the week will fly by.
This is the time to check your seat, make sure you are comfortable in the car, run though radio checks and maybe do some driver change practice. It's the equivalent to doing your housework, getting everything sorted before a big event.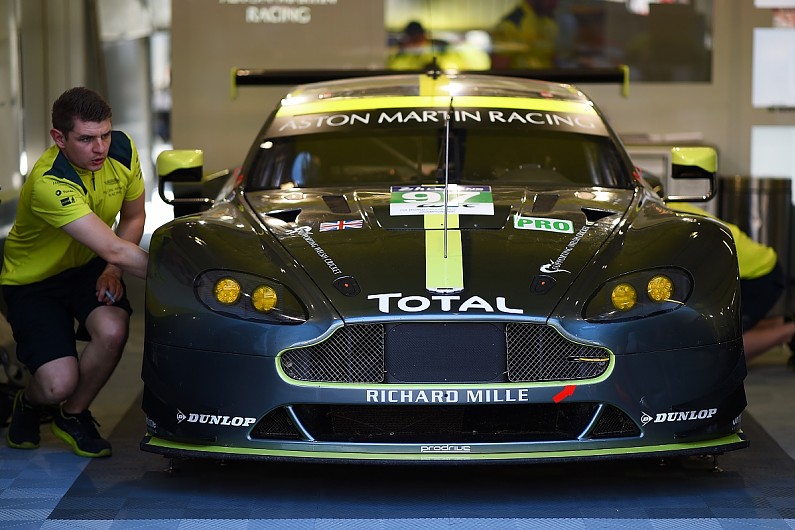 You must remember though at this point that the team is busy getting the cars ready so you don't want to be in there disrupting them too much.
Monday and Tuesday are also a great time to get on your bike and take a look at the track. At 12.9 miles it would take a while to do a track walk so bikes are best. The track has fences at various points: it's closed right up to Tertre Rouge and the Porsche Curves are fenced off but you can lift your bike over and carry on.
TUESDAY: First endurance test
Every racing series these days has an autograph session. It's a great chance to say hello to the fans for half an hour before a race. The autograph session at Le Mans goes on for one and a half hours so like the race itself it's a test of endurance!
If it's raining you're going to get wet and if it's sunny you need to get the sun cream on as you are out there for a long time.
WEDNESDAY: Get down to business
Today is the day you finally get out on track. You will have been around it on the simulator and had a few laps during the test day but now you have a four-hour practice session to get everything ready for the first qualifying session.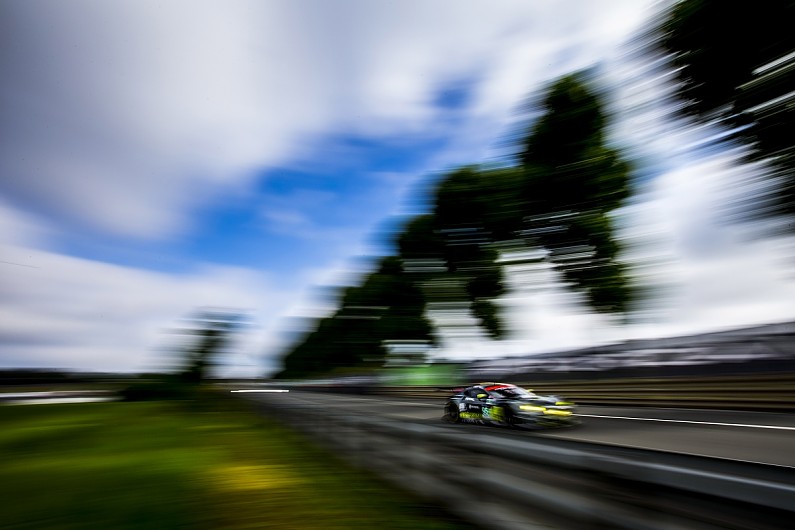 Preparation for rookies is a lot easier than it has been in the past as the ACO has a special simulator programme that every rookie has to do, whether you're an amateur racer or an ex-F1 driver.
It's not purely to help you to learn the circuit. You go there to learn all the procedures that can happen during the race: safety cars and the slow zones, which can be difficult to get right if you're not familiar with them.
When you get out on the real track the key is to learn the reference points. At any new circuit you have to quickly absorb as much information as you can and find your markers, which will help you run consistently throughout every lap of the race.
Le Mans has a lot of natural reference points like buildings, brake boards and transitions from different road surfaces.
One useful tip though is to make sure your markers work at night too. The first time I did Le Mans I got all my reference points sorted in the day and then when I went out at night I couldn't see them! You need to either find markers that can be seen at any time or have a set for day and a set for night.
THURSDAY: Qualifying
Traditionally the pole position time comes in the early part of the final session on Thursday night. The track has nicely rubbered up, the air has cooled and there is just enough light left to give you good visibility to go for maximum attack on one of my favourite circuits.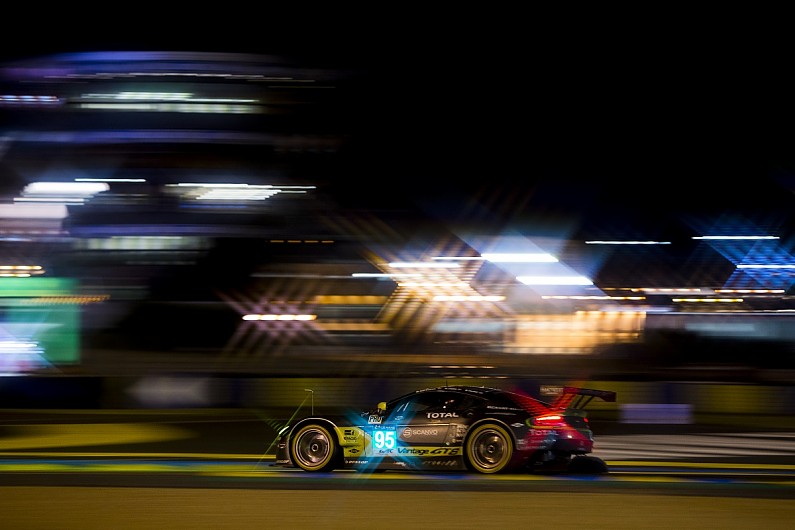 Le Mans is famous for the Porsche Curves. It's a fantastic combination of corners, a little bit like Maggotts/Becketts/Chapel at Silverstone, where it's all about high speed and keeping up momentum. The difference at Le Mans though is that there is nowhere to go if you get it wrong so precision is everything. Get it right and its very rewarding.
My personal favourite though is the run into Indianapolis: it's a fast right then a slow left but both corners have camber that really helps you. You approach this at nearly 200mph in the GTE cars and it's just a small brake and drop down a gear. It feels good when you get it all hooked up through there.
Hopefully you finish today's running with a good grid position for the big day on Saturday.
FRIDAY: The parade
This is the day that the teams rebuild the cars so they are in perfect nick for 24 hours of hard racing so it's best to stay out of their way.
Once we've done all the PR activities I spend a bit of time making sure all of my kit is ready and having a quick tidy up in my 'bungalow' as I don't want to be tripping over mess when I come back to rest between race stints.
Over the years I've tried every form of accommodation for Le Mans - except camping in a tent! I've stayed in a chateau nearby, I've stayed in hotels in town and in an RV on parked on the Bugatti circuit, but for the past six or seven years all of the Aston Martin drivers have stayed in the compound behind the pits which is effectively a trailer park, albeit a nice one.
It's perfect as we can go to the team hospitality whenever we want to eat, we can rest during the race and we don't have any of the hassle of travelling in and out of the circuit. This can be tricky on the nights after qualifying as you have around 1000 people all trying to leave through the back gate at once. While everyone is queuing in traffic we're already tucked up in our beds.
In the afternoon it's time to head into town for the drivers' parade, which is a highlight of the week. There is a great buzz in town.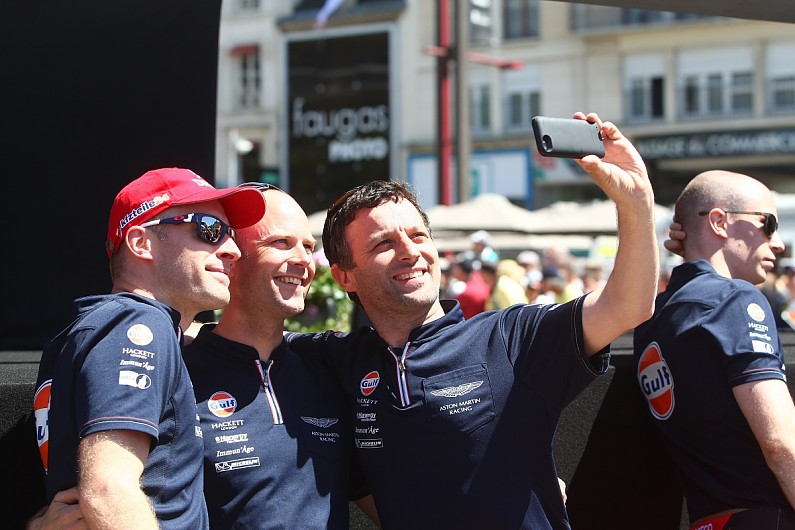 The scooter ride into town is actually my favourite part. It's genuinely the best way to get there as the traffic gets gridlocked but as you can imagine it can get a little competitive. We all have our own routes to get there so we get split up but generally arrive at the collecting point at the same time.
It's unlikely to run on time so you're going to be hanging around for a while before you get out onto the parade itself. Once you get going it's a truly unique experience. It normally takes about an hour to get around the route but all in all you'll be there for three or four hours so my advice is to just go with the flow and relax.
We have a lot of stuff to give out on the parade, like autograph cards, rubber bracelets and t-shirts but we have to be careful not to give it all away in the first 200 metres or you can end up with disappointed fans further along the route.
After the parade, get back to the track and relax. The thing to remember is that it is a long week so rest when you can. It's more important to look after yourself that week than any other week so you are not fatigued when race day comes along.
It's vital to get a good night's sleep on Friday, which sounds obvious but it's very difficult. The adrenalin is really building by this point as you're starting to think about the race so you're feeling excited and apprehensive and it's hard to switch your mind off and sleep. If you're not doing the morning warm up get yourself some extra sleep.
THE RACE
Stay calm in the morning. You'll have commitments such as driver appearances but let other people worry about all that.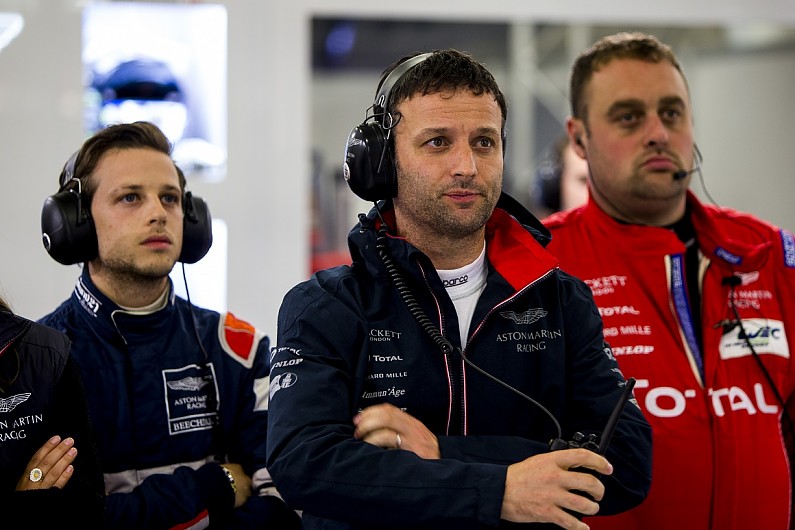 The best bit of advice I can give a rookie for the race - and this applies to any 24-hour race - is to do your stint, get out, go away, rest. There's nothing you can do once you're out of the car that can have an effect on the performance of the guy who is now in the car.
All you will be doing is wasting your energy and getting in the way of the team. Focus on your own performance and make sure you are back at your optimum when it is time to get back into the car.
One final bit of advice: enjoy it. It's the best race in the world.