The ACO, organiser of the Le Mans 24 Hours, picked out its cars of the decades earlier this season.
AUTOSPORT decided we could do our own version to mark the great race's 90th birthday, so we asked our former sportscar reporter Quentin Spurring to pick out the most important races.
Here's what he came up with for each Le Mans decade.
1920s
1927 - Bentley's British bulldogs
Frank Clement's new 4.4-litre Bentley smashed the lap record on its first flying lap and the 'Bentley Boys' were soon running 1-2-3. Clement was a lap ahead of the 3-Litres after only 12 laps, but things are rarely simple at Le Mans.
In the twilight of 9.30pm, Pierre Tabourin spun in the tight sweeps at Maison Blanche, and his Theo-Schneider ended up broadside across the narrow track - out of the view of drivers following. The first was Leslie Callingham, moving at 70mph.
When he desperately swerved the leading car, it hit the bank, and threw him out. In turn, the other Theo-Schneider, George Duller's Bentley, an Aries and a SARA piled into the wreckage - but Sammy Davis spotted debris on the track as he turned into the danger area, and was braking the other 3-Litre hard when it slewed into the tangle.
He extricated the Bentley and struggled to the pits. A front wheel was mangled, a headlight smashed, the running board detached, the battery box hanging loose - and the chassis frame and the front axle were bent, the brakes and steering deranged.
And yet, after applying a lot of tape and string, Davis continued. He covered six cautious laps before handing over to Dudley Benjafield, who resumed with an old police lantern strapped to the windscreen frame as a sidelight.
The impaired Bentley gamely pursued the leading Aries through a rainy night.
On Sunday morning, the Aries developed electrical problems, and a broken distributor stopped its engine just before 2.30pm. Davis and 'Benjy' nursed their wounded car to a famous victory.
1930s
1933 - The one and only Nuvolari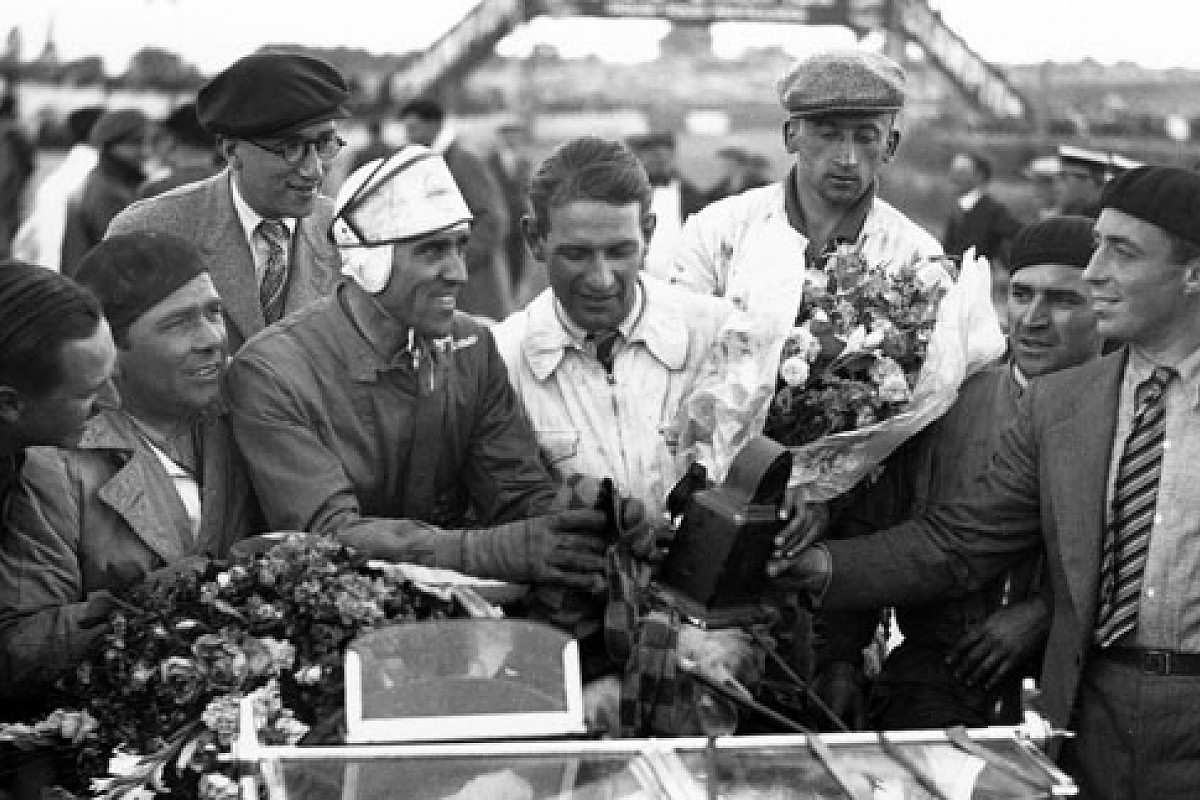 The supercharged Alfa Romeo 8C 2300 MM was the class of the field for a third time.
Racing one in his only Le Mans, Tazio Nuvolari did a great job on Saturday evening, but left most of the night-driving to Raymond Sommer.
At half-time, he had a two-lap lead - but a leaking fuel tank and a detached rear fender cost 18 minutes.
When, at 8am, Sommer handed over to his refreshed co-driver, Nuvolari found himself almost four minutes behind Franco Cortese. Not for long...
By 9am, Nuvolari had the lead back. An hour later, he had stretched it to almost a lap. And Cortese crashed in trying to keep up.
But the leading MM lost more time in the pitlane with the fuel leak (only partially stemmed with chewing gum), then a detached exhaust pipe, and a damaged radiator. Entering the final hour, Nuvolari was also struggling with fading brakes.
Soon, Philippe Varent overtook, but the amazing Nuvolari repassed his fellow Alfa pilot.
Luigi Chinetti relieved Varent, and retook the lead with eight minutes remaining, just as Nuvolari was departing from his final pitstop.
On the final lap, Chinetti missed a gear at Arnage and slid off the road, knocking a camera from a photographer's hands. Nuvolari pounced.
At Maison Blanche, Chinetti had to stand on his brakes to avoid a backmarker. At the finish line, the great man was still 400 metres ahead.
1950s
1955 - The darkest hour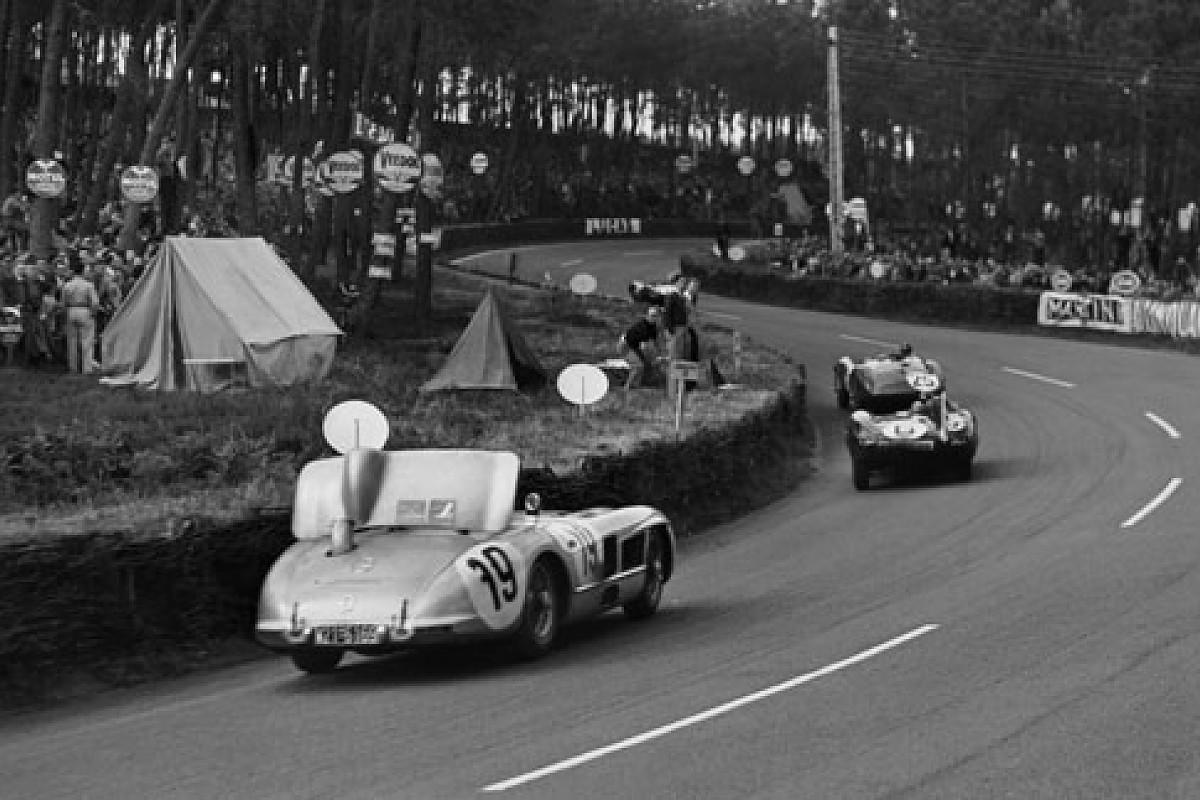 The action began with a fight between Eugenio Castellotti's Ferrari 121LM, Juan Manuel Fangio's Mercedes-Benz 300SLR and Mike Hawthorn's Jaguar D-type. After 70 minutes, Castellotti spun.
Hawthorn and Fangio began swapping the lead, dropping the Ferrari, setting fastest lap in turn.
After two hours of hard racing, Hawthorn claimed the new track record, some 7.5 seconds faster than the best qualifying time...
Half an hour later, Hawthorn made a split-second decision to lap Lance Macklin's Austin Healey before pulling to his right and braking for a routine stop.
Macklin's avoiding action took his car into the path of another Mercedes, driven by 'Levegh' (Pierre Bouillin).
The collision sent the SLR airborne at 130mph. It landed on top of a safety bank, broke up and caught fire.
The engine, radiator and other heavy components scythed horribly into the crowd. Bouillin and over 80 spectators were killed.
The race continued. Had it been red-flagged, the crowds leaving the venue would have blocked the surrounding roads, compromising emergency vehicles.
Through the evening, Fangio and co-driver Stirling Moss assembled a big lead. At midnight, Hawthorn and Ivor Bueb had slipped two laps behind.
Less than two hours later, however, both the remaining Mercedes were withdrawn out of respect for the dead and injured.
The race ran out in a gloomy atmosphere after the awful horror of the previous evening, and the D-type won under dispiriting rain.
1960s
1969 - A dash to the flag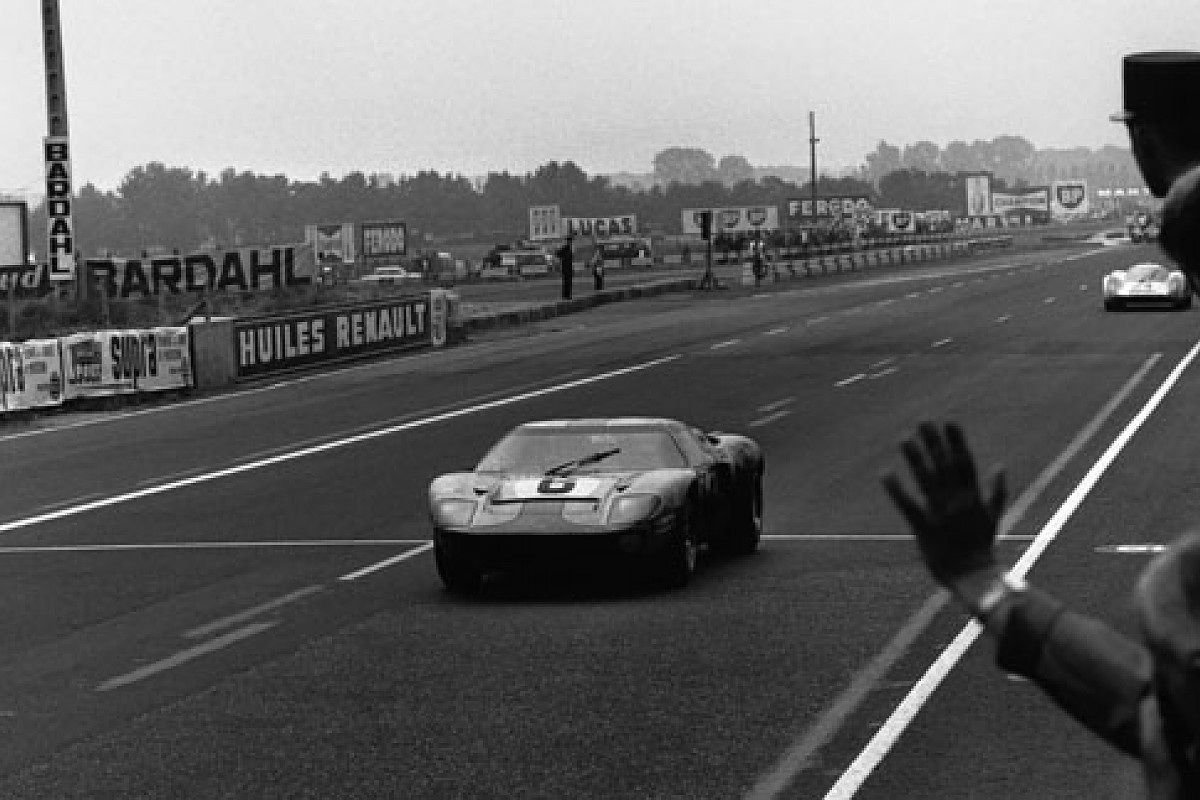 Watched by almost 400,000 people, this race begin with John Woolfe's fatal accident with one of the potent new Porsche 917s, and subsequently Porsche lost two leading cars to transmission oil leaks.
During the night, one of its 908s crashed after colliding with Gerard Larrousse's similar car, which had been delayed by a wheelbearing issue.
Porsche still seemed to have safety in numbers, but just before 11am, the gearbox casing split open on the leading 917, and later a broken clutch accounted for another 908.
All the while, JW Automotive's aged Ford GT40s had been racing on a predetermined schedule. Suddenly Jacky Ickx and Jackie Oliver were leading.
And Hans Herrmann was an equally unlikely second in Larrousse's delayed 908, having passed JW's other GT40 while it was in the pits with a broken brake caliper.
Herrmann was finally on Ickx's tail with 59 minutes remaining, but his engine was tired and his rear brakes shot, putting the performance of the two cars on a par.
They traded the lead many times as each assessed his opponent. When it really mattered, Herrmann was outfoxed. The GT40 driver triumphed by 120 metres.
1970s
1977 - Ickx's finest hour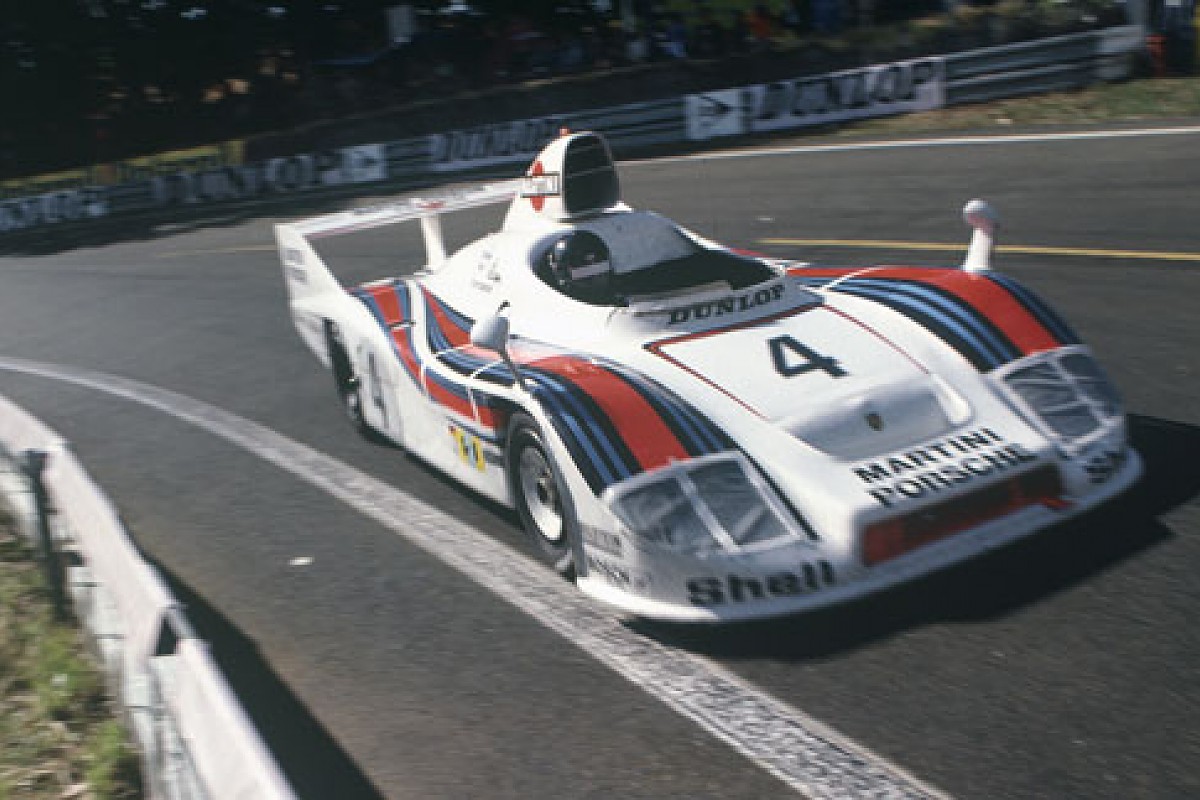 When engine failure stopped Jacky Ickx's Porsche 936 after only four hours, he was switched to the sister car.
Delayed for 20 minutes by a faulty fuel pump, then for 30 more by a blown head gasket, it was in 41st position, far behind a Renault 1-2-3.
Ickx set up the greatest comeback since Lazarus. Between 8.20pm and 9.10am, Jurgen Barth and Hurley Haywood did one shift apiece, leaving Ickx to drive the distance of five grands prix.
His average lap-time in the dark, in race traffic, was just two seconds slower than the car's qualifying time, and this fantastic drive cost him 18 pounds in body weight.
Reward came in the form of a broken engine in one Renault, a gearbox failure in another. At dawn, impossibly, Ickx was second. He had taken nine laps off the race leader, but was still six laps behind.
Soon after 9am, after leading for 17 hours, the leading Renault holed a piston. Just after midday, a challenge by a fourth, delayed Renault was thwarted by another piston failure.
After being 15 laps off the lead, the Porsche was now leading by 19!
Ickx spent the last four hours with his feet up. In the final hour, the sight of Haywood coasting into the pitlane with a smoking engine sure woke him up. The 936 had also holed a piston.
The team shut down the affected cylinder and Barth waited until 3.50pm before attempting two slow laps to the flag.
No one could be sure he would make it. But he did.
1980s
1988 - Walking wounded wins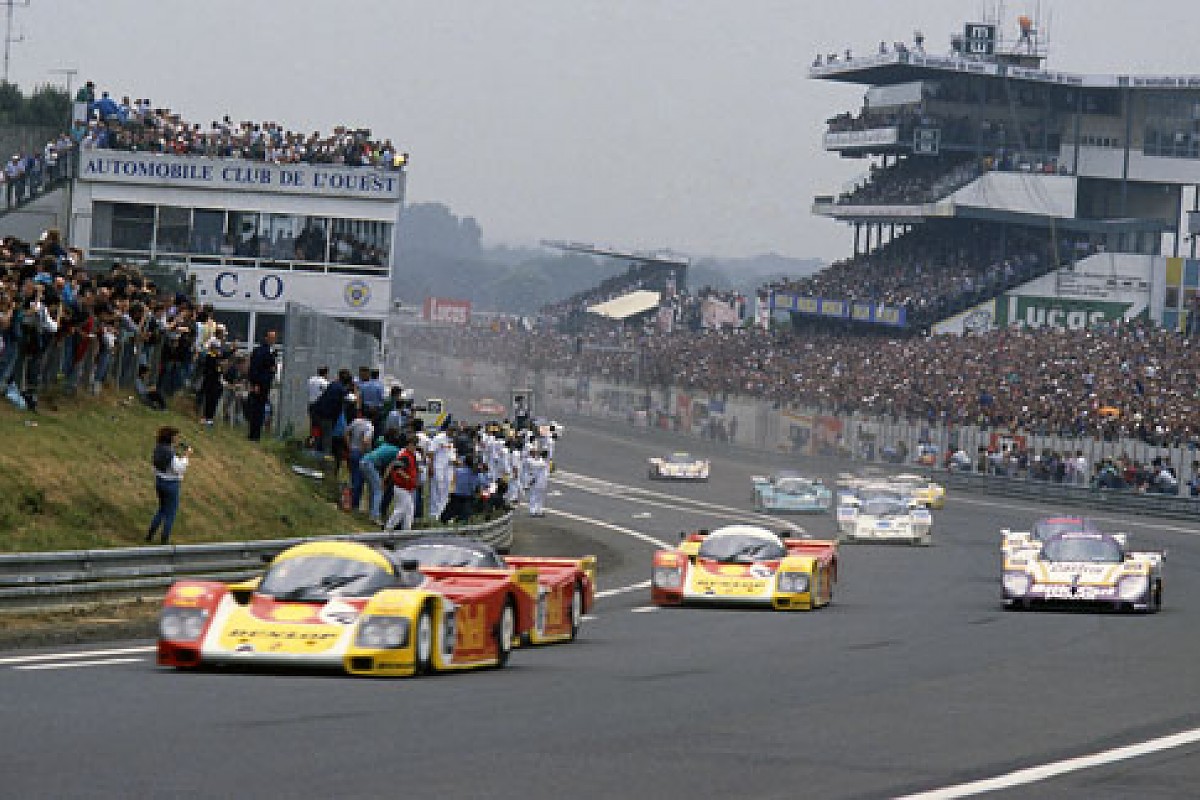 An unforgettable battle between Jaguar and Porsche took its toll and, as Sunday dawned, it had all come down to just one car from each team.
The XJR-9 of Jan Lammers/Andy Wallace/Johnny Dumfries held the upper hand and maintained a lead of either side of a lap through the morning and into the afternoon. At 2.20pm, its gearbox mainshaft snapped.
Lammers recognised the signs after hearing one of his team-mates describe an identical failure during the night. He left the car in fourth gear and continued at reduced pace.
With 20 minutes remaining, he had to stop for fuel. He got the car moving with a shove from his crew and went on to win with the other Jaguars protecting his tail from Klaus Ludwig's advancing Porsche.
A track invasion by British fans, wildly celebrating Jaguar's first victory for 31 years, blocked the finish-line area, making the precise margin of victory a subject of conjecture. It was officially given as 194 yards...
1990s
1999 - Drama all the way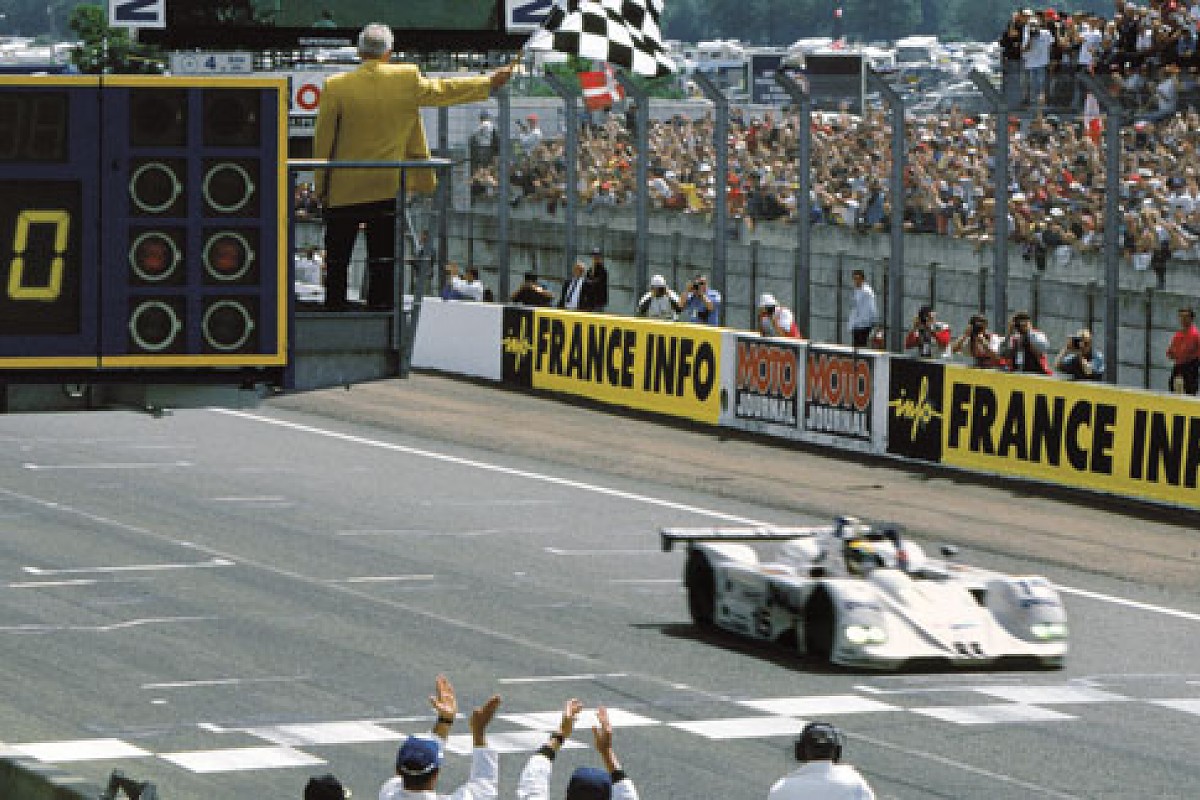 Of a record six factory teams operating 20 frontrunning cars, Mercedes-Benz had an awful week trying to stop its CLK taking off in the high-speed wakes of rivals.
Mark Webber went airborne at 200mph in qualifying and again in the Saturday morning warm-up. When this also happened early in the race to Peter Dumbreck, the third CLK was withdrawn.
Three of four new Audis encountered transmission problems. Nissan lost one car to a crash in qualifying, the other to a midnight engine failure. Panoz ran into gearbox and overheating setbacks.
All this left BMW and Toyota unopposed in a titanic battle. But two GT-Ones crashed, Martin Brundle's pole position car when a tyre burst, Thierry Boutsen's when it was punted off by a backmarker.
The Williams-built BMW V12 LMRs seemed to be home-free.
Even when a jammed throttle sent JJ Lehto into the wall at midday, Yannick Dalmas, Pierluigi Martini and Joachim Winkelhock stepped up with the other.
But the third Toyota was closing them down and, as Ukyo Katayama broke the lap record, it was on course to catch up. With 55 minutes remaining, he was squeezed over high kerbing by a backmarker, and punctured a tyre.
2000s
2008 - Life in the old dog yet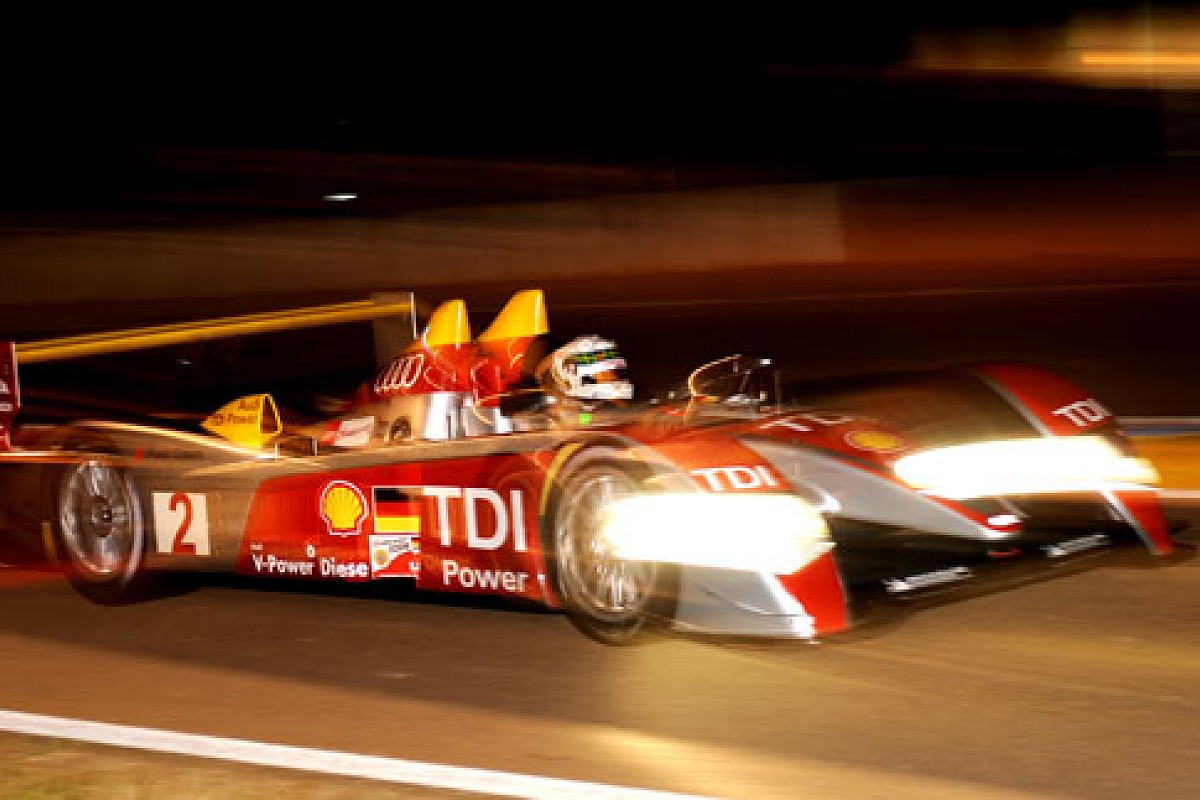 In the renewed battle of the turbodiesels, the latest Peugeot 908 HDi was three seconds a lap faster than the Audi R10 that had won in 2006 and 2007. But Allan McNish, Tom Kristensen and Rinaldo Capello thrashed their rugged R10 so hard that it stayed in the hunt somehow.
At half-time, two Peugeots had been delayed, but another was on schedule to win the fastest Le Mans in history, despite a half-hour full-course yellow.
Amazingly, the Audi was in second place, and still on the lead lap, before it began to rain.
The wet track turned the race on its head. Suddenly, Kristensen began overhauling the leader by as much as eight seconds a lap. The Peugeots were not only inferior in these conditions, but picked up wet grit that clogged their cooling systems.
The Audi had the lead soon after dawn, and McNish extended it to a lap before the rain let up.
Peugeot staged a comeback - but showers soon returned.
Amid the drama of constantly changing conditions, Peugeot's last-hour gamble on slick tyres failed to pay off, and it was all over.
Haynes has now published four volumes of Quentin Spurring's Official History of the Le Mans 24 Hours, covering the decades between 1949 and 1989.