Thanks for keeping us company today and we hope you've enjoyed it. We'll be heading off into the night to celebrate day two of birthday-fest, but not before we've done another news sweep to make sure we can bring you plenty of stories and interviews through the day tomorrow. We'll be back blogging again on Saturday and all through the 80th running of the Le Mans 24 Hours race.
0017 - So as Simon Strang starts his birthday (age unknown) by bashing through the final qualifying report, AUTOSPORT prepares to wrap up day two of its Le Mans blog.
0000 - It's over, and it's the #1 Audi e-tron on pole thanks to Lotterer's lap at the start of this final session, sharing the front row with the #3 Audi Ultra.
Davidson improves his best time of the session slightly with a 3m24.842s to cement Toyota's impressive third place for the TS030's Le Mans debut.
Next up are the #2 Audi e-tron, #7 Toyota and the #4 Audi Ultra.
The ADR-Delta Zytek-Nissan, #59 Luxury Ferrari and #79 Flying Lizard Porsche top the three classes.
2355 - Davidson stayed on it and was equalling his previous pace until encountering traffic, including the #2 Audi, which he passed, but not without losing a bit of time.
2351 - Improvements from both Toyotas. Nakajima grabs fourth in the #7, demoting the sister car, in which Davidson crosses the line moments later to take third and push the Kristensen/McNish/Capello car down to fourth. The Toyota set the fastest middle sector time of qualifying on that lap.
So now it's Audi-Audi-Toyota-Audi-Toyota-Audi... but Kristensen has just taken the #2 over from McNish.
2347 - It may or may not be the future of motorsport, but it seems to have upset the timekeepers. Message from race control to the DeltaWing: "Car 0 please turn on your transponder".
2345 - Both Toyotas pit. Kazuki Nakajima hops into the #7, while Davidson gets some fresh Michelins for the #8...
2337 - Just over 20 minutes to go. All the Audis and Toyotas out on track. At the AUTOSPORT desk, Sam Tremayne and Tom Mallett are going outdoors for some night time Le Mans fever. Matt Beer has taken advantage of Sam's exit to remove substantial amounts of chocolate from his desk chair. Editor Strang is 20 minutes away from his birthday. And our guest star Stuart Codling has just completed some insight into the fascinating DeltaWing for the benefit of AUTOSPORT Plus subscribers.
2328 - We're heading into the final half-hour of Le Mans' epic-length qualifying procedure. The big excitement remaining is whether we'll see a change at the top, and whether Audi will be able to get a sweep of the front two rows without any Toyota intrusion. At present, it's an Audi 1-2-3-5, as the #8 Toyota sits ahead of the #4 Audi in fourth.
The Toyota drivers know that the TS030's reliability is unproven due to its tough winter, so race victory is a very, very, very long shot. Tonight is therefore Toyota's chances to potentially do something special.
These are Alez Wurz's thoughts on the matter: "If we can split the four cars, I think that will already be quite cool. Anything more than that will be almost magic."
And this is what Anthony Davidson reckoned about Toyota's prospects for the weekend: "I just hope we can do a professional job and at least be there or thereabouts - not in the fight, but just there to pounce if anything were to go wrong. Audi have been doing this since the R8. It's hard to beat someone at their own game, but I think we can hold our heads up high knowing that we've done a good job with severely limited track time, coupled with the accident that damaged the chassis. We're on the back foot."
2322 - A lot of cars that have done all their mandatory night laps and aren't expecting to make up any positions have called it a day and are packing up for the evening. And that means less traffic... does that mean an eleventh-hour pole shoot-out is brewing...?
2319 - Against the odds after Giancarlo Fisichella's crash at the Porsche Curves yesterday, the #51 AF Corse Ferrari is back out on track.
The car had to be built up around a new chassis after the crash, and initially the team played down its chances of getting out again before race morning.
But the crew didn't give up (we can vouch for that, we get a chance to peer into the AF Corse garage and awning every time we use our most convenient route from press room to paddock, and there have been bits of Ferrari bodywork flying determinedly around every time we've been through today) and the #51 is on the road again.
2307 - Michael Krumm is setting off in the DeltaWing, as its Highcroft team reports on Twitter that... "We're not chasing times. Full tanks, long runs."
2304 - Not slowed down in the slightest by his over-sized overalls, Tom Mallett tracked down Pescarolo's Sebastien Bourdais to find out more about Ara's shunt.
"Don't know how much damage there is yet," Bourdais told us. "There was contact with a Zytek. It went nose into the wall. We'll wait until it gets back."
2259 - One hour to go and we're back underway. Fuelled by more pistacchio nuts than it should be possible for six journalists and the odd passing team PR rep to consume in an hour, we're pondering the chances of a last-gasp shoot-out for pole...
2257 - AUTOSPORT rookie Tom Mallett is being sent down to the pitlane to hunt for information. Due to our selection of pitlane overalls still being in the boot of an Audi somewhere in a car park some distance away, Tom is borrowing editor Strang's personal race suit. Their builds are somewhat different, so the diminutive Tom resembles a tribute to famously floppy-suited 1997 world champion Jacques Villeneuve.
2254 - Ara got out of the car unhurt, the delay is to clear debris left on the circuit. Ara's team-mates Nicolas Minassian and Sebastien Bourdais area avidly watching the TV screens in the garage.
2248 - The track's cameras have switched to the Pescarolo Dome in the barriers with front end damage. Former winner Seija Ara is at the wheel and the session is being red-flagged. Looks like the incident occurred at the Porsche curves.
2247 - We don't reckon you'll see a pole shot from Audi's #2 crew tonight. This is what Le Mans legend Allan McNish told our chief Simon Strang this afternoon: "We're already in the game. It doesn't matter if we're first or third [on the grid]. All we're interested in is race pace."
2234 - Lap times among the top cars are remaining stable, unlike last night, when falling temperatures led to all kinds of issues - as Audi's Oliver Jarvis explained to AUTOSPORT man Stuart Codling.
"When you go out of the operating window in terms of tyre temperature you lose all grip. I think there was a time in the night when most of the cars were running high 3m30s and even into the 3m40s," said Jarvis. "That's a 10-second drop and it's because of the tyres falling below the optimum temperature. That caught a few people out but of course you've got different options."
2230 - Simon Strang reports that the DeltaWing's stop in the first session of the day was entirely routine as they back-to-back tested some front brakes ahead of the weekend. Marino Franchitti also confirmed to our editor that things are running smoothly in the revolutionary car's pit compared to yesterday when the team lost a bunch of running after Michael Krumm, on a hot lap, ran a little too hard over the kerbs.

Marino also showed Strang around the special front tyres that Michelin have to make up for the slim front of the arrow-shaped car. Two specific slick compounds, soft and medium, and three types of wets are made available for the team. The front wheels are actually smaller than your average high performance motorcycle wheel and weigh next to nothing - we can confirm it!
2221 - There's still more speed in the Audi e-tron. Lotterer set a better middle sector on his next lap, then a new first sector best next time around, but couldn't string a better overall lap together. Kristensen has improved again too, getting the #2's time down to 3m25.433s.
And in LMP2, we have a new leader - John Martin has put the ADR-Delta ORECA-Nissan on top by half a second.
2213 - Now Lotterer shows the e-tron's pace again with a 3m23.787s lap to reclaim provisional pole. The German had suggested that the priority tonight would be race preparation and they would only try and defend pole if they could "squeeze it in". Looks like the race work was done on schedule, then...
Kristensen has also improved his pace. The #2 remains third but is on a 3m25.759s now.
2211 - So far the feeling has been that the Audi e-tron has the raw pace advantage over the Ultra, but now it's the slightly more conventional car on top. Andre Lotterer, who was quickest in first qualifying last night, reckoned both cars' pros and cons evened each other out.
"We would like to believe that, because I'm one who's driving it," he told AUTOSPORT. "For sure we feel the benefit from the hybrid and the extra power we have at our fingers. But on the other hand there is a little bit of a compromise with the car balance.
"The Ultra can play with weight balance, so they are probably a bit better in the corners and we have a bit better acceleration. On the other side we have to see how efficient we will be in the race. The engine is the same as the Ultra and it functions with the same load. We're not going to consume less fuel than the Ultra. We only have extra power. We have to change driving style if we want to save fuel."
2202 - Outside we have a rather pretty dusky sunside, a glowing Lotus logo on the LMP2 team's pit stall, and an increasingly busy grandstand and circuit. Inside, Gary Watkins' birthday cake is now just some desultory crumbs, our apples are going mouldy and Sam Tremayne just looked at his laptop screen and winced at something we can only imagine. But in two hours' time we'll know who will start on pole position for the 80th edition of the world's greatest sportscar race, and that's quite exciting.
2150 - Ten minutes until the next session starts - two hours of running as the darkness envelops us - and the sound of highly tuned engines warming is resonating through the pitlane and up through to the AUTOSPORT crew. Next up is Le Mans first timer but AUTOSPORT old hand Matt Beer!
2135 - As the sun starts to set we are reminded of Oliver Jarvis's comment from earlier: "When you go out of the operating window in terms of tyre temperature you lose all grip. I think there was a time in the night when most of the cars were running high 30s and even into the 40s, that's a ten-second drop and it's because of the tyres falling below the optimum temperature. That caught a few people out but of course you've got different options." - of course, that won't matter if it rains.
2120 - The AUTOSPORT qualifying report is up and running and results are to follow once the impassive Sam Tremayne has waded through them. He looks focused and slightly angry.
2110 - The Porsche 911 road car that has just flashed past under the media centre is the perfect hint that we are not going to see any more Le Mans cars in the next hour, so we'll grab some caffeine and fire this up again in time for the next session.
2102 - The status quo has been maintained at the top of the table. Anthony Davidson has prevented an Audi lock-out in the top four positions though, putting his #8 Toyota in fourth position. Pla is the fastest LMP2 driver and as predicted yesterday by Oliver Gavin a Ferrari 458 is at the top of the GT pile, and it's the #59 car of Frederic Makowiecki that did it.
2052 - There are plenty of long runs going on now as the clouds have seemingly evaporated from above us, a 3m30s lap seems to be par for the course for the Audi's and the sole running Toyota of Anthony Davidson. As we type Sam Hancock has spun his Jota Zytec and left a black tyre mark on his sparkly white paintwork. Battle scars.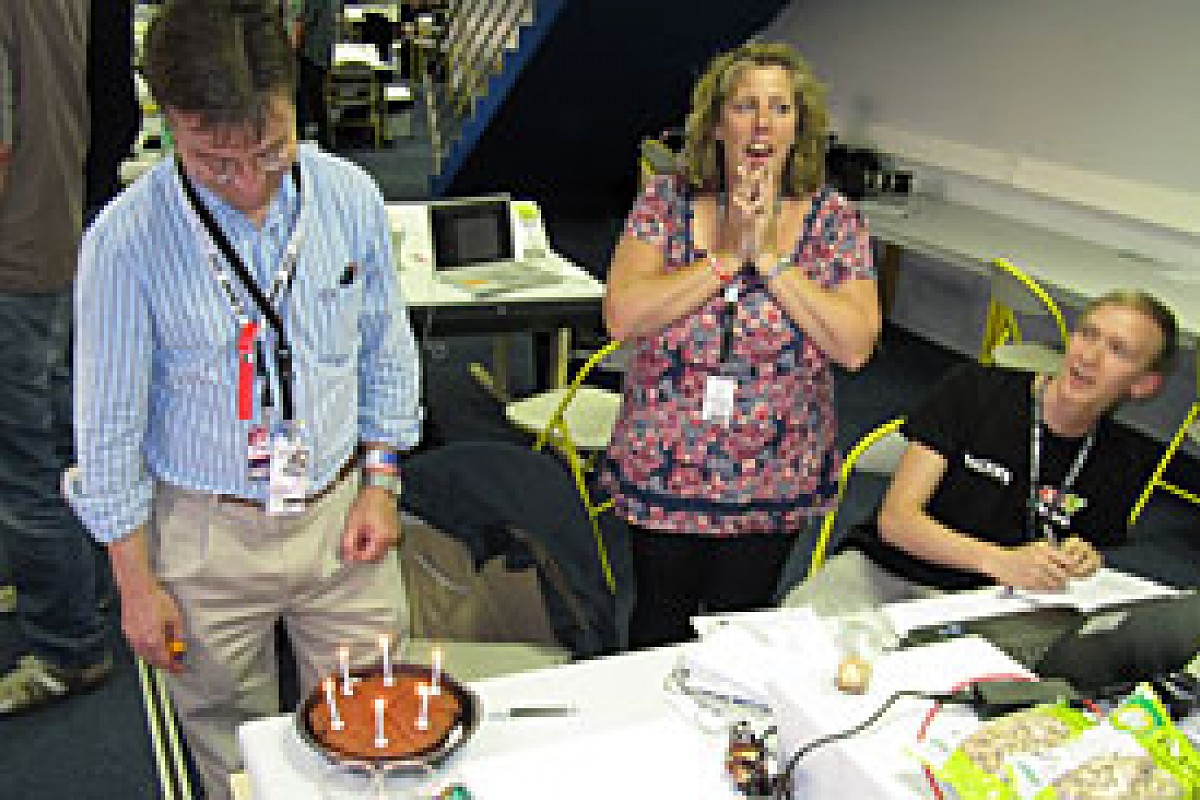 2050 - We even got Gary a cake and sang happy birthday (badly) - then we ate his cake.
2044 - #8 Toyota driver Sebastien Buemi said to AUTOSPORT earlier: "If what they did yesterday was their quickest lap, I'm sure we can challenge. If today they go two seconds quicker, we cannot." - The Audi must be worrying Buemi now...
2038 - #7 Toyota driver Nicolas Lapierre is still in the garage while the Audi drivers remorselessly continue their programme. Pla has gone quicker again in the Morgan and he is only 0.801s behind the slowest of the LMP1 car, which currently has Emmanuel Collard behind the wheel.
2033 - Fastest times coming thick and fast now. Anthony Davidson has just posted a 3m26.151s to grab fourth but the Audi Ultra af Duval is now down to a 3m24.078. We might see a 3m23....before the end of the session?
2030 - Toyota #7 driven by Nicolas Lapierre has just had a big moment and bounced through the gravel. It has been put straight back in the garage which won't help Toyota's quest to be the fastest hybrid.
2027 - Gary Watkins, who's birthday is today....has suggested stalwart is a better description of his longevity than veteran. He'll be happier now.
2022 - Olivier Pla has just gone fastest of the LMP2 runners in the Morgan with a 3m39.213s. He was quick last night too.
2018 - AUTOSPORT veteran sportscar writer Gary Watkins reports that Alain Menu is in the house: "Alain Menu is in the building. The Chevrolet tin-top star is here at Le Mans, eight years on from his last start in the 24 Hours, as the guest of, you've guessed it, Chevrolet.
"He's sporting jet-black hair, courtesy of his appearance as Michel Vaillant at the Algarve World Touring Car Championship event earlier this month. The Swiss says he's looking forward to a return to his trademark silver-fox look."
2013 - The #7 Toyota driven by Nicolas Lapierre has gone faster, posting a 3m26.502s, but no sooner had he posted the time he is pushed down to fifth by Marco Bonanomi in the #4 Audi Ultra.
2007 - Seven minutes into the second hour of this evening's session and the clouds are gathering. There has been a prediction of some rain from last night's dinner buddies JRM who will be out later.
2002
- Martin Brundle's been surprised by the level of traffic he has encountered so far in this year's event. In recent years the power differential between the top LMPs and the GTs has been reduced so that the top speeds are not enough simply for the big cars to blast past the tourers on the straights. Now drivers are having to really "stick it in" to the corners to make passes on slower cars.
"You really have to banzai it to get past them," he said, "otherwise you can get compromised by the GT cars on the straights, and there isn't enough difference in speed. Also the quick guys in the GT category don't always want you coming through when you want to, because that compromises there lap, so somewhere like Indianapolis or the Porsches Curves that can make things tricky."
1957 - Status LMP2 Alexander Sims has told us that his first impressions of driving around La Sarthe have definitely left an impact with him.
"It's not just the circuit, which is fantastic," he told editor Simon Strang, "it's the sense of atmosphere and occasion about it. I've never experienced anything like it.
"For example coming into the Porsche Curves last night there was a dense smoke drifting across the track. I thought to myself, 'oh dear, someone's gone off or had a problem', but then I realised it was just from the barbecues and campfires near the circuit. It's amazing, you can actually get different smells as you go around the track from the campsites and things. There is nothing else quite like this place."
1955 - Soheil Ayari spins through the Ford chicane, but usefully heads straight into the pitlane - what we call keeping a cool head. Simon Strang could take note after his red mist moment with the circuit staff this morning.
1951 - We're not likely to see much of the JRM squad in this first session. The team's apparently decided to change the HPD powerplant as well as the gearbox damaged yesterday when @karunchandhok got airborne over the kerbs. Karun, if you have time, can you let us know what happened? The team plans to do some installation running late is session three before normal lappage in the final session.
1945 - The #24 OAK Racing Morgan-Judd takes a trip through the gravel at Indianapolis. Expedient work from the marshals means the incident is cleared with a minimum of fuss and delay. And now the crew at Mulsanne are busy, as the #40 Race Performance ORECA-Judd stops.
1943 - Over in the E-Tron half of the Audi camp, Allan McNish is still lapping around the 3m30s mark despite being on a long run. Scrap that - he improves to a 3m26.350s this time around to go third.
McNish incidentally has informed us that the Audi boys are watching the blog from the back of the 'fortress'. Hi chaps! He's also just sent us a text: "I like your ticker tape updates. Keep us up to speed in Toyota news please?" We're wondering why he wants to know that...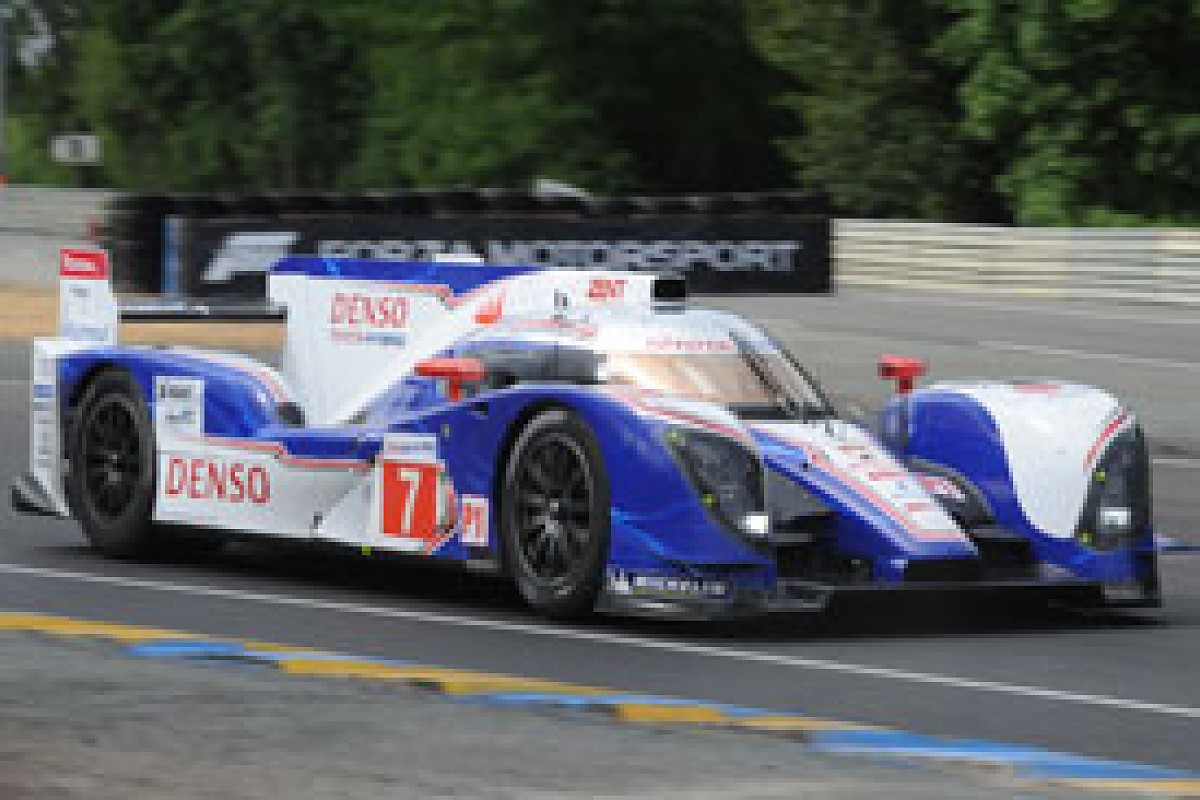 1939 - And just as we extol the speed of the Audis, Kazuki Nakajima breaks into the top three. He posts a 3m26.505s in the #7 Toyota TS 030, still 1.5s down on Lotterer though. The latter goes purple in sectors two and three but doesn't improve due to a much slower - and possibly traffic-baulked - first split.
1935 - As we write that, Audi serves up two notices of its current advantage...First Romain Dumas takes the #3 Audi R18 ultra to within five tenths of Lotterer's benchmark, before the man himself dips into the 3m24s thanks largely to a colossal second sector. His lead is back up to 0.861s, and he's on a flyer this next time around too...
1930 - Inevitably Toyota's chances have been subject to plenty of scrutiny this weekend, but what does Alex Wurz think of the team's chances?
"The car has a long way to go, we understand this," he told AUTOSPORT's Matt Beer earlier. "I already know of many developments which need to arrive, which will arrive, but which are not possible to sign off and bring to the car in a short timeframe. It has big potential and I'm sure it will be a future race-winner, but it does really need a bit of time. Five months is too short.
"We might challenge Audi for top positions later this year, it depends on the circuit layouts - or at least put them under enormous pressure so they can't cruise it home.
"Sometimes I think we all get carried away and want to see Toyota instantly replacing Peugeot to challenge Audi for outright pace and victory. Yeah, we want to, but you have to be realistic, and in five months of being on track with a completely new programme and new technology, against someone who has been dominating the sport for more than a decade, is a monster big task. You have to be realistic and it's not that easy. We are proud of how close we are, but we are clearly not the guys who are faster. We are just able to put a bit of pressure on them, and I hope that in the race we can put that pressure on them for as long as possible."
1925 - We wanted our first image of the day to be special - so, in all its glory, check out the soft-top Fiat being used as a pit utility vehicle this weekend.
1915 - Yellows this time at Tertre Rouge, as Bret Curtis in the #75 Prospeed Porsche meets with the tyre barriers on the outside of the turn. In the media centre meanwhile there is a scramble to devour the remaining pistachios before Gary Watkins' return.
1905 - We're struggling to get our head around the Le Mans timing screens, which only show improvements rather than current pace (although Simon Strang insists it is only Sam Tremayne with the issue). Helpfully Andre Lotterer reckons times will fall today - and given that rain could still hit tonight's third session, that means the current second qualifying practice could be crucial.
1900 - The pitlane goes green and we're underway - and we already have yellows, with what looks like the #31 Lotus Lola B12 stopped just at the start of the Mulsanne straight.
While the marshals deal with that, here's a few updates from our day so far...The morning commenced with the ACO confirming not only the regulations for 2014, but also that there will be a fully-fledged Asian Le Mans Series from next year.
Alongside that, AF Corse brought a new chassis to Le Mans for the stricken #51 of Fisichella, Bruni and Vilander, and believes it can still win this year's Le Mans despite the likelihood of missing all of qualifying. Fisichella told AUTOSPORT that his crash at the Porsche curves wasn't that big, but was at the perfect angle to cause maximum damage.
1850 - Welcome back to our rolling news blog from the 2012 Le Mans 24 Hours. On the agenda on the second day? Well, we have the second qualifying session just minutes away, and the third finishing at midnight (local time). The AUTOSPORT team hasn't been resting either, so we'll be keeping you updated with events both on and off track throughout the day.
To start, several drivers have mentioned to us during the course of today that track conditions deteriorated in yesterday's sessions, or rather that they had problems getting the tyres to work on the track as the evening wore on. It was an unusual characteristic of the first day, and normally you would expect the reverse as the track wore in and rubber went down.
Martin Brundle's theory was that there was a lot of moisture in the air towards the end of qualifying and indeed when we left the track there was mist laying over the circuit off towards the exit of the Porsche Curves. It will be interesting to see if that trend continues.
Keep refreshing this page for the latest news, action, and gossip from the world's greatest sportscar race.