In one of the most enthralling seasons of sportscar racing in decades, the factory Audi and Peugeot teams slugged it out head-to-head from the season opening Sebring 12 Hours in March to Petit Le Mans in October.
Allan McNish and Nicolas Minassian were stars of their respective stables and, although Peugeot's 908 HDi was undeniably the quicker car, Audi's experience showed as they rallied to win the Le Mans 24 Hours, the LMS championship and Petit Le Mans in America.
McNish and Minassian are good friends as well as competitive rivals and they got together on the central stage at Autosport International today to reminisce about their great battles throughout the year, and to look ahead to the renewed rivalry this year.
Q. Audi and Peugeot are bitter rivals in sportscar racing, will we have to keep you two apart on the stage?
Allan McNish: The funny thing is that even though Nic is very French and drives a French car, he's the most British Frenchman I've ever met. He lives over here and he married an English woman, and now he's got a little English daughter as well.
Nicolas Minassian: I know, it's not very good! No, it's alright, I love England. It's because of England that I am a racing driver so I'm grateful for that.
Q. Going back to June last year and the Le Mans 24 Hours, it was a tremendous fight between Audi and Peugeot...
AM: Yeah, brotherly love! To be honest, it wasn't just Le Mans it was the whole year. It started at the first corner at the Sebring 12 Hours. In qualifying the times were annuled because of a crash, so the times were taken from the previous session. I was on pole and you guys (Peugeot) were second, and at the first corner Nic came round the outside of my teammate Dindo Capello. There was a big wall on the left hand side - doing about 150mph at this point - and there were about 10 milimetres between Dindo and the wall and 10 more between Dindo and Nic.
That moment was defining for me because it showed how hard we were all going to have to work to achieve success in 2008. It was a fantastic battle from there to the last lap of the final race. All the way through, both teams' drivers gave absolutely everything they had.
Q. Sebring is traditionally a very tough and unique event, isn't it?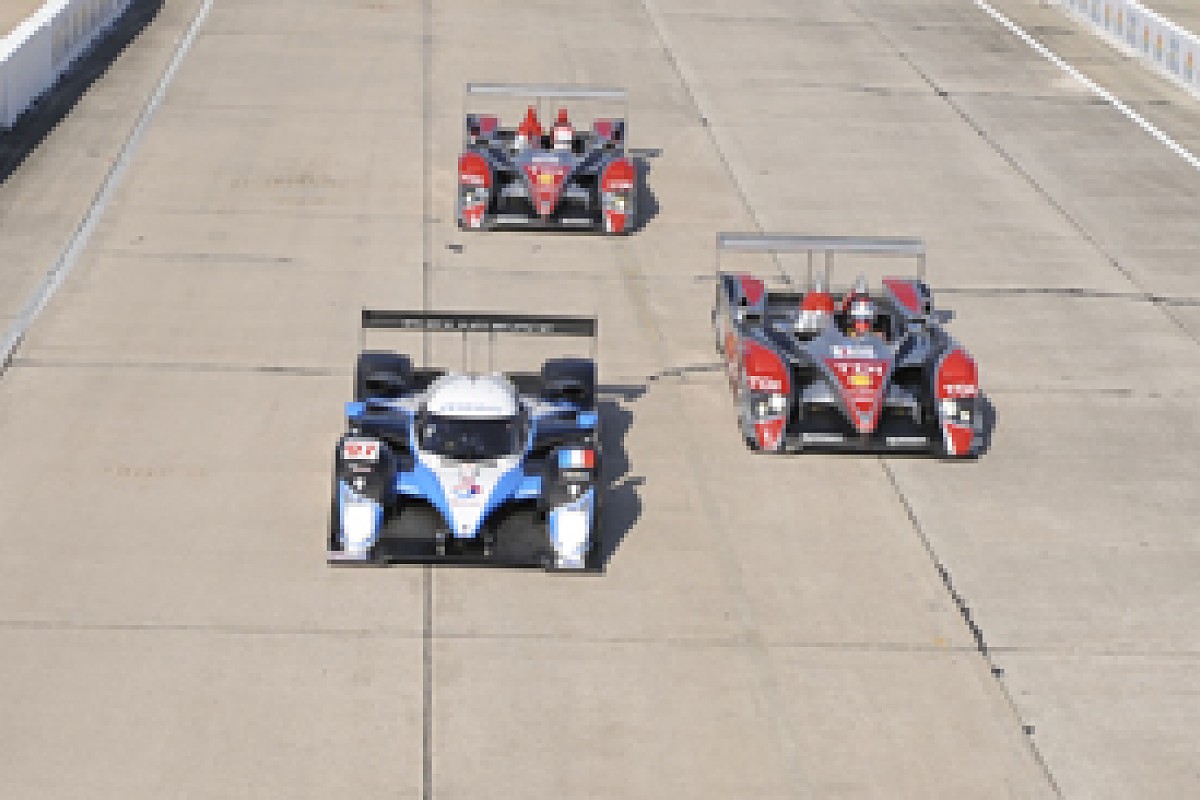 Peugeot leads the Audis at the start of the 12 Hours of Sebring © LAT
NM: It's very physical - hard on the car, hard on the drivers, with the traffic, everything.. it's one hell of a race...
AM: You should drive it an Audi, it's easy!
NM: (laughs) It seemed to be hard when you were behind us! Lots of problems with the brakes and the gravel traps.
AM: Yeah, we just wanted to explore all the boundaries of the car, the circuit, the grass, the gravel traps, the walls, and then pick it up from there.
It was actually one of the best racing seasons in my memory, certainly in sportscar racing, because it was tooth and nail. Every race was fought out - apart from one at the Nurburgring which was very painful for us because it was our home race and we got absolutely thrashed. But every single event was fought out and it was always only a last little detail that changed it from first to second, or the other way round.
Q. It's almost like a golden age of sportscar racing. Audi v Peugeot was massive and still is...
NM: "It's unbelievable. We were in Barcelona and had a very big fight. I did a whole stint fighting with Allan - I passed you and you passed me again. At Spa we had another fight, it was good because I overtook Allan at the outside of the third corner and we touched. I didn't touch anything I just ripped off his wheel nut and that damaged my front wing, he had a puncture, and I won the race.
AM: I got a picture from an Autosport photographer as well, about a week later...
Q. Was it Al? (Staley, photographing the stage at the time)
AM: No, no. This one was in focus. The picture was going into La Source hairpin. You can see me turning in and you see Nic with all four wheels locked up, the car in a full-on rally slide where he looks as though he's about to harpoon the back of my car. He must have missed it by about a milimetre and so I thought the best way to deal with this is to email the picture to him and say please tell me about this - a caption competition.
It was hard fought racing. We look towards 2009 and it's going to be more of the same because we know we have to step up to be at their level of performance - there's no question about it that they were quicker than we were, and on the other side of it there were areas where we were better than Peugeot and they know they have to step up. And then we look towards some of the stuff in America and you've also got Honda coming in with the Acura name in LMP1, so it really does give you a pretty juicy cocktail for some hard racing in 2009.
Q. Nic, when you got to Le Mans, you expected to win. Peugeot expected to win, Audi expected you to win. Big disappointment that it didn't happen?
The Audi R10 leads the Peugeot 908 at Le Mans © XPB
NM: We went there, we were quite confident about everything but I don't think Audi went there thinking they weren't going to go for the win. As perfect as they did the race, they tried to find every other way than pure speed to beat us, and that's what they did. In pure speed we were better than them in every area, the car was just quicker. But they worked on their car to maximise the pitstop, the tyre wear and the fuel consumption.
I think it doesn't happen so often to be that perfect, to have no problems what-so-ever. We had a few little problems, like overheating, and lost three or four minutes - normally you still win Le Mans if you have that.
AM: If you think about it, it's a full Formula 1 year in one day, in one race. To have two teams going for a full complete year with only a very small technical problem on one car... in F1 that doesn't happen, it's impossible, but we were able to replicate that. Nic's right that we didn't have the speed. We knew we didn't have the speed so we had to work on other areas. We also know that we don't have that comfort level in the future because they're very astute. They realise the areas that we had an advantage and they'll fix it, that's part of it.
We knew we had a chance because Audi has a great history at Le Mans. We also knew that we had to run a 100 per cent perfect race to even have a hope. In 99 years out of 100 the race they did was good enough to win. It just happened that in 2008 we were able to do a 100 per cent perfect event.
Q. A new car for Audi in 2009, the R15 TDi, still a diesel, still an open-top prototype. Is that in the face of the renewed threat from Peugeot?
AM: Yeah, of course. There's absolutely no question about it. The R10 TDi was ground-breaking. It was the first diesel to win an international race in sportscars. It's had tremendous success, it's won three Le Mans, so from that point of view it goes down as a fantasticly successful car.
But the reality is that, as we all know, we looked at the back of the Peugeot much too often. We need to move forward and step up, and the only way to do that was with a new vehicle. The main concept is still the same, it's an open-top car, it's a diesel, and it's an Audi. From that side of things the philosophy is the same, it's just got to be a bit fresher and quicker than the previous example.
NM: It sounds like it's the same car.
AM: It is, we've just painted it yellow.
Q. He doesn't want to say too much about it because he knows Peugeot are listening!
AM: The Peugeot stand is easily within ear shot of us so I can't say too many secrets.
Q. Nic, for Peugeot, what changes are you expecting to the 908? Where can you improve it?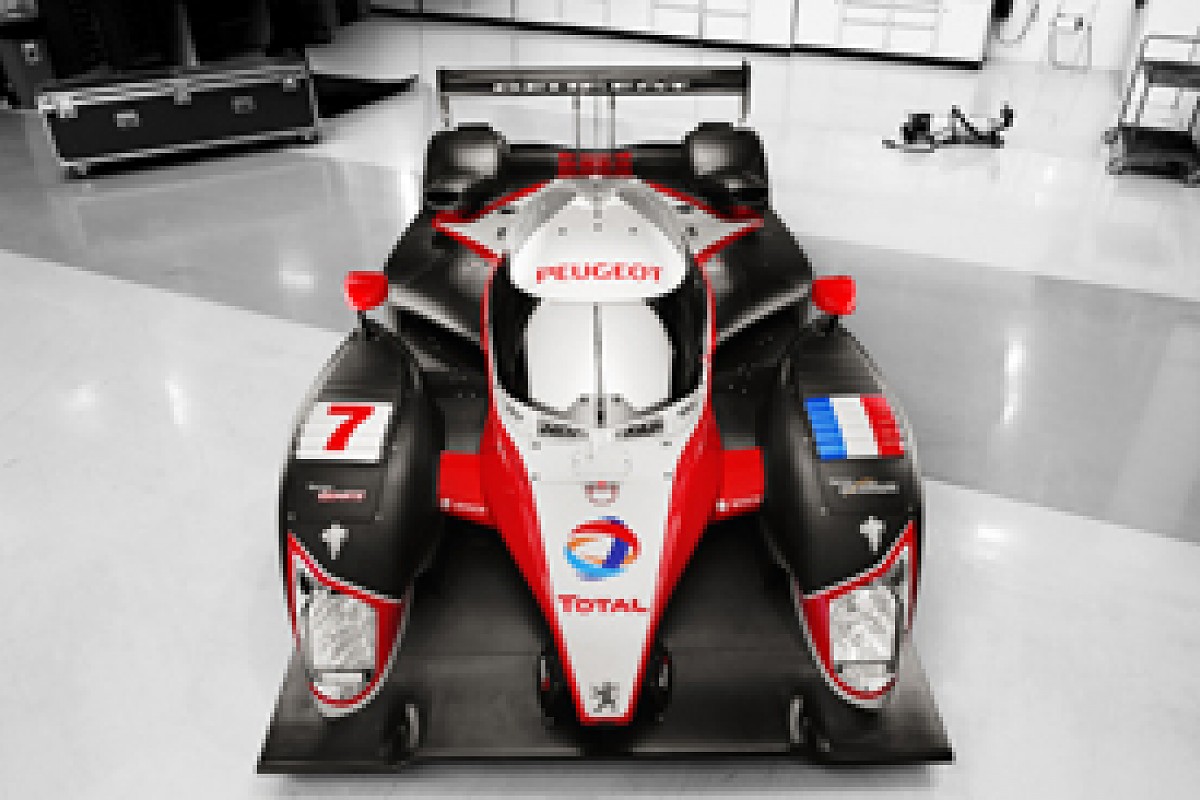 The Peugeot 908 HDi
AM: Drivers?
NM: (laughs) Thanks Allan! I have to say, we have a name for Allan in the team. You know those little dogs who just never give up. If you take your bike, the little dog just comes to get your leg... grrr like this. That's Allan. He never just leaves me alone, he's a nightmare!
AM: So come on Nic, tell me exactly what changes Peugeot are going to make to the 908 from last year to 2009
NM: In the regulations there is less downforce at the rear so we will have to change the front as well to help the balance. There is less power from the engine, so we'll try to get some back somewhere. Apart from that it's just to maximise everything. The pitstops weren't good so we work really hard to be as good as Audi, if not better. Having better visibility in the wet because that's difficult with a closed car. Also working on the heating of the car, and all of the details.
AM: Don't work too hard, take things gently.
NM: It's all done already, we're doing the testing now
AM: Oh fantastic!