Assen W Series race winner Emma Kimilainen has credited being a mother for helping her become a better racing driver.
Kimilainen, who has a six-year old daughter, took victory over Alice Powell in the race at Assen last weekend - having also taken the fastest lap, claimed pole position in qualifying and set the pace in practice on Friday.
Her Assen victory moves her into sixth place in the inaugural championship standings and all but cements her drive in the series next year, after it was announced last week that only the top 12 drivers are guaranteed a place on the 2020 grid.
"Of course it's special [being a mother and a racing driver], I don't know whether it's an advantage but for me it's a really great thing because it has let me grow as a person quite a lot," said Kimilainen.
"If I see me as a 20-year-old and when I see me now, I'm so much more calm and patient and everything has come along, with being a mum.
"It's exactly what I needed when I was 20 years old to be a great racing driver.
"To be a little older and more experienced, as well as having a family, has brought me a lot of things that I didn't have before.
"10 years ago, mentally I wanted everything really fast and I wasn't patient enough. Now I'm really patient, because, you know - kids! And you really do have to be patient with kids.
"But also, just knowing myself better and not fully putting my identity into being a racing driver [has helped]. I'm not just a racing driver, there's a lot more and I know who I am.
"Even though I love racing and it's my huge passion and I've done a lot of work for it, it's still not all of who I am and I think that's the biggest thing that I've realised in the last four years or so."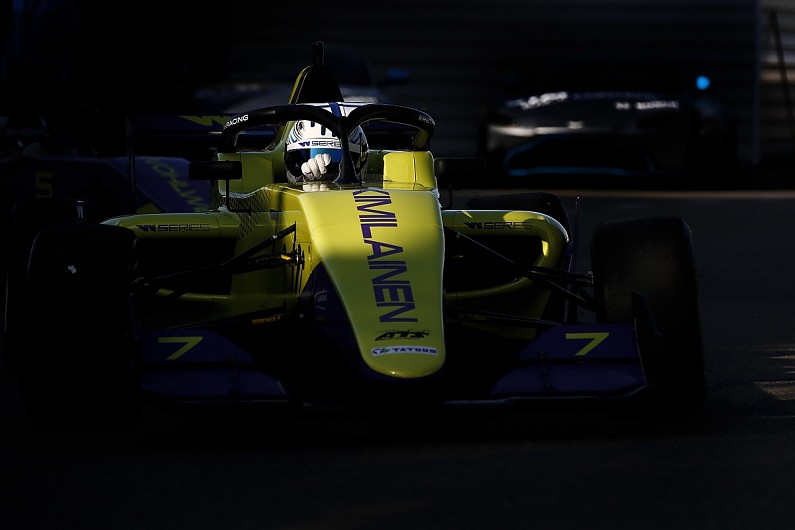 Kimilainen missed the Zolder and Misano rounds due to an injury sustained at the opening round at Hockenheim and said she was frustrated that her bid for the inaugural title was over from the start of the season.
"It was a huge disappointment and I knew that my [hope of a] championship win was [over] there and then when I found I was injured and couldn't race any more, I didn't know for how long," said Kimilainen.
"But I had the spirit to come back stronger and I had the help of the best doctors and the Hintsa Performance healthcare specialist and everyone was trying.
"I was actually laying in bed for two months, couldn't do anything - cooking was my maximum level, so I'm so glad and pleased to be winning."