DICK JOHNSON
Three-time winner
There were times when Johnson was arguably the fastest driver at the Mountain. He took three wins and ran his successful tin-top squad for years, but perhaps the most famous Johnson moment is one in which things didn't go so well.
"Things happen unexpectedly," says Johnson as he takes up the story of the 1980 event. "We were leading the race, and I was coming up to the Cutting and all of a sudden there was a rock on the road with a truck beside it. Unfortunately I hit the rock and wrecked the car.

"What happened from there was something that no-one could ever orchestrate. People started ringing [TV broadcaster] Channel 7 wanting to donate money to get us back into the track, because we'd put a huge effort in - it was a privateer team. And not only that, but from my perspective I'd stuck everything into it financially, including mortgaging my house.

"We ended up with enough money from what people donated to set us straight for the following year, and in 1981 we built a new car, won our first championship, and won Bathurst in the same year. So I certainly felt that I'd given something back to people who had faith in us."
The question of where the rock had come from remained in doubt until someone contacted Johnson about three years ago.
"A guy sent me an email saying, 'if you want to know the truth about the rock, give me a call'," he says. "So I did.
"He and his wife were sitting at that part of the racetrack, and a couple of guys who had obviously been on the turps all night turned up and sat in front of them. One of them sat there with his head in his hands, and the other lay down with his head on a rock, while playing with another rock with his feet.
"Obviously he accidentally dislodged the rock and it rolled onto the track. That's something that couldn't happen today."
KLAUS LUDWIG
1987 polesitter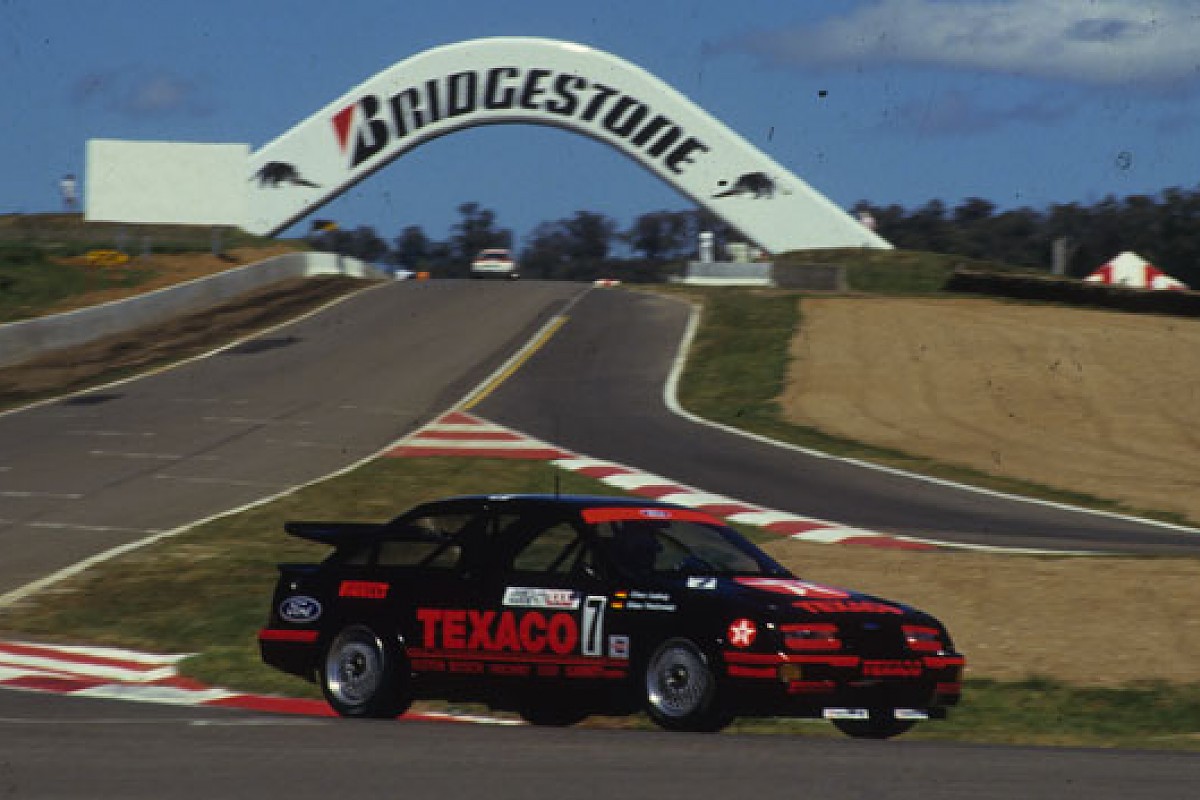 The year 1987 was a memorable one on the mountain - mainly for all the wrong reasons. But amid all the allegations of cheating and skullduggery there were still some major highlights for a Bathurst that was, uniquely, part of the World Touring Car Championship.
The champion manufacturer that year was Ford, so it was unsurprising that its factory team - run by Eggenberger Motorsport - took it to Australia's works outfits right from the get-go. Even so, Klaus Ludwig's pole lap was something of a revelation.
"That lap was something special," remembers the German, who was competing at Bathurst for the first and only time. "But the Sierra was terrific on the Pirelli qualifying tyres.
"The trouble was that the tyres could blister very easily, so you had to really be gentle on the warm-up lap, really go hard through the twisty bit on your qualifying lap, and then hang on through the final corners, because coming onto the Conrod straight, I could already feel I'd lost them.
"You were just praying to God that they didn't explode because the Sierra was quick down the Conrod. We were doing 280kph [over 170mph]."
Ludwig believes his experience at the awesome Nordschleife helped him get on top of the Bathurst circuit.
"You can compare it to a short version of the Nordschleife," he says. "There were many corners that led into the next one, with the next one being the important one and the one you are in now having to line up for it.
"You take it a little bit more easy to get the next one and the whole speed for the straight. Never straight, lots of close walls. I was pretty dialled in to the car because I was sitting in it pretty much every week. It was not a big problem.
"My biggest problem was with my team-mate. Steve Soper was a really good driver in qualifying and the race. When we were fighting for the pole it was a lot of fun. We did take it very seriously, but when it was done, everyone was easy."
In the end, Ludwig's 2m16.969s marker put the Sierra he shared with Klaus Niedzwiedz 1.5s clear of Andy Rouse's similar example.
Even more astonishing was that the addition of 'The Chase', a chicane three quarters of the way down the Conrod, was supposed to have slowed times by 4.5s, and yet this was faster than the previous year.
"The hero of the mountain, they called me," Ludwig says. "And I felt like it when they put the cars on the trucks and brought them into the centre of the town afterwards so the fans could see them.
"No beer cans thrown at us by the Holden fans, just people having a good time."
STIRLING MOSS
Racing return at Bathurst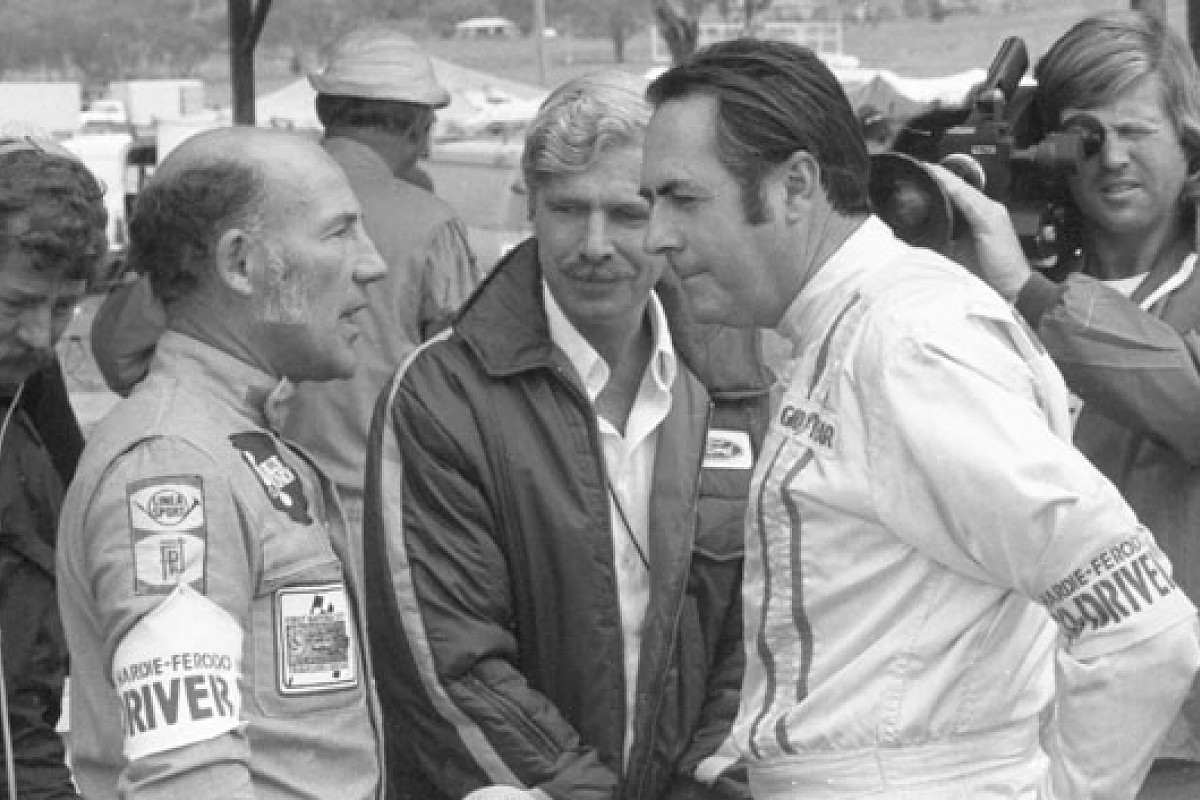 Sir Stirling Moss's 'comeback' in the British Touring Car Championship with Audi in 1980 is well known, but he had actually already returned to racing in a different type of tin-top four years earlier.
Remarkably, Moss teamed-up with his old rival, three-time F1 world champion Jack Brabham to drive a Holden SLR500 Torana.
Perhaps unsurprisingly given their unfamiliarity with car and circuit - not to mention their age - Brabham and Moss were not among the frontrunners. Brabham, hindered by a brake failure, qualified five seconds off Allan Moffat's polesitting Ford. Things got even worse at the start, when Brabham's gearbox jammed.
"I said to Jack, 'You always jump the start', and he bloody stalled it didn't he!" recalls Moss.
Despite being hit as the field streamed past, the Holden was fixed so that the two legends could get to drive, but then the engine blew.
Nevertheless, Moss liked what he saw. "It was a terrific event," he says. "It's a good, demanding circuit, on the very next level down from the original Spa and Nurburgring. I'm all for proper road circuits. One of the reasons I drove was the danger - it was a challenge."
CRAIG LOWNDES
Five-time winner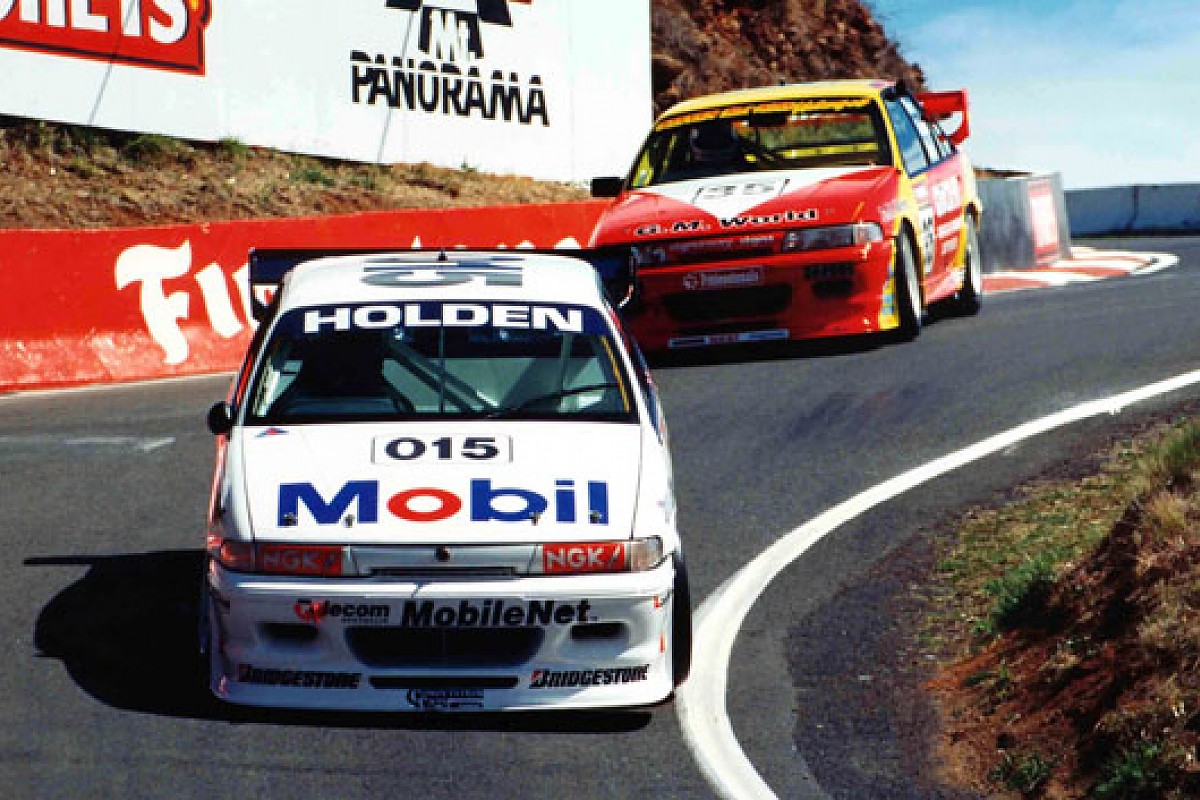 Lowndes is now a Bathurst legend, but on his first visit in 1994 he was just a rookie stepping up from Formula Ford. His first race was at Sandown, a track he knew, but Bathurst was a different proposition.
"Going from Formula Ford to V8s for the enduros with the Holden Racing Team was a huge step up for me," he says.
"Race day at Bathurst started with a wet warm-up session. Unfortunately at Turn 2, I slipped on some oil dropped by Wayne Gardner, and I nosed it into the wall. We were able to get the car back to the pits and repaired for the start, but there was a bit of concern in the team, as the engine had run for about 30 seconds without oil pressure."
Nevertheless, Lowndes's race performance showed the youngster had a big future in V8 tin-tops.
"The race itself was amazing," he adds. "I wasn't supposed to be in the car at the finish, it was meant to be Brad Jones's job - but it actually turned into the start of my career.
"The move on [John] Bowe put me on the map, I guess. I didn't intend to do it, I was just having a look around the outside at Griffin's Bend, and I managed to get past. It was pretty amazing to lead the biggest race of my career to that point for one-and-a-half laps.
"I wound up losing the lead when a backmarker closed the door on me at Murray's Corner, and I lost all of my momentum. With two or three laps to go the fuel light came on, so I backed off. I didn't know at the time that JB was in the same predicament, so that made his life a lot easier."
JOHN FITZPATRICK
1976 winner
Fitzpatrick first made the trip to Bathurst to drive an Alfa Romeo 2000 GTV in 1975, but the chance to get in a potential race-winning car for the following season came courtesy of his friendship with Frank Gardner.
"Frank was leaving Holden to go to BMW," recalls Fitzpatrick. "He put my name forward as a replacement for his seat with Ron Hodgson, a big car dealer in Sydney. That's how I got the drive alongside Bob Morris for '76."
Fitz and Morris were leading the race in their Holden LH Torana in the closing stages, only for an oil seal between the engine and the gearbox to fail in the final half hour.
"I had a slipping clutch and smoke was pouring out the back, but we had a fair bit of a lead and I managed to hang on," continues Fitz. "Bobby was crying in the pits, first with tears of fright and then tears of joy. I have a wonderful photograph of us up on the podium with the tears streaming down his face."
The Bathurst 1000 became a fixture on Fitzpatrick's calendar almost until the end of his driving career - he would return every year until 1982.
"It was a great thing to do: it was a great race, on a great track and there are always also lots of top drivers. As a former winner everyone wanted to talk to you. And you got paid a few bob to do it and I always flew first class."
What has stuck in Fitzpatrick's mind, however, was the enthusiasm of the fans. "In those days you were either a General Motors man with Holden or a Ford man," he explains. "There were no-go areas around the track where a Holden fan dared not venture and other places where a Ford fan couldn't go."
JAMES MOFFAT
Current V8 Supercar racer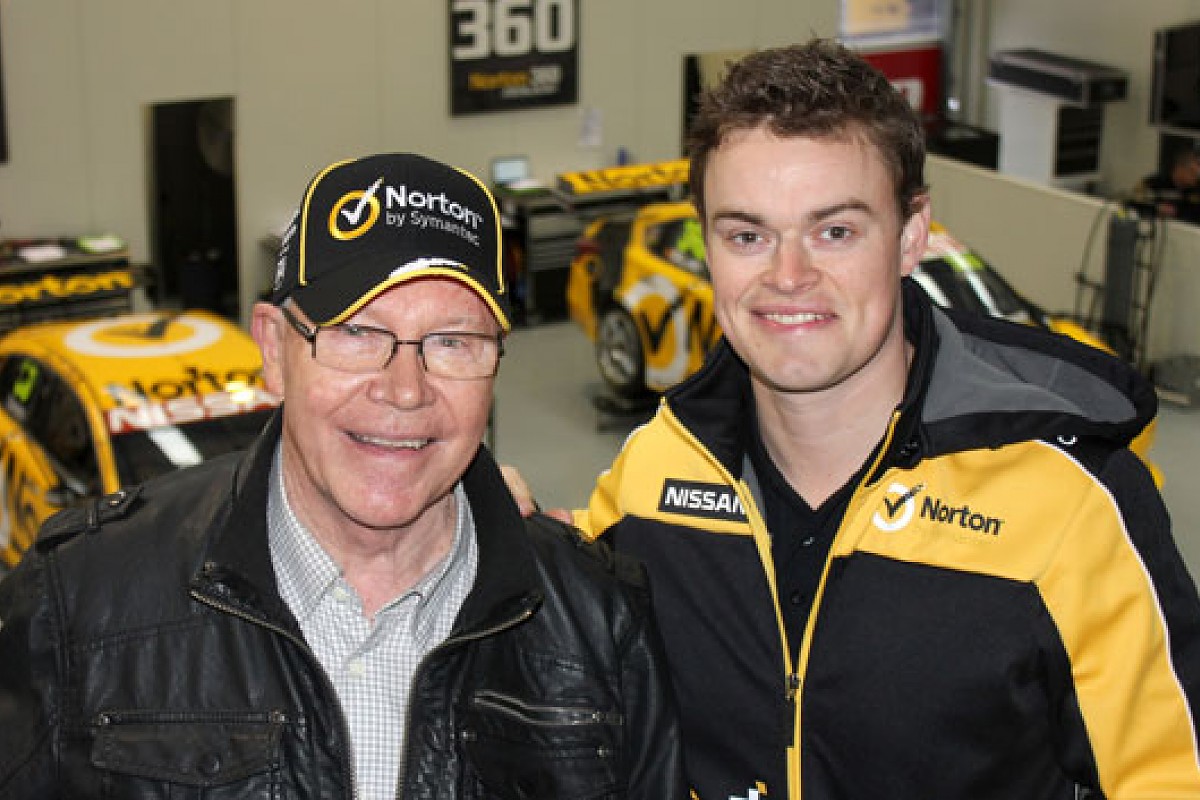 Son of Australian racing legend (though born in Canada) Allan Moffat, James is now an established V8 Supercar driver and made his Bathurst debut in 2010.
"That day was very special for me, after growing up with Bathurst and being around the sport all my life," he says. "On race day every year I would get up at 6:30am and be glued to the TV all day long. I used to watch all of Dad's old videos, and then when I was a bit older I got to hang out in the pits.
"So to finally get on the grid for the 1000 was the realisation of a lifelong ambition, and to be there with the factory Ford team was also pretty special.
For my first stint, I was very nervous, and I went pretty badly to be honest with you. On my out lap from the pits, it started to drizzle going up Mountain Straight. I wanted to do a good job for the team, so I was taking it pretty easy. I wound up doing two and a half stints throughout the race, and it wasn't until the last stint that I started to relax and feel comfortable in the car, and really start to enjoy it."
The result was a creditable 11th, sharing with Steven Richards, but Moffat believes it could gave been better had they not had to play second fiddle to the team's other car, driving by Mark Winterbottom and Luke Youlden.
"If strategy had gone our way a bit better in the race, we probably had the pace to finish sixth or seventh," reckons Moffat.
"Richo did a great job over the course of the weekend, considering he was probably on the way out with the team a bit by that stage. The team put us off strategy with the #5 [Winterbottom and Youlden], so that there wouldn't be any double stacking or confusion in the pits.
"All of the eggs were in that basket over the weekend, they started from pole and were the team's best shot at winning, so our strategy was probably compromised a bit by that. But working with Richo was great, he's very experienced, he's a good guy, and helped me out a lot that weekend, for sure."