As Rick Kelly eased his Nissan Altima V8 Supercar out of pitlane and into the Senna chicane for the start of the first practice session in Adelaide, the beginning of a new era in Australia's premier racing category was upon us.
For years, V8 Supercars was a closed shop, restricted to Holden and Ford, but 2013 heralds the arrival of the Car of the Future, and with it, two new manufacturers.
The Kelly Racing team that Rick leads with brother Todd, and which has been rechristened Nissan Motorsport in its new incarnation as Nissan's works V8 effort, is an all-hands-on-deck operation: just before AUTOSPORT's call, 2006 series champion Rick was busy stickering up pitwall equipment.
"'Chaotic' is a good description for what you'd see down here at the moment," says Kelly.
"There is stuff going on everywhere, and there's only three days until the truck has to be packed and sent away, so we're all frantically trying to make sure we're in good shape."
The arrival of Nissan and Mercedes is the product of changes in both the regulations and the culture of Australian motorsport.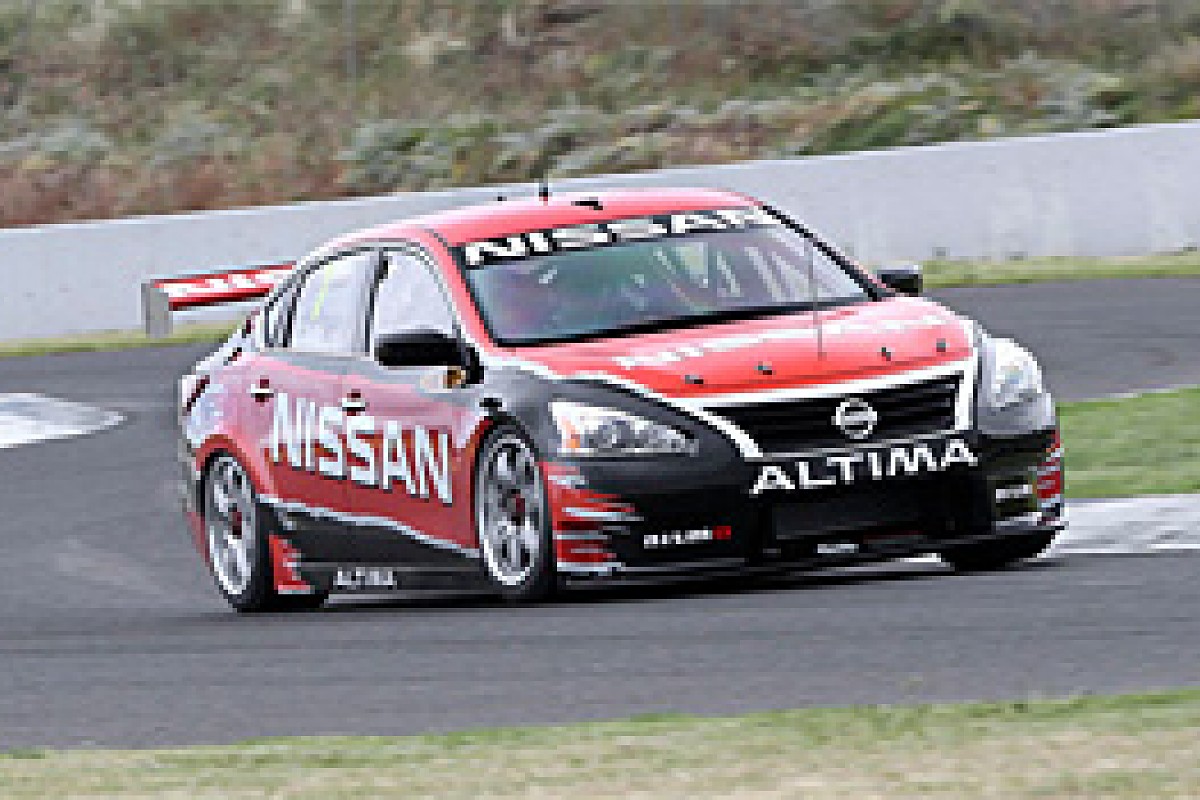 Todd Kelly testing the Altima at the end of 2012
The new Car of the Future, which makes it debut this year, features more common components than its predecessor, and its introduction coincided with a retreat on the requirement that manufacturers produce a rear-wheel-drive V8 production model.
Meanwhile, the Holden/Ford rivalry around which the V8 Supercar category was conceived has been losing steam.
Kelly believes this started when both brands scaled down their programmes a few years ago, leaving the grid with more 'independent' entries.
"When the manufacturer funding from Ford and Holden dropped back, so did the rivalry," he says. "From a fan point of view, it shifted more towards drivers and teams.
"And having the Altima and the AMG makes it a bit more relevant to what is on the road, because these days Commodores and Falcons aren't as common as they used to be.
"We need to open it up to the cars that people drive, and from that point of view the programme has been a success."
At some point, 'success' will need to be measured in a more tangible way. The team was encouraged when Kelly was able to run in the top five at a recent test, although Nissan Australia motorsport manager Jeff Fisher is not getting too carried away.
"Rick's pace was encouraging, but I don't think we were really exposed to where some of the other teams are likely to be at," he admits. "So we're not reading too much into that.
"It was a great morale booster to see Rick do as well as he did, and it was a great message to send to the rest of the team and the fans, but ultimately it doesn't really point to anything of substance."
The main problem at the start of the season will be a lack of horsepower. Some reports have put the Nissan engine as much as 40bhp down on its rivals, although the Kellys dispute that figure.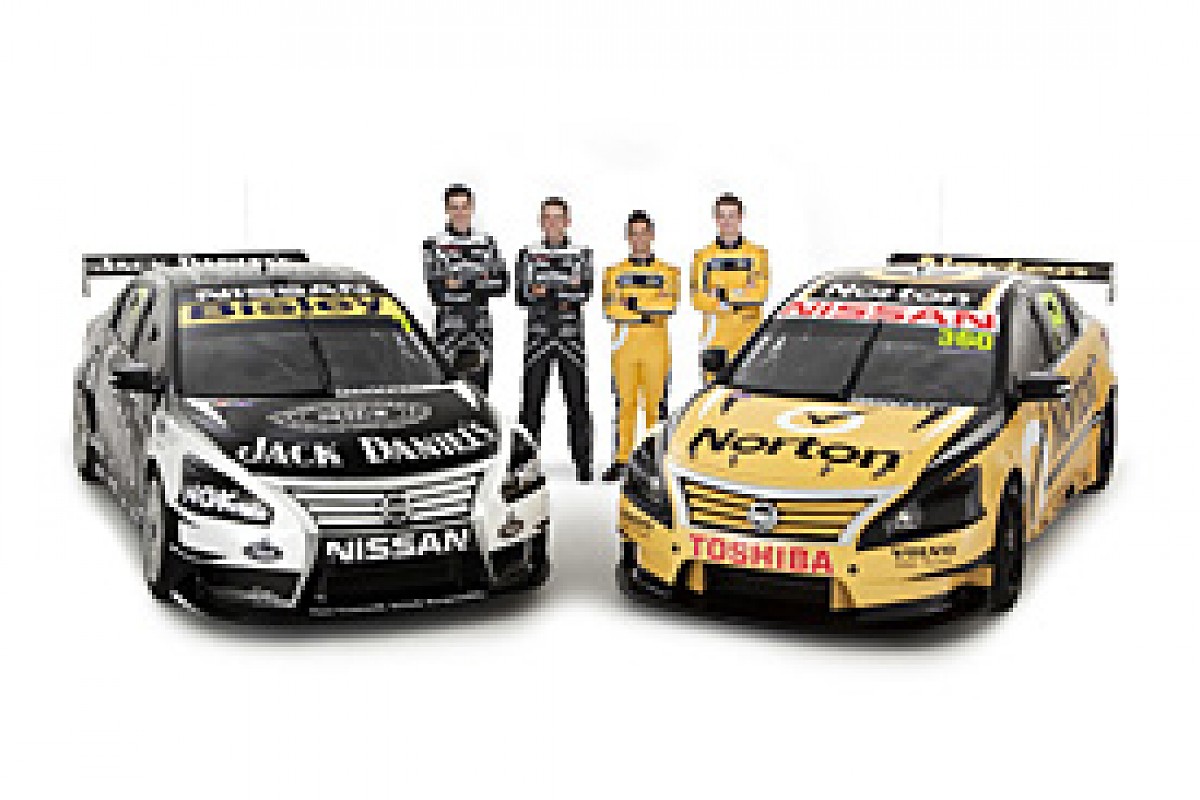 Nissan's line-up for 2013
Rick admits that having power-dependent tracks like Symmons Plains and the non-championship races at Albert Park early in the calendar isn't ideal, but he's adamant that the disadvantage is surmountable.
"It's going to come down to the pitstops, and the fuel strategy, and dealing with the heat," he says. "Who knows, it might rain. There are so many variables.
"We know the engine is going to cost us a little bit, but I'm pretty sure it won't just come down to that. We just have to make sure that we get all the other bits right."
Fisher is more restrained, claiming that he's approaching the first races as "an extended bedding-in for us; more of an extended shakedown". He's also playing it cautious with his medium-term goals for the team.
"We haven't given the team any hard parameters," he says. "In the second half of the season we would hope that we are making strong inroads towards the top 10. But obviously nothing's assured, and we're not putting key performance indicators in front of them at the moment."
The 'long-game' approach will be reassuring news to the Kelly brothers and team-mates Michael Caruso and James Moffat, who form Nissan's four-car line-up. But after months of working towards this weekend in Adelaide, Kelly - a former Clipsal 500 winner - is champing at the bit.
"I've been in the category for over 10 years now, and this is a very different feeling," he says. "We've been counting down to this for 18 months.
"I'm ready, mate. I'm absolutely ready to go."
The other newcomers - Mercedes and Erebus
One door closes, another opens. The arrival of Erebus Motorsport on the V8 Supercar grid for 2013 brings with it a fleet of three Mercedes E63 AMG V8s for the first time.
However it also means that the Stone Brothers Racing logo will no longer be seen in pitlane, as team co-owners Ross and Jim Stone have sold their entries to flamboyantly tattooed Erebus owner Betty Klimenko. Ross will, however, remain on as general manager.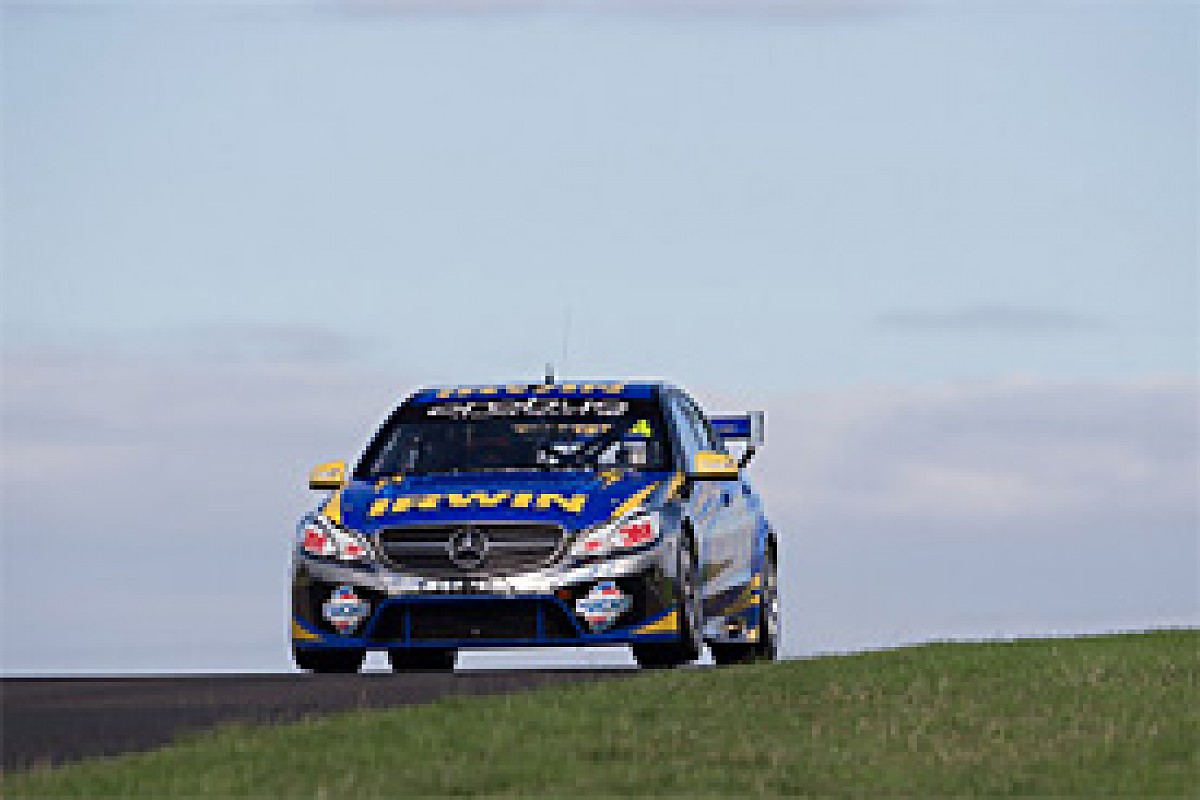 Lee Holdsworth's Erebus Mercedes
When you consider that SBR was the team that took Marcos Ambrose to his two championships in 2003 and '04, it's no inconsiderable loss. But Erebus has big plans for its project.
Unlike Nissan's works effort, Erebus is running its Mercedes on a customer basis, albeit with the hard-won blessing of Mercedes Australia.
The entire operation has come together quickly - the cars were unveiled to the public 109 days after the programme was signed off - and development work has been split between the SBR in Queensland and AMG in Germany.
The team will field three cars for V8 Supercar regulars Lee Holdsworth and Tim Slade, and former DTM racer Maro Engel, and it will be interesting to see how high up the Mercedes can get.