Cast an eye over the recent winners of the Macau Grand Prix and you'll quickly form the impression that Formula 3's annual end-of-year jamboree is an event that favours experience. Antonio Felix da Costa took his second victory last year at his fifth attempt, defeating the winner of the previous two contests, Felix Rosenqvist, himself a veteran of seven starts between 2010 and 2016.
Not since Keisuke Kunimoto in 2008 has a rookie ascended the top step of the podium, but with significantly fewer old hands on this year's entry list, there is guaranteed to be a new winner for the first time since 2014. However, if a new face is to make their mark, they can't rely on talent alone.
As with any street circuit, the track walk is hardly the most conventional - often taking place amid regular rush-hour traffic as barriers are still being installed - and the constantly evolving road surface renders the first practice session of little use, beyond basic course familiarisation.
Simulation isn't a new premise for junior single-seater drivers, but its true potential is frequently under-utilised. Beyond simply teaching drivers when to brake or turn, simulators can be harnessed to practise safety car restarts, using the slipstream effect and extracting the maximum from the tyres in qualifying - in short, to refine the skills that are needed to thrive in real life.
This is the guiding principle for Pro-Sim founder Adrian Quaife-Hobbs, a race winner in GP2 and GP3 before turning his attentions to the virtual world. With the stated aim of building the most effective driver-training tool possible, Quaife-Hobbs painstakingly developed a range of simulators for home use, equipped with accurate force-feedback steering systems, hydraulic brakes and an adjustable gas spring throttle to improve the correlation to real life.
To see the worth of his labour, one need look no further than Quaife-Hobbs' top pupil, FIA European F3 champion Lando Norris, who is seeking to join Edoardo Mortara (2010) and Rosenqvist (2015) in the exclusive club of drivers to claim the European crown and Macau victory in the same year.
In addition to owning a Pro-Sim unit at home to learn the circuits, Norris has reaped the rewards from working on the finer details at Quaife-Hobbs' Surrey base with Carlin team-mates Jehan Daruvala and Ferdinand Habsburg prior to every European F3 round this season. On the high-speed streets of Macau, where the margins between success and failure are minuscule, the collaborative approach will be especially valuable.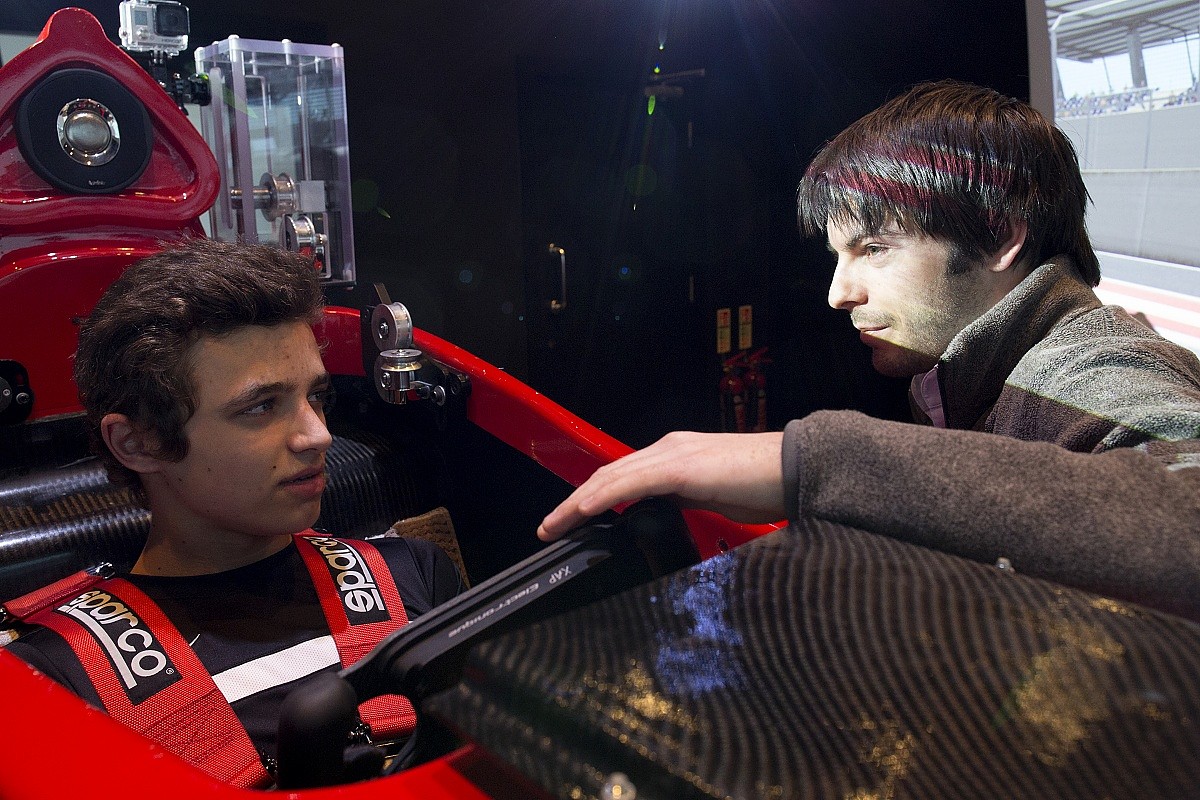 Although Norris has previous circuit experience, his rookie outing last year came under less than ideal circumstances, with only one race outing in an F3 car at Hockenheim to fall back on. An opening lap crash in the qualifying race compromised his weekend, but the then 17-year-old recovered well to finish on the fringes of the top 10 from the back of the grid in the finale.
Now with a title-winning F3 campaign under his belt, Norris is comfortable with the favourite label and ready to hit the ground running.
"I'm definitely more prepared than I was last year," he says. "It was my second ever time in F3 and I was up against drivers that had done it all season, so it was tough - not just going to Macau as a rookie, but in a car I wasn't confident with.
"Now I know the track, I can go in and push because I know the limitations, so that's definitely an advantage compared to the rookies that are doing it. You need to know the areas where you can push and ones that are going to improve throughout the weekend - it's little things like that can build up to something big."
As one of three Macau newcomers in Carlin's expanded line-up for Macau - joined by Devlin DeFrancesco and Sacha Fenestraz - Daruvala knows he has a lot to learn.
The Guia Circuit requires a measured approach, as the combination of a low-grip surface and unforgiving walls require little invitation to punish drivers who overstep the mark.
This isn't helped by the circuit's Jekyll-and-Hyde character, as teams are forced to compromise downforce for straightline speed on the flat-out run to the circuit's main overtaking point at Lisboa, which can make the car a handful in the twisty section that follows. It can be particularly unsettling on the brakes, not least on the bumpy approach to Lisboa.
"It's easy to find half a second, eight tenths without really knowing how," says Daruvala. "It's all about taking it as it comes for me and doing as much prep on my simulator as possible to feel like I've been there before, even though I haven't."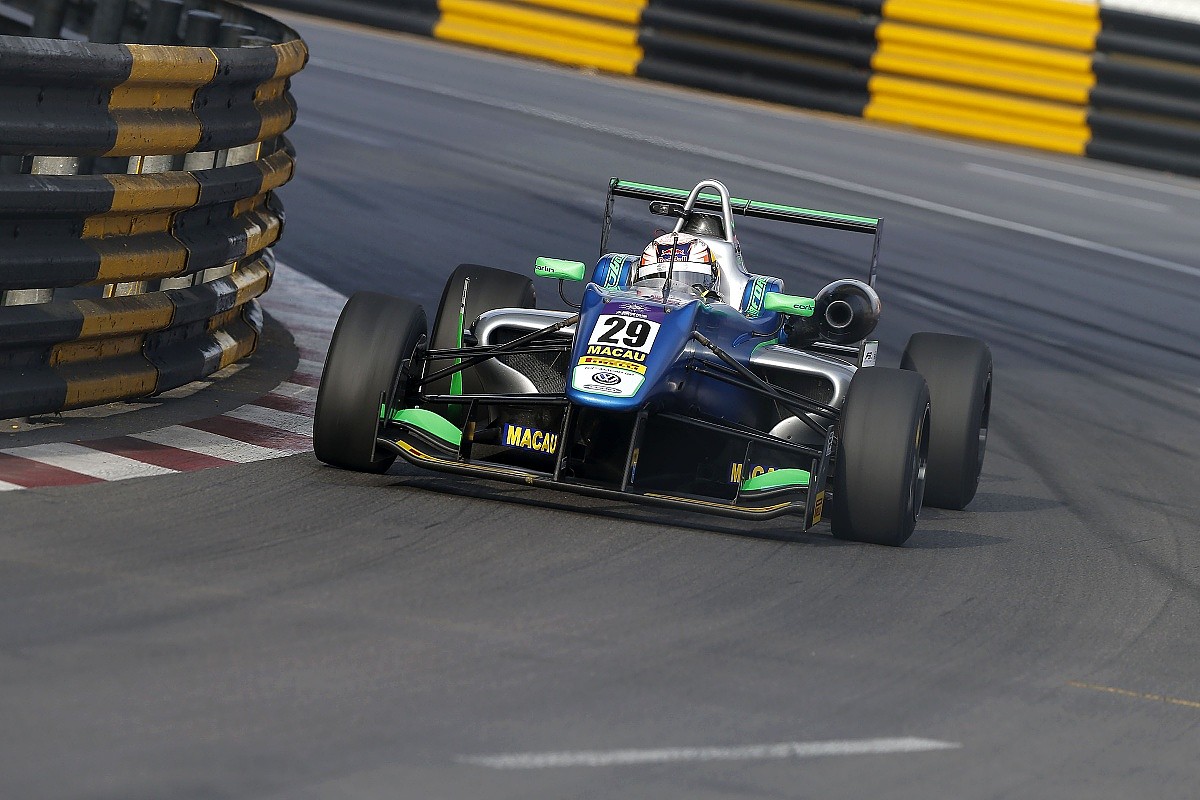 The best way to build confidence is to become familiar with how the car responds to different grip settings and get used to finding chunks of time as the grip improves. Times in Free Practice 1 are typically around four seconds off the ultimate qualifying pace, as drivers adjust their lines to get as close to the walls as possible.
"We start with a lower grip setting and we'll have a reference time for what's possible on each level so we can see how close they get," says Quaife-Hobbs. "They spend a bit more time at the lower grip and then when you take the jump to Free Practice 2 and qualifying, they've got to find two or three seconds in a safe way.
"Every lap you're finding a tenth here and there from being more comfortable with the track and getting a bit closer to the walls. Then you're not having to push as hard and the lap times just come.
"We're taking it on to the next level of what you can do on a sim. It's not just about lap times, it's also about all the other elements too."
Daruvala has found the process invaluable in his rookie preparations.
"We treated it like a real session," he says. "I went out and built up to it like I would in real life, not taking any risks and staying out of the walls."
For Daruvala in particular, it's easy to spend a session churning out laps and building into a rhythm, whereas traffic and the perpetual risk of red flags mean that invariably never happens at Macau.
On Yokohama tyres, which are expected to have a more pronounced peak than the Hankooks used in the FIA European championship, it will be vital to be able to hit the sweet spot straight away in qualifying, so the Carlin drivers have practised being released into traffic together and finding a clear lap.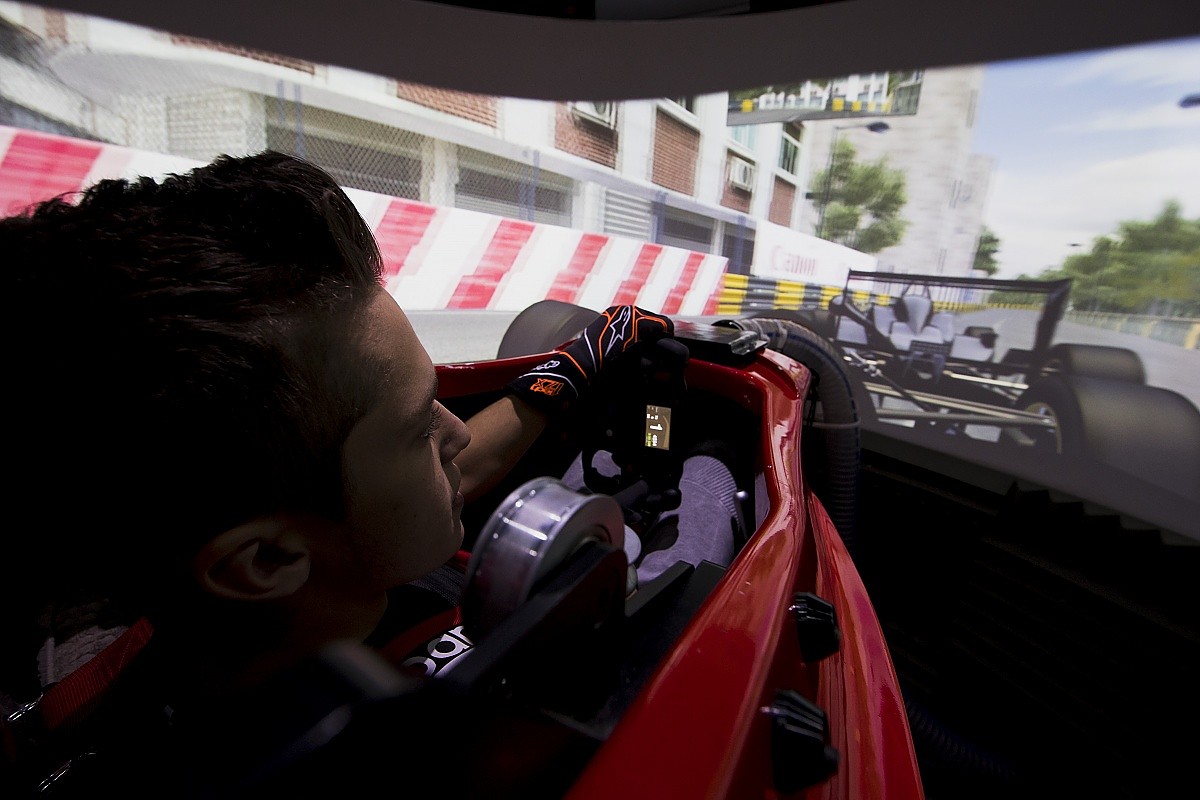 "You can do 10 or 15 laps and lead yourself into a good time, but it's being able to go out and do it on that first lap that will be critical on the Yokohamas," explains Quaife-Hobbs.
"Obviously, that adds a bit of pressure because you haven't got this buffer, so that's what they can practise here. We're trying to break the rhythm, doing qualifying runs where they're getting in each other's way and then going off to do a lap. It's about trying to keep calm, so that you can get the space and do the lap without being distracted."
But it's not just in qualifying where a calm head can pay dividends. Safety cars are part and parcel of racing at Macau, and learning to handle the pressure that comes with the restarts - as the leader can be a sitting duck on the run to Lisboa - will be crucial to secure a good result.
Marco Wittmann found that out the hard way in 2011. The German was dominant all weekend, but found himself shuffled down to fifth at a late restart before a huge accident for Kevin Magnussen neutralised the race prematurely, handing a shock win to Daniel Juncadella.
Staying ahead of the pack is much easier said than done, but there is a precedent for it - da Costa led every lap of the qualifying race and the main event in 2012, a feat repeated by Alex Lynn one year later.
Norris has made excellent restarts a key part of his armoury this year, yet knows Macau will be a different story and has been practising them with his team-mates in readiness for the race that all junior single-seater drivers want to win.
"That's been one of the things I think we did very well this year, we've been practising them quite a bit to see when to go, what speed to be doing and so on," he says.
"Macau is definitely much tougher than other tracks with such a long straight before the first proper braking zone, but da Costa did it last year, so it is possible."
And so, too, is a fourth FIA F3 World Cup for Carlin. The drivers have done their homework, now the rest is up to them.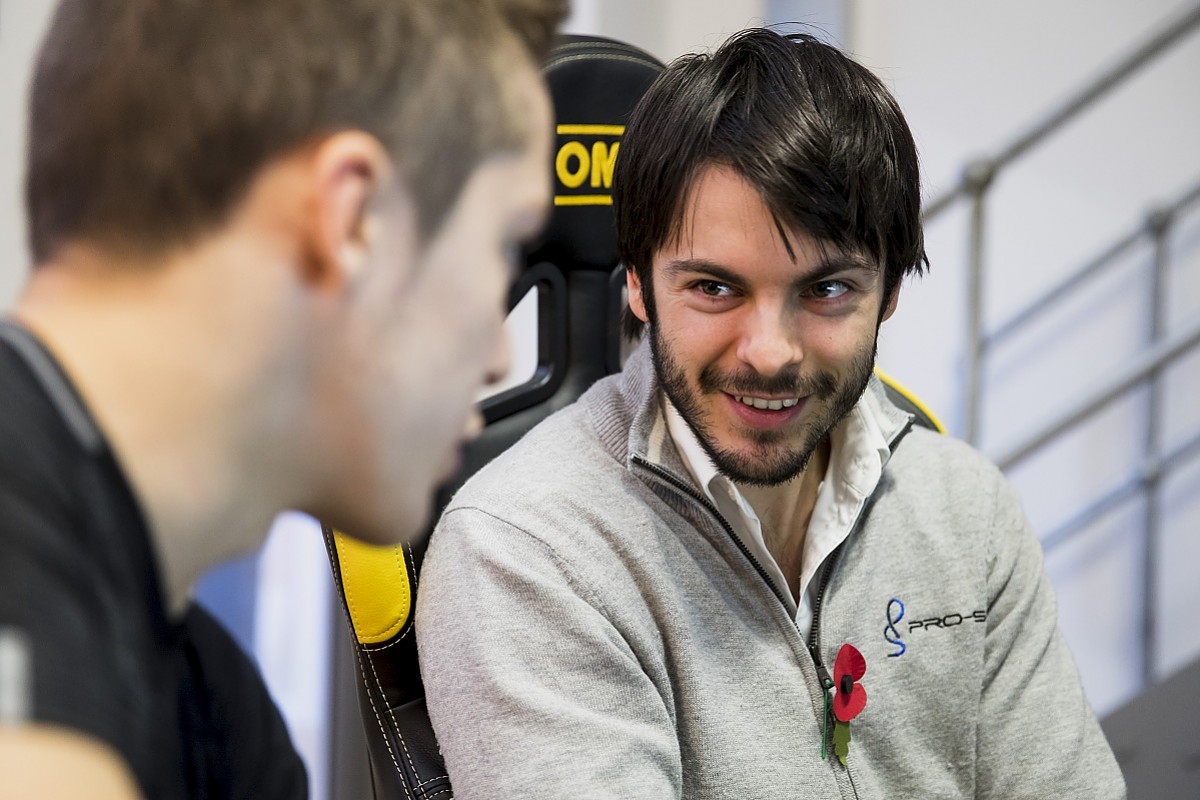 How team ethic in the sim yields results
When the green flag drops for Free Practice 1 in Macau, spare a thought for Formula Renault Eurocup champion Sacha Fenestraz, as the biggest fish in the pond is thrust into the shark's pen for only his second F3 outing. The Franco-Argentinian impressed by qualifying fourth for his debut at a soaking wet Nurburgring, but with little experience of F3 and none whatsoever of the circuit, he will be decidedly up against it.
However, Fenestraz does have a lifeline in Carlin's open approach to sim work. The 18-year-old joined the team's three regular drivers at Pro-Sim for a session prior to the Nurburgring and flourished, not that company founder Adrian Quaife-Hobbs was the slightest bit surprised.
"They're more open because they're not at the track, so everyone is a bit less stressed and less secretive," he says.
"It tends to run well because it's an open environment and they're bouncing ideas off each other, trying different gears and different lines. They're all helping each other, so it's a lot more fun and as a consequence they can get the best out of it."
Norris has found the group approach to simulator training helpful in his title campaign and shares data from his home simulator with team-mate Daruvala to compare against on his own sim.
"We all have a different driving style so there's always a place where someone else is quicker, whether it's braking, high speed, low speed or whatever," he says.
"It was always good to learn from them and the techniques [in the sim] were very similar to what we had in the car, so it corresponded very well with real life. It's much better than driving on your own and just doing laps - learning off others helps progression much faster."