Nine-time World Rally champion Sebastien Loeb will race in a pair of Andros Trophy ice racing series events this winter, driving for his own Sebastien Loeb Racing team.
The squad will field a two-car effort in the 11-round series, which for the 2019/20 winter season has switched to fully electric cars.
As part of the series' phased introduction of EV machines in the top-level Elite Pro category last winter, where electric cars raced directly against traditional V6-engine internal combustion engine cars, Loeb made his second career Andros appearance in February, with a one-off race at the Stade de France in Paris.
He shared a car with ex-Formula 1 driver Frank Lagorce, and finished second in his final.
"I had a lot of fun with the whole team by joining the last race of last season at the Stade de France last year," said Loeb - who will contest the Andros opener at Val Thorens on December 7-8 and the season-closing Super Besse round on February 1 next year.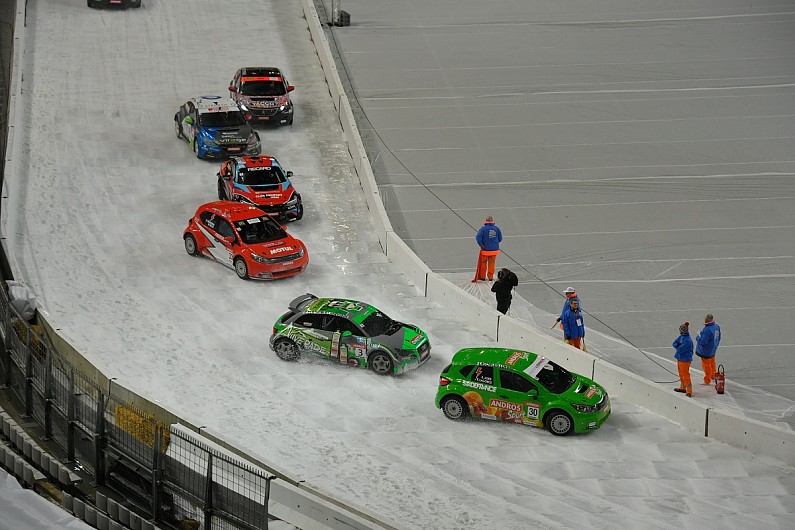 "I'm convinced by the performance of electric cars. I look forward to taking the start of these two rounds that will also allow me to keep up to the speed with the competition for the upcoming season."
Loeb's SLR outfit, based in Alsace, helped operate the Andros Sport 01 electric car in the Paris event, and will now expand to running its own team alongside its programmes in circuit racing, rallying and rallycross.
"The fact that the Andros Trophy is switching to electric is very timely for us," said SLR team principal Dominique Heintz.
"The evolution of motorsport towards alternative energies is of particular interest to us on the technical level and corresponds perfectly to our development strategy."
The team is yet to announce any further details on drivers or the cars it will run.
Four-time series champion squad DA Racing has already announced that it will run a pair of new Renault-backed Nouvelle Zoe E machines for reigning champion Jean-Baptiste Dubourg and Nicolas Prost.