He is best-known for his one-off grand prix start with Surtees and being punched by James Hunt after a Crystal Palace Formula 3 shunt, but that doesn't do justice to the talents of David Morgan.
Morgan, who died last Tuesday after a stroke at the age of 74, was one of the leading lights of British single-seater talent during the early 1970s, and along with younger brother Richard was one-half of one of the most gifted pairs of British racing siblings of all time. Neither got the breaks their abilities merited.
The son of a racing enthusiast and Jaguar XK140 racer, Morgan began racing in saloons with a one-litre Mini Cooper in 1965, before moving into Formula 3 and racing Cooper, Brabham and Lola machinery in the latter years of the decade.
A chance meeting at the DVLA road-car taxation office with MRE Formula Ford team chief Mike Ticehurst led to Morgan stepping back into the new category for 1969, before he acquired a March 703 to move back into F3 the following season - he was a frontrunner, although the season culminated in his collision with Hunt, with whom he generally got on well.
Morgan was banned for reckless driving, although after an appeal he returned to action, racing March chassis in F3 and Formula Atlantic in 1971.
He also campaigned a Brabham FAtlantic car in 1971 for privateer Ed Reeves, and this partnership would yield Morgan's greatest moment as a driver.
Formula 2 switched to two-litre engines in 1972, and Reeves had a 1.8-litre Ford/BDA engine installed in the Atlantic Brabham. Incredibly, Morgan (shown in fourth below) won the opening round of the European F2 Championship at Mallory Park, beating better-funded opposition that included Hunt, Jody Scheckter, Niki Lauda, Ronnie Peterson and Carlos Reutemann.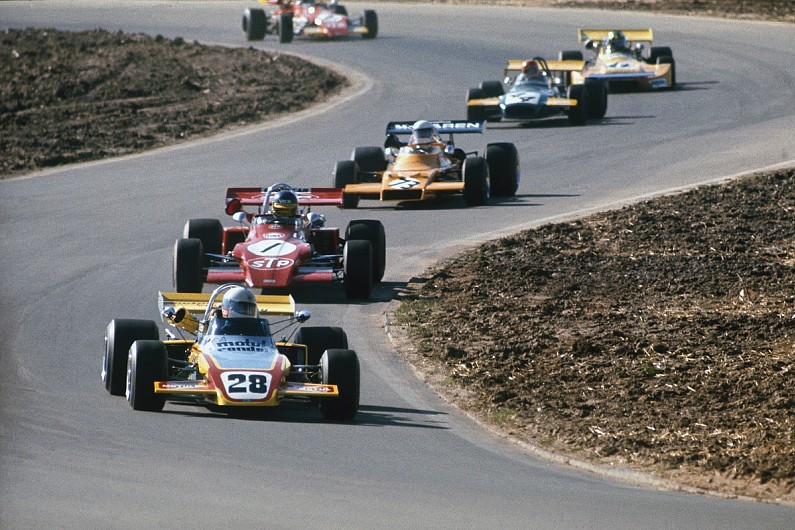 So short of cash was Morgan that, after sleeping in his caravan in the Mallory paddock on Sunday night, he awoke to find he had no money for fuel to get home. Then he remembered that he had won the BP Man of the Meeting award, and used the fuel vouchers that were his prize.
As a result of his 1972 form, he won the premier Grovewood Award - the McLaren Autosport BRDC Award of its time.
Morgan went on to race for the Lotus (Texaco Star) and Tui teams in F2, as well as starring in FAtlantic Chevron machinery and making an impressive move into Formula 5000 at the end of 1974, and over the following winter he tested BRM and Surtees F1 cars.
Southern Organs had resolved to take Morgan into F1 with a programme of races beginning with the 1975 British Grand Prix. Here he made his F1 debut with Surtees as team-mate to John Watson, and impressed in the first practice period before the team's decision to use an F2 wing for the remaining sessions. As a result, Morgan qualified a disappointed 23rd and crashed in the late-race downpour at Club Corner. Surtees then skipped the remaining races of the season, while Southern Organs was wound up.
Morgan dropped out of racing until 1980, when he spent the first of two seasons in the British Touring Car Championship with the Mitsubishi Colt team alongside Barrie Williams. The cars were uncompetitive but the antics of Morgan and Williams always entertained spectators.
Morgan then turned team boss, running what was effectively the works Lola team in Formula Ford 1600 in 1982, when Julian Bailey claimed the Townsend Thoresen title as well as victory in the Formula Ford Festival. In '83, he expanded to run a British F3 team for Johnny Dumfries, whose impressive performances launched him on the road to F1.
He then wound up the team, moving first to South Africa to engineer Wayne Taylor to the national title in 1986, back to British F3 with Madgwick Motorsport and in Indycars to run John Andretti. He joined GA Motorsport's Formula 3000 squad, running Eric van de Poele to the runner-up slot in the '90 rankings. He had promised to quit pipe smoking should van de Poele win a race - as the Belgian approached the chequered flag at Pau for his first victory, Morgan threw his pipe in the air and it landed on the track, where it was shattered by the winning Reynard.
He moved with van de Poele to the Modena Lamborghini F1 squad in '91, before working for Brabham in its swansong season in '92.
After a stint with Nissan in Super Touring, looking after van de Poele in the Spanish championship, he returned to the States and worked for several seasons with Dale Coyne's Indycar team, engineering Roberto Moreno, Oriol Servia, Michel Jourdain Jr and Eric Bachelart. After this, he worked for Epsilon Euskadi in Formula Renault 3.5, with drivers including Robert Kubica and Davide Valsecchi.
In later years Morgan worked in property renovation and maintenance. He is remembered as an easy-going, practical and genial character who was a joy to work with.