An electric kart demonstration race featuring mixed teams of boys and girls took place last weekend alongside the 2018 Youth Olympics in Argentina.
The event, which is supported by the FIA, involved six teams competing at the Kartodromo Circuit in Buenos Aires with a practice and a qualifying session preceding the race.
Argentinian youngster Franco Colapinto took pole position and ended up winning Saturday's six-team race alongside team-mate Maria Garcia Puig.
The race was a demonstration event held to coincide with the Youth Olympics, which began in 2010 and is open every two years for athletes aged 14-18, with no medals awarded.
The FIA also used the event to launch its Road Safety Exhibition, which was used to feature the body's #3500LIVES Global Road Safety Campaign.
FIA president Jean Todt said: "This is a very important moment for the FIA, and I would like to thank my friends [International Olympic Committee president] Thomas Bach and Gerardo Werthein, together with the whole Olympic community, for a warm welcome as we join in one of their events for the first time.
"This Road Safety Exhibition will be visited by thousands of people over the coming weeks here in Buenos Aires, and many of them will be the youngsters most at risk on the roads.
"For me it is essential to continue this work with the Youth Olympic Games to raise awareness and encourage safer mobility.
"It is also exciting to be able to complement this with an Electric Karting Experience.
"This is something which I think will become increasingly popular in the coming years and will be a way for people to engage with what they learn from our Exhibition and to introduce them to sport in a safe and sustainable environment."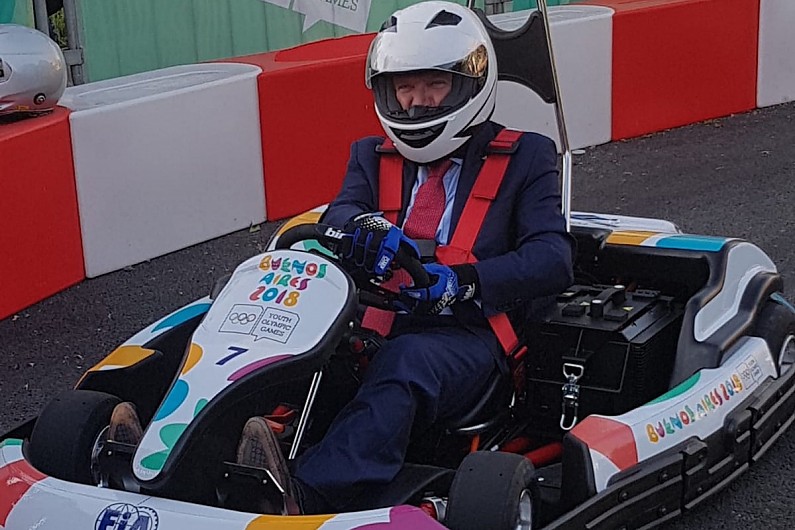 International Olympic Committee president Thomas Bach also tested one of the karts (pictured above).
"The IOC is supporting the FIA's #3500LIVES campaign because we have a shared concern for the wellbeing and safety of young people around the world," said Bach.
"Through its universal appeal and global reach, sport is in a unique position to raise awareness on this important issue.
"This is why the Youth Olympic Games are a perfect occasion to reach young people and teach them about the importance of road safety.
"Let me thank my dear friend Jean Todt, for being the driving force behind this important initiative.
"Together, we can make the world a better place for the youth of the world - it is our privilege to stand at your side to achieve this important goal."
The electric kart race is part of CIK-FIA president Felipe Massa's push to make electric karts part of the official programme for the 2024 Summer Olympics in Paris.