Ex-Ferrari Formula 1 team boss Stefano Domenicali says the incoming Formula 2 championship he is overseeing for the FIA must feature physically-demanding cars.
In January, it emerged that the FIA intended to reintroduce F2 positioned as the main feeder category to F1, and last month's World Motor Sport Council meeting in Geneva confirmed that work had commenced.
After his predecessor Gerhard Berger worked on the regeneration of European Formula 3 and the introduction of a national Formula 4 platform, F2 is Domenicali's primary brief as the president of the FIA Single-Seater Commission.

OPINION: What should new Formula 2 be?
Citing the need for relevance to F1, Domenicali told the FIA's official publication AUTO that he wants to develop a "difficult" and "physical" car for young drivers.
"We need to be current: there's no logic to say F1 has a V6 hybrid turbo 1.6 and F2 has something completely opposite," he said.
"However, if you ask my opinion, I believe that current Formula 1 cars are perhaps too easy to drive.
"The perception - and I know it's not the case because I know how hard F1 drivers work in these cars - is that a lot of people can go into F1 and drive a simulator and it's easy.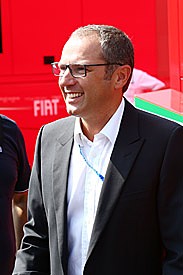 "That is not what Formula 1 should be in my view.
"Therefore, with F2, it should be a difficult car, physical, something that transmits the passion of racing.
"People need to see it is tough, that drivers are getting out of the car tired.
"It is bloody difficult when you are driving an F1 car at 300 kilometres per hour, but the perception among fans is still there."
Domenicali stressed that the cost compared to GP2 would also be a key factor in F2's development.
"We need to agree a package, we need to find the right platform and of course the third element is the cost - that's fundamental," he said.
"We know what the cost of a certain other series is and the objective has to be lower than that. There is a need for it."
He remains unsure whether F2 should be part of the F1 support bill - as GP2 is now - or headline its own events as the last F2 championship did.
"There are pros and cons," Domenicali said about running within grand prix weekends.