I was there for the hill, not the future. But, in the end, it was Volkswagen's I.D. R and not America's Mountain that took my breath away. The Pikes Peak International Hillclimb gave a bewildering insight into what's coming our way as VW showcased tomorrow's world today (actually last month).
But what next? No sooner had the dust begun to settle on the latest addition to the Wolfsburg team's trophy cabinet than folk a few doors down were sitting around a table and talking about the future.
Providing the FIA lands the required commitment from four manufacturers before August 15, e-World Rallycross 2020 looks like a runner. And Volkswagen Motorsport, as a fully fledged factory team, is near-certain to be back in business.
Or it could go back to the hills and beat its own best time up the Pikes Peak toll road. Or it could do both.
But whatever Volkswagen Motorsport does decide, one thing is certain: petrol won't be pictured. And, understandably, diesel is still a bit of a sore point. Batteries are the future. Especially when those batteries are connected to something refined by Volkswagen Motorsport.
Watching the I.D. R go off the line was something I'll never forget. I've been fortunate enough to witness some fairly epic moments in motorsport and Romain Dumas' getaway halfway up a mountain in the Rockies is right up there.
What can you compare it to? Remember when you were young and you'd snap a paperclip in half and fire it from an elastic band stretched between your thumb and forefinger? (Never done it? Don't start now, it's probably illegal.) Well that, or a bullet from a gun.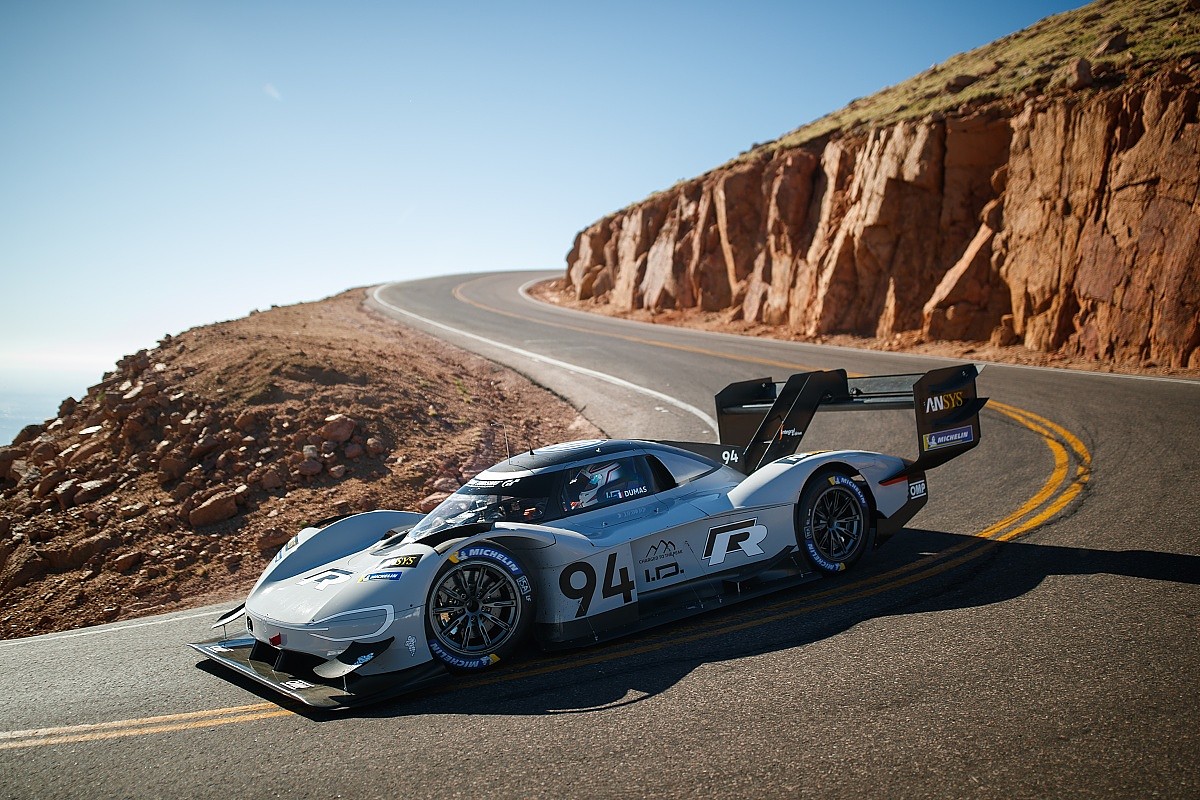 But it wasn't just the acceleration, it was the efficiency of the job that rendered comment or conversation impossible and irrelevant for some time afterwards. With barely a squeak or slip, four tailored, warmed-but-not-cooked Michelins hurled 1000kg of man and machine at the horizon.
A 2.4-metre rear wing and what looked like a disengaged snowplough up-front kept Dumas and the I.D. R nailed to the ground.
Everything was working as it should: the aero was shoving the I.D. R firmly into the ground while a pair of 250kW motors dragged juice from the batteries

A rolling start at Pikes Peak comes in the middle of a left-hander; after that you accelerate through the following right and then have a think about the right after that. More than a few have gone into the trees here, caught out by the injection of adrenalin and cooler-than-expected tyres. Even the great Sebastien Loeb feathered his 3.2 litres and two turbos at a smidge over 100mph in sixth gear five years ago.
How did Dumas get on in this corner? No idea. He'd come and gone in the blink of an eye.
With no tell-tale, fuel-fired anti-lag banging behind him, it was impossible to tell what the Frenchman was doing. The only impression you got from the inside of that right-hander was one of sheer speed born from engineering excellence. Everything was working as it should: the aero was shoving the I.D. R firmly into the ground while a pair of 250kW motors dragged juice from the batteries to give Dumas seemingly endless and certainly seamless acceleration.
As amazing as it was shocking; flabbergasting as it was incomprehensible. I'd come for the hill, for the mountains, for the speed. But batteries? They were for torches, or at least they used to be. Standing alongside the I.D. R talking to Volkswagen Motorsport director Sven Smeets, I was Marty McFly listening to Doc Emmett Brown - back to the future.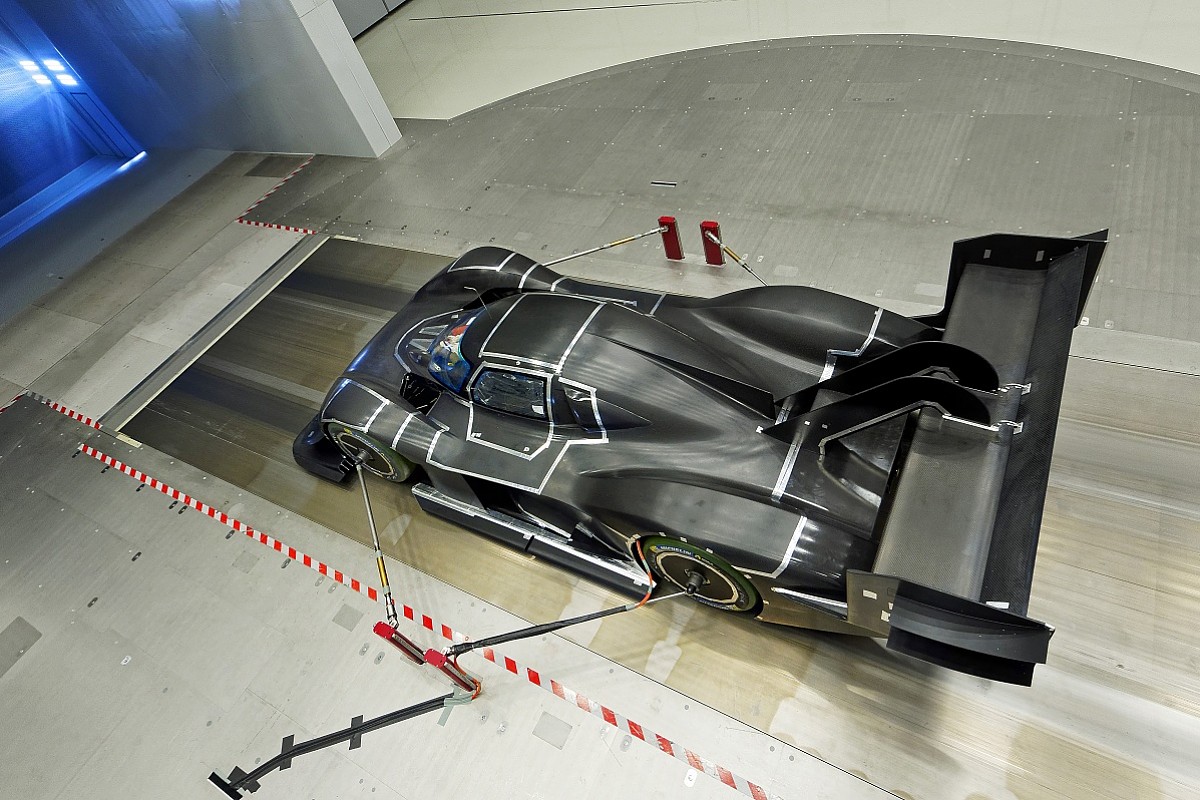 This year's I.D. R was the compromised version. As the technical genius behind Volkswagen's battery-boosted rocketship, Francois-Xavier Demaison's eyes light up at the potential for a mountain rematch in 12 months.
"We know we can save some weight," he says. "With a bespoke monocoque [instead of the bastardised Norma MXX RD from 2017] and the latest development of higher energy density batteries, I think we could easily take 5% of the weight away.
"We could improve the cooling with our own chassis. You know engineers always have ideas and, with those changes, I think we could take the time [down] by 10 seconds.
"Pikes Peak is a good laboratory, maybe the best laboratory for EVs [electric vehicles]. The unrestricted class is really like that - you have some safety in the car and, for the rest, you can do what you want. For the engineer, this is a bit like a dream."
It's impossible not to share Demaison's desire for VW to come back and go faster, to take the unthinkable - a sub-eight-minute run for the 12.42 miles and 156 corners of Pikes Peak - and make it better.
But the 2020 vision of e-WRX probably makes more sense, as so much of the knowledge that the team has gained in America will be applicable to an electrified Polo R Supercar.
"What we learned with the I.D. R would definitely help if we go to electric rallycross," says Smeets.
"We will decide in the coming months. If we decide to go with e-WRX then this will be our main focus for the next 18 months. We could go back to Pikes Peak with an improvement [to the I.D. R], but if the rallycross decision is taken in August and we go, then we have to be [ready] at the start of 2020 with a completely new car and that's just one and a half years away.
"We know that some of the FIA parts [for e-WRX] will be quite late in arriving as they need this time for the development, so the testing time would be quite short for this car."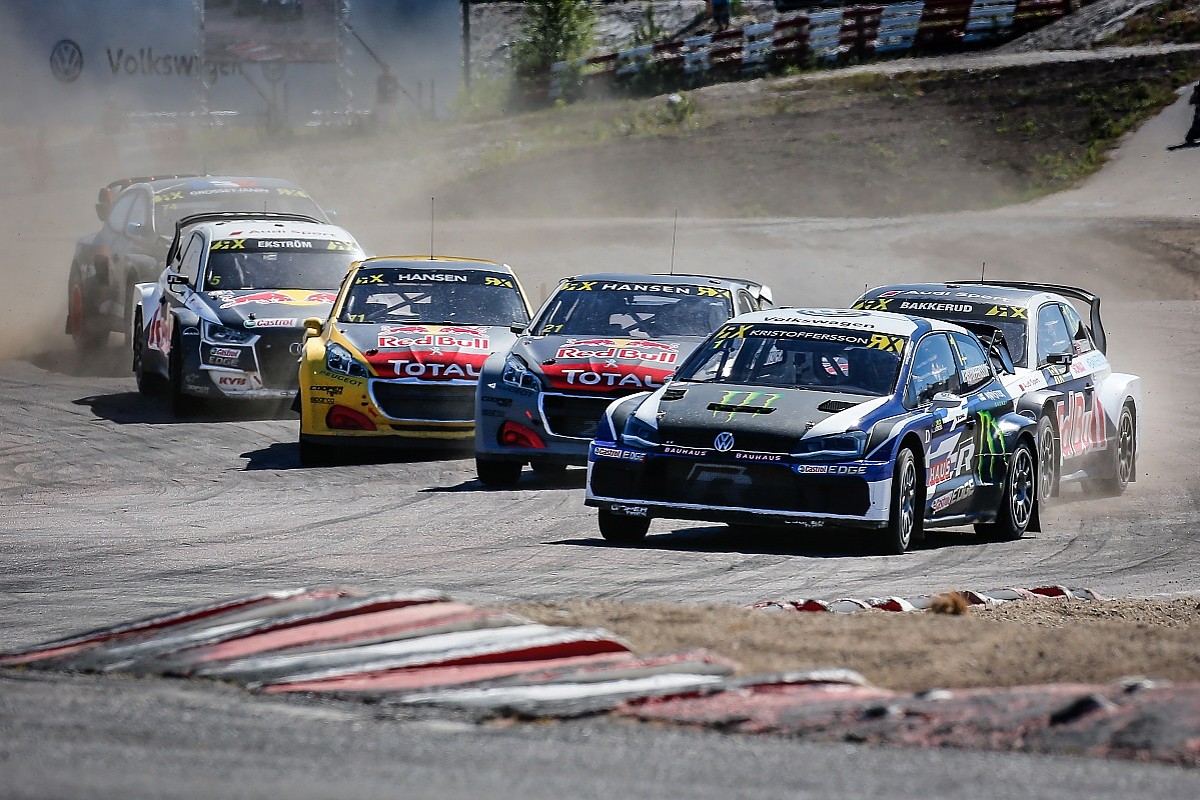 The FIA will take a similar approach to e-WRX as it has with Formula E, providing the vast majority of the parts for the new rallycross machinery, with only the drivetrain remaining free to develop.
"The drivetrain could be carried over from I.D. R," says Smeets, with a moment's hesitation. "But do you think F-X will be carrying anything over? He's an engineer!"
August 15 could well define a new dawn for rallycross. For so long, WRX has been the next big thing in motorsport. Now, it could be closer than ever, especially with the might of Volkswagen behind it.
"If you decide to do this project then you have to invest to use the project" Sven Smeets
When the Polo R WRC arrived in the World Rally Championship, Volkswagen carried the promotion of the series on its shoulders for a good couple of years.
It dominated the WRC, but it broadcast news of its success in a way that reflected well on - and attracted fans to - the series. The potential for more of the same would certainly carry the WRX to the next level.
"If you decide to do this project then you have to invest to use the project," reasons Smeets. "Look at what we did in Pikes Peak, we could have made the result but if we didn't invest to tell people about it then we would have the record but nobody to tell about it."
Whatever Volkswagen's future holds, rest assured it will be as game-changing as it is jaw-dropping.
In the hours after the Pikes Peak success, Smeets talked about VW's success in making electric vehicles sexy. It did that and more: it turned petrol heads.
I went to the mountains and found the future. It's bright, and has batteries included.