Antonio Fuoco
He doesn't celebrate his 17th birthday until next week, but already this Italian is showing he has a strong chance of following fellow Ferrari Driver Academy recruit Raffaele Marciello up the ranks after winning three of the first four Formula Renault ALPS races.
Like Formula 3 European Championship leader Marciello, Fuoco is being run by Prema Powerteam, which itself has won all four ALPS races held to date this season on its return to Formula Renault.
Fuoco is already under Ferrari's wing
Fuoco was second behind team-mate Bruno Bonifacio in the first race at Vallelunga, then benefited from a tangle ahead to win the second.
Last weekend at Imola he put in an astonishing qualifying performance. With the 37-car field split into two halves, he lapped the former San Marino Grand Prix circuit almost a second quicker than the nearest rival in his group.
He's quick, and lucky too... He was leading the first race at Imola when a shower of rain caught him out at Rivazza and he spun. As other drivers lost control the race was red-flagged, and he was reinstated to victory on countback. There was no such drama in the second race, which he won from William Vermont and Bonifacio.
Definitely one to watch when he makes guest appearances in the Eurocup as a 'wild card' entry.
Marvin Kirchhofer
Born in the old Eastern Bloc side of Germany, the Leipzig teenager has stepped up from winning last season's ADAC Formel Masters title to claim three of the first four non-reversed-grid races in this year's German Formula 3 Cup.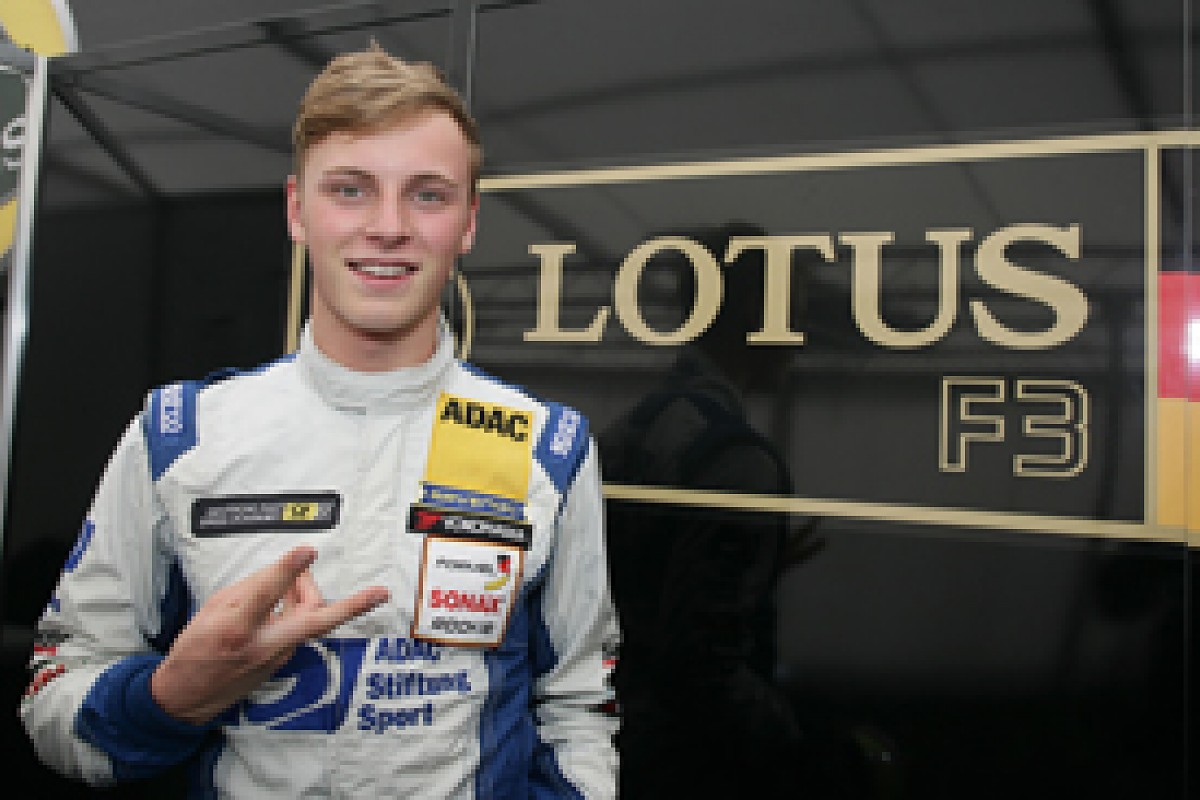 Kirchhofer is making his name in German F3
Not only that, but Kirchhofer has outperformed his team-mates with the Motopark-run Lotus team, Artem Markelov and Emil Bernstorff, both of whom already have a year of F3 experience under their belts.
On his F3 debut on Motopark's home ground at Oschersleben, 19-year-old Kirchhofer made light of drizzly conditions to beat Markelov by 22 seconds. The Russian led the other 'conventional' race for five laps, before Kirchhofer got past.
Last weekend at Spa Kirchhofer set a pole time more than three seconds quicker than last year's British F3 mark - taking advantage of the German F3 series' power-boosted VW spec engines - and went on to take his third win.
Rain marred the rest of the weekend, and a spin in the final race, along with suspected technical issues, restricted him to third behind first-time winner Bernstorff and Markelov. Kirchhofer also claimed third in the wet reversed-grid race.
With races coming up supporting the Nurburgring 24 Hours (this weekend) and the DTM, his name will soon be wider known.
Dan Cammish
At the age of 24, it's probably fair to say that this lanky Yorkshireman isn't a Formula 1 star of tomorrow.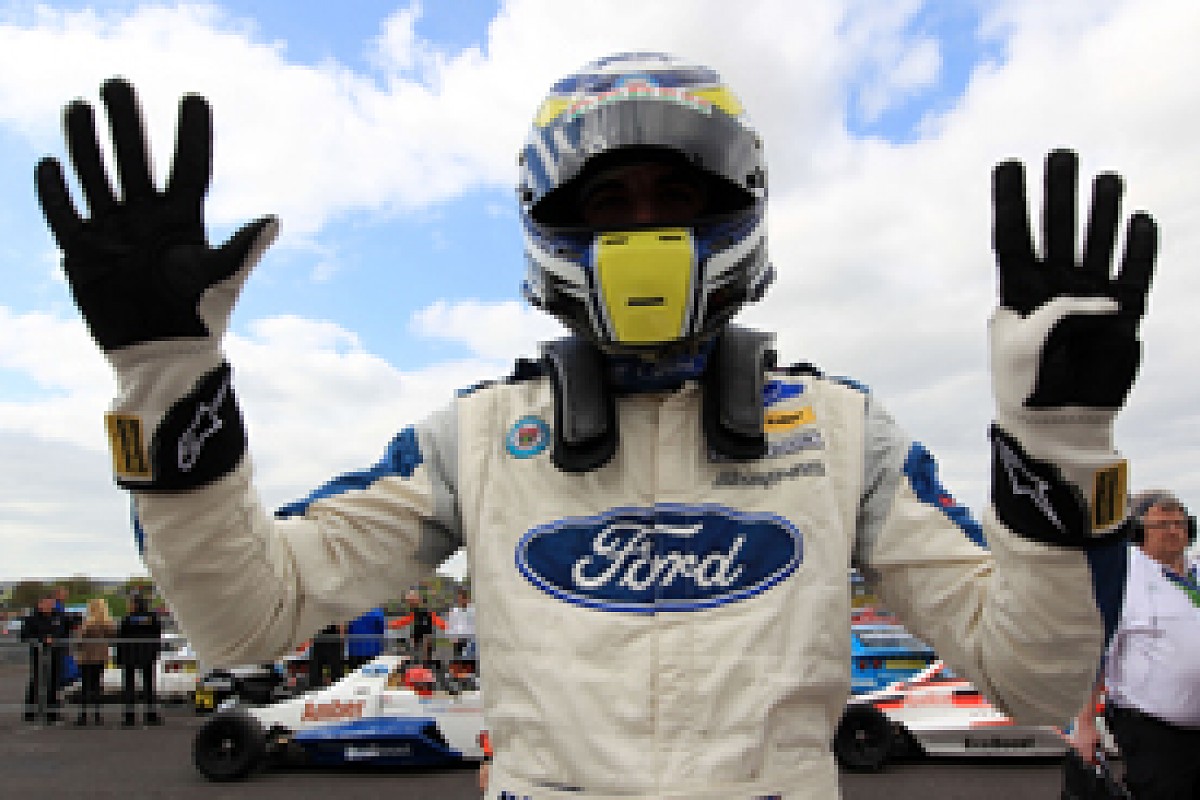 Cammish has proved unstoppable in British FFord so far © LAT
But nine wins from the first nine British Formula Ford Championship races, along with a clean sweep of pole positions and a record of leading every lap to date, suggest that he has the ability to become a very strong professional racer.
It's easy to forget his 2011 Formula Renault UK campaign, where he joined the season late but thereafter was outscored only by Alex Lynn, Tio Ellinas and Oliver Rowland - who are now Macau F3 poleman, GP3 race winner and FRenault Eurocup race victor respectively. And he outpointed team-mate Jack Hawksworth, who is now scorching up the US ladder system.
An accident in last year's FRenault Eurocup opener, in which he broke his pelvis, put Cammish out for almost a year, but he's shown no ill effects in 2013.
GT star Nick Tandy, his team boss at the JTR squad, is a believer and in an ideal world Cammish's performances - in the BTCC/TOCA shop window - will elevate him into a decent touring car or sportscar ride.
Matt Parry
While Ferrari youngster Antonio Fuoco is making a name for himself in Formula Renault ALPS, a protege of a team from the other end of the F1 grid is doing the business in the category's other second-level European series.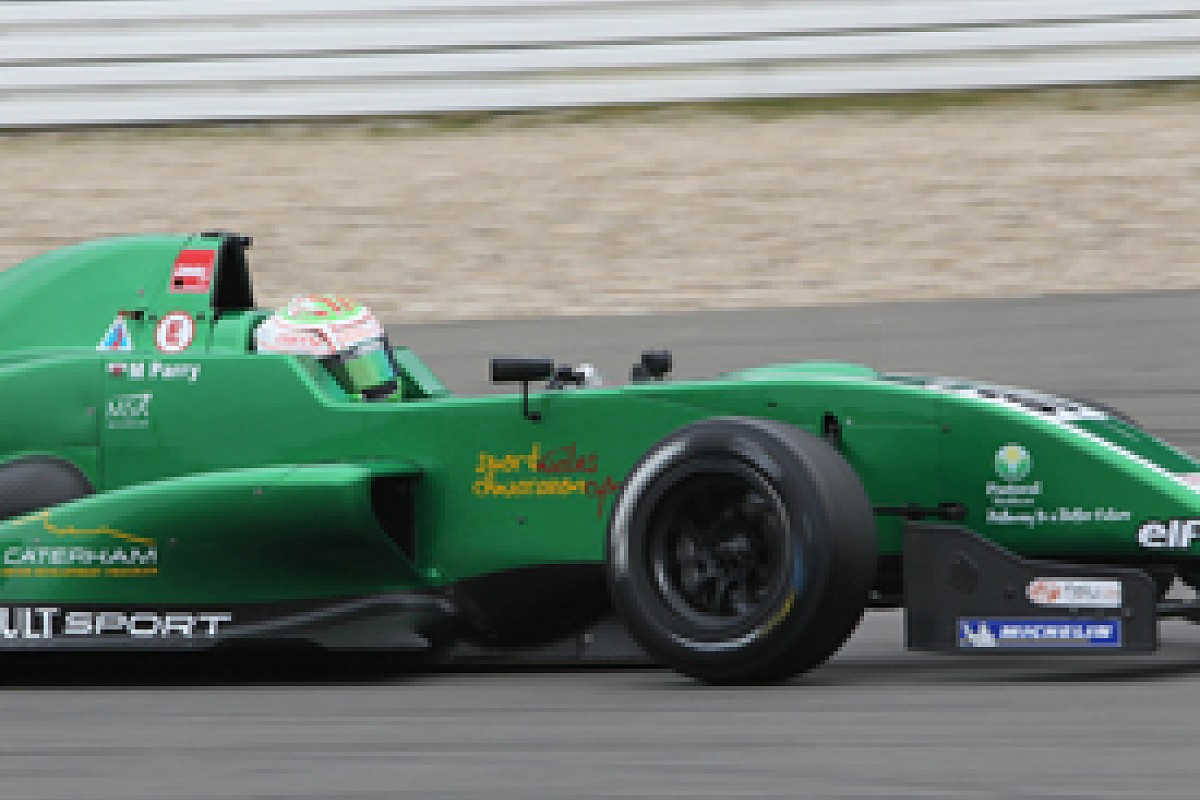 Parry is a Caterham protege © Chris Schotanus
Caterham-affiliated Matt Parry leads the Formula Renault NEC against a bulging field that numbers several drivers who already have a strong track record in the class.
After a difficult season in Formula Ford in 2011, Parry switched to the InterSteps series for old Formula BMW cars last season and took the title with Fortec Motorsport.
He's remained with Fortec for 2013, and first time out at Hockenheim he was outscored only by drivers who were contesting the weekend as a warm-up for the Eurocup.
Parry took a double win next time out at the Nurburgring - beating occasional Eurocup frontrunners Oscar Tunjo, Esteban Ocon and Mikko Pakari into the bargain - to continue his stylish start to the season.
Next race weekend for Parry is on his - and the Fortec team's - home ground of Silverstone on June 1/2. Here's one driver in Caterham green who is running at the front...
Yuichi Nakayama
If you include the tail end of last season, Toyota's 21-year-old protege from Tokyo has won nine of the past 10 Japanese Formula 3 Championship races.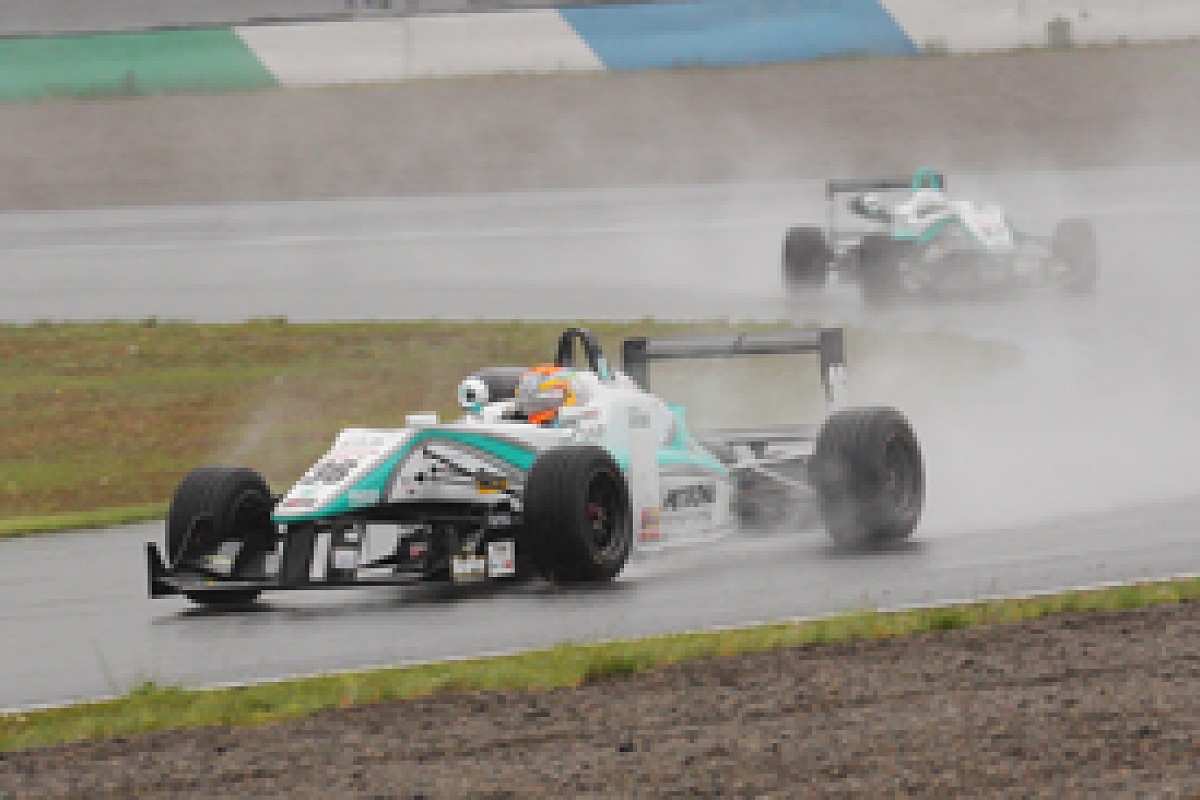 Nakayama has the early edge in Japanese F3 © LAT
Nakayama's run of five on the trot at the back of last season came too late to halt Ryo Hirakawa's unassailable points advantage. While Hirakawa got his reward with a lift into Formula Nippon, Nakayama has stayed on to lead the TOM'S team's effort in 2013, the first year of the new FIA engine regulations.
He was upstaged in the first race at Suzuka; he was beaten away from the line by team-mate Takamoto Katsuta, who was making his debut in the top division after stepping up from the National Class.
A brief off at Spoon Curve hampered Nakayama's efforts to get back on terms with Katsuta, but since then he has won the second race at Suzuka, plus all three during last weekend's triple-header outing at Motegi.
Nakayama also contested last year's Macau Grand Prix. On his first visit to the street track he set himself back with a crash early in practice, but thereafter got pretty close to team-mate Jazeman Jaafar, who had been drafted into the TOM'S line-up after finishing runner-up in British F3.
If he carries on as he is now, there's no reason why he can't play a prominent part in Toyota's plans in years to come.
Chris Middlehurst
Another member of the ever-swelling 'sons of' club, the 18-year-old Lancastrian has taken three wins and a healthy lead in the UK-based Protyre Formula Renault Championship.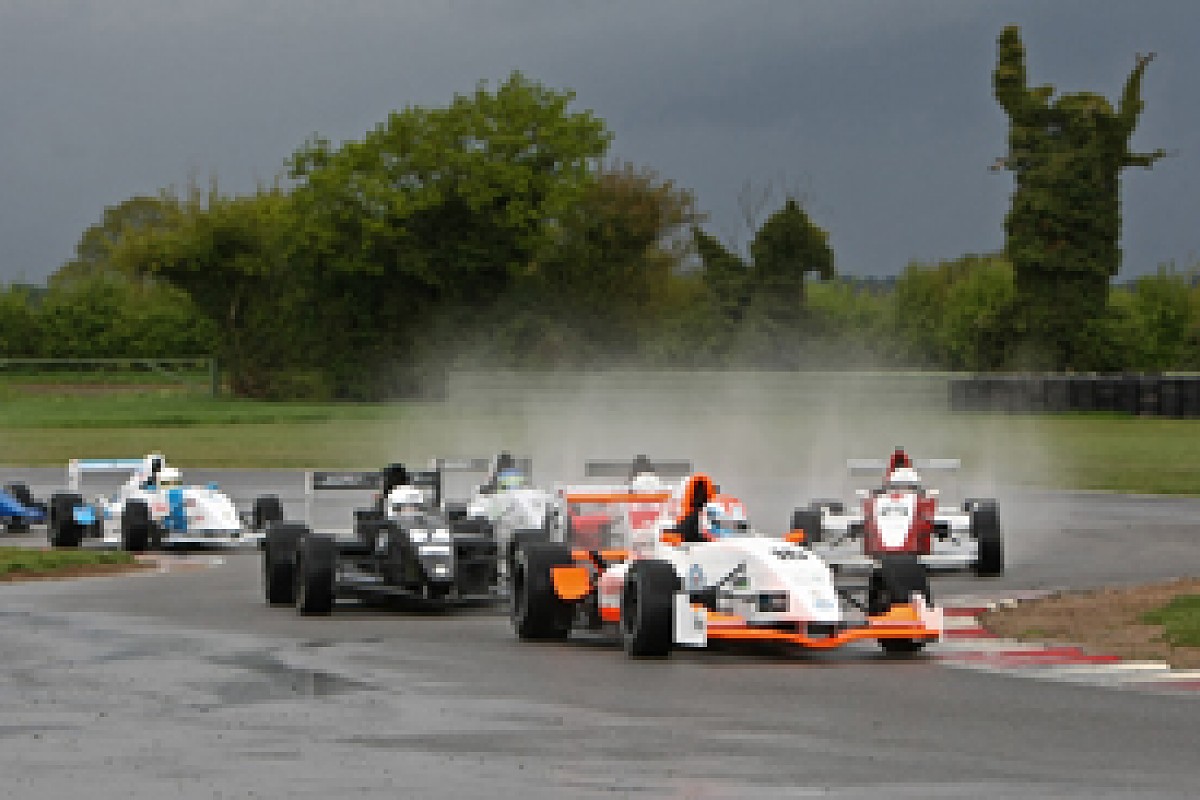 Middlehurst heads the Protyre FRenault field at Snetterton © Richard Styles
Middlehurst, whose father Andy was a works Nissan BTCC driver in the early 1990s, was a star of the Kent-engined Formula Ford scene in 2011 before graduating to the Renault ranks last year with a family-run car. Now ensconced with the MGR team of Mark Godwin, he is making hay in the series for older-spec Tatuus cars.
He has yet to win a race from the front, instead mounting fightbacks in what has been some thrilling racing. In the opener at Donington Park he had to battle from the lower reaches of the top six before moving in front with just under three laps remaining. In the second, he was narrowly defeated by Mexican Jorge Cevallos, who is part of the same Telmex scheme that launched the careers of Sergio Perez and Esteban Gutierrez.
Last weekend at Snetterton he fought from third to first in a wet opening race. He then finished a close second to karting graduate Sam MacLeod in race two, and was given another victory when Russian Ivan Taranov was penalised for a driving offence in the third race.
All this has given Middlehurst a strong points lead over Formula Ford graduate Jake Cook and Cevallos, but he'll need to be on guard if these guys - or MacLeod - start a run of form. Still, it's looking good; just as well, as his middle name is Ayrton!