At 5,895m, Mount Kilimanjaro is the world's tallest solitary mountain. The high elevation, low temperature and high winds make for a challenging technical climb, even before altitude sickness takes its toll.
Braving the challenge is former McLaren AUTOSPORT BRDC award winner Alexander Sims, who is raising money for the Henry Surtees Foundation - established in the memory of his late friend, who was tragically killed during a Formula 2 race in 2009.
AUTOSPORT will be bringing you updates from Alexander as he conquers Kilimanjaro.
Day 7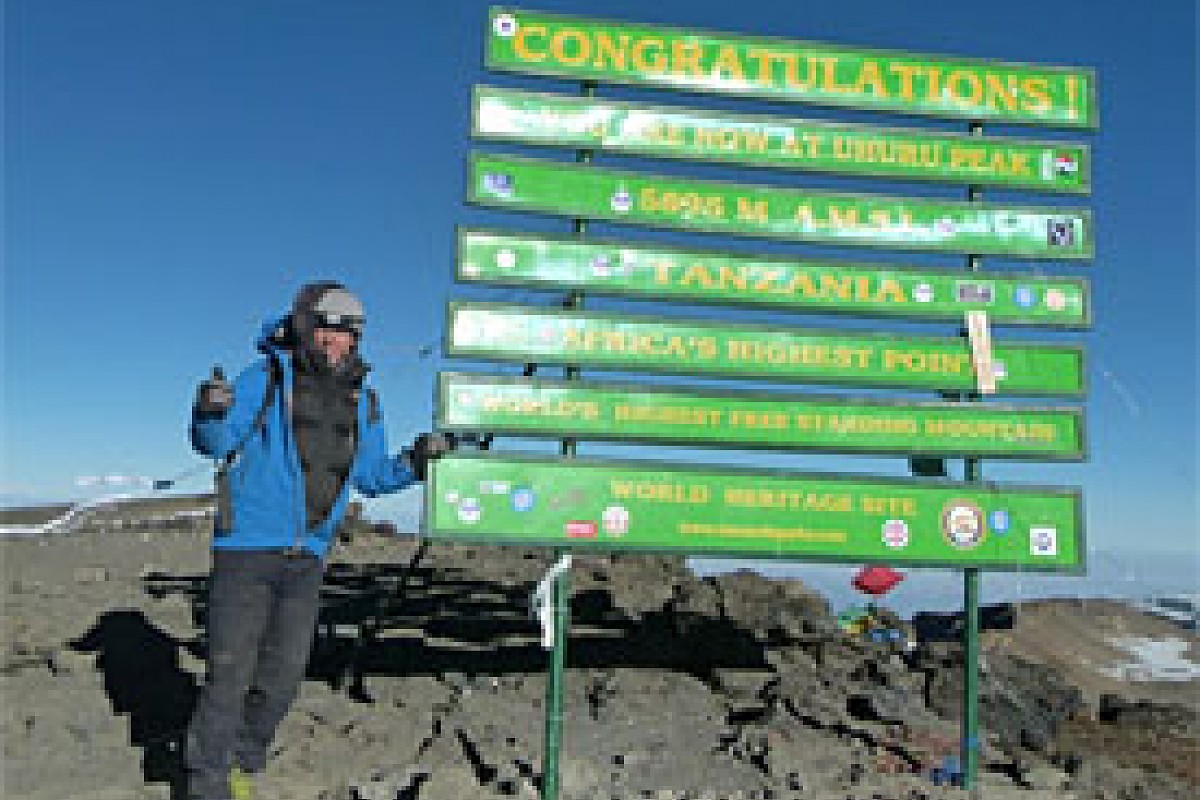 Sims reached the summit on day 7
Incredible doesn't even come close to describing the day! It was certainly not all good: most of it was horrible, to be honest but at the end of it I am so pleased to have done it. Getting up at 10.30pm to start walking, it was cold and dark so I dressed up in all my warm clothes and had my head-torch on.
The first hour or so went quite quickly and I was enjoying it. Little did I know though what a mammoth effort would be required from me over the next seven hours. It got very windy soon after that and the temperature just kept dropping. The terrain was tough, steep, rocky and loose so high concentration was needed to focus on my small circle of light making sure I didn't slip and damage my ankles or knees.
Every couple of hours the parameters changed for what I thought was a 'tough situation'. At just over four hours the wind speed was around 60mph and bitterly cold. Rarely could I feel my fingers, toes or face, but I pushed on wearily. The altitude was starting to hit me and my mind was struggling to operate at 100 per cent. I got into a bit of a trance and just kept plodding on trying not to think about the cold or the lack of oxygen, when I needed it more and more.
We had planned to get to the summit for sunrise but the weather conditions were challenging to say the least tonight, and we had split into smaller groups of two or three as we were coping differently. I was struggling to keep up with others but I just focused on how I felt and did what I needed to do to continue. At best, I was walking a meter every four seconds whilst breathing at my absolute maximum...
The sun broke over the horizon and it was a great boost. I could then see the peak that I had been working towards over the last six days. In the last hour things were pretty dire, my brain had properly zoned out probably due to a massive lack of oxygen, I was struggling to stay awake and my body hurt.
The final short steep slope was intense to say the least, I was so tired but with stopping every few steps to catch my breath, I made it to the summit. I was so emotional, it meant so much to me to have kept pushing on when faced with such exhaustion.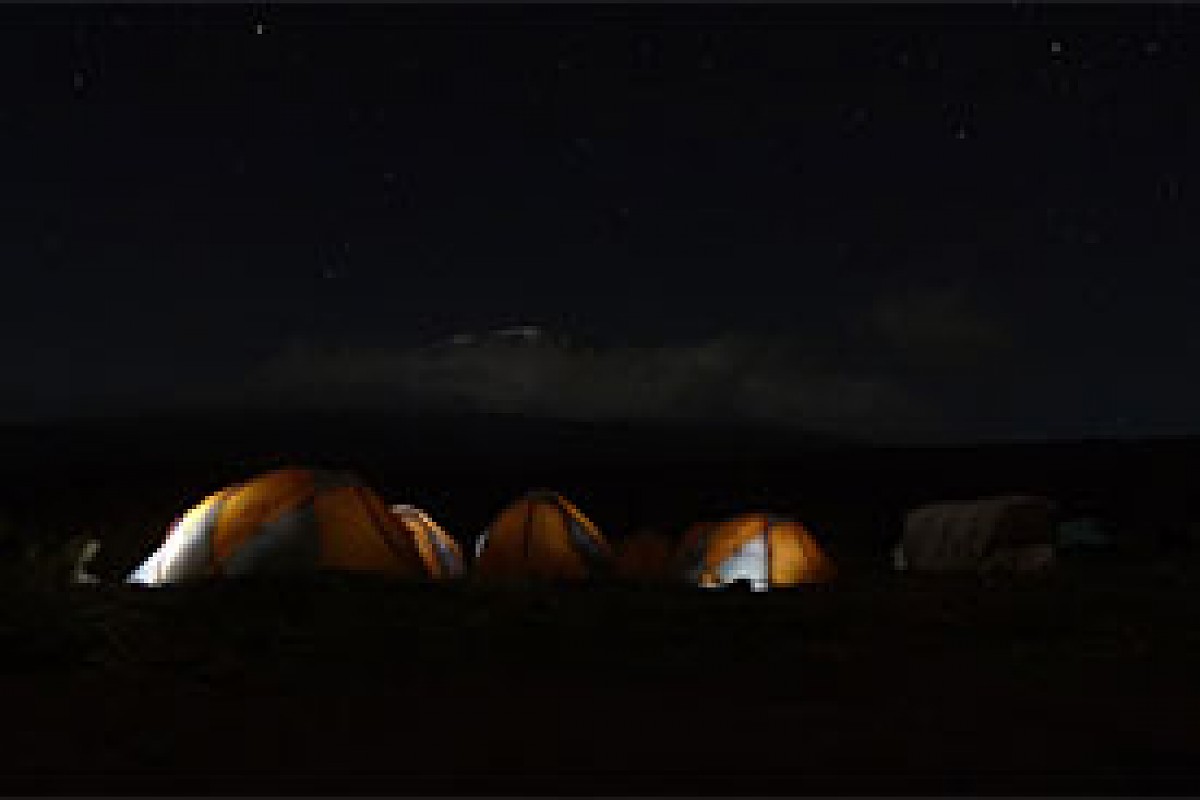 The night falls over the Kilimanjaro
I cried with joy and everybody was hugging and congratulating each other. My relief was as great as my satisfaction. I felt a lot of pressure to get to the summit because of the fundraising, more than any outside pressure I've felt to qualify well or win races!
I had the important photo taken next to the summit sign and then we started to descend before being blown of the top!
The walk down was long and even tougher on the legs but the satisfaction having completed the challenge was more than enough to keep me from feeling too much discomfort.
I can only say thank you so much to everybody who has supported me by donating to Henry's Foundation and by sending me messages. It has been an insane experience and one that was a really fitting way to raise so much money.
Days 5 and 6
Both yesterday and today have been fairly short days in terms of walking, just gaining more altitude without walking for the whole day. 4 hours is nice, especially when you get to the next camp for lunch and then snooze in the afternoon!
There is good reason for this though, at 11pm tonight we leave camp to climb through the night to reach the summit for sunrise. We will climb a total of 13000m in one go and I'm not looking forward to how I'll feel. Knowing how much money has been raised though, it will give me added motivation to give it my all. Wish me luck...!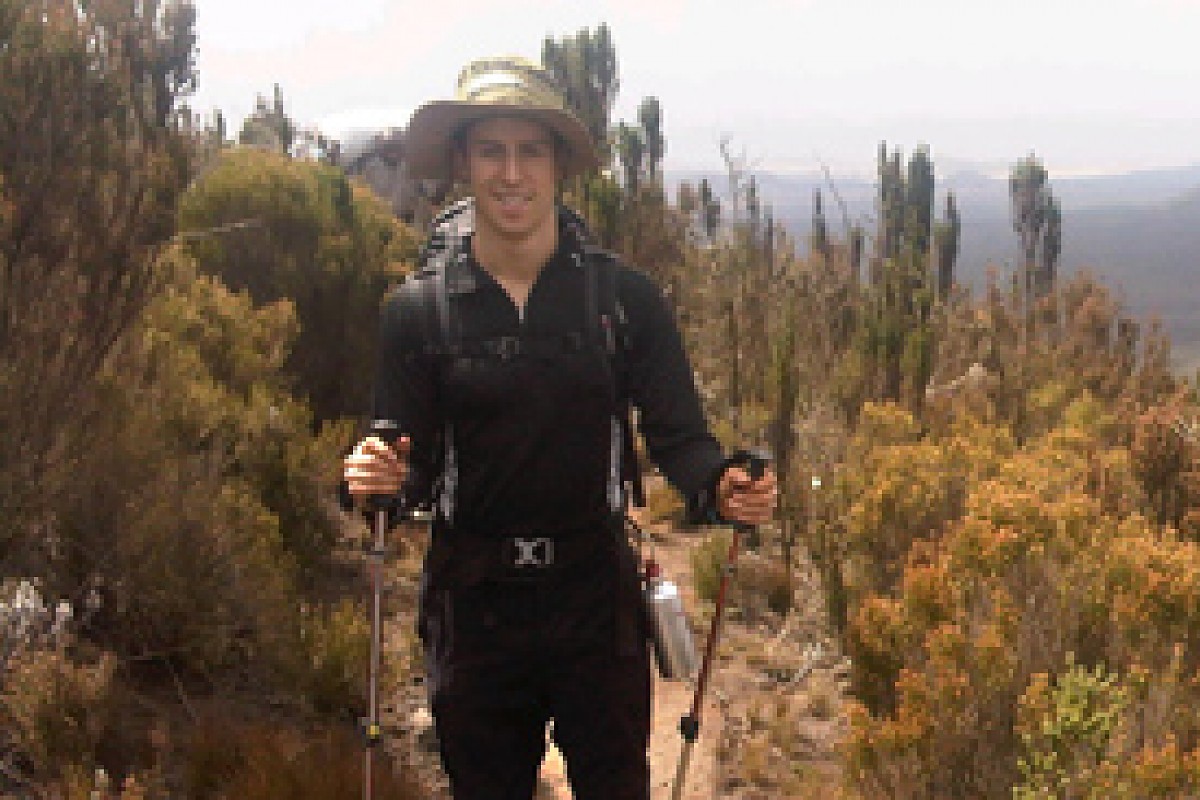 A nine-hour hike, while suffering from altitude sickness, greeted Sims on day four
Day 4
I've had an absolutely shocking night of sleep again and I feel horrendous. I reckon I slept for 30 minutes in total - I just cannot doze off in a tent when I have a banging headache, sore eyes and a stiff neck.
It's all expected apparently, and is just part of adapting to the altitude. Knowing that it's normal did nothing for how I felt this morning though!
We've had a long hike today: a total of nine hours of walking. It really amazes me how ill you can feel simply because of altitude. For the first few hours we were climbing all the time and I don't think I've ever had as bad a headache as today, and then due to the lack of sleep I was close to dozing off whilst walking!
We're back at camp now and I have little appetite, but fresh food is being brought in tomorrow so I hope to get some good food down me then.
We're getting close to the last part of the mountain now which is exciting, and 'summit day' is in two days time! I have felt so rough over the last couple of days though that had it not been for the fundraising I think I would seriously consider having a couple of rest days.
No can do though, I will push on and get through it and do everybody who has donated proud.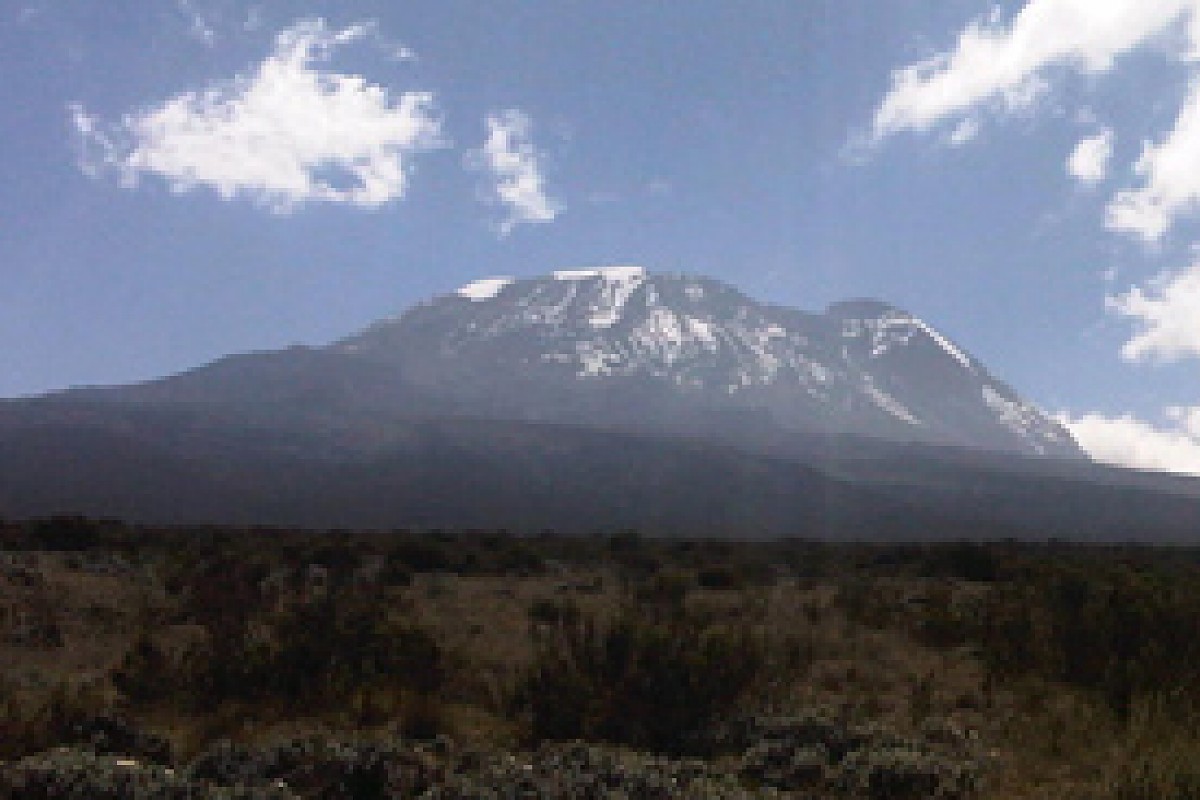 Night-time temperatures drop the higher you climb on Kilimanjaro - dropping as low as -26 degrees C at the summit
Day 3
After a ridiculously cold night of sleep I now realise that I have not quite got the right equipment with me.
I wore everything I had and was still shivering for most of the night! Anyway, I'm still here so it can't have been that bad...
We only had a short walk today, three hours and 200m vertically climbed. It was nice to get to our third camp for lunch, and then in the afternoon we climbed some more to put our bodies under some more strain so that tonight's sleep is supposedly better!
We had some great banter within the team, and it is great we all get on so well as we had never met each other before arriving in Tanzania.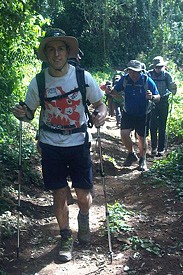 Sims ascended around 800m on the first day of his climb © LAT
Day 2
After getting up at 6am and slowly warming we had a great cooked breakfast. The gluten free alternative to porridge was some kind of maize splodge...not the nicest thing I've tasted but I had to get lots of calories down for the eight hour hike.
Within two hours of walking the terrain changed almost instantly from dense forest into tundra. Then the serious climbing began, on average gaining around five metres altitude per minute.
Today was when the altitude started to hit me. It's a really strange feeling being high up. We were walking so slowly that physically my legs were not even close to feeling fatigued but at altitude my lungs just have to work so hard to keep oxygen pumping around my body.
Over the day we climbed around 800m, which is a fair amount in terms of vertical ascent. The landscape is really quite barren now we are above the tree line - just rocks and small shrubs.
One amazing thing is we can see the summit now, and some beautiful scenes at sunset really get my spine tingling knowing that I'm going to try and get all the way up there!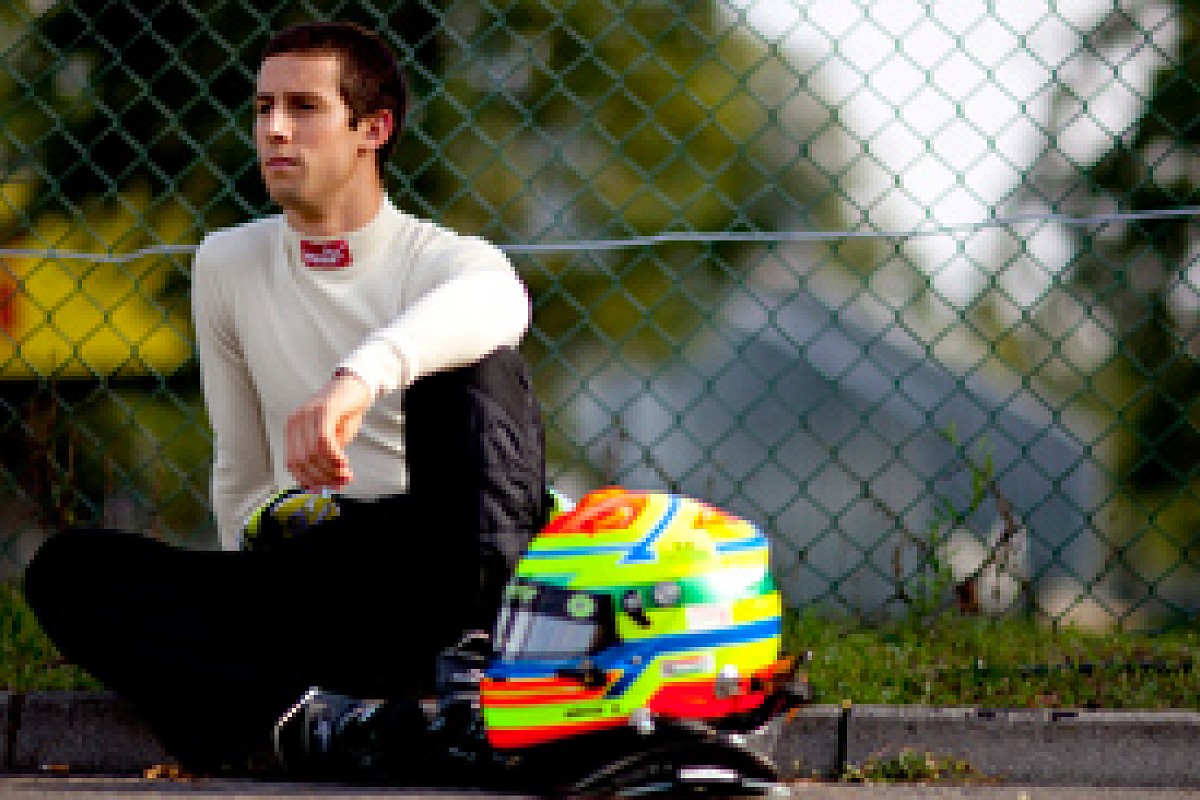 Alexander Sims has swapped his helmet for hiking boots as he bids to conquer Mount Kilimanjaro © LAT
Day One - Travelling
The journey from Heathrow to Kilimanjaro airport was very nice and chilled, James (my brother) and I had the upmost luxury of flying Virgin to Nairobi! Then a quick connecting flight to Kilimanjaro and we're here in the hotel.
We've got to 'Moshi', the main town near the mountain, half a day before the others so we're just waiting around killing time.
I went into the town to look around but didn't make it more that 200m before turning back due to the incredibly persistent road side 'salesmen'! I struggle to be rude to them but equally don't want to buy their bracelets and pictures. I'm quite happy with my Henry Surtees Foundation bracelet!
I doubt it will be the best nights sleep ever but hey ho, all part of the experience!
To sponsor Alexander on his Kilimanjaro quest click here.
To find out more about the Henry Surtees Foundation click here.