It's Dakar time again. But it's Dakar in a different format this time around. After three years of a trans-Andes loop from Buenos Aires to Buenos Aires, this time the crews are leaving Argentina and heading to Peru. Via Chile. It's madness. And that's what makes it one of motorsport's biggest challenges.
The other big change for this year's event is the loss of Volkswagen. After three years of dominance from the German firm, the Race Touareg is no more. The big favourite this year is the Mini All4 Racing, prepared by the X Raid team. Dakar God and nine-time winner Stephane Peterhansel drives one of the entries, with fellow cross-country ace Nani Roma joining him in the team.
Last year's winner Nasser Al-Attiyah returns. The Qatari is shorn of drive to the front wheels for this year's event, however, as a rear-wheel drive Hummer replaces the VW he's pedalled in recent seasons.
The pan-American adventure got under way from the Argentine Atlantic resort of Mar del Plata on January 1. The 469 competitors (188 bikes, 32 quads, 173 cars and 76 trucks) then head north-west for the next 15 days and 5,500 miles, before arriving in Lima. And having a big, big party.
Before this year's Dakar, we thought we'd have a look back over the event's 31-year history and pick out some of the best drivers and cars.
Top 5 Dakar drivers
1. Stephane Peterhansel
Some people think Stephane Peterhansel's success started on two wheels. Wrong. It started on four, then went to two and now it's back to four. The four he started out on were, however, quite different to the four he'll be on during this year's Dakar. His early victories and titles came on a skateboard. The necessity for balance and bravery while shredding his particular corner of France taught him well though and when motorbikes came calling he was ready. Peterhansel dominated the bike category of Dakar through the 1990s, winning six from seven events for Yamaha.
When, in 1999, he picked up a co-driver and a steering wheel, the transition was near seamless: he was seventh on his first Dakar as a driver rather than rider. In 2000, he won his first stage in a car and finished second. In 2004, he took his first of three Dakar wins with Mitsubishi. Peterhansel and the Mitsubishi Pajero was a marriage made in the dunes. They shared the same immense reliability and consistency and were both able to turn it on when they had to.
It's easy to label Peterhansel as a Mitsu-man who has been unable to win with a BMW since Mitsubishi's departure and the Dakar's transatlantic shift, but he hustled Volkswagen and its millions hard in 2010 and, had it not been for a transmission glitch on his X3, it might have been him and not Carlos Sainz celebrating in Buenos Aires a week or so later.
2. Ari Vatanen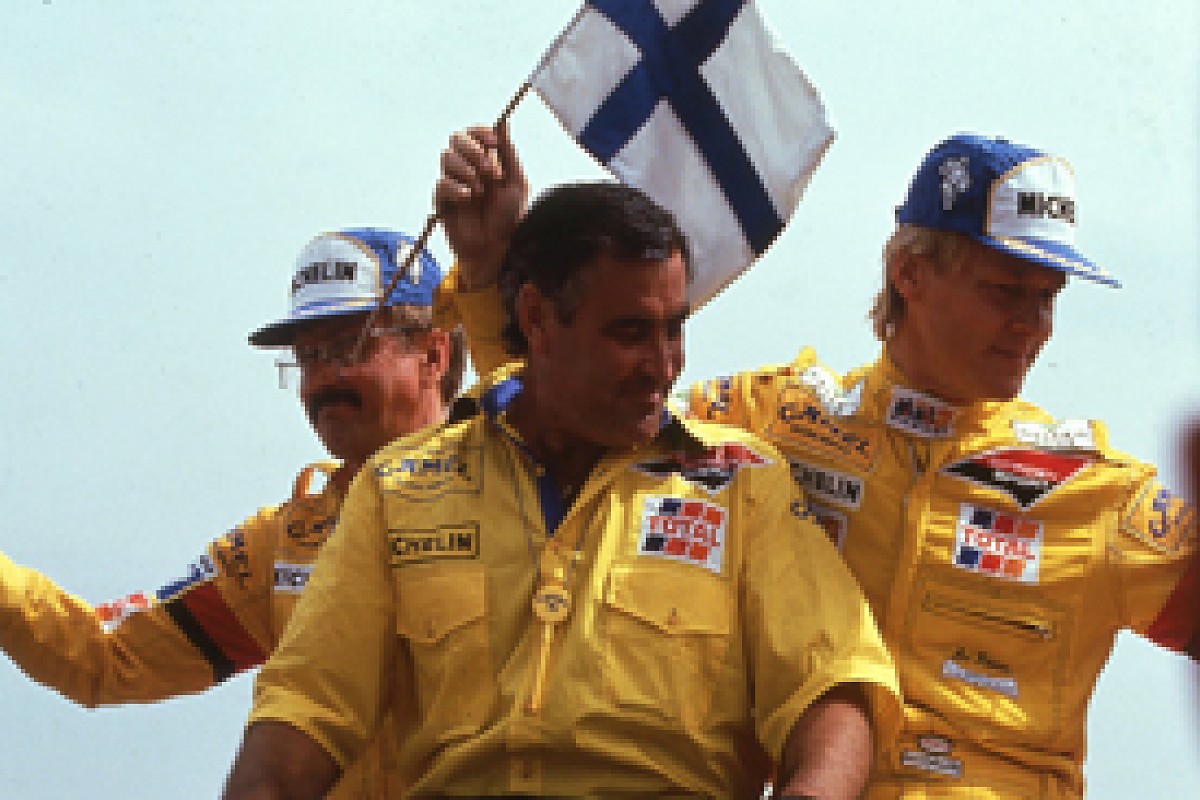 Remember the surprise when Colin McRae won his first Safari Rally in 1997? There was genuine shock that the Scot had kept it all together through one of the toughest events on the rallying calendar.
The reason for that surprise was that McRae had come from the mould marked 'AV'. McRae had the Vatanen touch in terms of delighting the crowds with some stunning success, but he could also match the 1981 world champion panel for panel in terms of shunts.
It was one such accident which indirectly brought Vatanen to the 1987 Paris-Dakar. Having almost died at the wheel of a Peugeot 205 T16 in a Rally Argentina crash 18 months earlier, Peugeot boss Jean Todt promised his driver he would have a car ready whenever he was ready. With Group B banned, the desert beckoned. Vatanen tested the car briefly a week before the start of his first Dakar, played himself in through Europe, then let rip and flew over the dunes and into Dakar, ripping up northern Africa and leaving the competition trailing in his wake.
Vatanen was back, and then some. He'd left the dark, terrifying days of his recovery behind; mind and body were back on song and what a way to tune them up - the first of four Dakar wins.
Vatanen remains the only driver to have won consecutive events in different cars, although Nasser Al-Attiyah is chasing that particular record this year.
3. Luc Alphand
One of the most philosophical and nicest fellas you are ever likely to meet. And an exceptional driver who demonstrated both the tremendous bravery required to hold anything flat and well into three figures through the desert and the necessary guile to get through the fesh-fesh.
In all honesty, nobody could ever question the courage of anyone who stands at the top of a mountain and sets his skis on the fall line. In 2005, Alphand came close to becoming the first ever downhill world champion to win Dakar, when he finished second to Mitsubishi team-mate Peterhansel. Twelve months later, the record was his. Nobody beat the Frenchman from Lisbon to Dakar.
Unfortunately, Alphand's career as a Dakar (and Le Mans) driver was cut short by serious back injuries sustained in a motorbike race in 2009.
4. Freddy Kottulinsky
Winfried Philippe Adalbert Karl Graf Kottulinsky Freiherr von Kottulin isn't exactly the quickest handle in the service park, but the man better known as Freddy was fast. Very fast. And especially fast on the second ever Dakar, which he won.
Never hugely fussed about doing the Dakar, nobleman Kottulinsky thought he'd priced himself out of a Volkswagen seat he didn't really want in 1980 - only for VW to bring him in at the last minute. He was driving one of three VW Iltis - a four-wheel jeep-type vehicle. These cars had, however, been prepared by Audi. The Ingolstadt engineers were keen to see how this new transmission system worked under the stress and strain of a rally. Kottulinsky went on to win the event while the drivetrain beneath him went on to rule the world.
The Austrian's 1980 success was based on carrying as much kit and keeping his car as mobile as possible at all times. When something broke, he fixed it as quickly as possible and pressed on. And won.
5. Mark Thatcher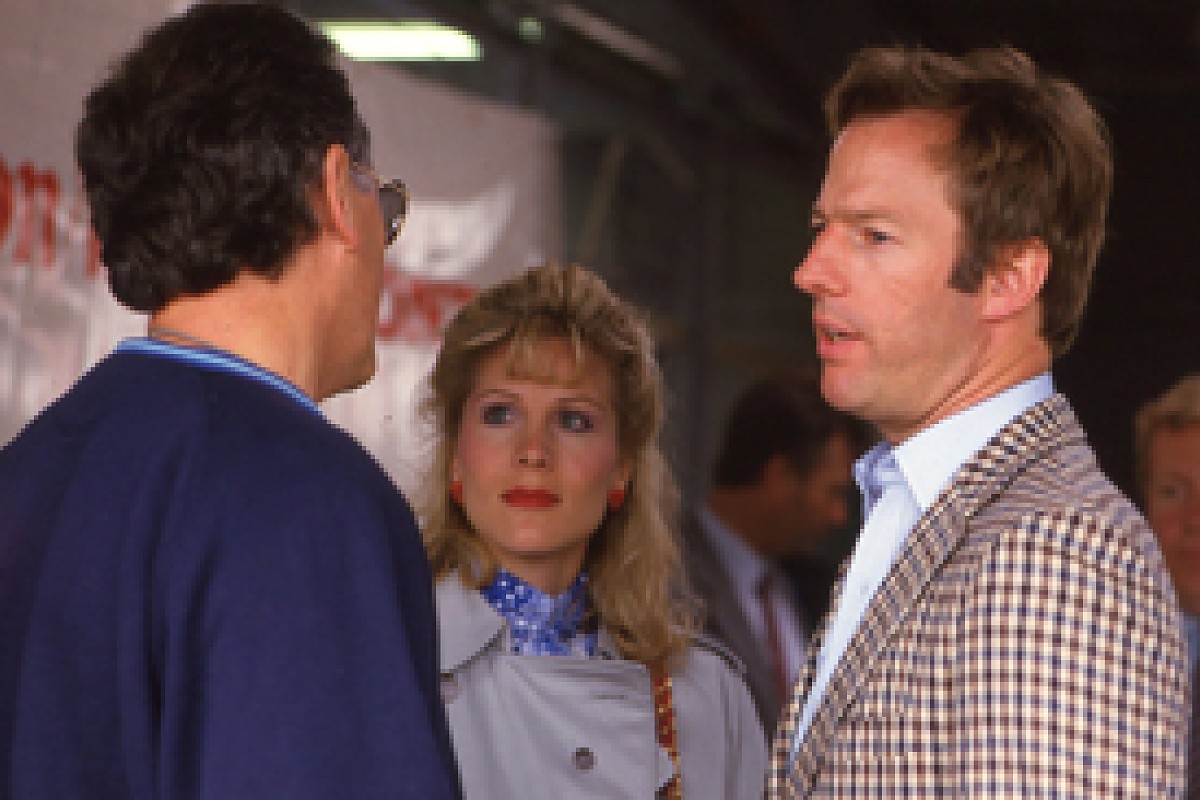 Having wheeled an Osella PA8 through a wet afternoon at the 1980 Le Mans (before retiring), Mark Thatcher thought he was ready for his next step in motorsport. He was ready for Paris-Dakar. But was he prepared?
"I did absolutely no preparation. Nothing," he said, shortly before the start. Before adding, rather foolishly: "I raced at Le Mans and other things - this rally is no problem."
And, through Europe, his co-driver Anne-Charlotte Verney and a mechanic managed well. Their Peugeot 504 kept in touch with the pack without too much trouble. Once into the Sahara, things went a tad wrong. The Thatcher Pug got lost.
And stayed lost for six days.
Talking after the event, the twin brother of his more successful twin sister Carol (well, at least she won something - even if it was only the fifth series of 'I'm a Celebrity'...) said: "We stopped. The others stopped too, took a note of where we were and went on. But, the silly bastards, instead of telling everyone we were 25 miles east when they finished the section, they told them we were 25 miles west."
Fortunately for Thatcher, his mother was a reasonably heavy-hitter in the world of global politics at the time.
He continued his story: "The boss [his mother], did entirely the right thing, picked up the phone to the ambassador in Algiers and says: 'Can you find out what's going on?' The ambassador then rings the prefect of the region who says there are four people and I am one of them. The biggest story of 1982 was the Falklands War. The second biggest involved my mother... and me."
And, after six days of worrying, what the did the self-styled lady of iron have to say about the discovery of her son?
"It's all alright now."
And, with that, Thatcher - and his father (who had gone to look for him) got on the Algerian presidential plane and came home.
Not the fifth best Dakar driver by any stretch, but undoubtedly the teller of one of the best stories.
You couldn't make this stuff up...
Top 5 Dakar cars
1. Mitsubishi Pajero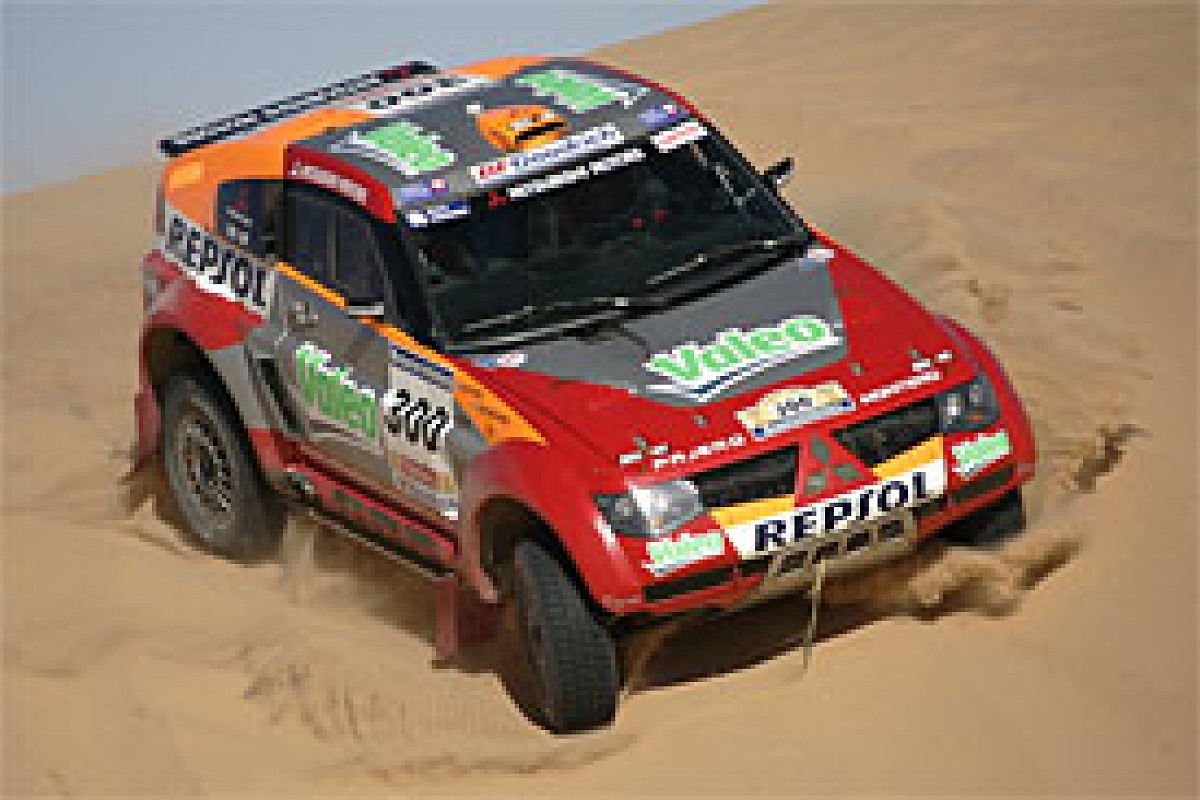 There could be no doubt about the car and the company which has dominated the Dakar through the years: Mitsubishi and the Pajero. The Japanese 4x4 was first entered on the marathon event in 1983 and it collected the first of 15 wins from 32 starts just two years later.
The Pajero and Pajero Evolution was at the height of its dominance in its last decade, when it won seven from 10 Dakars it started. It will always remain a thorn in the side of Volkswagen that it never managed to defeat the Pajero. Mitsubishi's fellow Japanese car giant Nissan also took a multi-million pound shot, arming itself with such greats as Colin McRae and Ari Vatanen, but not even they could topple the one with the three diamonds on the front.
The Pajero was built on epic reliability and as the car evolved, the years of Dakar experience told - it got quicker and more consistent.
Right up until somebody had the bright idea of canning the Pajero in favour of an oil-burning Racing Lancer. Nani Roma's was the Racing Lancer which finished its maiden Dakar in 2009. The Spaniard was 10th overall, three places and six hours behind Czech privateer Miroslav Zapletal in a Mitsubishi pickup.
Mitsubishi pulled the plug on its Dakar programme soon after.
2. Volkswagen Race Touareg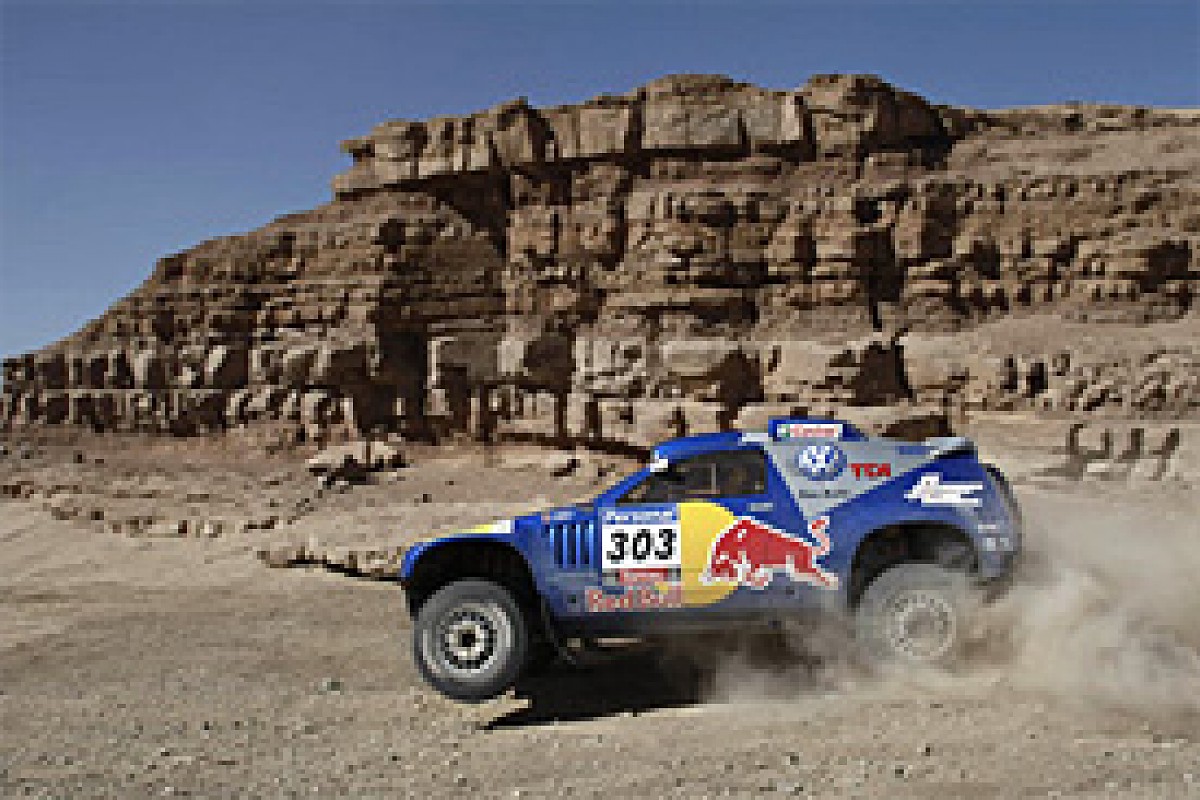 The first diesel-powered car to win Dakar. Since the event switched to South America in 2009, the Hannover-built Touaregs haven't been beaten. They will be this year, because VW has quit the Dakar and decided not to sanction to use of a Race Touareg by any private drivers.
It's fair to say that, despite an admirable budget, success came neither immediately or easily to the German firm. It first set foot in the sand in 2003, running rear-drive Tarek buggies to see what it was all about. Stephane Hanrard and Bobby Willis made it from Marseille to Sharm el Sheikh (that year's route) in sixth place.
Twelve months on and things were getting more serious as the first Race Touareg arrived. Former world rally winner Bruno Saby equalled the sixth place. In 2005, VW had high hopes that Jutta Kleinschmidt would repeat her victory of four years earlier. She came close. She was third.
VW was getting closer. And the Race Touareg was getting shorter. The Race Touareg 2 was a solid evolution from the first machine and Giniel de Villiers was second in 2006.
Told you success didn't come quickly.
Unfortunately, the 2008 event which everybody had waited for, the classic battle of the Dakar heavyweights: Mitsu versus VW; Pajero versus Touareg, was cancelled by trigger-happy Mauritanian terrorists.
The move to Argentina and Chile was a happy one for VW, however, with de Villiers making diesel Dakar history in 2009 before Carlos Sainz and Nasser Al-Attiyah completed the Race Touareg hat-trick in 2010 and 2011.
It might have taken a while, but three wins from seven starts for the Touareg was not a bad hit rate.
3. Schlesser Buggy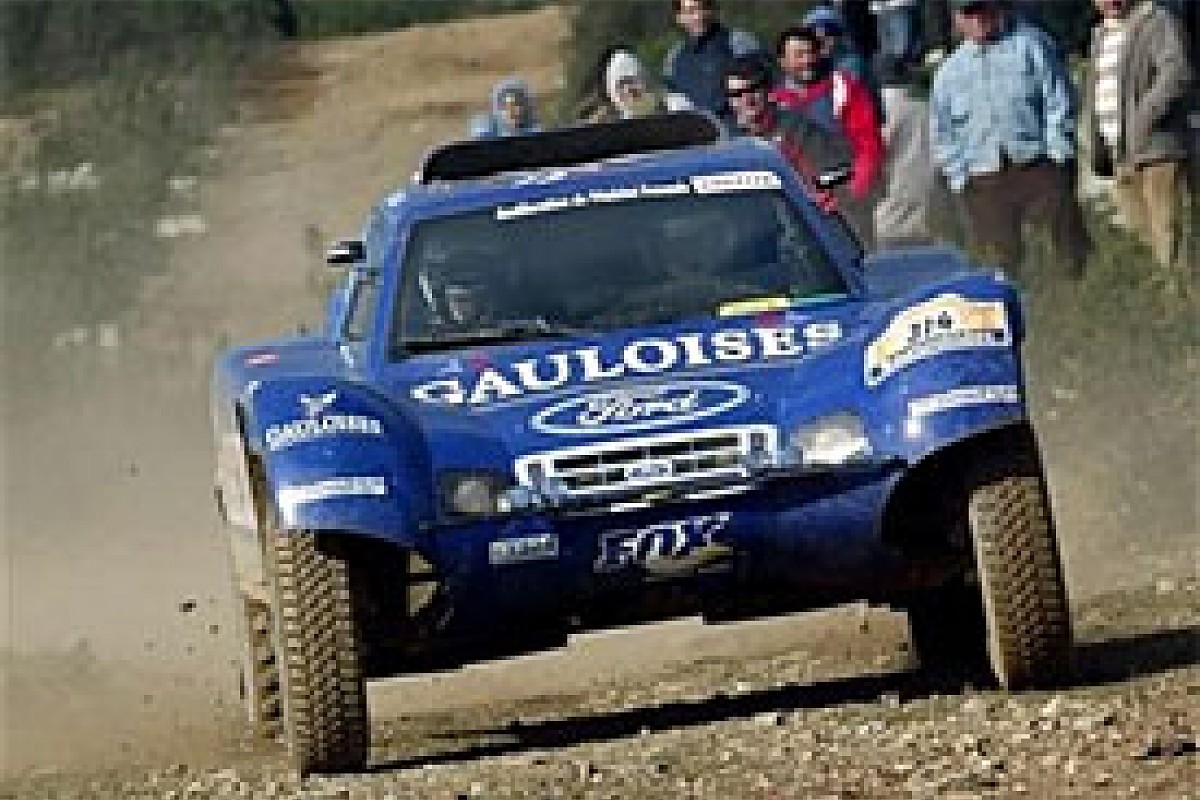 Having competed on cross-country rallies for a good few years, former Formula 1 racer Jean-Louis Schlesser turned his hand to the Dakar in 1989. At that time, four-wheel drive was a must-have for the desert marathon, with Citroen's ZX and Mitsubishi Pajero both providing total traction evidence of why this was the way to go.
Schlesser wasn't convinced. Having spent a racing career with a load of power just over his shoulder and the shove coming from a couple of wheels a shade further back, he decided to apply that theory to the desert. His first space-frame Schlesser-Buggy came with Porsche power, but it was the switch to a Renault motor which really worked. The Frenchman foiled the big names with back-to-back Dakar wins in 1999 and 2000.
4. Porsche 959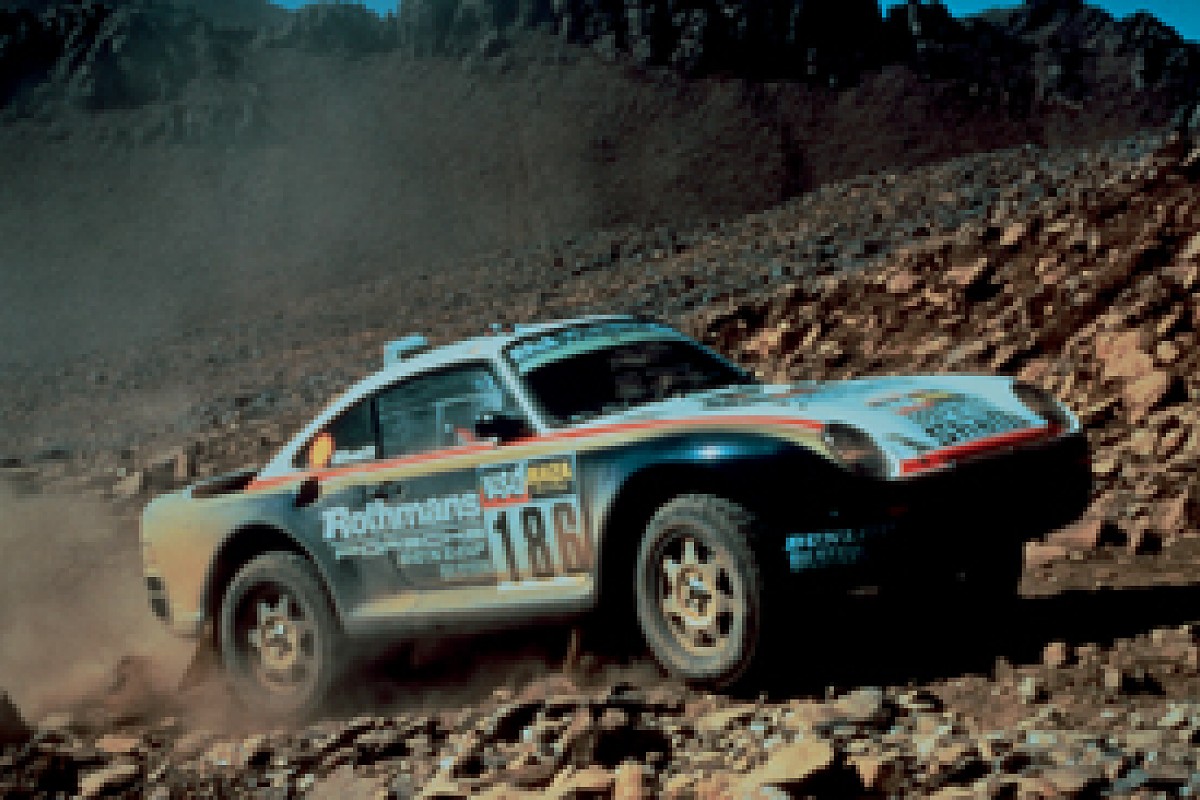 When Group B was banned, Dakar was the one place these stage-readied supercars could still come and fly. The obvious car to pick would have been the 205 T16 E2 which won twice. I'm not going to be obvious.
Not least because when this particular car won, Group B was still up and running.
Porsche's 959 won the 1986 Paris Dakar with Rene Metge driving. In the mid-1980s, Porsche was doing a typical job of dilly-dallying with rallying. Prodrive was fettling some fabulous 911 SC RSs which worked remarkably well, but the big picture was the 959.
The new car took the six cylinder motor and - with the addition of a couple of big blowers - hauled the horses up to around 600. That grunt was channelled through Porsche's trick electronic transmission and the result should have been rallying success. Rallying success was not exactly something which sat well with Porsche's endurance racing pedigree and Stuttgart failed to really embrace the potential.
The 959 was a fabulous thing, though. And, when it was surfing the Saharan sand at close to 190mph, nothing could come close. Especially in Rothmans colours. A thing of true beauty.
5. Range Rover
Back where it all began. Frenchman Alain Genestier was the first four-wheeled victor of the Paris-Dakar and he used British engineering to accomplish that feat.
The car which Genestier used to win that first event shouldn't be confused with the collection of Range Rovers currently residing in premiership football club car parks across the land. The 1979 car didn't have air-cooled seats or cruise control.
It had a V8 lump, bullet-proof transmission and some beefed-up coil spring suspension. The 22 years of experience and technology which had gone into making Land Rover the pride of Coventry (then Solihull) transferred perfectly to the Range Rover when it first rolled off the production line in 1970.
The latest line of Range Rovers might be able to claim all kinds of street cool, sporting all manner of electro-hydraulic genius allowing them to climb sheer rock faces while 'drivers' sip Starbucks.
But, only the first-gen Rangie can claim not one, but two Dakar wins (Genestier made it two from three in 1981).
Count, 'em...