I'm often asked if I get star-struck talking to the really big racing and rallying stars during my microphone-wielding moments throughout the year. And, I'm happy to admit, my answer is invariably, 'Oh yeah!'.
I had two massive moments in 2011 that I've banked for those fireside-with-the-grandchildren chats 30 years from now. And they both involved a couple of really big names.
The first came at September's Goodwood Revival meeting at that glorious spot in West Sussex where the surreal takes over. While conducting a post-race interview on the grid, my intrepid cameraman and producer noticed a commotion building up along the picket fence of the collecting area.
Heading over to see what the fuss was about revealed an apparition that brought on a sharp intake of breath and instant neck-hair obedience. There, sitting on a mint 1960s 500cc MV Agusta grand prix bike, was Giacomo Agostini.
Yes, the slim, silver-haired, suntanned Italian legend who took 15 350 and 500cc world championship titles - 13 of them on Count Vincenzo Agusta's beauties - between 1966 and 1975.
"Quick, let's grab him on camera," suggested producer Mick, while clearing it with HQ on his walkie-talkie.
'Ago' spotted my mic and chasing cameraman and smiled invitingly.
We were on. The sizeable crowd parted, the luscious Playboy bunnies moved back behind him and it was just me and the most famous - and successful - motorcycle racer in the world.
During our impromptu live chat he was every bit the charming and disarming, cheeky and chatty Ago I wanted.
Grazie, Giacomo.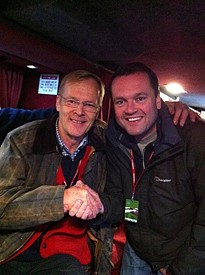 Ari Vatanen with Henry Hope-Frost
Two months later, while performing commentary duties during Britain's World Rally Championship season-closer in Wales, my other massive moment was handed to me on a plate.
Holed-up in a branded tour bus that doubled as Wales Rally FM's home and studio during the four-day enduro, I was on air with co-host Paul Musselle as we waited for cars to return to the service park at Builth Wells showground during the Friday-morning leg.
Suddenly, with no warning, in walked one of the most famous rally drivers of all time: the incomparable Ari Vatanen. The same tall, blond-haired Finn who hurled the Rothmans Escort RS1800 to world-title glory when I was 10.
"Oh my God, it's Ari Vatanen!" I exclaimed, still on air.
The rally could wait. This was a live, one-to-one with an original 'flying Finn' on the official Rally GB radio station.
Ari made himself comfy in the leather-sofa studio area of the bus, grabbed a mic, took a few sips of coffee and began to tell stories, prompted by my deliberately leading questions.
We talked for almost an hour about Escorts, Ascona 400s, 205 T16s, Group B and its lasting legacy, the Argentina shunt that almost killed him, the 1000 Lakes, the old RAC, Kielder forest, the Dakar wins and the early 555 Imprezas. Oh, and a little bit about the European Parliament and the FIA presidential campaign.
When I saw Ari at the AUTOSPORT Awards in early December he shook my hand warmly and said: "People in Finland have told me they listened to our chat on the internet and loved it."
Kiitos, Ari.
Star-struck? Big time. Both times.