Formula 1 rookie Sergio Perez and GP2 race winner Jules Bianchi have both been testing for Ferrari lately - and both are in the frame to replace Felipe Massa when the Brazilian's current deal runs out at the end of 2012.
In this week's AUTOSPORT magazine, we assess the relative chances of the Mexican and the Frenchman, and reveal that there are other names in the running to partner two-time champion Fernando Alonso - and some of them are established grand prix winners.
How Schumacher rediscovered his mojo - Michael Schumacher's results have been pretty decent lately for Mercedes. It points to a resurgence in form for the German seven-time champion, but is it one that can carry him into a race-winning position? Edd Straw assesses the signs. With help from Mark Hughes, he analyses whether Schumacher can ever be the same force he was before he retired at the end of 2006. And, even if he can't be that force, whether he could still win races in the right car.
Life begins at 40 - With 42-year-old Schumacher in the news, it's perhaps timely to look at whether drivers really are over the hill when they clock up their fourth decade. With input from Mario Andretti, Martin Brundle and NASCAR star Mark Martin, Mark Glendenning finds that in some ways it's a state-of-mind thing.
Mark Hughes column - As the F1 circus decamps in Singapore, Mark Hughes reflects on the historical significance of the race to the Renault team in his column. And he wonders whether this year's race could equally prove a landmark event - at least when it comes to choosing its future driver line-up.
Goodwood Revival - Last weekend was Goodwood Revival time, and our resident historic expert Marcus Pye was in West Sussex to bring you his full report. "Now let's see some thunderingly good driving," said Canon Lionel Webber. "Now let's read a thunderingly good write-up," say all of us.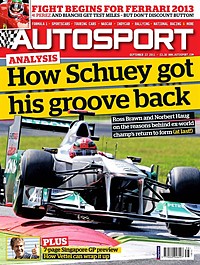 BTCC Rockingham - From the leafy South Downs to a former steelworks site in Corby, and the British Touring Car Championship's visit to Rockingham. Kevin Turner unravels the goings-on on the circuit, even though there was much to distract off-track too.
IndyCar Motegi - Rockingham's Japanese twin-track is Motegi, and it was there that the IndyCar Series continued. Scott Dixon took the victory, and we carry a full report from what looks to have been the series' final visit to Japan.
DTM Oschersleben - Our DTM correspondent Jamie O'Leary seems to have been plagued by wet weather lately. Once again he reports on Audi domination in the rain, this time from Oschersleben, while drying his beard by his laptop.
Formula Renault 3.5 Paul Ricard - Lastly, our Formula Renault 3.5 man Peter Mills doesn't have a beard, although his glasses mist up when it rains. Luckily it was dry at Paul Ricard, so he could watch Jean-Eric Vergne fight right back into title contention against Robert Wickens.
From the archive - In memory of the late Christian Bakkerud, we revisit Mugello 2006 and the Dane's lone British F3 victory.
Race of my life - Former Ferrari star Eddie Irvine had a fair few memorable grand prix performances over his career. So what has he chosen as his Race of my Life? We're not going to spoil it for you by telling you, but be prepared for a surprise.
Read this week's AUTOSPORT digital magazine.