Martin Hines, who died on August 28 at the age of 64, was a hero to three generations of kart racers and, perhaps unusually, many of his contemporaries.
As the man who - with his father Mark - not only sowed the first proper seeds of the industry in Britain, but also nurtured it to maturity through his vision and business acumen, Hines' contribution to the small-wheeled sport was incalculable, his influence within it profound.
Born into a loving north London family that made a very decent living through his father's entrepreneurial exploits in the austere aftermath of World War 2, the teenaged Hines recognised the potential of a pastime pioneered in the USA in the late 1950s. He duly transformed the family cycle shop in Finchley into the fledgling ZipKart concern in 1964.
He had initially wanted to follow in the wheeltracks of 'Uncle' Wally Green, a speedway ace, but as the two-wheeled dream faded (rapidly, following a gypsy's warning of an accident on the road) the burgeoning success of the karting enterprise in the 'swinging '60s' brought exciting opportunities to a young man who was a black belt at truancy from school. As Martin said in the '90s, "the only reason I went at all was to meet girls."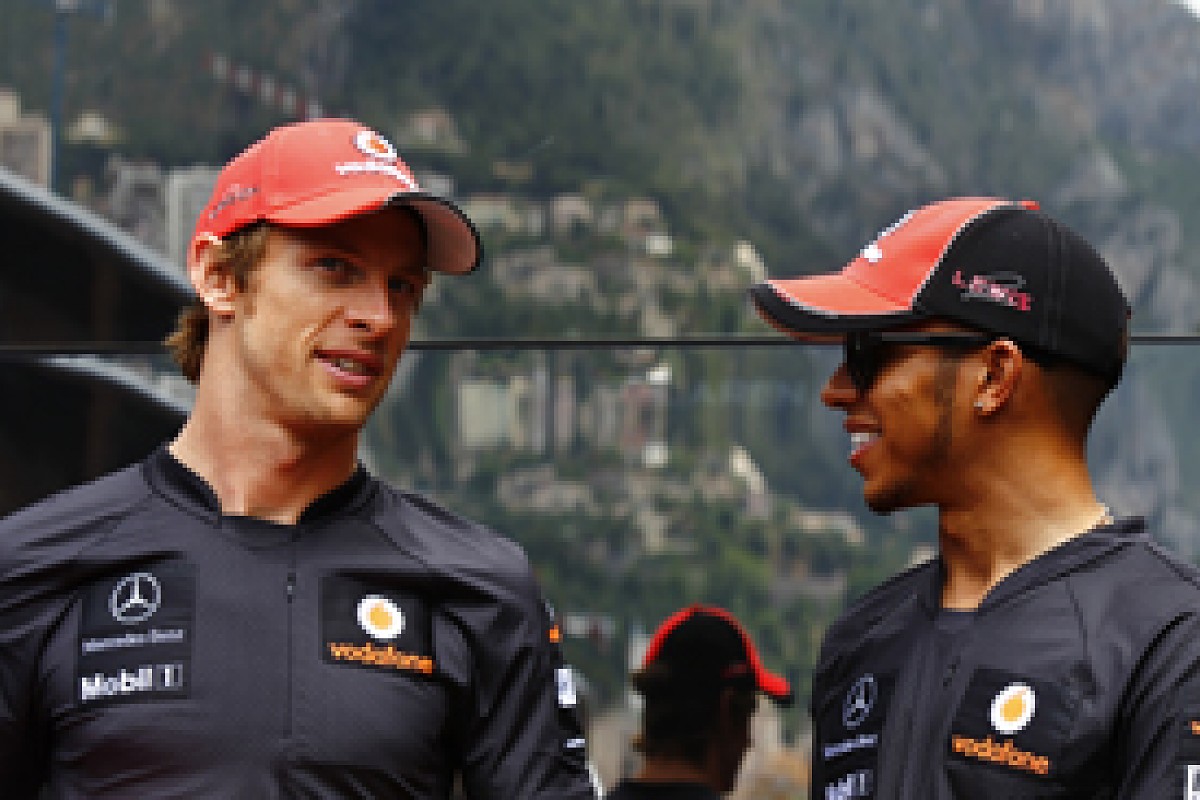 Button and Hamilton were helped by Hines in their karting days © LAT
Whether the fairer sex or karting got him into more trouble was a close-run thing.
Reading his entertaining autobiography Every Split Second Counts: My life with fast karts, fast women and F1 superstars, reveals that he got into plenty of scrapes with both. But that's been true of many a showman and Hines was certainly one of motorsport's finest.
It helped that he always loved being the centre of attention - at least in his public persona, where his flash racing leathers, sharp clobber and taste for ostentatious cars courted that. Those of us privileged to have known him also saw his deeper family side, which could not have been more different. No gift to husbandry in his earlier gallivanting years, he adored his parents and his three children, of whom he was fiercely proud.
The fragility of life, however, was underlined by a spate of bitter blows in the late '80s. The death of his father was followed by that of his beloved first-born daughter Kelly - aged 13, of leukaemia - the shock of which also took his mother just four months later. As countless ultra-successful businessmen have found, personal tragedy (particularly the loss of a child) illustrates the impotence of money and redefines lives.
Hines' own life had hung by a thread in 1991. Only by his supreme faith and determination to be around to see racer son Luke and daughter Tuesday - his offspring by second wife Tina - grow up, coupled with the skill of his surgeon, did he come through a terrifying bout of cancer, and race on. Ideed the inaugural 250cc Formula E Superkart world champion of 1983 won his second global crown (at the end of a three-round competition) within months of the radical and rarely-performed operation that gave him a 20-year bonus.
The multiple British champion defended it the following season, but of all his successes his last was perhaps the most remarkable. Hines broke a nine-year layoff by winning the CIK-FIA European championship in 2002, aged 46. It completed an odyssey in which he bagged European crowns in five successive decades, his '69 result being on a 100cc direct-drive machine.
Hines was a master of professionalism and his straight-speaking no-nonsense approach - and ability to deliver extraordinary PR value for money - earned him wonderful sponsorship deals, most notably with Hermetite, which he lured with a £500 product-only bait and kept for 13 increasingly lucrative years.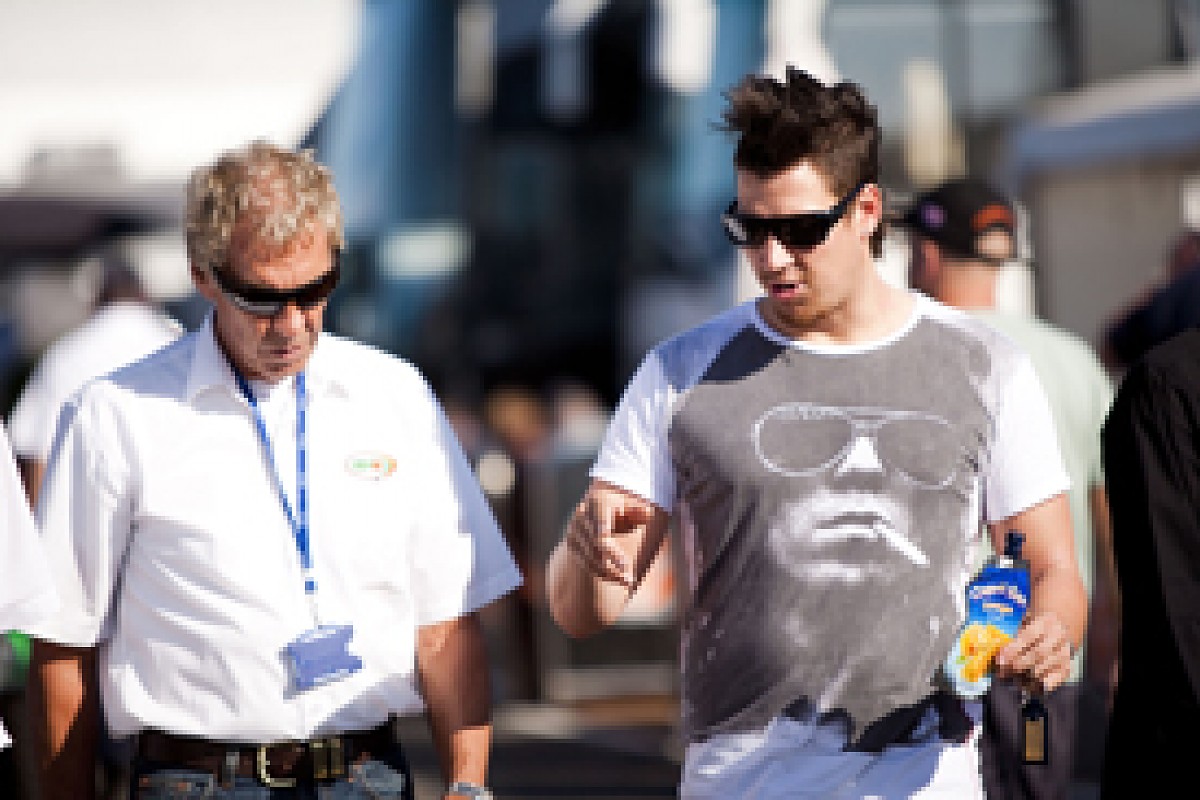 Hines was the number one supporter of his son Luke © LAT
On several occasions ahead of the British Kart GP at Silverstone he gleefully despatched journalists round the full Formula 1 circuit in the awesome 250cc Formula E Superkarts he pioneered. How could I ever forget hitting 150mph on the Hangar Straight and taking the old Stowe with just a dab on the brakes and one downchange? A priceless experience and a remarkable hands-on insight into an amazingly physical sport. My respect for Hines and his rivals grew immeasurably as a result.
Subsequently, of course, he turned his attentions to nurturing the careers of fledgling racers from the Cadet classes up, as kart builder, team chief and championship promoter in league with his friend Ron Dennis of McLaren. While F1 stars David Coulthard and 2008 world champion Lewis Hamilton are his most celebrated proteges, DTM title winner Gary Paffett, BTCC champ Jason Plato, Oliver Turvey and Jamie Green are among many Young Guns who have made it with his help.
Royalty or roughneck, karting was a classless society in Hines' mind.
Hundreds more youngsters have had cause to be grateful for his experience, friendly deals and generosity over the years and will hopefully go on to help others in a similar spirit. Nothing would please Hines more, for beneath the flamboyant racer was a very decent man for whom in later life family values were vastly more important than trophies or wealth.
He loved putting things back into motorsport and, having branched into magazine publishing with Kart and Superkart; and become a racing car manufacturer with the Zip Formula concept in different eras, had big plans for the established Grand Prix Racewear business he took over in 2009. He also enjoyed all too infrequent historic touring car outings in his BMW 1800Ti.
In a world where too many of today's racing stars are increasingly bland, their personalities repressed by the apparent 'PR speak is king' mantra, Hines could not have been more different. He understood the sport from every angle - serving on RACMSA karting committees for many years - and with his pithy one-liners and inexhaustible fund of stories, usually controversial and often told against himself, was a joy to journalists.
The magnetic personality, improbable permatan, salt and pepper hair, London drawl and snorting laughter may be gone, but 'Mr Karting's legacy is immortal.
Martin Hines was a total one-off who will never be forgotten. Like those of so many around the world whose lives he touched, my thoughts are with Tina, Luke and Tuesday at this time.