Sebastian Vettel capitalised on a risky tyre strategy in Monaco to take his fourth grand prix win from five races this season, but that was just the start of the action in the Principality.
Mark Hughes looks beyond the timesheets to explain how the Monte Carlo race really panned out as the teams and drivers battled to find the right approach to F1's ultimate street fight.
While Vettel's battle with Fernando Alonso was one to savour, there was no shortage of added spice elsewhere in the field, and Hughes finds the stories behind the stories for everything from Lewis Hamilton's ill-fated scrap with Felipe Massa to the real ramifications of Red Bull's pitlane blunder.
Mark Hughes column - Our grand prix editor delves into the legal decision over the use of the Lotus name and tries to untangle why both sides are claiming victory.
Indy 500 - Britain's Dan Wheldon claimed a dramatic win in the centenary race at the Brickyard. Andrew van de Burgt was at Indianapolis Motor Speedway to see JR Hildebrand get it all wrong at the last corner.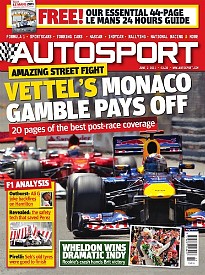 WRC Argentina: Sebastien Loeb got himself a penalty on day one, but still managed to win. David Evans was in southern Argentina to watch a succession of would-be victors shoot themselves in the foot and add another win to the Citroen star's 20-page CV.
GP2 Monaco - A string of inept crashes in qualifying made for a shaky start to GP2's visit to Monaco, but AirAsia driver Davide Valsecchi held it together when it counted to claim the feature race win. But Glenn Freeman wants to know how Romain Grosjean could have had such a terrible weekend and still come out as joint points leader.
Formula Renault 3.5 - An Australian wins for Red Bull in Monaco, but it's not Webber. Daniel Ricciardo put on a lights-to-flag display in Monte Carlo, and our correspondent Peter Mills was impressed.
From the archive - With the DTM heading to Austria this weekend, we jump into the time machine and revisit Marcel Fassler's dramatic win at Spielberg in 2002 with 'Mr DTM' Bernd Schneider.
Race of my life - Peter Dumbreck won the 1998 Macau GP by such a tight margin that he wasn't even sure that he was the victor until he'd clambered out of the car. He shares the story.