It was a weekend of title deciders as the Historic Sports Car Club, British Racing and Sports Car Club and the 750 Motor Club were among those to crown champions
Championships were concluded and new winners crowned at Silverstone in a fast-moving procession of clean, celebratory races at the Historic Sports Car Club's Finals meeting.
Luke Stevens secured an emotional victory in the Guards Trophy. George Douglas, owner of the winning Ginetta G16, had allowed his younger - and faster - co-driver to run the whole race, and Stevens handed his trophy to an overcome Douglas at the end.
Stevens had capitalised on a first-lap spin by polesitter Robert Tusting's Lenham P69. Both Stevens and second-placed Andy Newall (Chevron B6) timed their pitstops perfectly to stay ahead of the chasing pack. James Dodd, in another G16, was closing on Newall but did not have time to make a move, his father and co-driver Graeme admitting he had left Dodd Jr with "too much to do".
Benn Tilley won the Classic Formula 3 title on his first attempt, finishing with a second and third place in his March 743. He didn't need to push for wins, so took a safe and steady approach to secure the crown.
Conor Murphy won the first race in his March 803B, after initial leader Tony Hancock (Lola T670) dropped back and eventually retired with a flat battery. Tilley was promoted to second by the demise of Andy Smith's March 783, while Steve Maxted was third in a Ralt RT3 after Matt Wrigley's Chevron B38 had a late spin.
Fortunes were reversed in the second race, with Smith triumphant and Murphy out after only three laps. Hancock also made it to the end this time, in second place. Tilley could not launch a late charge for second as the race was red-flagged after Paul Smith's RT3 lost a wheel at Copse.
Smith made up for his initial F3 disappointment with a clean sweep of Formula 2 wins in his March 742. Wrigley (March 782) overhauled Matthew Watts' Martini for second early on in the opener before Smith and Wrigley again led the second race home. Watts was passed in the opening stages by Rob Wheldon (March 762) and Mark Dwyer in a March 742, and Dwyer briefly bested Wheldon but could not make it stick.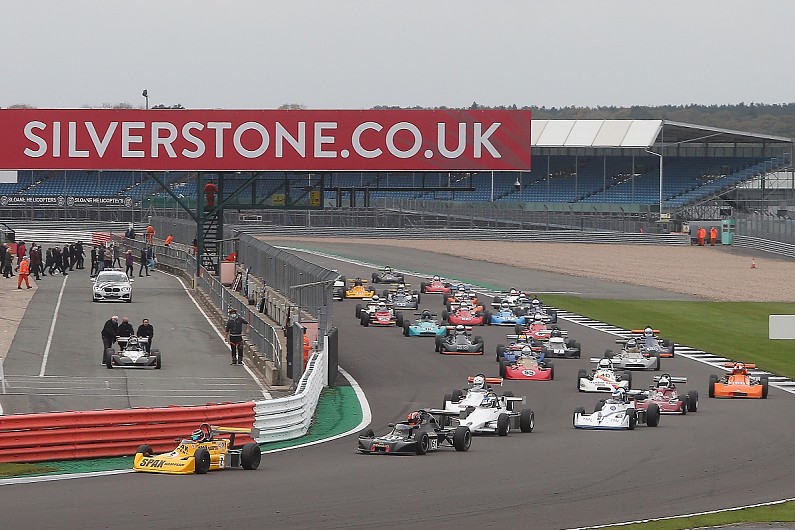 Benn Simms (Reynard SF77) and Callum Grant (Delta T81) set up a close battle in Formula Ford 2000 qualifying as they were separated by a thousandth of a second. But the races themselves were not as closely run, with Simms winning comfortably both times and breaking lap records over the weekend.
The second race was disrupted by a red flag to retrieve a pair of crashed cars at Becketts. Simms won by over 10 seconds from Graham Fennymore's Reynard SF81, as Grant - second in the opener - retired with a broken CV joint. Peter Drennan cruised to the championship win with a fifth and 11th place in his Reynard SF79.
There were no safe and steady performances for Cam Jackson in the rear-engined Formula Junior bout, Jackson winning his first FJ championship in a Brabham BT2 with two confident victories. Both races had an identical top three of Jackson, Andrew Hibberd (Lotus 22) and Peter de la Roche (Lola Mk3).
Jeremy Clark wrapped up another 70s Road Sports championship in his Lotus Elan, despite only finishing fourth. Race winner Kevin Kivlochan, in his familiar Morgan +8, finished equal on wins but missed out on the extra points on offer for driving the car to the circuit. Kivlochan had capitalised on a clumsy start by Dave Karaskas and was never seriously challenged thereafter, even when he accidentally slowed down a lap too early at the end.
Kivlochan, in his AC Cobra this time, also won the Historic Road Sports race from Richard Plant's Morgan. He had been challenged by the Morgan of Robin Pearce, and Pearce even led briefly, but he made a mistake trying to pass a backmarker and slipped to third.
The first Historic Touring Car outing had its share of tussles, with Dan Williamson's Ford Falcon leaping into the lead from fifth on the opening lap. Richard Dutton kept Williamson honest in his Ford Lotus Cortina, but could not get within range. Mark Davenport (Ford Mustang) challenged early but had car trouble and slipped back.
Williamson had to sit out the second race with an overheated engine, and Dutton took advantage to win, ahead of the sister Lotus Cortina of Neil Brown. Further back, class wins in both races were enough for Steve Platts to seal the crown in his Singer Chamois.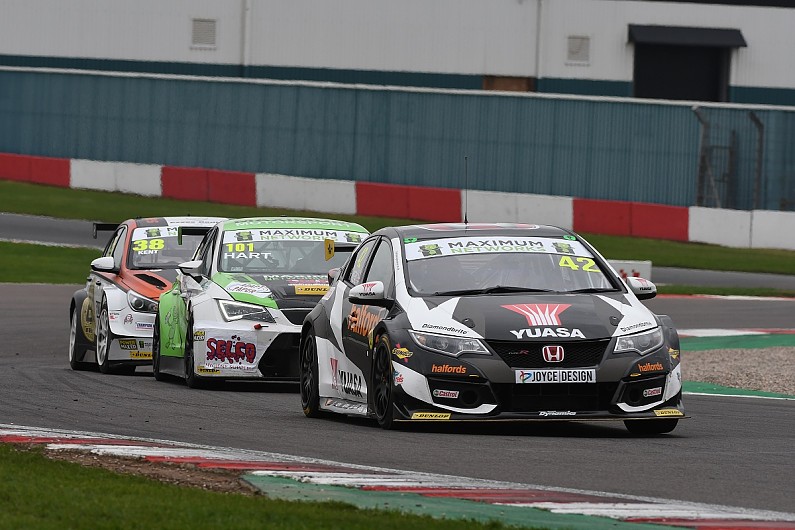 Donington Park BRSCC: Another Neal takes a title in a Honda
The Touring Car Trophy championship battle went down to the wire at Donington Park as Henry Neal prevailed over season-long rival Lewis Kent. The pair had matched each other's results going into the weekend, with Neal, son of triple British Touring Car champion Matt, marginally ahead thanks to his better qualifying scores.
Kent hit back by putting his Hyundai i30N on pole position for race one of the series' first triple-header but, from the outside of the front row, Neal overcame his ex-BTCC Honda Civic's startline Achilles' heel to lead - twice, after a first-corner accident led to a restarted race - following the early skirmishes. From there he drove to an 11-second win as Kent was forced to battle with the Cupras of Max Hart and series debutant Sam Osborne before claiming second.
Neal was made to work harder for his second win, eventually benefiting from Osborne's second driveshaft failure in as many races and holding off Kent's determined challenge. Needing little more than to finish race three, Neal still got embroiled in a scrap with Kent and the feisty Hart, who finally broke the Neal/Kent domination of the top two steps of the podium with his first win. Second was more than enough to seal the TCT crown for Neal, with Kent's third confirming him atop the TCR UK section.
"I'm over the moon, absolutely psyched," beamed Neal behind his facemask. "To do it in my dad's ex-car is the best thing ever."
Andy Wilmot intended to skip the final Volkswagen Cup weekend after a hectic BTCC schedule as Trade Price Cars Racing's team manager. But some persuasion from Team Hard boss Tony Gilham, and a switch to the squad's VW Golf, resulted in him winning the title! Three top-four finishes were enough for Wilmot after his main rivals hit trouble. Pre-weekend points leader Richard Gilbert's hopes were dashed by collecting a spinner and his own off, while Bradley Kent suffered engine gremlins all weekend. A hat-trick of wins went to Jack Depper (below), on his first appearance of the season, securing the series' Tom Walker Memorial Trophy in the process.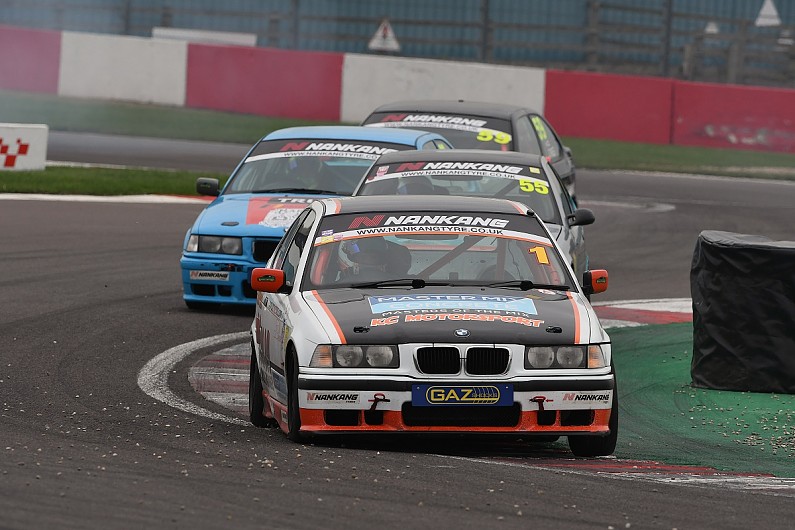 Engine issues in the second BMW Compact Cup race could not prevent Steven Dailly securing a fourth consecutive title as he hauled his car home fourth on the road following a comfortable win ahead of main rival Tom Griffiths in the opener. Griffiths ended the season with victories in races two and three, Dailly closing fast in the latter after an engine change.
Carlin Formula 2 mechanic Guy Davis was delighted with a maiden podium in race one, but Wayne Flint was arguably the star. Skewed rear-tracking following a knock at Brands Hatch left Flint 22nd on the grid, but stirring drives took him to seventh in race one and a race-two podium before exclusion for not releasing his car for post-season scrutineering.
A year on from his racing debut in the corresponding meeting, George Alp-Williams took a maiden win in the Civic Cup after passing Bruce Winfield mid-race. Continuing his run of finishing first or second in every event secured Winfield the title after championship challenger Alistair Camp retired with a broken gear cable, and he celebrated in style with a commanding win from ninth on the grid in race two.
Joseph Loake stretched his Fiesta Junior winning run to six races, but perpetual runner-up Will Orton pushed him harder than ever, finishing within half a second in race two. Having qualified second, Jenson Brickley was thwarted by a broken master switch in the opener before carving through the pack to claim a maiden podium later on.
Ben Lopez-Appleton held off Lars Hoffmann and Harry Cook in two typically close Caterham 270R finishes. Blair McConachie twice took Roadsport honours, with Carl Jones producing an amazing recovery to second from a startline spin in race two.
After Domenique Mannsperger and Chris Skillicorn won the final rounds of the Caterham Academy's White and Green groups respectively, already confirmed champions Taylor O'Flanagan and Tom Cockerill rejoined the fray for Sunday's combined Autumn Trophy clash. While O'Flanagan topped their duel, both were beaten by Mannsperger.
Having dropped from second to fourth early on, W Series racer Jessica Hawkins powered her Ford Fiesta ST Turbo to a comfortable success in the Clubsport Trophy race, which ran into dusk.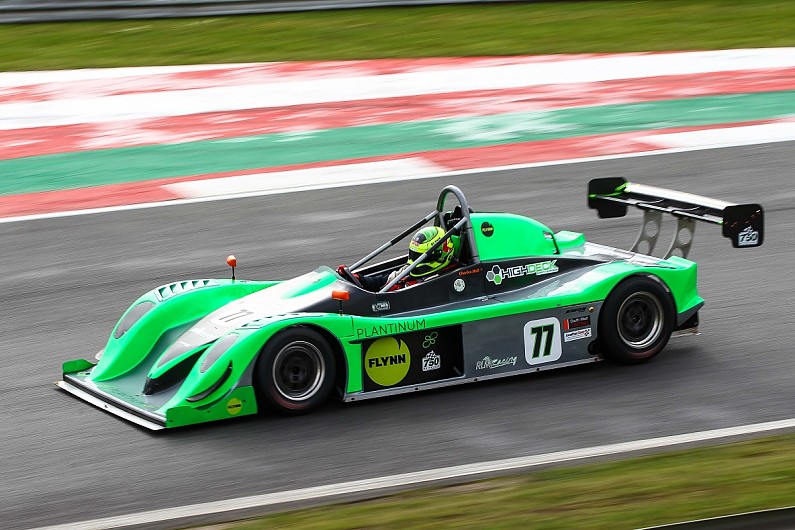 Snetterton 750MC: Hall among the champions crowned in Norfolk
The first Bikesports race of the championship showdown proved to be a duel of tyre strategy on the damp-but-drying Snetterton surface. Charles Hall qualified on pole using brand-new wet Michelins on his Spire GT3, but had opted for slicks come the race just 90 minutes later, while Anthony Ayres started beside him with wets on his Radical SR3.
The wets seemed to be the optimum choice initially as Ayres slithered into the lead on the exit of Wilson on the first lap. The pair scrapped for the next tour, Hall making the most of the speed on the Senna Straight before Ayres snatched the place back with the better grip in the sodden Riches right-hander.

But, after Hall's tyres warmed up, he made the same pass on the straight and crucially held it into Riches, eventually winning by 11.75 seconds from Richard Webb, who robbed Ayres at Agostini.
Rather than an easy cruise to the title, Hall had to endure a nervy 20-minute second race as Martin Brooks shot past on lap four of 11 in his Radical PR6, while Webb also grabbed second two laps from the end. Hall scraped home third, after nursing a left-rear tyre-valve failure to the end, to narrowly take the title. "I was just thinking about what I needed to do this time," he said. "I had to let go of the win and just get it home."
Local driver Robert Welham turned around his engine-frustrated season in F1000 to score two wins. In race one he resisted Dan Clowes, energetically punching the air after crossing the line just 0.6s ahead of the triple Silverstone winner.
In the damp Sunday morning race, it was Ma7da regular Ben Powney and Welham who provided the entertainment. Powney was mugged from pole by Paul Butcher and Lee Morgan off the start but, having scoped out the wet wide line at Riches on the green-flag lap, used it expertly to pass both on lap one for the lead.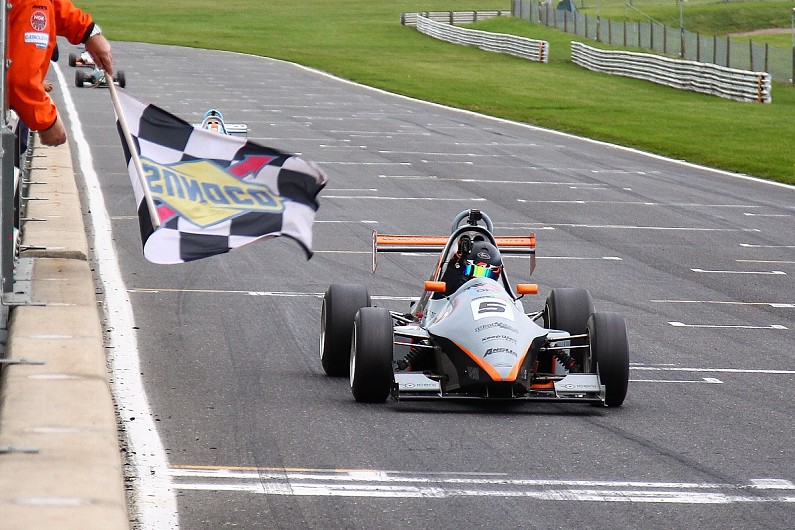 Welham started from eighth and was already in the podium positions by the end of lap two, and shrewdly used the wet line at Agostini to pass Morgan and then the outside of Riches a lap later for the lead, even while managing a clutch issue.
Lee Morgan was the strongest at the start of race three to soar from fifth to first and comfortably win. Welham dropped to seventh from pole at the start but was battling with Clowes and Elliott Mitchell in Agostini for third. Clowes snuck through a small gap on the apex left by Mitchell but, when Welham attempted to follow, he tagged Mitchell, which ended up flipping the car over. Welham stopped to help extricate Mitchell, who walked away unscathed.
A spin for Richard Morris at Oggies in the Sports 1000 race proved decisive in his title fight with Ryan Yarrow. Morris (Spire GT320S) had been leading on the penultimate lap when he spun, gifting Yarrow (GT3S) the win. Morris had a spirited second race in which he recovered to second on dry-weather tyres from dropping to 12th at the end of the first lap. While Morris finished ahead of title rival Yarrow on wets (fifth), Rich Miles was a long way up the road for the victory.
Roadsports was a battle of the German marques as the BMWs took on Porsche. Hugh Gurney won in an E46 M3 by 20.25s from the Cayman of Warren Allen, who had engaged in a titanic duel with the David Gardner/Chris Mills M3 on the penultimate lap. Silverstone winner Bradley Philpot challenged for the lead early on in his Lotus Elise, but spun on the Bentley Straight on lap four with a suspected engine-mount breakage to end his day early.
BMW Car Club Racing debutant Stephen Scott-Dunwoodie elevated himself from eighth to first in just two laps in race one, having changed the gearbox on his E46 M3 between qualifying and the race following an oil leak. He made a marvellous start to make the top three, taking a lead he didn't relinquish on lap two with a late-braking move into Riches past Paul Cook.
Race two belonged to Michael Cutt (E36 M3), but that wasn't without a nudge with Michael Pensavalle into Hamilton early on, Cutt winning from Rick Kerry and Cook.

Reports by Rachel Harris-Gardiner, Mark Paulson and Jason Noble. Pictures by Mick Walker, Steve Jones and Richard Styles. Want the full picture on last weekend's national racing, including more event reports? Subscribe today and never miss your weekly fix of motorsport with Autosport magazine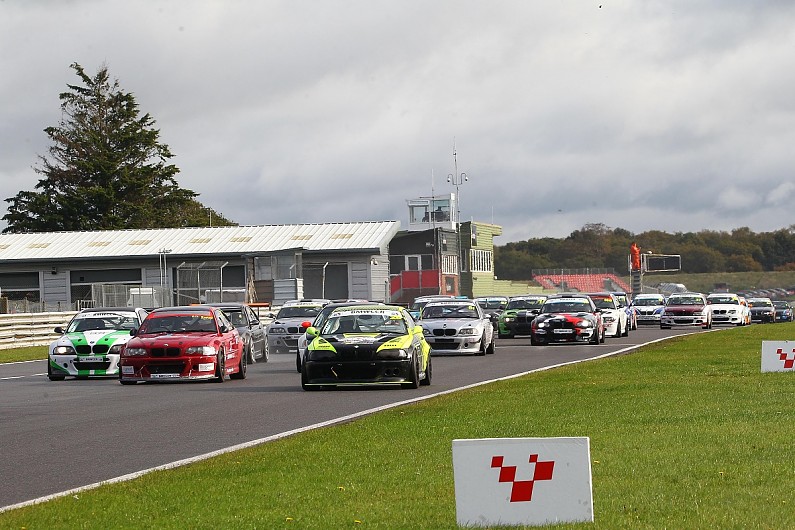 Autosport has produced a standalone special magazine to celebrate our 70th birthday. All current print subscribers will receive a copy for free. To order your copy of the 196-page Autosport 70th Anniversary issue, please go to: autosport.com/autosport70th