Stepping into the ultra-competitive Mini Challenge JCW series with zero racing experience is a difficult challenge for anyone. But for Stuart Gibbs, it was just the latest step of "rehabilitation".
The Bodmin-based 49-year-old, who spent 14 years in the army that included tours in Northern Ireland and Bosnia, races with a prosthesis after a motorcycle accident in 2012 required his left leg to be amputated two years later.
The compensation payments helped fund a long-held passion to get started in racing in 2017 - "I was a massive Andy Rouse fan - who doesn't like Andy Rouse?".
Three years on, having started at Oulton Park without any testing, Gibbs has grown in confidence, although his championship placing doesn't reflect his progress.
"On paper, it looks like I had a really bad season," said Gibbs, who finished 24th after switching from ExcelR8 to JamSport for 2019. "But I had six DNFs and without that, I would have been around 13th in the championship.
"At Donington, I went nearly eight seconds quicker than last year and at every track, I went at least four seconds quicker than last year, so my confidence with the car is a lot better.
"The first season was really just learning the tracks and the car. It's been a steep learning curve, I got lapped and sometimes it was quite embarrassing, but you've got to start somewhere.
"I just thought, 'what have I got to lose? I've been through hell with the forces and again with my leg. If I go in at this level and keep plugging away at it, then I'll get a lot better' and that's what's happened."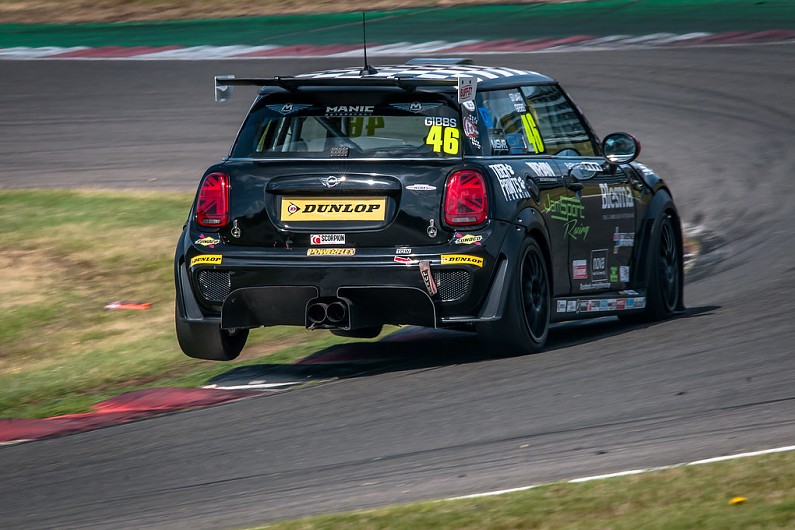 Gibbs has been coached by 2018 JCW champion Ant Whorton-Eales and British Touring Car Championship racers Tom Ingram and Bobby Thompson and relishes being treated as any other driver would.
Unlike disability pioneer Alex Zanardi, a double-amputee who races with a hand-controlled throttle and brake system, Gibbs' Mini is unmodified, and he has had to master the art of heel-and-toe braking and acceleration with his uninjured right leg.
"I want to be like everybody else, although obviously I'm not like everybody else," he says.
"The nice thing is they treat me like a normal racing driver, they know about my leg, but they don't use it as an excuse.
"The best advice I've had was to try and leave your problems behind as you walk through the gates of the circuit because you unwittingly take it with you in the car and it slows you down without realising.
"There will always be a stigma with disabled drivers and people will always have their own opinions. But we're not dangerous and we go just as quick as anybody else."
Having led an active life prior to his accident, losing his leg was a major blow to his freedom and came with hidden challenges too.
"People look at the leg and say, 'he's only missing a leg', but they don't know that I've got a scar going all across my back or that my hips are displaced," he says.
"I suffer from phantom pains which goes away as quickly as it comes, but the pain sometimes can bring you to tears. No amount of pain-killer takes it away, but you can't see me behind my visor so it's OK.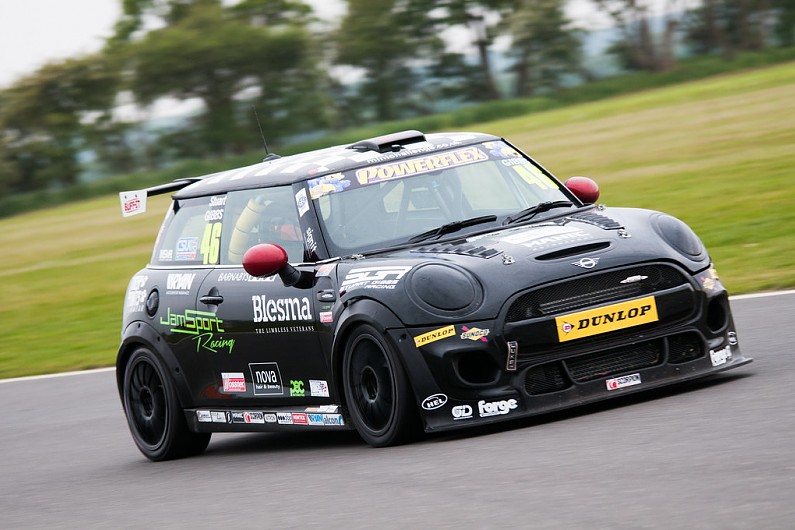 "I want people to understand that they can come and talk to me and the more you do it, the less you'll notice that I'm disabled.
"I need people to know that I've got five sausage dogs, I've got a fiancee and the future is looking bright."
The fruits of his determined efforts were on display at the Mini Festival at Brands Hatch in July, where Gibbs and Lewis Galer had a race-long duel over 18th place.
It may not have registered in the headlines, but for Gibbs it was a marker of just how far he had come, having learned the art of racecraft from scratch.
As a bonus, his fastest lap was just over a second off the best of the race.
"We were battling all race long, nose-to-tail, and that's what it's all about," he says. "You don't have to be on the podium to have a massive smile on your face.
"I've had a lot of fun learning and I know next year I'll be even better on track with my racecraft because I've now got another season under my belt."
The JCW championship switches to the TOCA package next year supporting the BTCC and, for Gibbs, it will be one step closer to his dream of becoming the first amputee to compete in Britain's biggest domestic championship.
"Next year will be JCWs as long as I can find the sponsorship, and with any good fortune we'll have a much better season than this season," he says.
"If it all goes well, then the ultimate goal is to move up to touring cars.
"Nicolas Hamilton did a pretty good job, but I'd like to go there and do an even better job.
"I'd like people to understand that even if you're disabled, you can do whatever you want and achieve whatever you like."