A colourful and incident-packed IndyKa 500 race brought the Brands Hatch season to a close in darkness last Sunday.
All images: Gary Hawkins
Victory, after 432 laps in 500 minutes - or eight hours 20 minutes - went to JTR's Nick Tandy and co-drivers James Rhodes, Elliot Mason and Lewis Selby.
Tandy ended a short opening stint by stopping early to refuel and swap drivers during a safety car period. This helped the JTR team to overcome a two-lap penalty for a refuelling infringement to finish four laps in front on the road that was reduced to a two-lap victory margin.
The Le Mans winner completed more than 100 laps in darkness on his dash to victory, setting the race's fastest lap on the 365th tour.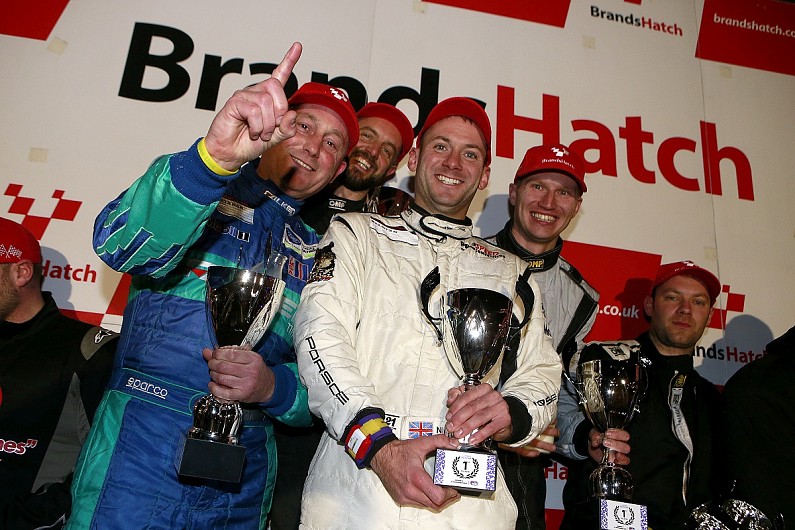 Second was taken by Octane Junkies (Adam Smith, Martyn Smith, Laurence Wiltshire and Barry Ward) after a major setback for the team when its race-leading car punctured on debris from an early incident while leading and dropped to 18th after an hour.
Another lap back in third came Matt Hibberd, Nick Holmes and Stefan Marsh for Club Racing UK, with the trio delighted with their first top three finish, and so astonished they had to ask for directions to the podium.
One of the many hard luck stories of the race affected CHR Motorsport, a favourite for the podium and a very possible victory after Stratton Mackay, Dave Mayer, Paul Robson and James Rankin put in a stirring performance until Mayer put the car off at Clearways with two hours to go.
In another high-profile ending, less than 10 minutes before the end Mark Mathieson put the car shared by ex-McLaren Formula 1 team boss Eric Boullier among others on its roof at Clearways.
The race was punctuated by 10 safety car interventions and a long list of penalties, mainly for track limits and refuelling misdemeanours.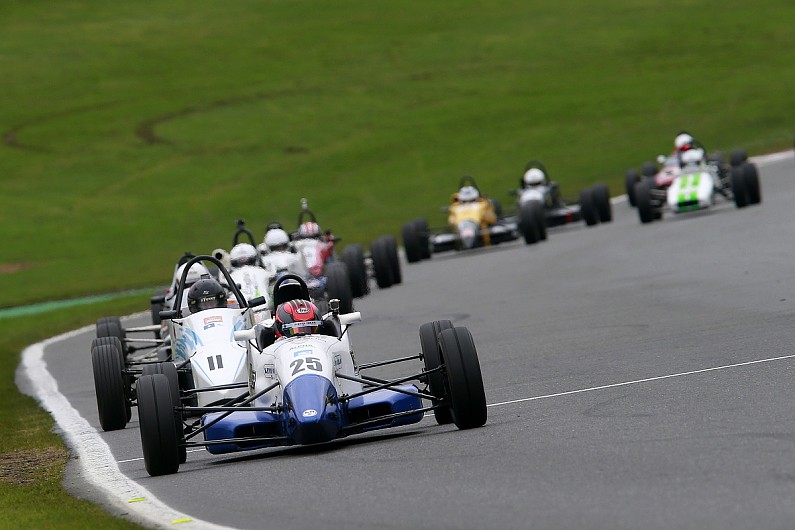 Champion of Brands: Maclennan sweeps to third and fourth wins
Neil Maclennan (Spectrum) cruised to his third and fourth Champion of Brands victories on Saturday, with his race one-winning margin limited only by two caution periods to remove stranded cars.
Both races featured gripping duels for second place involving Richard Tarling's Jamun and the Van Diemen of Oliver White. White's brief excursion in race one dropped him to fifth, promoting Castle Combe regular Tom Hawkins to a surprise third place.
While Maclennan headed into the distance in race two, White probed Tarling's defences until finally edging alongside at the final corner to take second by 0.062 seconds, or well under a car's length. Tarling said: "Every time, he got a better line out of Clearways and just tucked his nose up the inside on the last lap, and I couldn't chop across."
Trackday Championship: Pitstop penalties cost Davis
A stop-go penalty for making his pitstop two seconds short cost Ben Davis (Renault Clio) the Trackday Championship title, although he graciously conceded that Scott Parkin (SEAT Ibiza), second in the race, was a worthy champion. Caterham racer Chris Payne said he "drove like an idiot" in wet qualifying, but charged from 23rd on the grid to win in the dry.
MSV Supercup: Goes holds on to take the title
Darren Goes (SEAT Leon) successfully defended a small MSV Supercup points lead, doing the necessary mental arithmetic as he drove around to take third in class, fifth overall and the title.
Colin Tester and Hugh Gurney steered a BMW M3 to victory over the Nissan 370Z of World's Fastest Gamer 2 winner James Baldwin and 2013 GT Academy victor Miguel Faisca. Minutes later, the Nissan duo won the Trackday Trophy by more than a lap on a crowded circuit.