Susie Wolff's Dare to be Different initiative and the Motor Sports Assocation hosted the UK round of 'The Girls on Track' karting challenge at Silverstone on Sunday.
Created by the FIA Women in Motorsport Commission, The Girls on Track gives girls aged 13-18 the opportunity to compete for free in a kart slalom contest, with the best drivers going through to a European final at Le Mans in 2019.
Previous rounds have been held in countries including Belgium, Portugal and Slovenia.
The Silverstone track was set up outside the circuit's Wing building, and included slalom elements and an almost 360-degree corner. The event was attended by 120 girls, 20 of whom were put through to the next round.
They were a mix of complete newcomers who had never sat in a kart before, girls who had done some karting and experienced racers.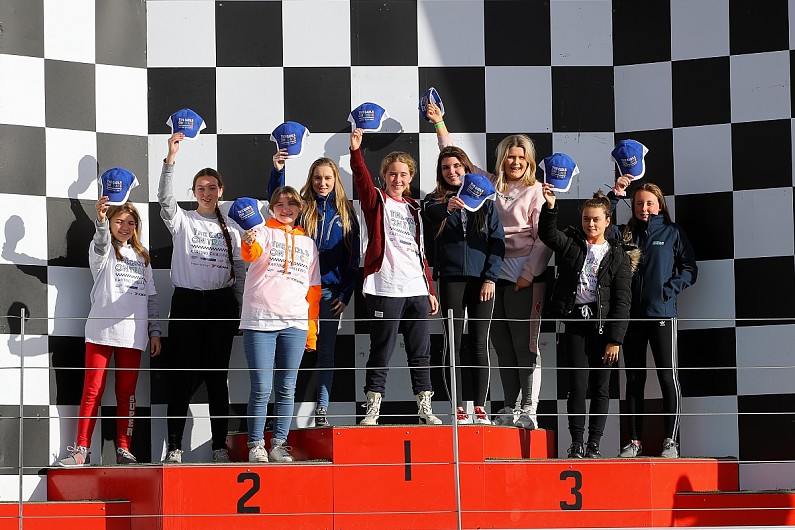 The successful drivers were picked from the fastest of the experienced and novice girls.
Former cadet karter Brooke Childs, 15, was one of the selected drivers.
"I didn't know what to expect from it," she said. "I was a bit apprehensive before I did it, but I'm really happy I've done it.
"I think it's a good opportunity for all the girls to be getting back into sport."
Chloe Ansty was one of the complete rookies out on track, driving a kart for the first time.
"The first turn [on the course] I was getting used to it, and the second turn, I was getting faster each time," she said.
"Not many girls are into motorsport and racing, and I just want to do that."
Arguably the most experienced racer was 18-year-old Katie Milner, who raced in the Ginetta GT5 Challenge this year.
"I've never really got into karting. I've only ever done it at corporate events," said Milner.
"It's something different, and I want to get my foot into as many doors as I can."
As well as the karting challenge, groups got to experience how to change a Formula 1 wheel, science and engineering challenges, a road safety task and talks with female employees of the NIO Formula E team, Prodrive and Renault.
D2BD ambassadors Jamie Chadwick, Alice Powell, Nathalie McGloin and Louise Goodman were on hand to provide support.
Chadwick, a BRDC British Formula 3 race winner, was impressed by the standard of driving.
"There's definitely some talent out there," she said. "It's something I would have loved to have been involved with early in my career.
"A lot of us that have been involved in the sport for a long time are very much the only females in our chosen area.
"For us to be involved with so many other girls in a bit of a community is really nice. They'll meet so many people."
Images courtesy of Ian Hopgood