Formula Ford is the greatest junior racing category of all time, launching the careers of hundreds of drivers, from Ayrton Senna to Jenson Button.
The category is 50 years old in 2017, and Autosport and Ford have been celebrating the landmark in a number of ways this season.
The 46th Festival took place at Brands Hatch earlier in the month and the ever-popular Walter Hayes Trophy will be contested at Silverstone on November 4-5. Now seemed the perfect time to ask some stars past and present for their memories of Formula Ford, and the Festival in particular.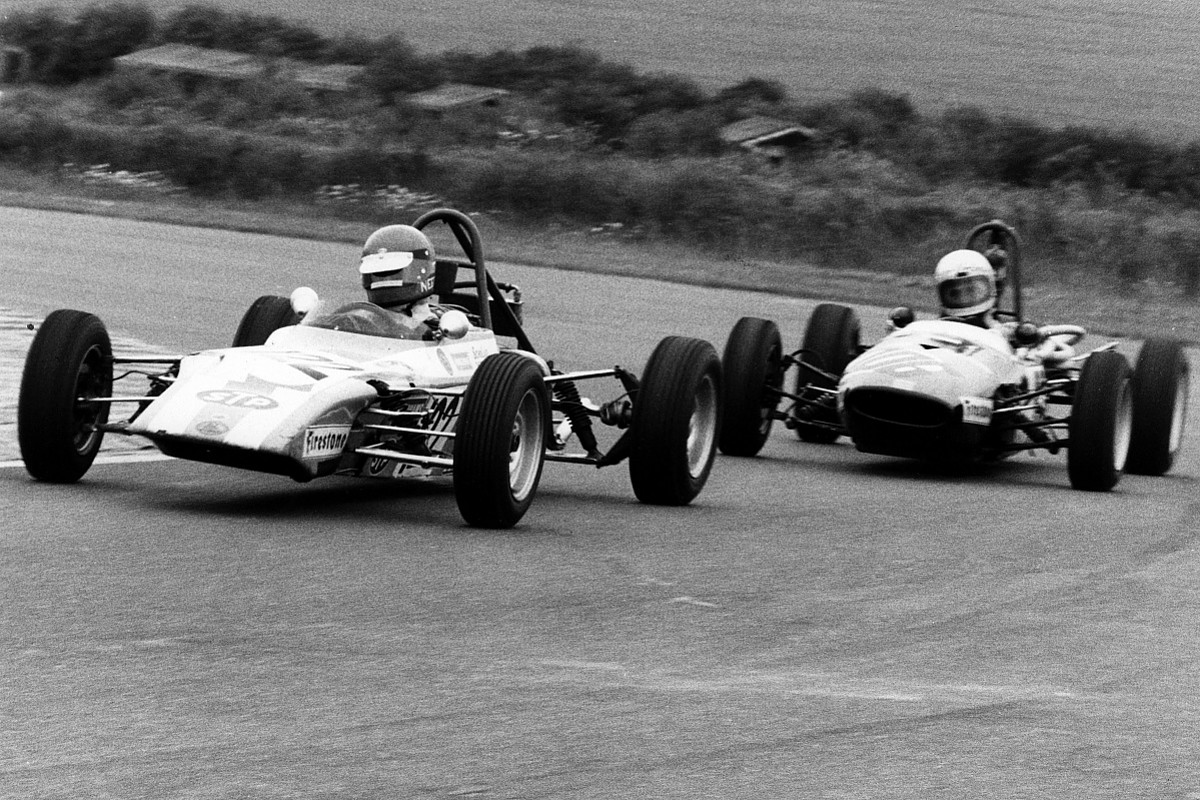 TIFF NEEDELL
Seventh in the first Formula Ford Festival in 1972
We were all nomadic, driving our own vans and trucks, like karting today. We roamed around the country and, because the cars were less technical than today, you could run your own car and be competitive.
For the 1972 Festival at Snetterton we had extra fuel tanks because the final was so long. We were doing three heats and a final for national championship rounds, so we were familiar with the format and it was almost the same crowd.
It was the international entry that was the biggest change, having people such as Larry Perkins come over from Australia and Danny Sullivan from America.
I'd broken my arm six weeks earlier - someone spun in front of me and I had full lock on when I clipped their wheel. The Festival was my first race back and I strapped it up. Once the adrenalin kicked in, it was fine.
With wet weather and limited daylight, the organisers decided to seed the entries for grid places in the four heats and I'd had an on-off year so they placed me 28th in my Autosport Lotus 69. I lined up seventh for my heat and I made it up to fourth. That put me seventh on the grid for the semi and I finished fourth. And that put me seventh for the final!
The final was 25 laps - a 70-mile race that took the best part of 45 minutes. It was so long that half of us didn't have fuel tanks big enough and had to jury-rig extras; I fitted one above my knees with a simple tap I turned after half an hour.
Unfortunately, I didn't make it to fourth this time and had to settle for seventh, right behind Sullivan and Patrick Neve, but it was an amazing race, with places constantly changing.
It was tremendous racing, wonderful times in Formula Ford. We all paid our own bills and the banks were close to the track. There were fewer shunts then, but they were bigger when they happened.
Snetterton had everything and was a far better circuit for racing than Brands Hatch - perhaps the Festival should go to different tracks?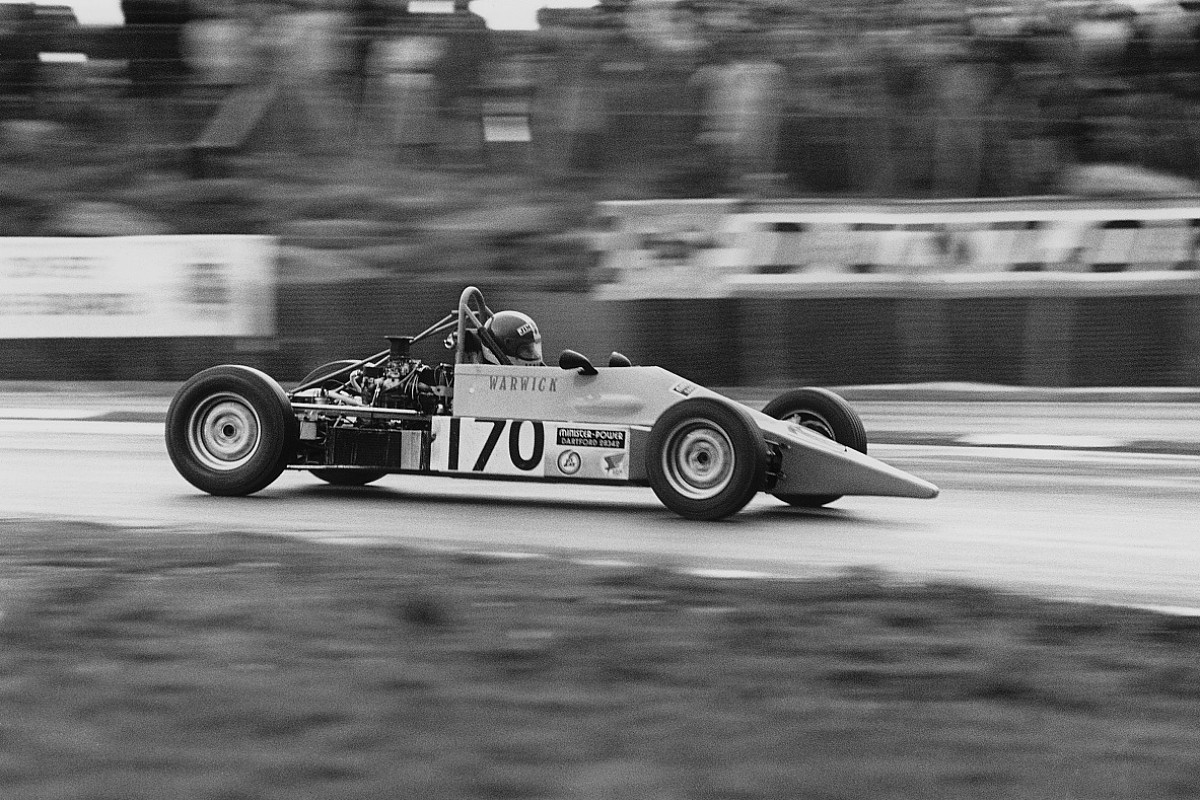 DEREK WARWICK
1976 Festival runner-up
In 1976 I drove in 63 Formula Ford races in a Hawke DL15 and won 32. It was possible to do that many races in those days with a man and a van 
and we ran it very cheaply.
That season was very special. It was so hard and you were up against people like Jim Walsh and Rick Morris, specialists on certain circuits. You had to be on your A-game to beat them.
For the 1976 Brands Festival Hawke's David Lazenby wanted me to run the new car, the DL17. I didn't want to, but he persuaded me and said he'd run the 
car from the factory.
We were quickest in practice and we were on pole for the semis, and all of a sudden I've got all sorts of stewards fussing around me with oil coming out the back of the car. It was pissing out of the brake pipe. I said, "Clean it up, tell me to press the brake and I'll make out I'm pressing it and then it'll be clean" [to satisfy the stewards].
I knew I was going to end up with no rear brakes, and I did the whole race with just front brakes. I think I finished sixth, which meant I was on row six for the final.
It was the only time the car wasn't under my control and Derek Daly was the guy taking the car backwards and forwards to Hawke.
I once accused Derek of tampering with the car, which I withdraw now because I think he wouldn't do it. I don't think it's in his DNA. All I can say is I don't know how I could have done practice, heats and quarter-finals without a bevel end - it had been hacksawed off.
I came through and finished second in the final, and I was devastated. The Festival was a big stepping stone to Formula 3, and an important race to win.
MARK BLUNDELL
Fourth in 1985 Festival
I never did karting so I went from two wheels in motocross straight into a Formula Ford in 1984. FFord was the grounding for my career. I learnt a huge amount about what a racing car does. Understanding shocks, springs, roll bars and techniques like slipstreaming. Most of all it taught me racecraft. You did more overtaking in FFord than in any other category.
I don't think there was any era more competitive than the 1980s. So many drivers made it to F1 on merit back then and the entry lists read like a who's who.
The Festival was special. It's such a traditional event at an iconic circuit and the knockout format brought everybody around the category together for one event. There were always stories from the beginning of the weekend to the end of it.
You learned a lot of tricks in FFord. I remember having an extra bit of scaffolding in the nose of my car one year so you could get stuck up behind the gearbox of the car in front through places like Druids and actually lift its rear wheels off to get past!
I had some great battles with some epic drivers. Perhaps my biggest rival was Bertrand Gachot, and we had a lot of flare-ups. They were some of the greatest days of racing I had, and fights like that contributed to it being special.
I was almost arrested at Castle Combe for an incident with him after he pushed me on the wet grass and I barely missed a marshal's post in a British championship race. When I came to discuss it with him afterwards he refused to take his crash helmet off, but did lift his visor just enough to get my knuckles through it!
The local constabulary was there and I got done with breaching the peace and then went to the stewards. Back then things like that were all part of it and it could never happen today.
FFord has always been such a beautifully simple category that never cost the earth and taught drivers so much. That's why it's survived so long.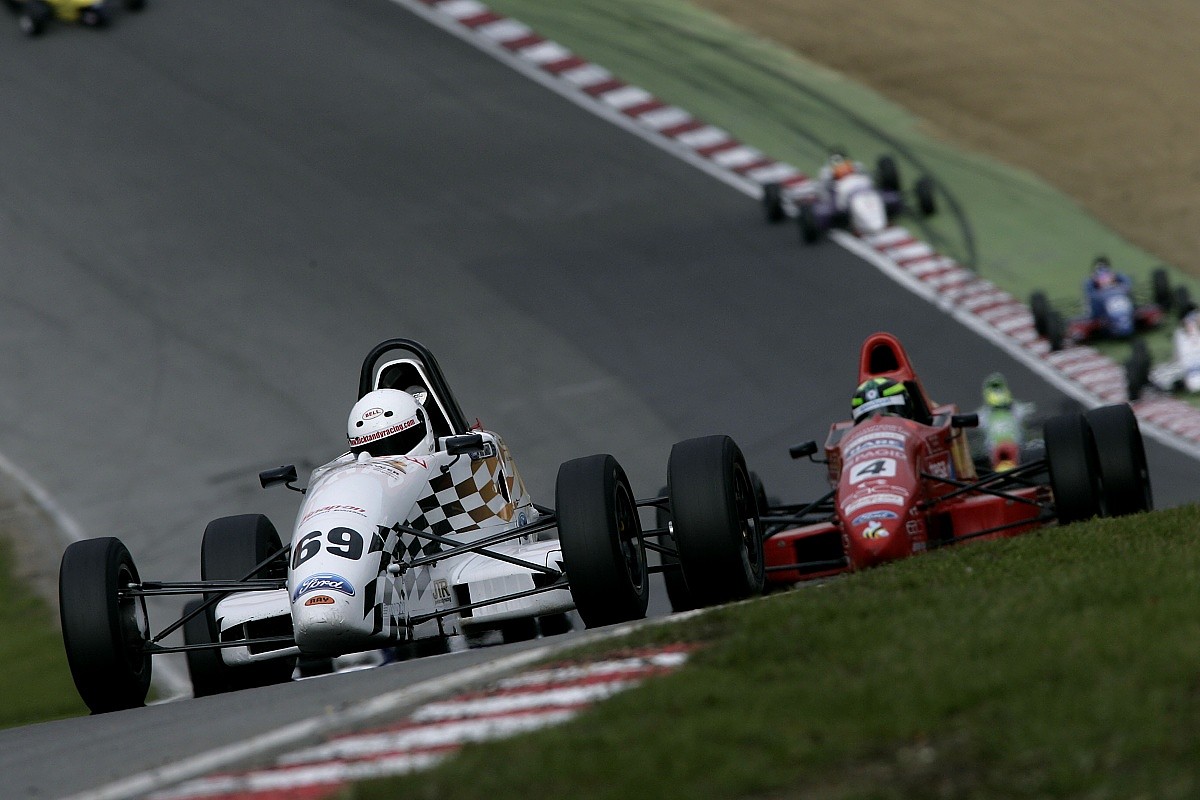 NICK TANDY
2007 Duratec Festival winner
I loved my time in Formula Ford and I'm really proud that I'm part of the category's history. It was a great time in my career because it was also a time when I was running my own cars. You could develop your own bits and pieces and work with your engine builder and so it wasn't just about the driving.
I started in Minis, but I always fancied being able to look out and see the wheels, which was a novelty. You soon find out that if you can see the wheels it's also a 
lot easier to knock them off, which took me some time to get my head around.
The Formula Ford Festival was always the big one and I won with the late, great Bert Ray's chassis - and I'm glad he was around to see it.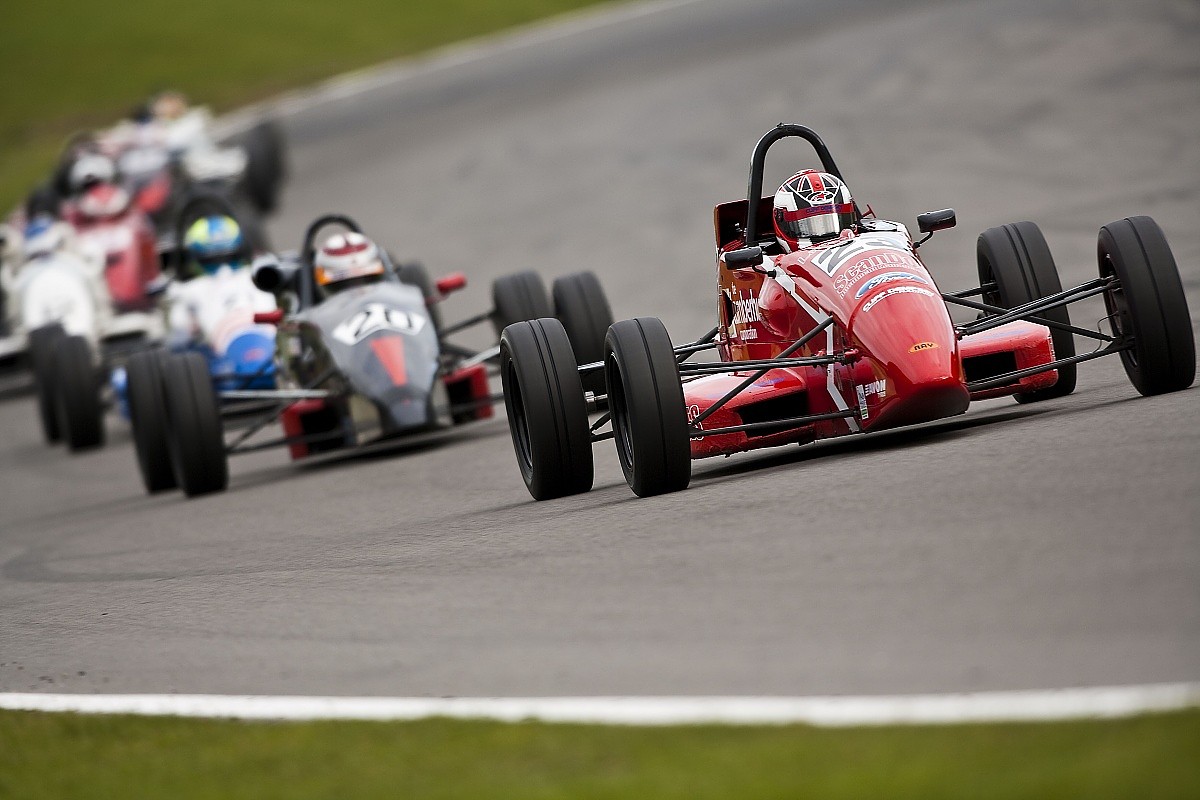 SCOTT MALVERN
2011 British champion and Duratec Festival winner
Formula Ford was the most affordable way into single-seater racing, and it still is, plus I have a family connection with it as my dad, Dominic, raced FFord himself.
I started out as an engineer with Jamun Racing before I actually drove, so I learnt a lot about the mechanics of the cars before I actually drove them. Driving them just let me piece it all together.
You learn so much more in FFord than anything else, and I still use the same driving techniques and skills today. Things like braking properly and controlling the car's rotation.
It's all down to driver skill. There's no aero at all, many cars actually generate negative aero where they lose grip as they go faster, so it's all down to the driver to keep things in check.
I did both the Duratec and the Kent Festivals. The Duratec one was always familiar as there were fewer one-off entries. The cars were too fast to just jump in and be competitive, so it often felt like an extra British championship round.
The Kent Festival was always more stressful. The cars are more accessible so you get that unpredictability in the entry. You never really knew who your biggest challenger was, you were always guessing and never knew how hard to push.
There's a mountain of pressure that weekend and to win you have to string each drive together perfectly. It's a special event.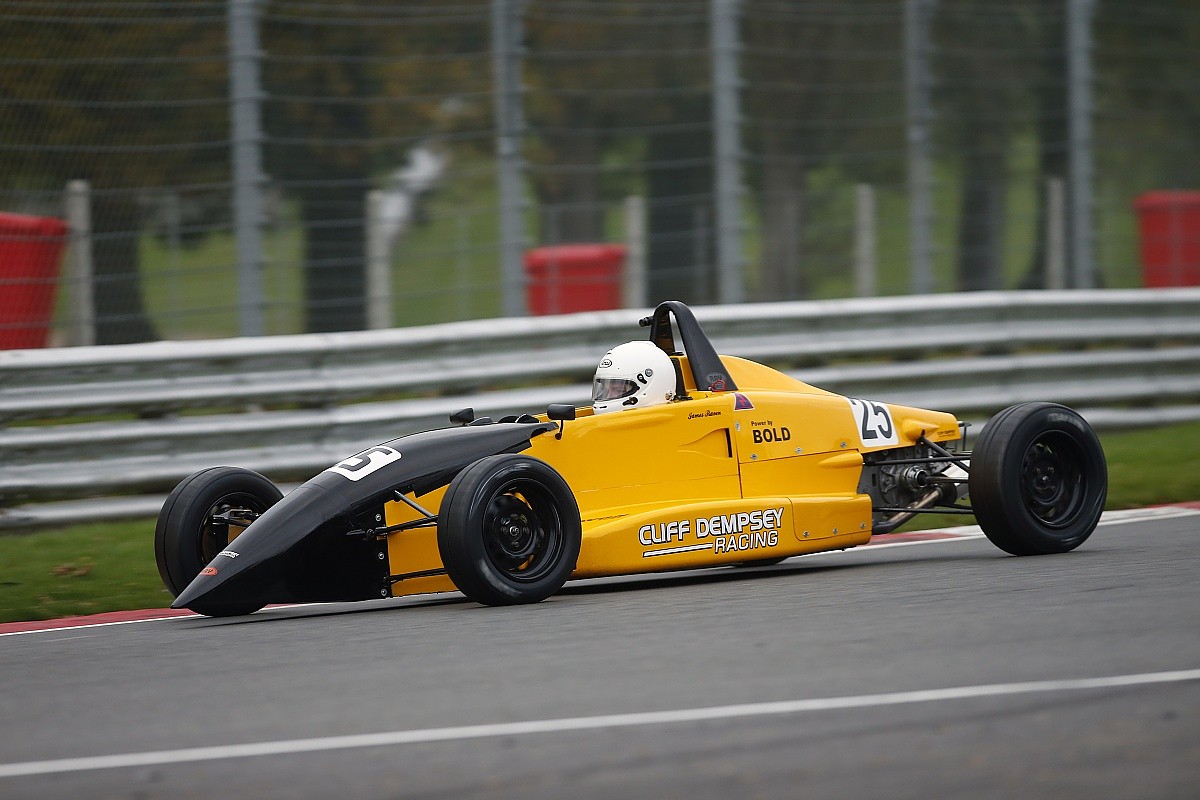 JAMES RAVEN
2014 Kent Festival winner
The 2014 Festival weekend didn't get off to a great start when I put it off in the gravel in qualifying. I liked the fact that very few people gave me a chance of winning it with me starting the final in sixth. I felt like the underdog and that was nice going into such a big race.
I got up to fourth inside three laps. I got up behind Jonathon McMullan who was leading and then I got a run on him after the restart. I passed him out of Clark Curve and onto the pit straight [on lap six of 20]. I had two wheels on the grass and just kept it flat.
It was bin it or win it. I wasn't there to come second. It was good to come from sixth, that made it even more enjoyable as a result.
It was one of the best feelings ever. Elation, all the hard work coming together in that one event because I'd missed out on the National Championship not long before. The big turning point was when we broke a ball joint while leading at Oulton Park. So to win the Festival, it made up for that.
When I saw the [Cliff Dempsey Racing] team on the pitwall when I was crossing the line and they were all celebrating, that's when the win really hit me. The whole family and most of the team were crying.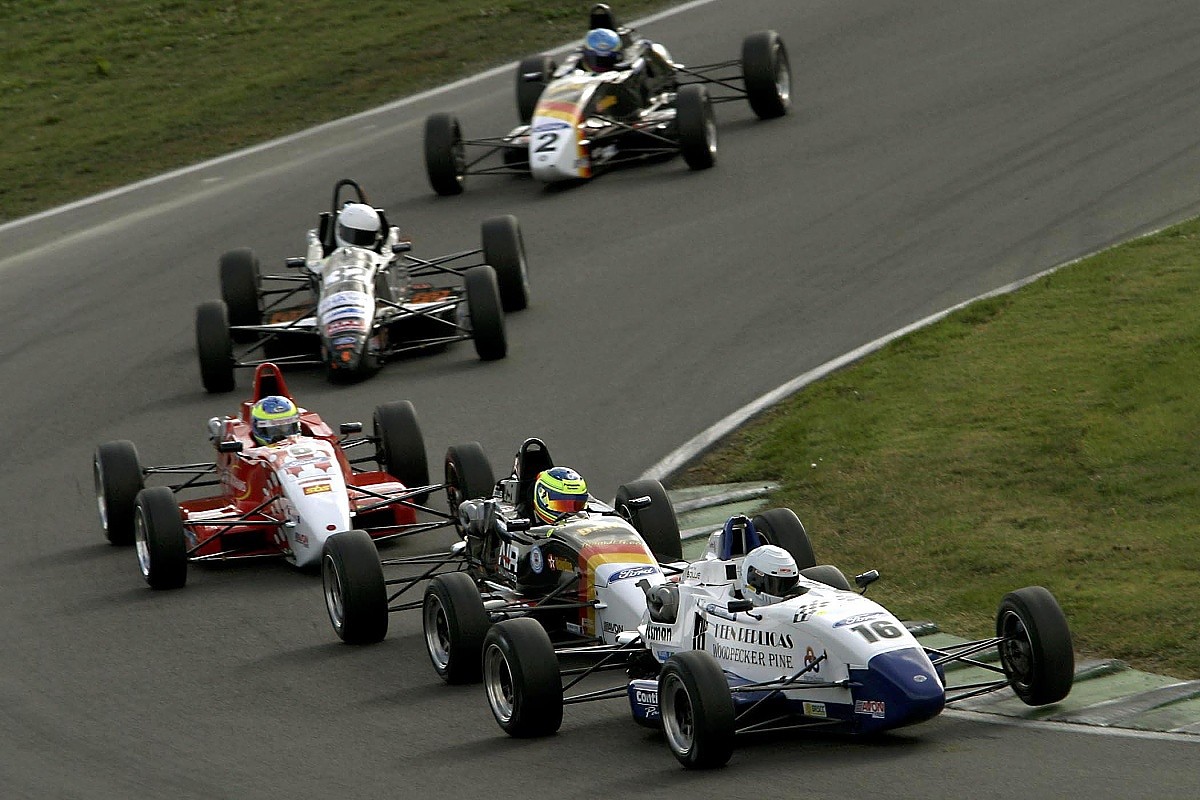 JOEY FOSTER
2003 (Zetec) and 2017 (Kent) Festival winner
I've just always loved racing Formula Ford because the competition is there. Every year we come back here and the competition is always ultra-tough.
When I won the Festival for the first time in 2003, the pressure was kind of on because you're a career driver and you want to win it because you know it's a big event that's going to really get your name out there. With the 2017 win there was a bit more enjoyment. Racing wheel-to-wheel is what I love and it was just a lot more relaxed. But I still want to win.
The first one was more important. That really lifted my career. It chucked me into the limelight and enabled me to do what I've done after that.
Obviously, back then we had Tom Kimber-Smith, Oliver Jarvis and Ben Clucas and all those boys in there. It was really tough, every sort of hundredth of a second counted. That put us in a good position for my career and it's just as close out there now.
This time, to win it with Don Hardman, who I had my first ever race with back in 2000, was ultra-special. These guys kept me in a car year-after-year. When I've struggled for budget Don has always rolled out a car and said: 'Come on, Foster, jump in'.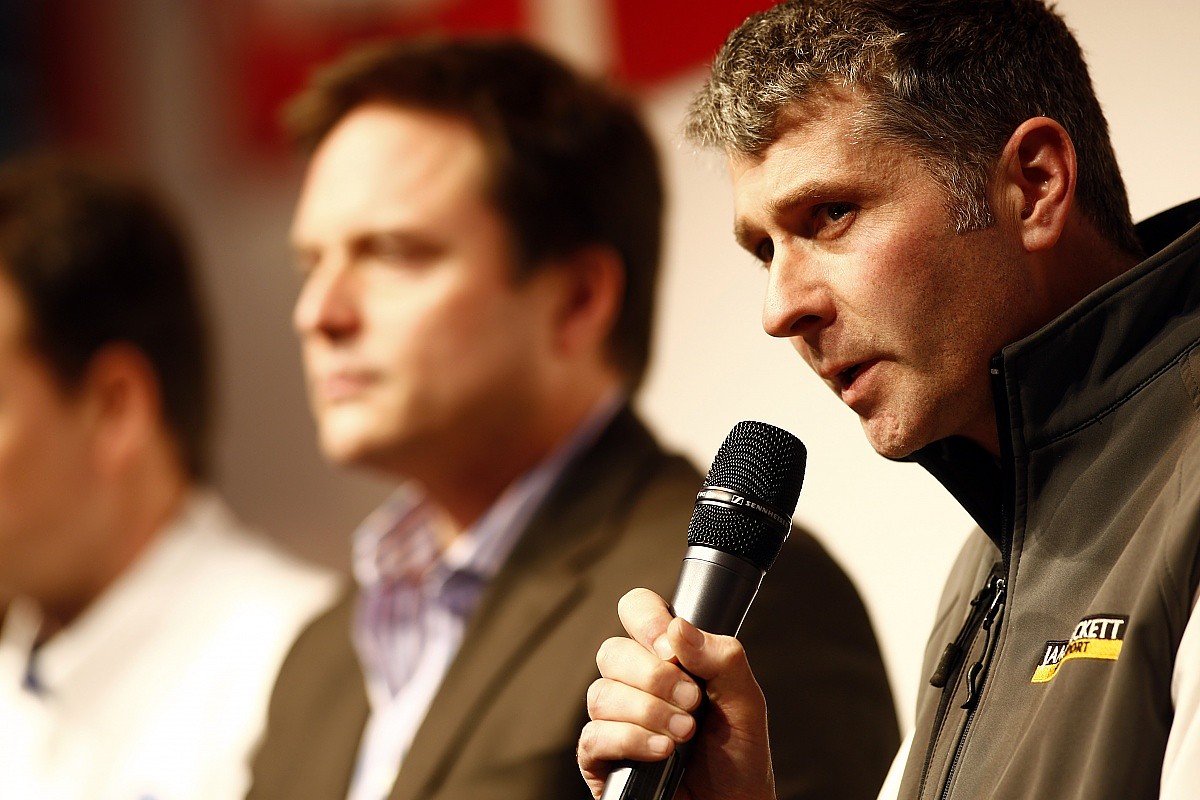 JAMES BECKETT
Formula Ford superfan and Walter Hayes Trophy organiser
I grew up near Silverstone and went there for the first time when I was four years old. Back in those days, for a one-off BRDC race you might attract 75 drivers. I had a look back and found 31 non-qualifiers for a two-header race, that's how popular it was.
Sitting in the grandstand, the person I used to want to win was Jim Walsh, he was my first motorsport hero - that's what developed my love and passion - and then working for the BRDC I had the ability to create the Walter Hayes Trophy.
Single-seaters have always been my thing. You could always just pick someone [to support] who was there for the sheer passion and everyone was there racing whether it was a clubman or Ayrton Senna da Silva.
They were all powered by the same engine so it was all down to the man or woman in the cockpit.
I had the ability to develop the Walter Hayes and I wanted to see a Formula Ford meeting run to 'what would I want to watch if it were me?'.
The Festival, you did one year and then you were up the motorsport ladder, but the Hayes offers people the chance to have another go [in Formula Fords].
Fourteen years ago, Joey Foster won the Festival and he did a Formula Renault event at Donington Park, which he didn't do very well in. My friend had chatted to Joey's dad in the paddock and said to me, "he wants to do the Hayes".
So a deal was done in the paddock and next weekend Joey, who was the big thing in Formula Fords, was there.
It's been great to see great drivers in Formula Ford cars.