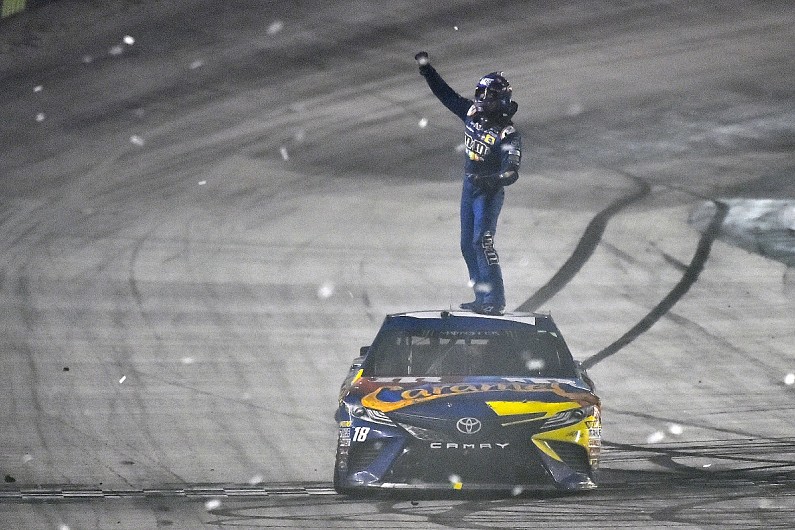 Kyle Busch took his sixth NASCAR Cup victory at Bristol in a hard-fought race with rookie Erik Jones.
Starting 18th on the grid, Busch picked his way up into the top 10 and took the lead for the first time just half-a-dozen laps before the end of the first stage.
From that point on, the race became a battle between Busch's Joe Gibbs Racing Toyota and Jones's Furniture Row Toyota as the pair traded top spot throughout the 500-lap event.
Polesitter Jones looked like he was going to claim his maiden Cup Series victory but after the final caution period on lap 421 - to clear up debris from a crash for Landon Cassill - he didn't have the pace to match Busch.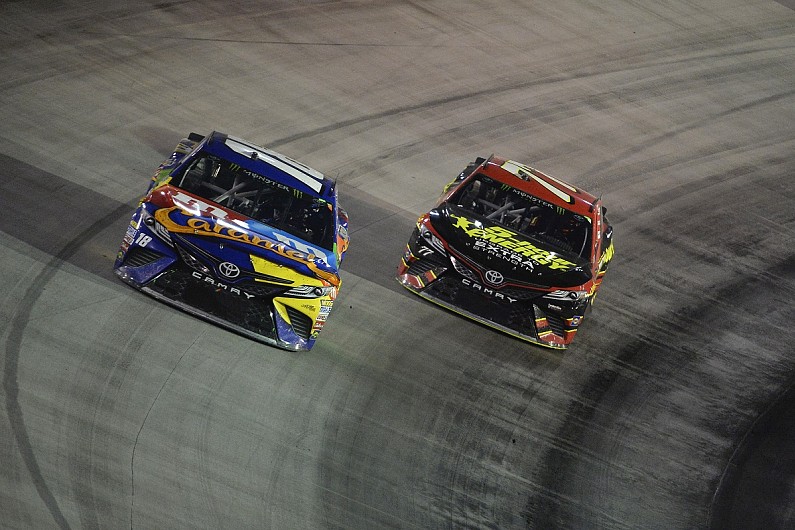 Busch swept round the outside with 55 laps to go and held off a brief charge from Matt Kenseth, who took stage two victory, to claim a third victory of the weekend having already taken wins in the Trucks and the second-tier Xfinity Series.
Denny Hamlin claimed third place on lap 480 after running consistently in the top 10, making the most of Kenseth wearing out the front tyres on his Toyota and dropping back to fourth.
Behind Kenseth was Kurt Busch, the Stewart-Haas Ford driver surviving an early collision with the wall to recover to another top five finish.
Sixth place went to Ryan Newman in the highest finishing Chevrolet, a consistent race ending with him claiming the position from Trevor Bayne with less than a dozen laps remaining.
Jimmie Johnson, who won the rain-delayed April race at Bristol, could only finish 11th after struggling for pace following the final caution period.
It was also a poor race for points leader Martin Truex Jr, who was penalised for a pitstop infringement that relegated him down to 21st.
Race result
| Pos | Driver | Team | Car | Laps | Gap |
| --- | --- | --- | --- | --- | --- |
| 1 | Kyle Busch | Joe Gibbs Racing | Toyota | 500 | 2h46m37.s |
| 2 | Erik Jones | Furniture Row Racing | Toyota | 500 | 1.422s |
| 3 | Denny Hamlin | Joe Gibbs Racing | Toyota | 500 | 5.069s |
| 4 | Matt Kenseth | Joe Gibbs Racing | Toyota | 500 | 7.391s |
| 5 | Kurt Busch | Stewart-Haas Racing | Ford | 500 | 7.843s |
| 6 | Ryan Newman | Richard Childress Racing | Chevrolet | 500 | 10.140s |
| 7 | Trevor Bayne | Roush Fenway Racing | Ford | 500 | 10.519s |
| 8 | Kevin Harvick | Stewart-Haas Racing | Ford | 500 | 10.796s |
| 9 | Kyle Larson | Chip Ganassi Racing | Chevrolet | 500 | 11.109s |
| 10 | Ryan Blaney | Wood Brothers Racing | Ford | 500 | 12.289s |
| 11 | Jimmie Johnson | Hendrick Motorsports | Chevrolet | 500 | 12.515s |
| 12 | Jamie McMurray | Chip Ganassi Racing | Chevrolet | 500 | 12.857s |
| 13 | Joey Logano | Team Penske | Ford | 500 | 12.909s |
| 14 | Ricky Stenhouse Jr. | Roush Fenway Racing | Ford | 500 | 13.796s |
| 15 | Daniel Suarez | Joe Gibbs Racing | Toyota | 500 | 14.461s |
| 16 | Paul Menard | Richard Childress Racing | Chevrolet | 499 | 1 Lap |
| 17 | David Ragan | Front Row Motorsports | Ford | 499 | 1 Lap |
| 18 | Chase Elliott | Hendrick Motorsports | Chevrolet | 499 | 1 Lap |
| 19 | Clint Bowyer | Stewart-Haas Racing | Ford | 499 | 1 Lap |
| 20 | Michael McDowell | Leavine Family Racing | Chevrolet | 499 | 1 Lap |
| 21 | Martin Truex Jr. | Furniture Row Racing | Toyota | 499 | 1 Lap |
| 22 | A.J. Allmendinger | JTG Daugherty Racing | Chevrolet | 498 | 2 Laps |
| 23 | Dale Earnhardt Jr. | Hendrick Motorsports | Chevrolet | 497 | 3 Laps |
| 24 | Kasey Kahne | Hendrick Motorsports | Chevrolet | 497 | 3 Laps |
| 25 | Danica Patrick | Stewart-Haas Racing | Ford | 496 | 4 Laps |
| 26 | Matt DiBenedetto | Go FAS Racing | Ford | 496 | 4 Laps |
| 27 | Chris Buescher | JTG Daugherty Racing | Chevrolet | 496 | 4 Laps |
| 28 | Corey LaJoie | BK Racing | Toyota | 495 | 5 Laps |
| 29 | Brad Keselowski | Team Penske | Ford | 493 | 7 Laps |
| 30 | J.J. Yeley | Tommy Baldwin Racing | Chevrolet | 493 | 7 Laps |
| 31 | Gray Gaulding | Premium Motorsports | Chevrolet | 488 | 12 Laps |
| 32 | B.J. McLeod | Rick Ware Racing | Chevrolet | 482 | 18 Laps |
| 33 | Cole Whitt | TriStar Motorsports | Chevrolet | 480 | 20 Laps |
| 34 | Joey Gase | BK Racing | Toyota | 476 | 24 Laps |
| 35 | Landon Cassill | Front Row Motorsports | Ford | 412 | Accident |
| 36 | Ty Dillon | Germain Racing | Chevrolet | 394 | Accident |
| 37 | Aric Almirola | Richard Petty Motorsports | Ford | 390 | Accident |
| 38 | Reed Sorenson | Premium Motorsports | Toyota | 352 | Transmission |
| 39 | Austin Dillon | Richard Childress Racing | Chevrolet | 230 | Accident |
| 40 | Jeffrey Earnhardt | Circle Sport / TMG | Chevrolet | 225 | Accident |
Drivers' standings

| Pos | Driver | Points |
| --- | --- | --- |
| 1 | Martin Truex Jr. | 951 |
| 2 | Kyle Busch | 850 |
| 3 | Kyle Larson | 845 |
| 4 | Kevin Harvick | 824 |
| 5 | Denny Hamlin | 753 |
| 6 | Brad Keselowski | 728 |
| 7 | Chase Elliott | 711 |
| 8 | Matt Kenseth | 703 |
| 9 | Jamie McMurray | 700 |
| 10 | Clint Bowyer | 642 |
| 11 | Jimmie Johnson | 628 |
| 12 | Ryan Blaney | 623 |
| 13 | Kurt Busch | 586 |
| 14 | Joey Logano | 583 |
| 15 | Ryan Newman | 574 |
| 16 | Erik Jones | 574 |
| 17 | Daniel Suarez | 537 |
| 18 | Ricky Stenhouse Jr. | 528 |
| 19 | Trevor Bayne | 470 |
| 20 | Kasey Kahne | 451 |
| 21 | Austin Dillon | 437 |
| 22 | Dale Earnhardt Jr. | 416 |
| 23 | Paul Menard | 408 |
| 24 | Ty Dillon | 395 |
| 25 | Chris Buescher | 387 |
| 26 | A.J. Allmendinger | 381 |
| 27 | Michael McDowell | 378 |
| 28 | Danica Patrick | 352 |
| 29 | David Ragan | 303 |
| 30 | Aric Almirola | 268 |
| 31 | Matt DiBenedetto | 264 |
| 32 | Cole Whitt | 241 |
| 33 | Landon Cassill | 241 |
| 34 | Gray Gaulding | 111 |
| 35 | Reed Sorenson | 96 |
| 36 | Jeffrey Earnhardt | 93 |
| 37 | Derrike Cope | 30 |
| 38 | Michael Waltrip | 29 |
| 39 | Boris Said | 15 |
| 40 | Billy Johnson | 15 |
| 41 | Gary Klutt | 6 |
| 42 | Alon Day | 5 |
| 43 | Cody Ware | 4 |
| 44 | Kevin O'Connell | 4 |
| 45 | Tommy Regan | 3 |
| 46 | D.J. Kennington | 2 |